The lack of clean clear water along the Central American coast left us longing for the resorts.  Paradise Village was the ultimate promise to the kids for water fun.  Eric, Teak and I first experienced this place in 1998 and 2000 on old Makai, then returned to visit Joan and Blair on Capricorn Cat when Roy was an infant and again later Eric and Roy returned when he was still a toddler.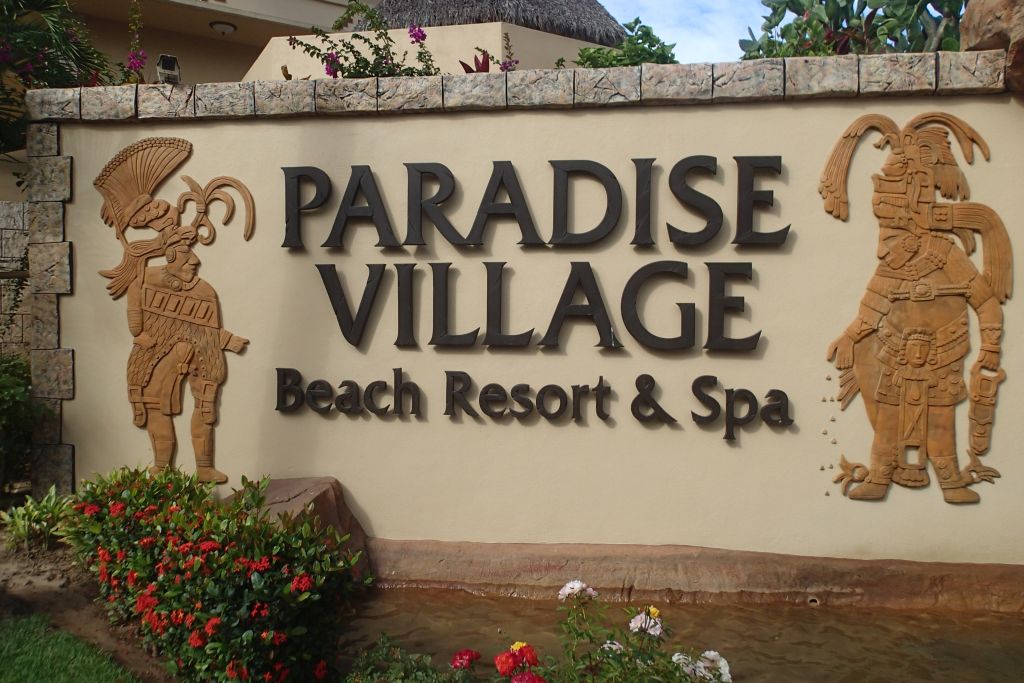 The resort is a combination of hotel rooms, time shares, and resident villas as well as the marina.  Mayan themed art is everywhere.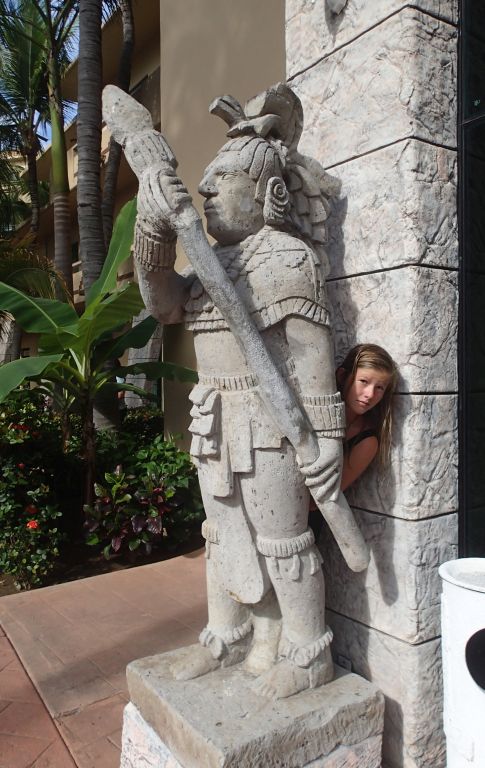 The pools are fantastic.  Climb up the stairs in the tower in the center, cross the swing bridge and choose which crocodile to slide down.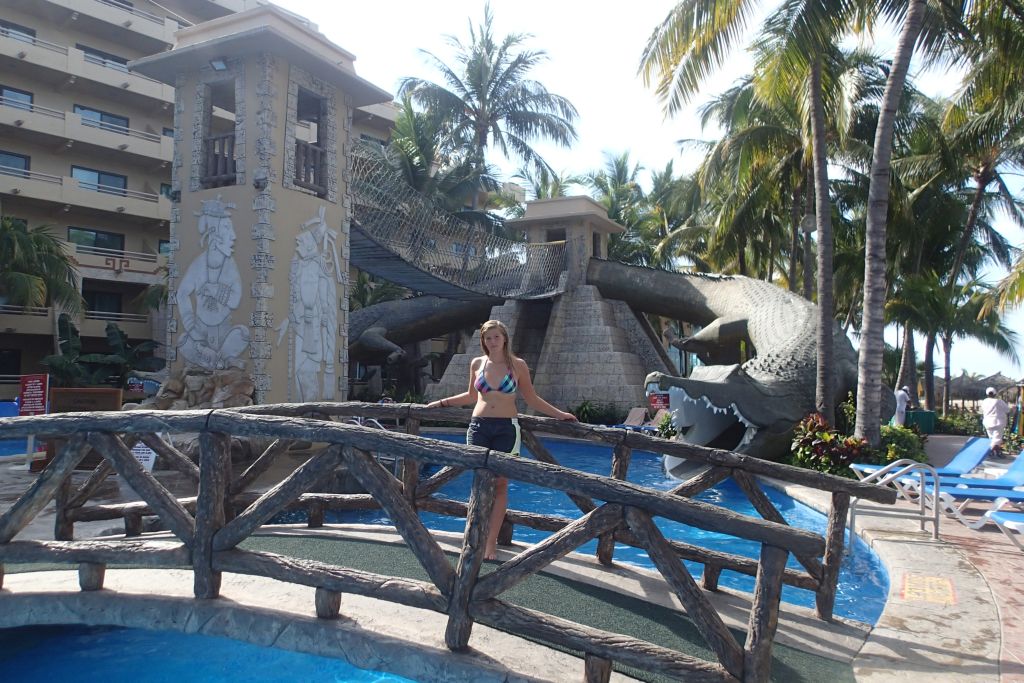 We hung out at the pool with our friends on Cat2Fold.  Ordering pool side food and drinks, playing on the slides and swimming through the tunnels and caves under the island. It's like going on vacation with your friends, great fun.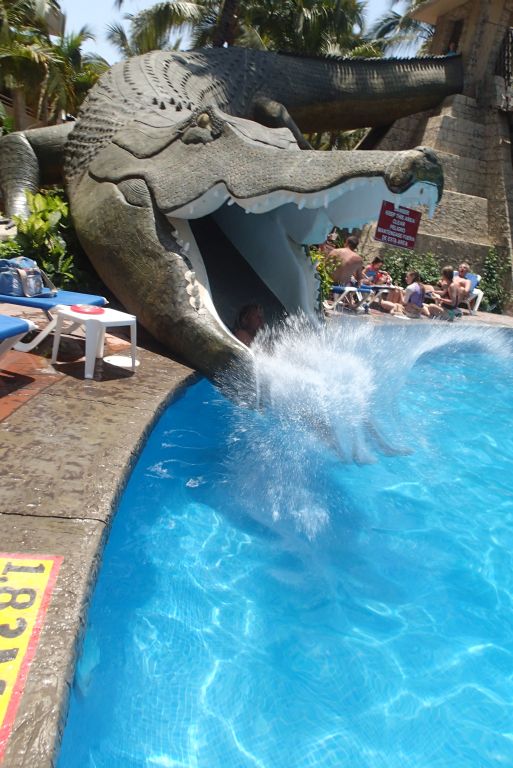 At the other end of the resort is another pool with the hot tub in the cave behind the water fall and more bridges and tunnels in the pool.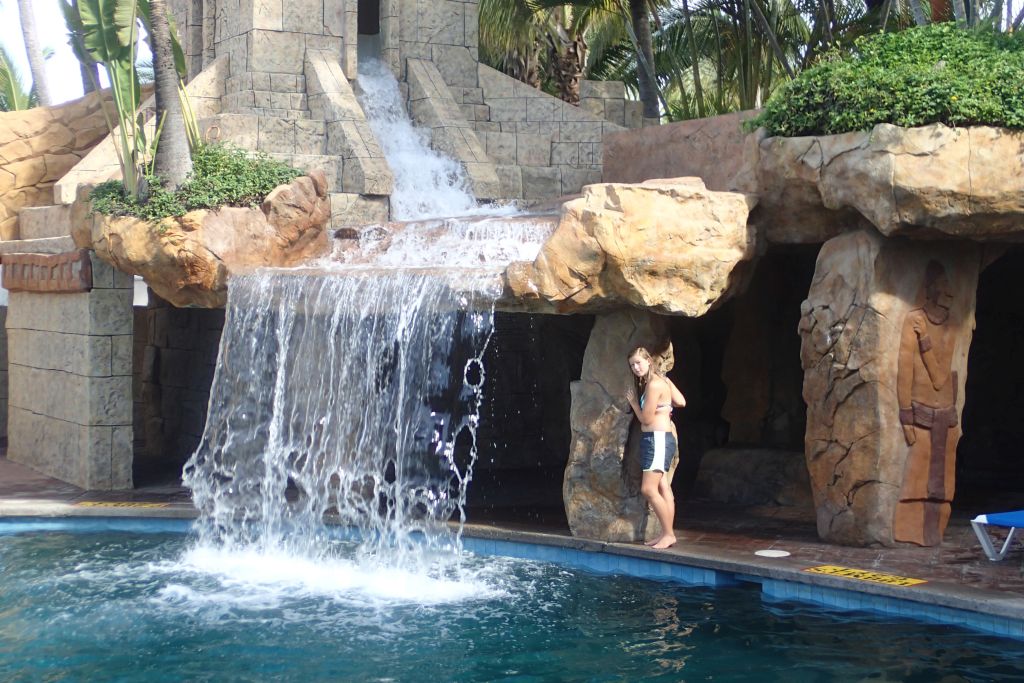 This pool has a snake slide as well.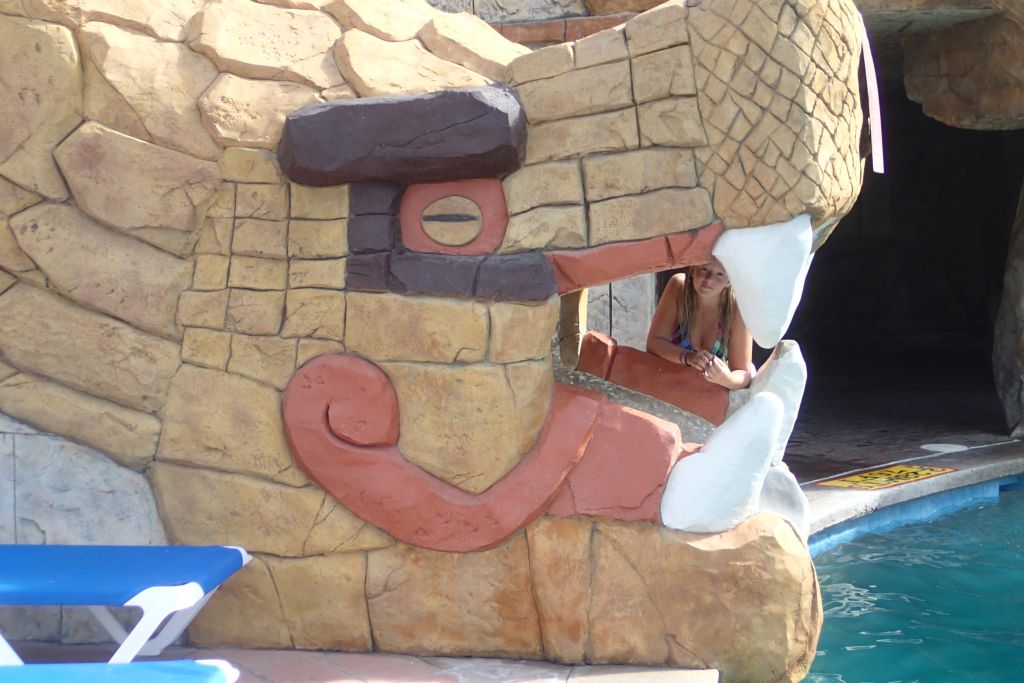 In front of the pools are rows of palapa umbrellas and beach seats.  You can buy jewelry from vendors cruising by, how about a beach massage? maybe get your hair braided? check out surfboards, boogie boards, or paddle boards? take a parasail ride or stroll to the end of the beach and visit with Topaz.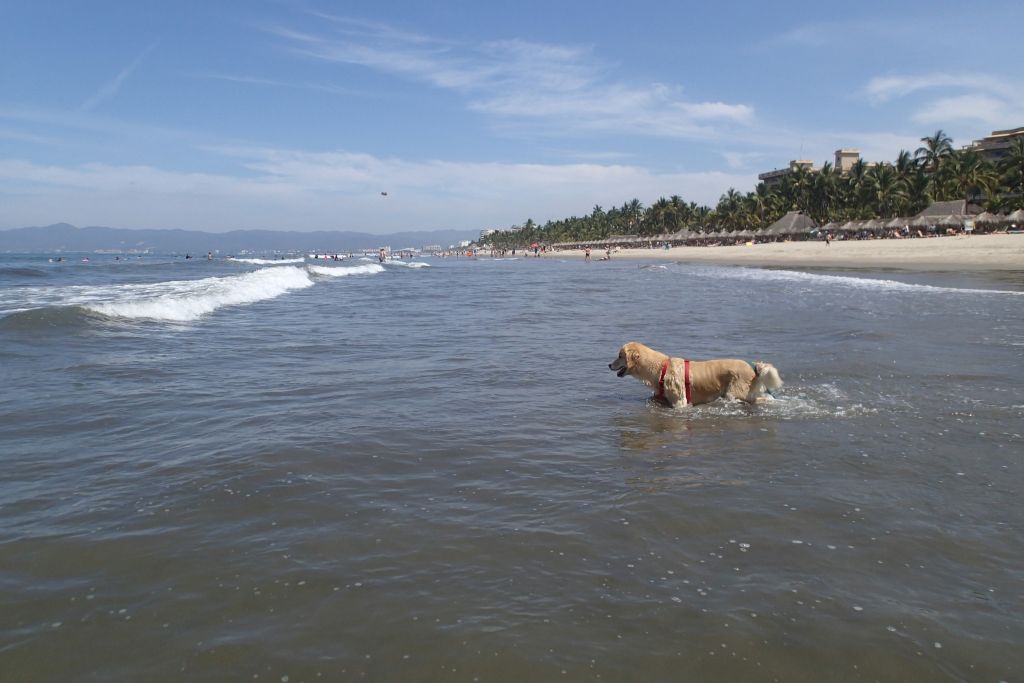 Topaz was quite a celebrity playing at the end of the beach.  She met all kinds of nice people who came to watch her play in the surf. One of her favorite tricks is to pounce on little fish and floating sticks and then when she got out to belly deep water she grabs her collar and brings herself back to shore.  After that she turns around and does it all again, over and over and over again.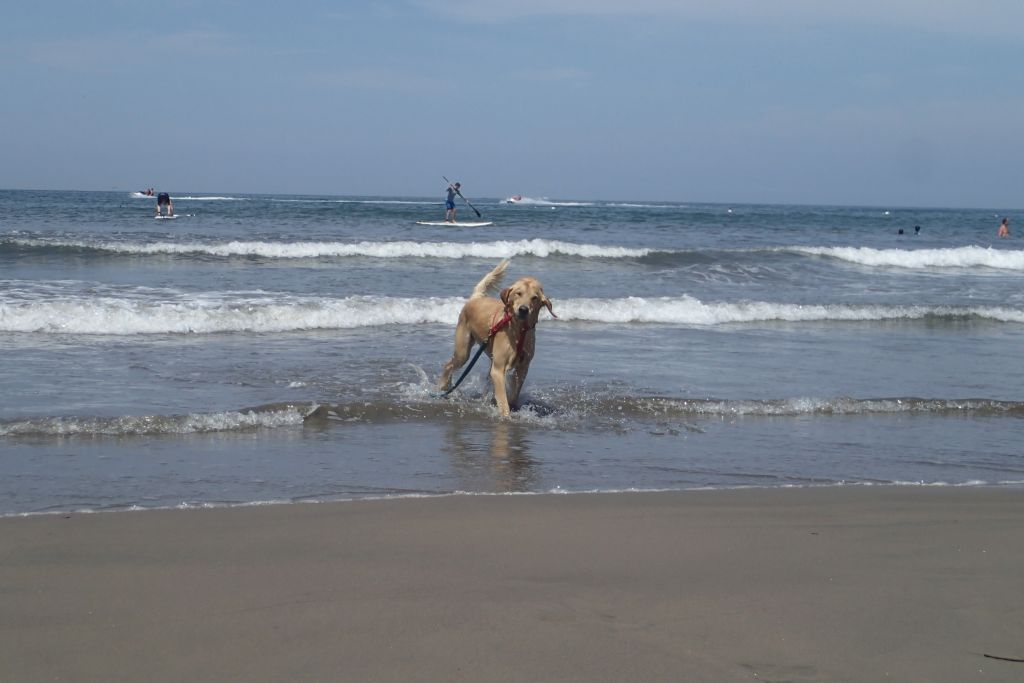 For all the freedom Topaz has at the beach, there are two tigers who don't get out much. A breeding pair of Bengal Tigers have produced 3 litters accounting for 11 cubs to share with other zoos around Mexico. I'm sure these Tigers would be happier on some free range preserve, but at Paradise Village they are well fed and have good veterinary care and are safe from poachers that threaten the 7,000 Tigers still in the wild.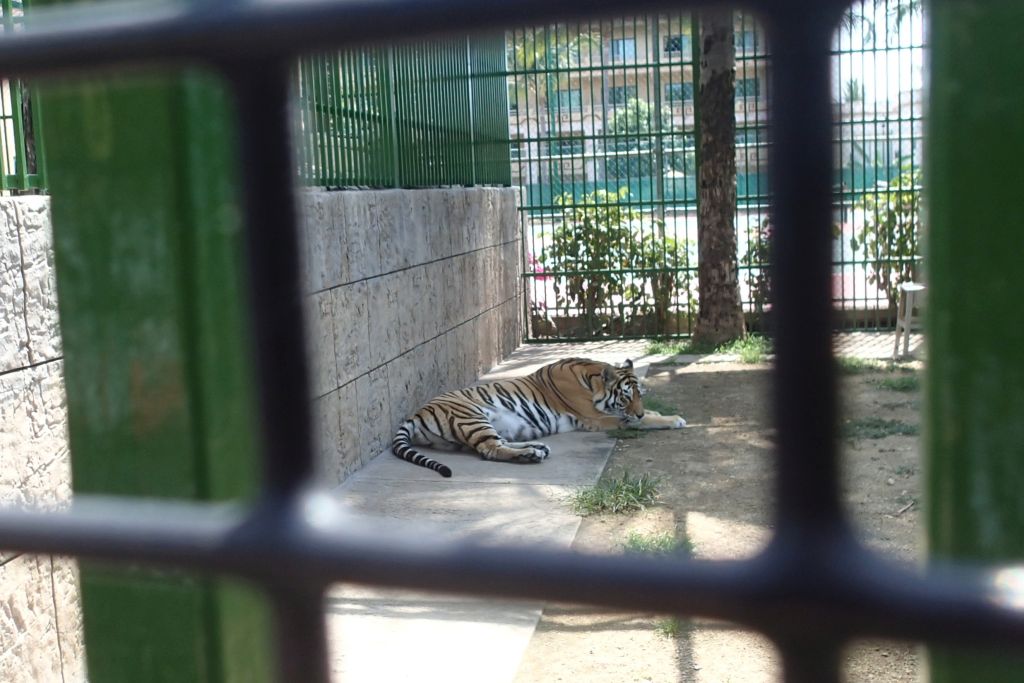 A collection of parrots also live here.
Marie and I got to watch a fun bird show and learned that all the parrots spoke Spanish except for one who is from Brazil and speaks Portuguese.  Our last visit here was before all the buildings were finished.  At that time there was a big vacant lot with Ostriches and peacocks roamed freely.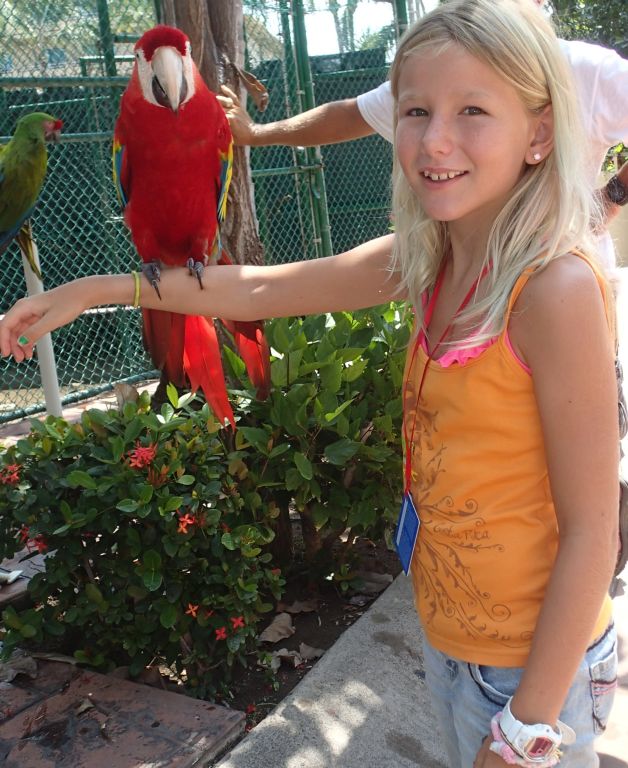 The property also includes a mall with a laundry, food court, trinket shops, clothes stores, a few restaurants and a grocery store.  Everything is sold at tourist prices but very convenient.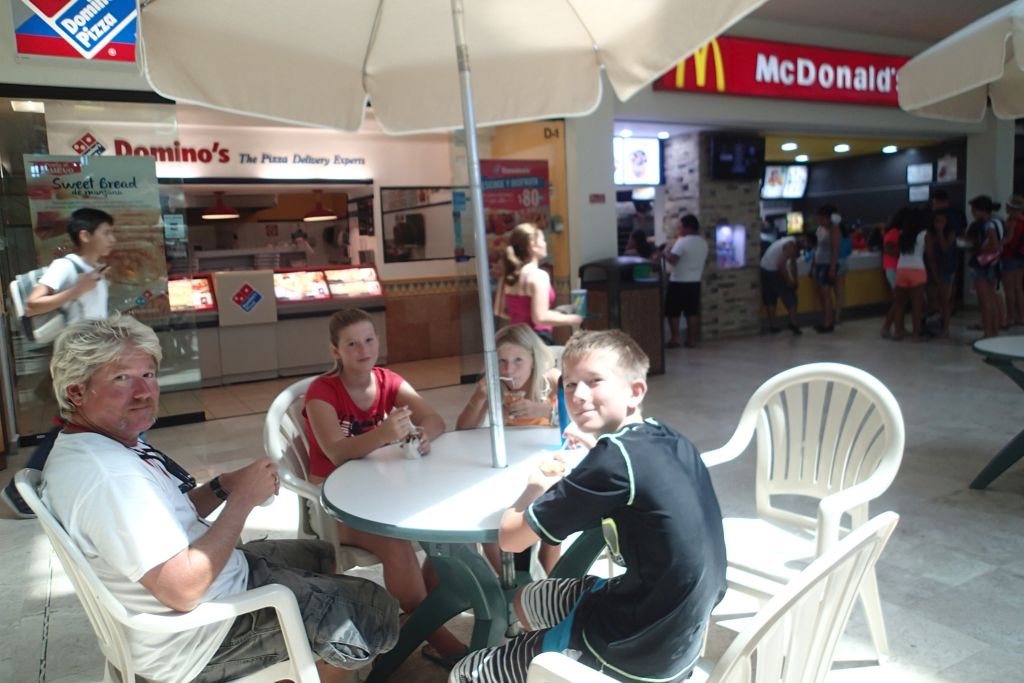 We also had access to the Hospitality suite.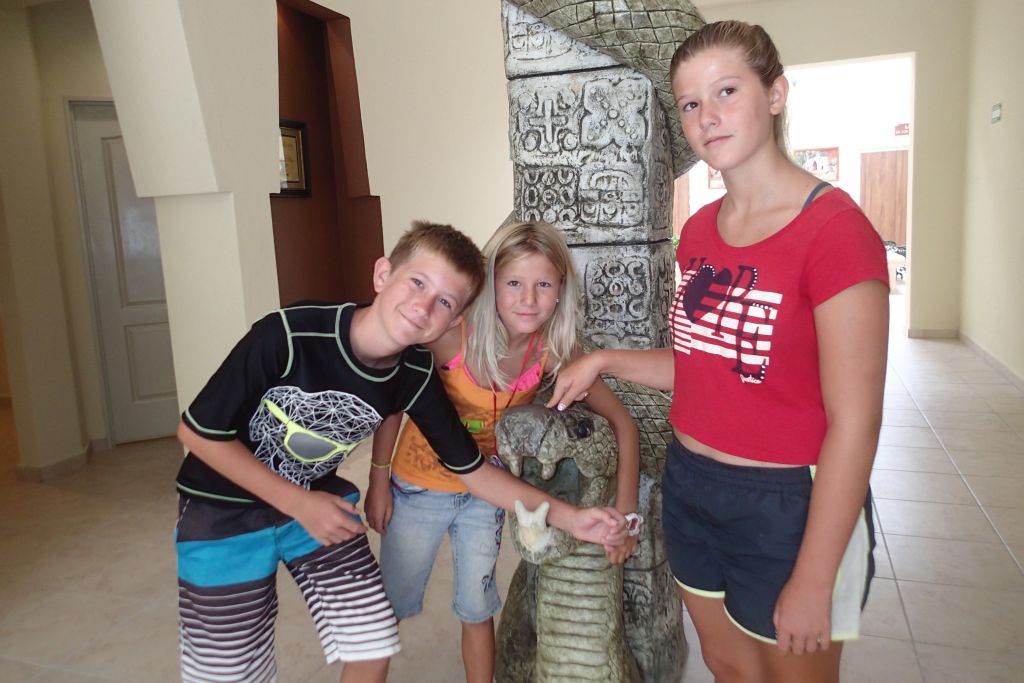 During the day, visitors whose transportation and accommodations didn't coincide, could relax here and wait.  But in the evenings, marina visitors who are looking to enjoy the air conditioning, cable TV, hot showers, and high speed internet would congregate up here.  A half wall divides the room so the kids can relax on one side while the adults visit on the other side.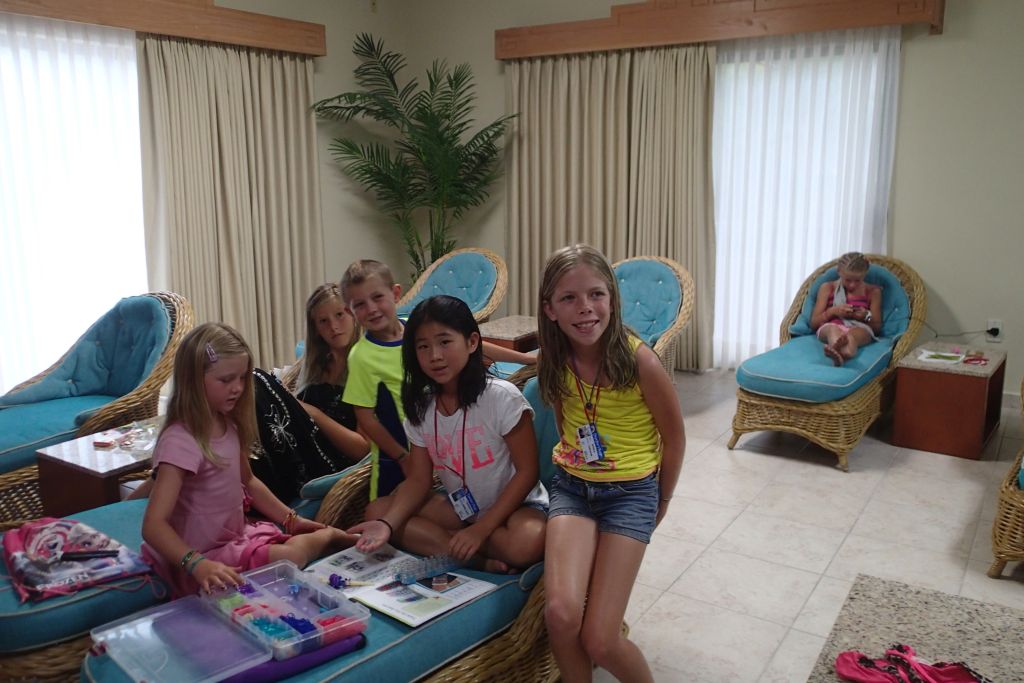 The grounds are very clean with well kept grass and flowers along the paths that wind along the water and through the buildings.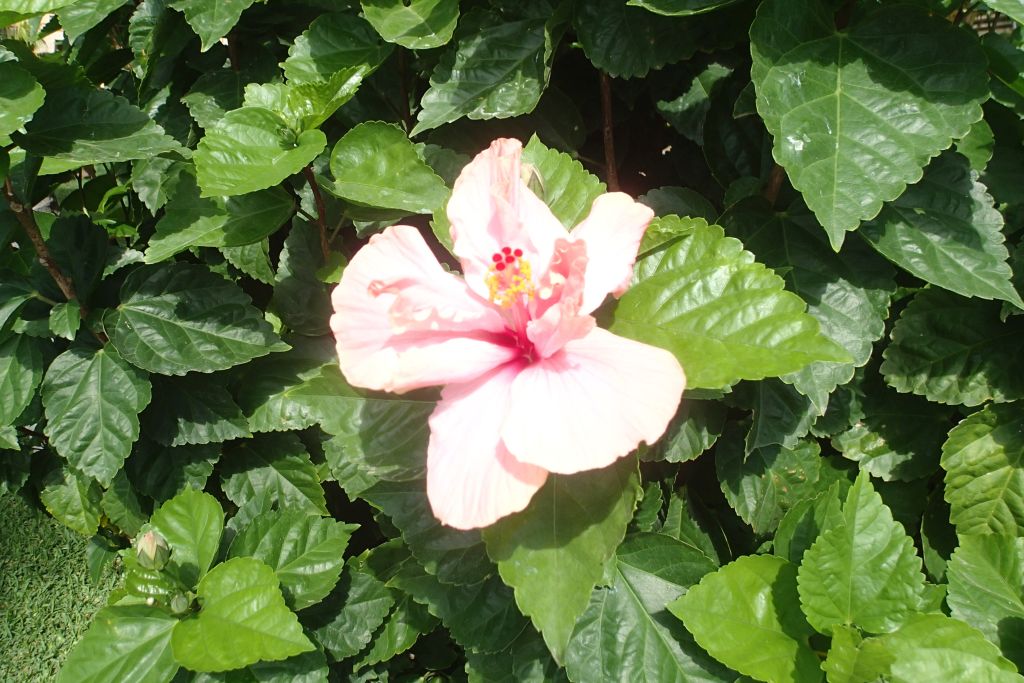 The waterfront in Nuevo Vallarta is now lined with resorts.  They are all beautiful, but Paradise Village offers the best facilities and includes the boaters with their top notch marina.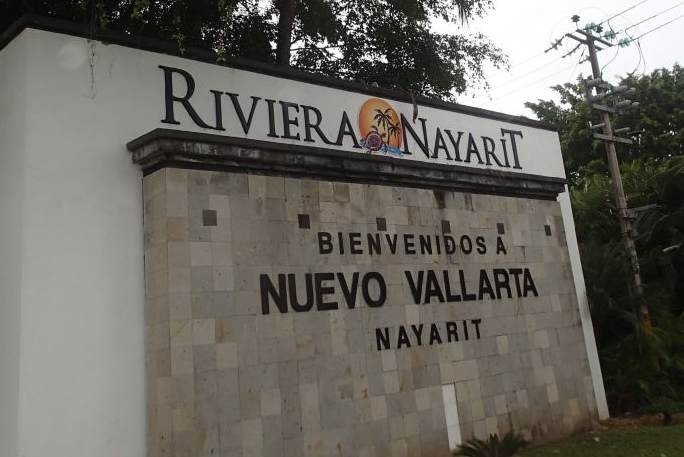 Years ago when visiting here we used to trek to Jarretaderas for more reasonable grocery shopping outside the resort.  We had a bit of a late start and by the time we arrived in town, most tiendas were shutting down for the day, but it was nice to see real Mexican towns still exist outside the resort.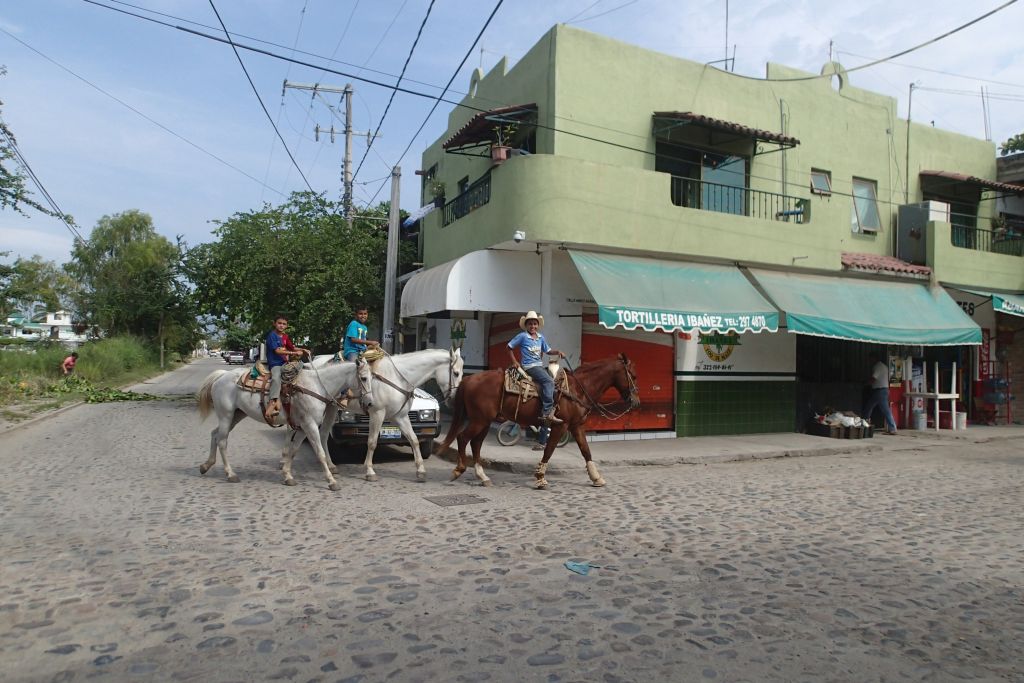 Then there is the trip into Puerto Vallarta.  While the distance isn't much more than 10 miles, the bus trip could take nearly an hour stopping at the other resorts transport workers and the few tourists like us too cheap to hire a taxi.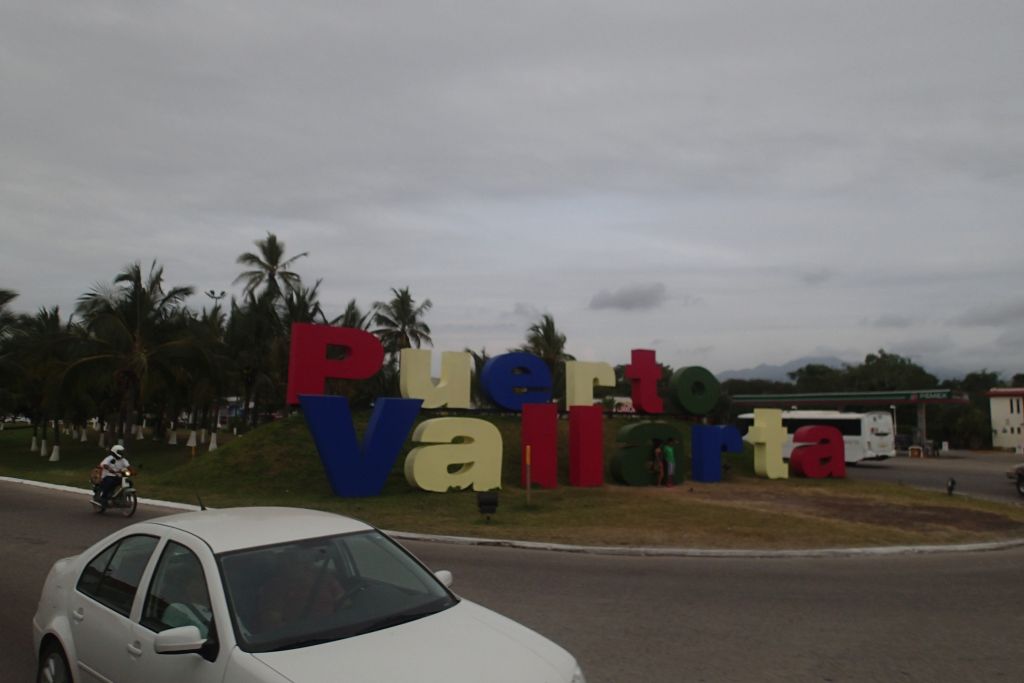 One of the attractions for the cruisers here is Walmart, Sam's Club and of course Costco. Hey, we have a Costco card, lets go.  We decided not to have lunch so we can enjoy Costco Pizza and hot dogs.  When they swiped our membership card at the food court, we found that the card was expired.  Then we found that we couldn't renew at their membership desk because the Mexican computer system doesn't update our cards. By now everyone is starving and I'm trying to renew online with very slow cell phone data.  Ahhhh, what a nightmare.  Finally someone at membership decided that even if I renew online, my card wouldn't be updated for 24 – 48 hours so he decided to just give me a day pass.  What a pain.  In the end our 'day pass' got everyone filled up on pizza and hot dogs, frozen yogurt and churros and we spent a few hundred dollars on stuff we didn't really need.  Ahh, life is good at Costco and a cab transported us with all our stuff back to the marina.
Another day we joined our friends on Cat2Fold (yes it's a catamaran you can fold up and trailer around) and Yolo (stands for You Only Live Once) for a stroll along the Malecon.  The waterfront walkway offered plenty of places to part us with our pesos.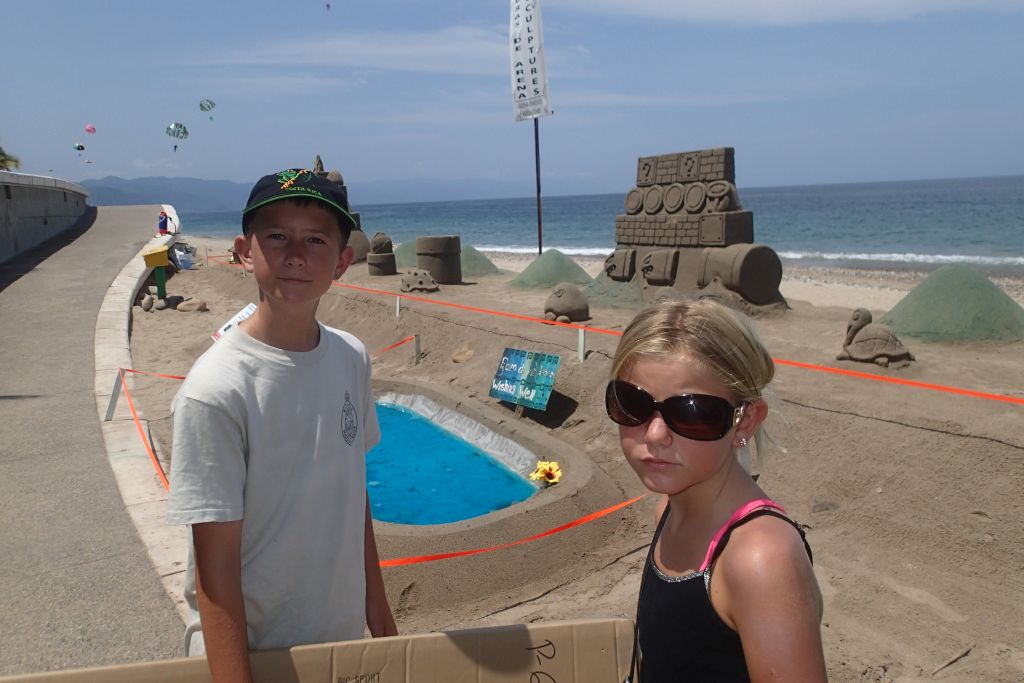 We have seen some great sculptures in Mexico.  There are dozens to enjoy along Puerto Vallarta's Malecon.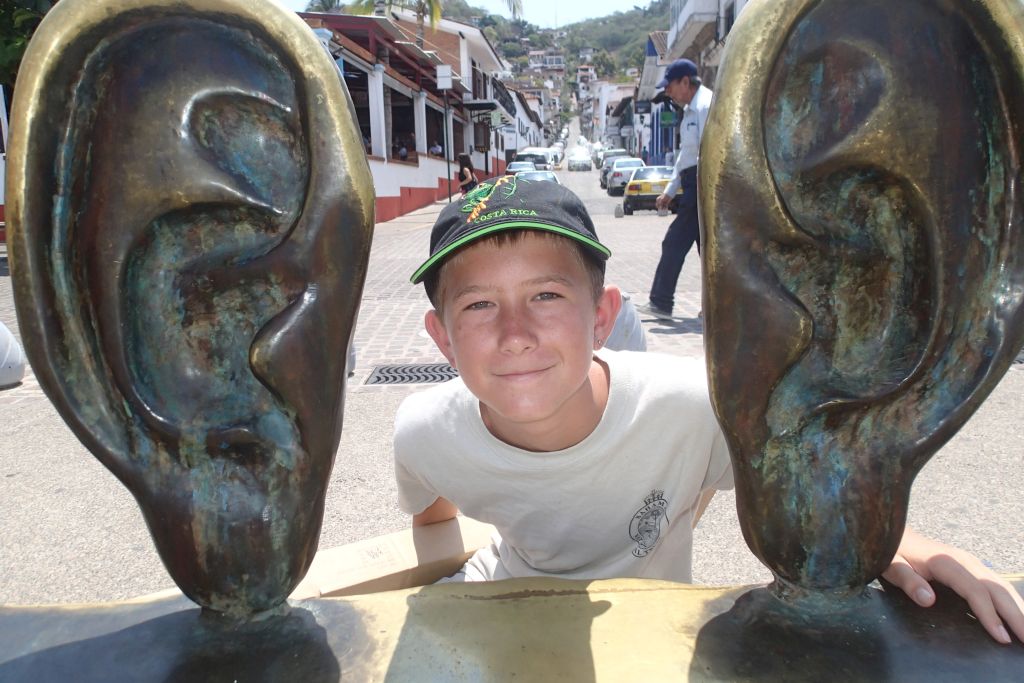 Who thinks up this stuff?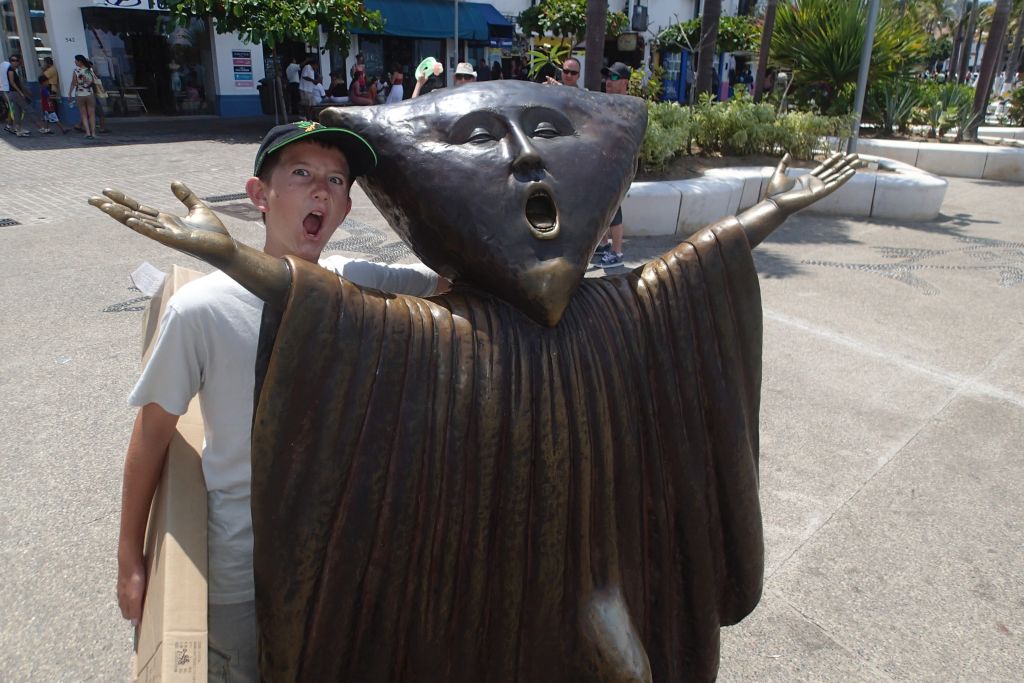 How about this sand sculpture!  What a shame to have it blow away with the next storm.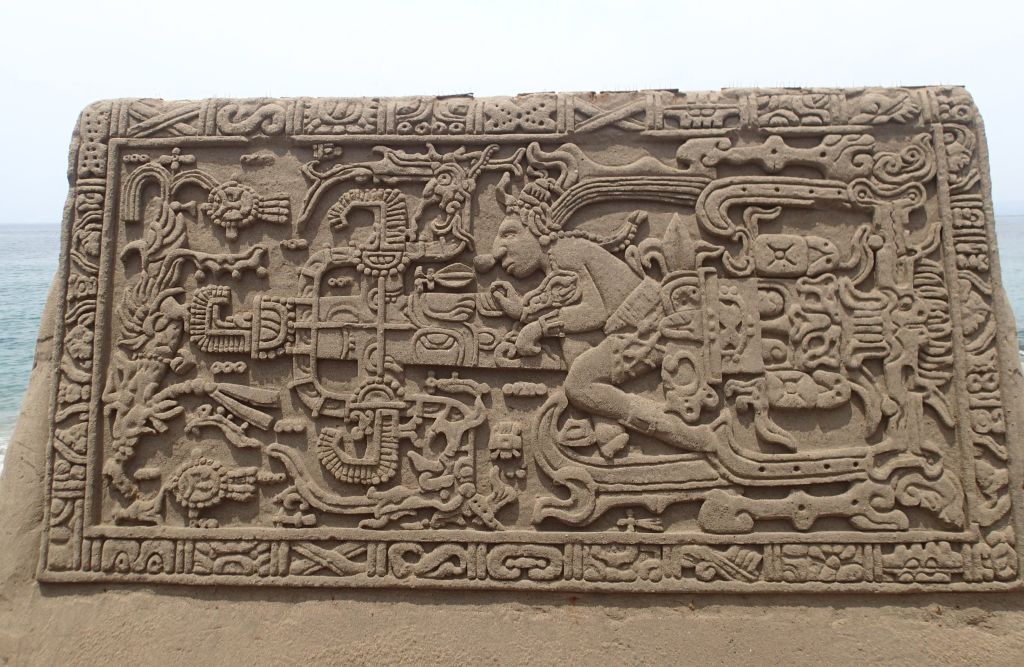 Now lets get to business with treats.  Genny and Georgie have mangos on a stick and Marie has a cup of watermelon.
Meanwhile Roy spots moving statues across the way.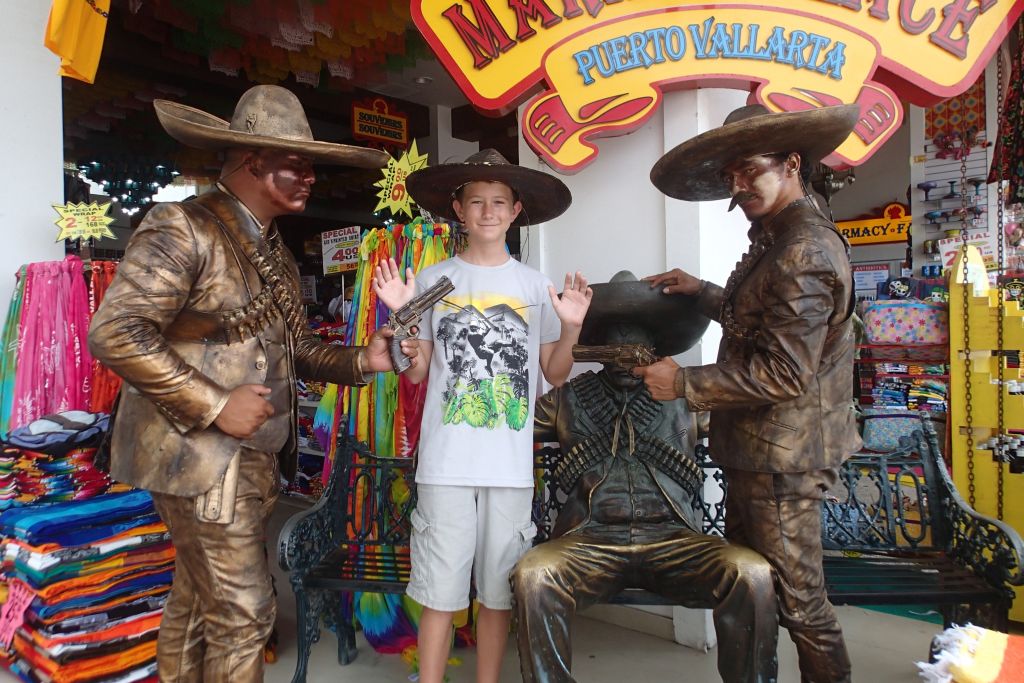 Which banditos are statues and which are real?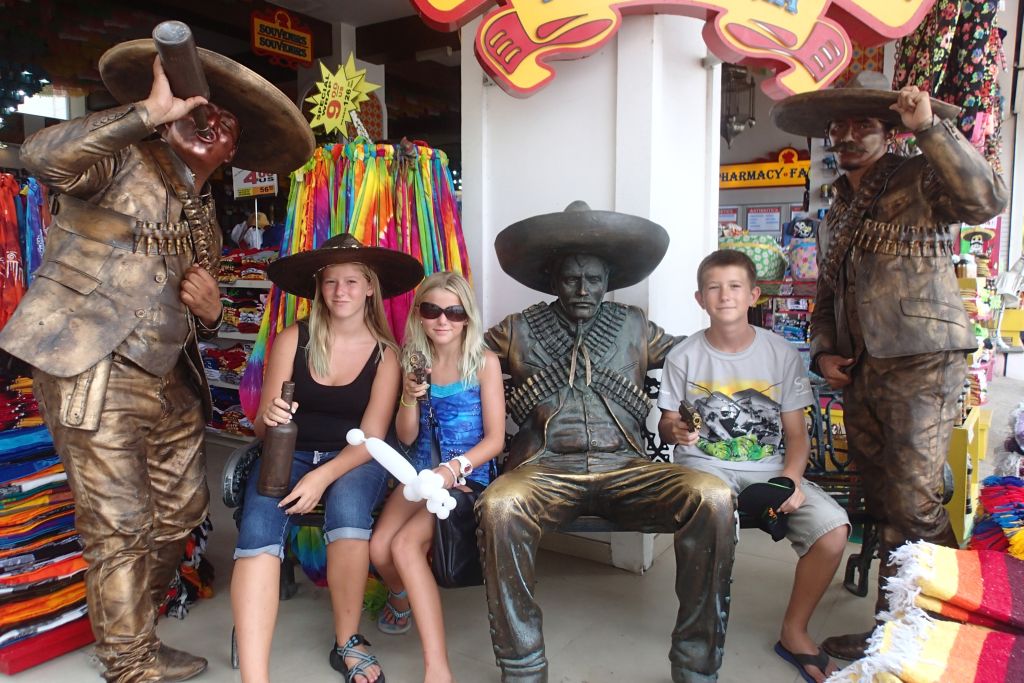 How about hair braids?  Marie and Georgie got their hair done while the rest of us browsed in the trinket shop.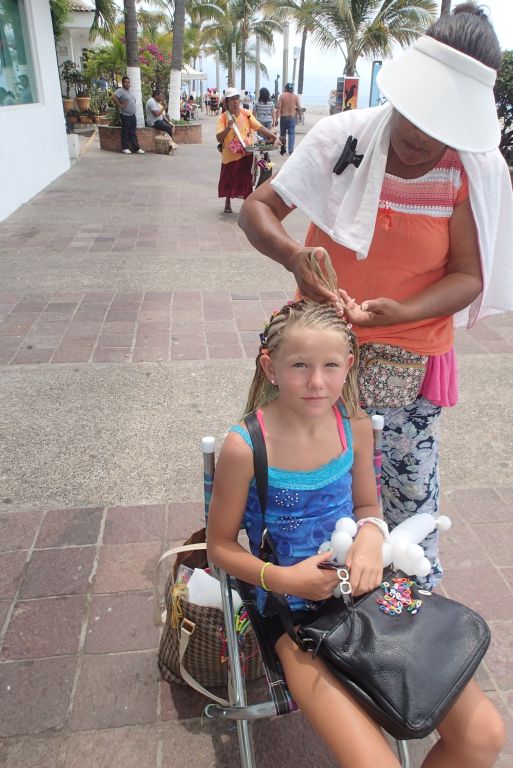 As with most Mexican towns, a Catholic Church is located at the city's center.  Our Lady of Guadeloupe has been at the center of Puerto Vallarta since its construction that started in 1915 with the main project completed in the 1940s.  We visited on a week end and got to peak at many pretty ladies in gowns and men in suits waiting for a bride and groom to walk down the isle.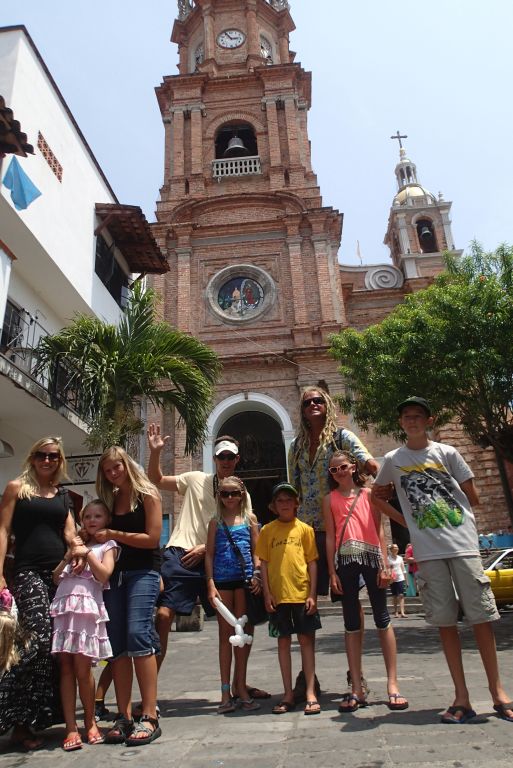 Mexico has quite a few Volkswagens and many of them are classic beetles.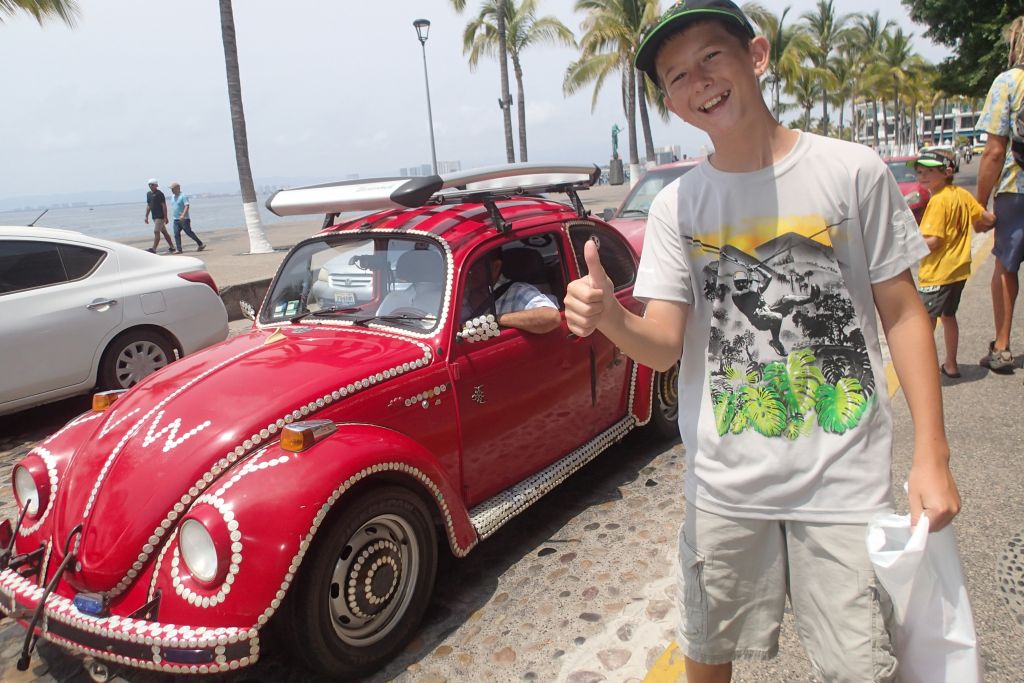 After spending our money on hair braids, bathing suits, tips to the sand castle people, live statues and other street snacks we went off in search of a cheap taco restaurant.   This is difficult with so many places catering to tourists. Most of the places along the water front offer entrees for $10 – $15 each which is too rich for our budget.  Finally we found a place with tacos for about 75 cents, cheap sodas and they let us bring in beer we bought from the store across the street. Seven kids and five adults got stuffed on tacos, sodas and beer for about $45 plus a hefty $10 tip and off we went, back to the bus stop.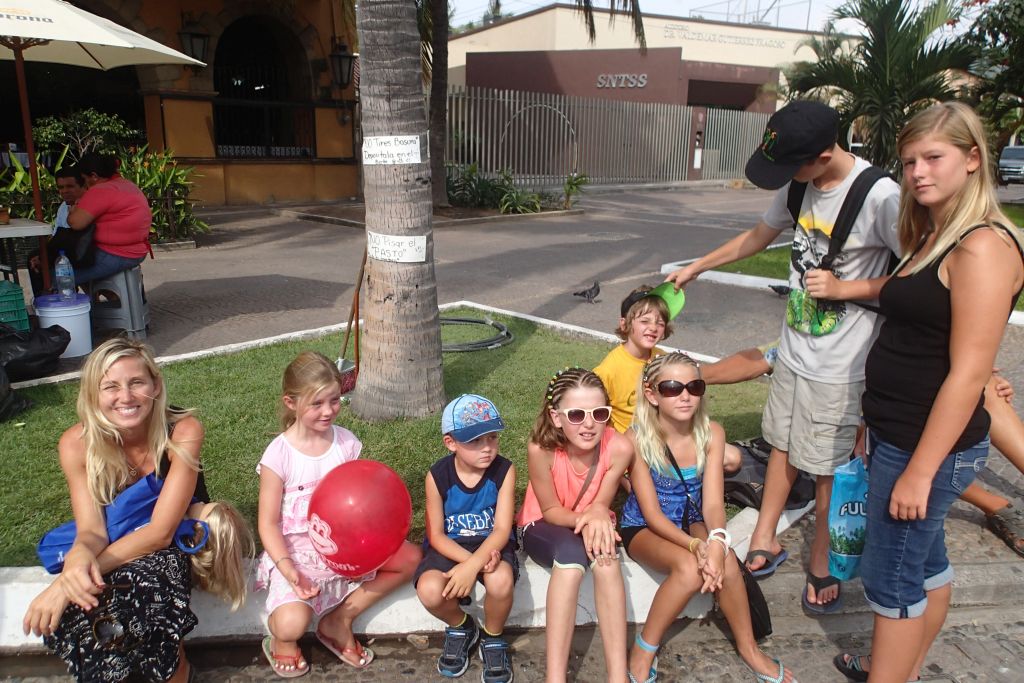 Everyone was quiet on the way home with bellies full of tacos and this guy and his little buddy singing for a tip.  Yes, be sure to have small money available for tipping performers.
Back at the resort we went to the Sunday night welcome party.  The resort provided entertainment, vendors, a few snacks and raffle drawings. Genny scored this pretty dress.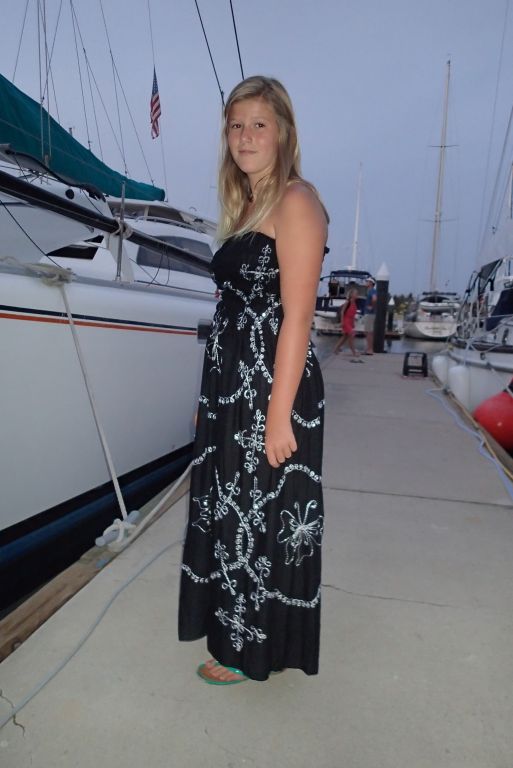 The spa and salon had a booth there and Eric signed me up for most every treatment they have to offer.
The dancers performed colorful native numbers, then the MC drew raffle tickets for dinners and spa treatments.  Everyone in our group gave their tickets to Genny and she won a dinner ticket for the Mexican Fiesta.  Next she traded her dinner ticket to me plus baby sitting duty for our friends on Yolo for a spa manicure and pedicure.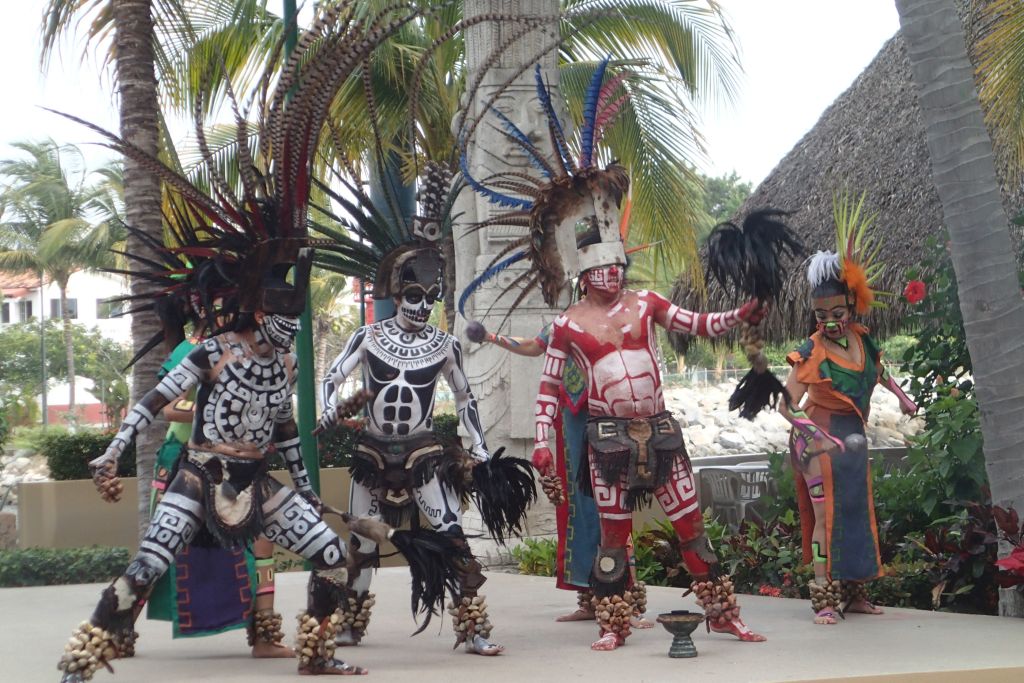 What a great day for Jackie!  I started out the morning with a soak in the spa hot tub while sipping lemon water, then a  90 minute massage followed by a 90 minute facial and massage.  After all that I could barely think straight enough to do any more chores.  Later that day I enjoyed visiting with my Genny while we had our nails done.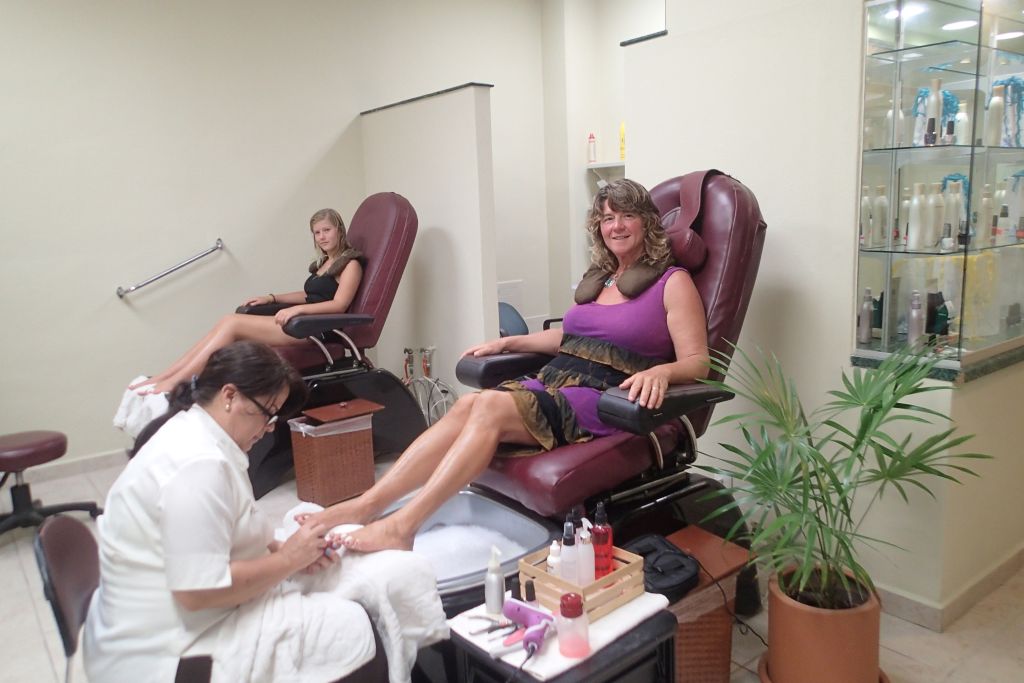 In the evening Eric and I went to the Mexican Fiesta with Courtney and Matt.  We were greeted with tequila shots and a poolside seat.  The buffet was fabulous, we tried to sample a little of everything but couldn't make through all dishes before being to stuffed to go on.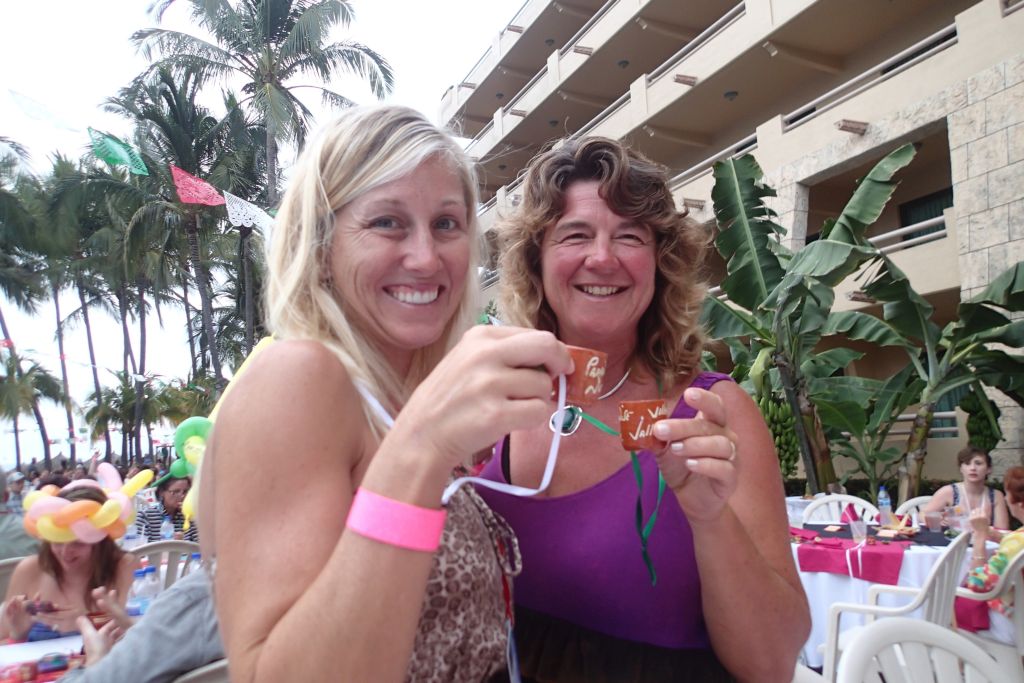 The entertainment was fantastic.  The dancers did several costume changes plus there was a guy who performed with his lariet or lasso and an 11 piece mariachi band.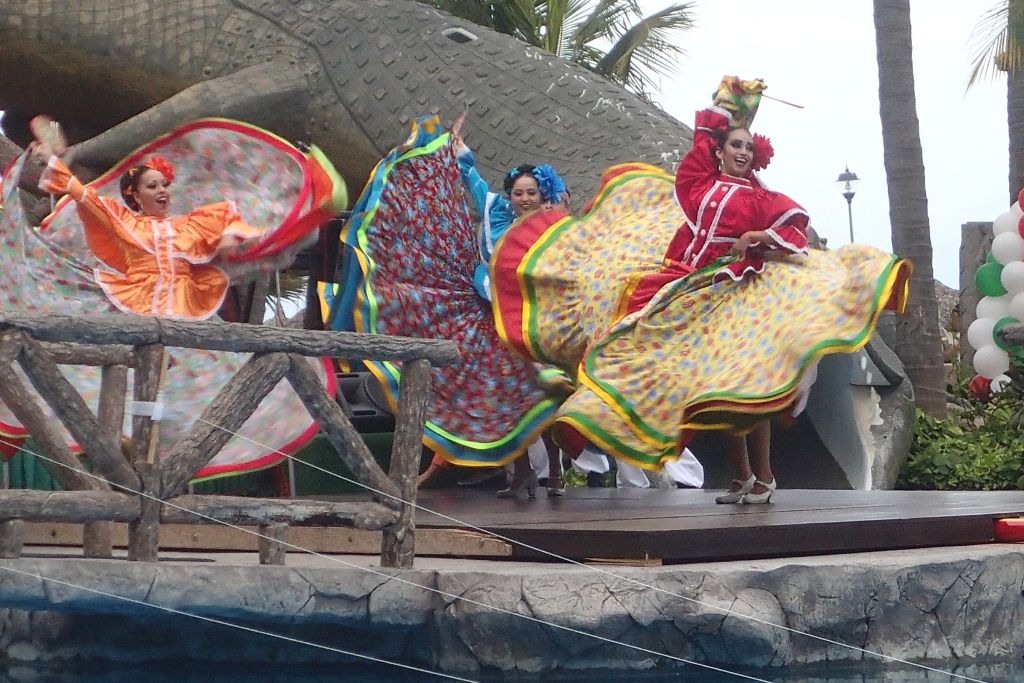 After the show a small band and singer entertained for the rest of the evening.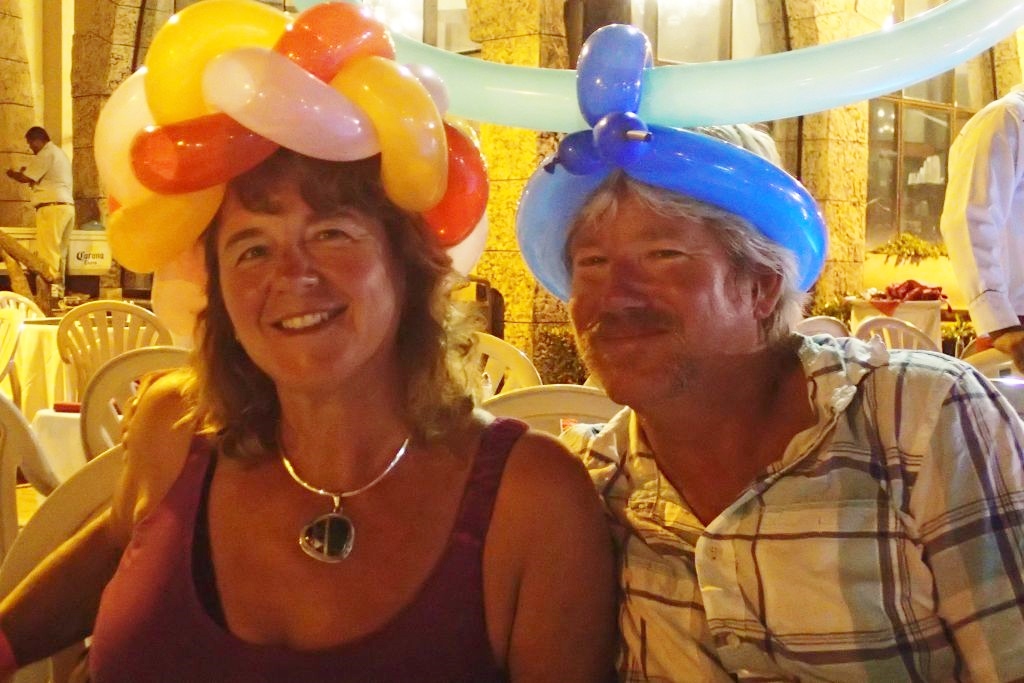 The MC organized a game for people to walk a beam out over the pool for a bottle of tequila.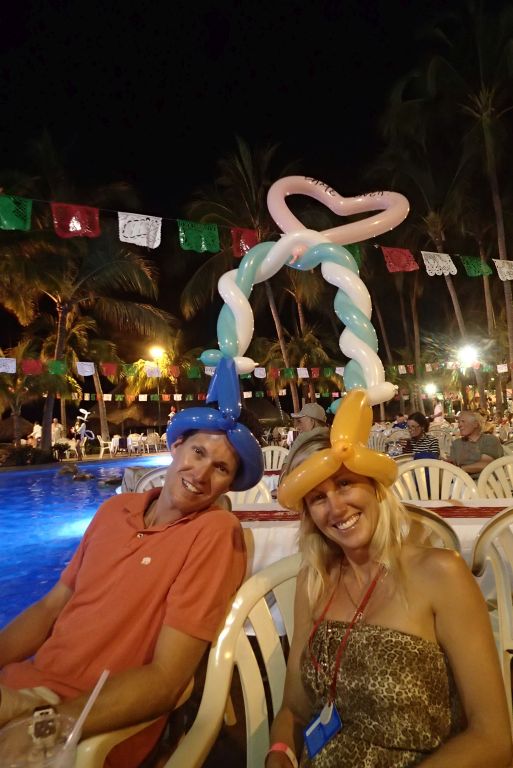 The evening finale was fireworks.  It's great to be on vacation in Paradise Village!