Bahia Magdalena is about 160 nm north of the cape on the Pacific side of Baja.  The bay is enclosed by 60 nm of barrier islands in an "L" shape similar to Cape Hatteras.  We were last here in 1999 and have fond memories of Gregario the Port Captain.  We arrived around 4am, had a nap, the kids went berserk cleaning their rooms and then headed in to see Gregorio and sign his log book.  As luck would have it, he was out all day.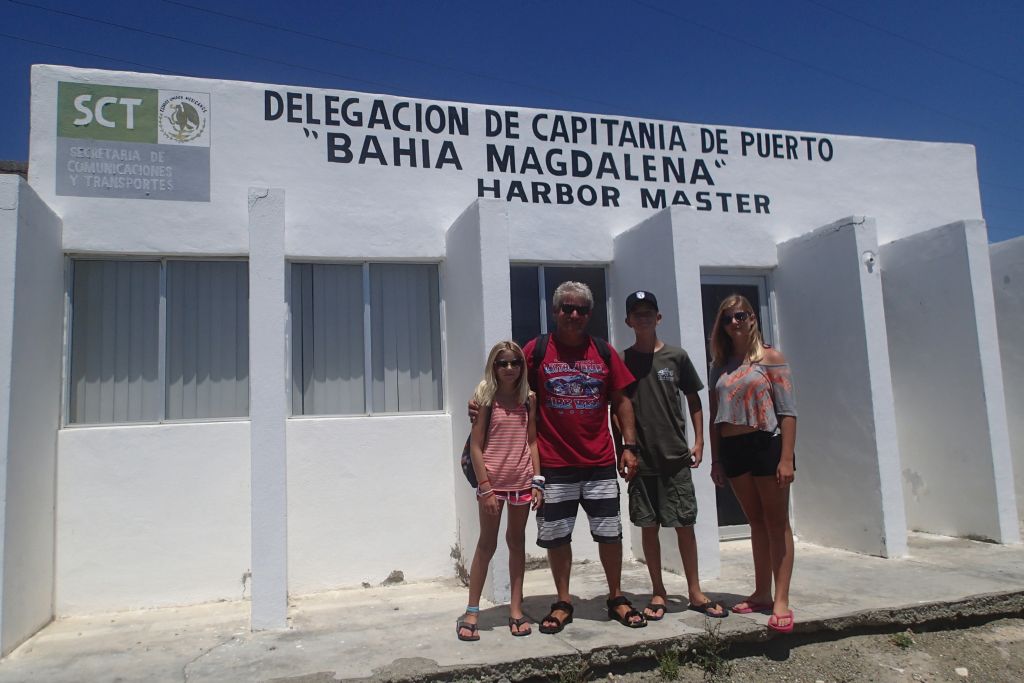 So, we all went to the beach.  Just like Teak did so many years ago, Topaz ran along the shallow water chasing fish. We walked about a mile to the sand dunes at Punta Delgada, the reward was beautiful, white, warm, soft sand dunes.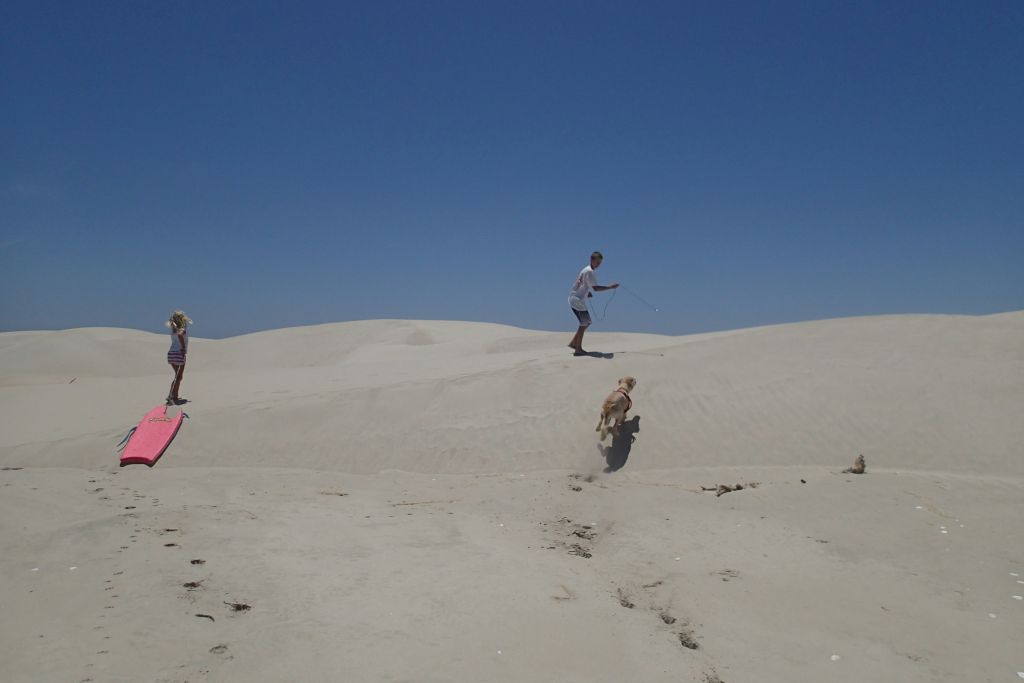 Topaz and the kids ran up and down the dunes, sliding, rolling and jumping in the sand.  I'm too old for anything more than crawling to the top, watching and taking pictures.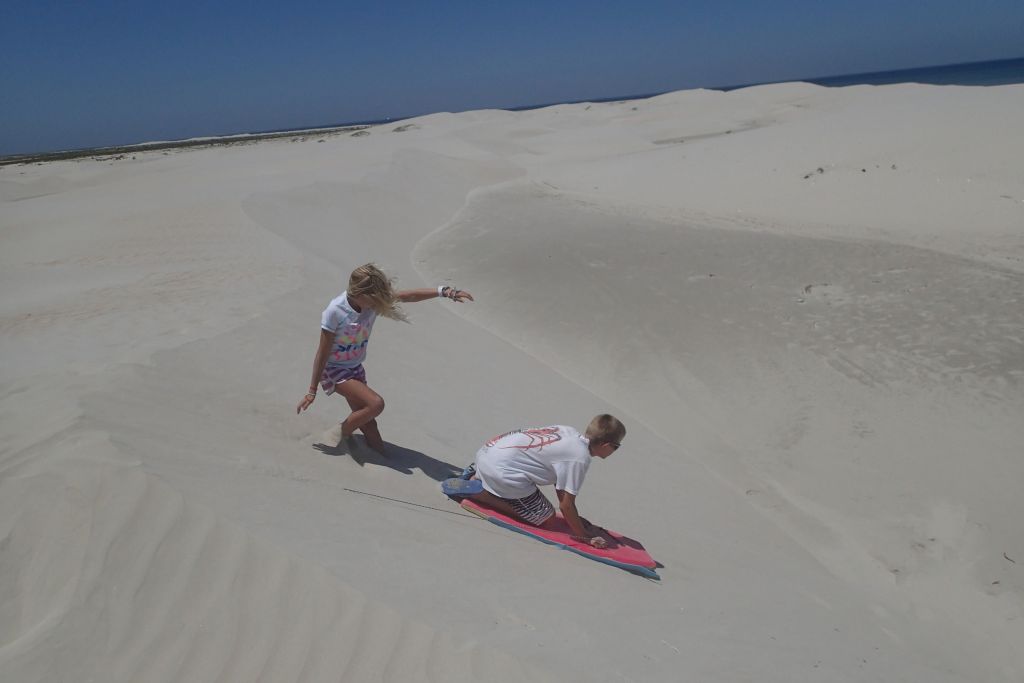 We were surprised to see the number of huge blue crabs, long dead and dried out on the beach.  Roy got his crabbing gear out but didn't have any luck.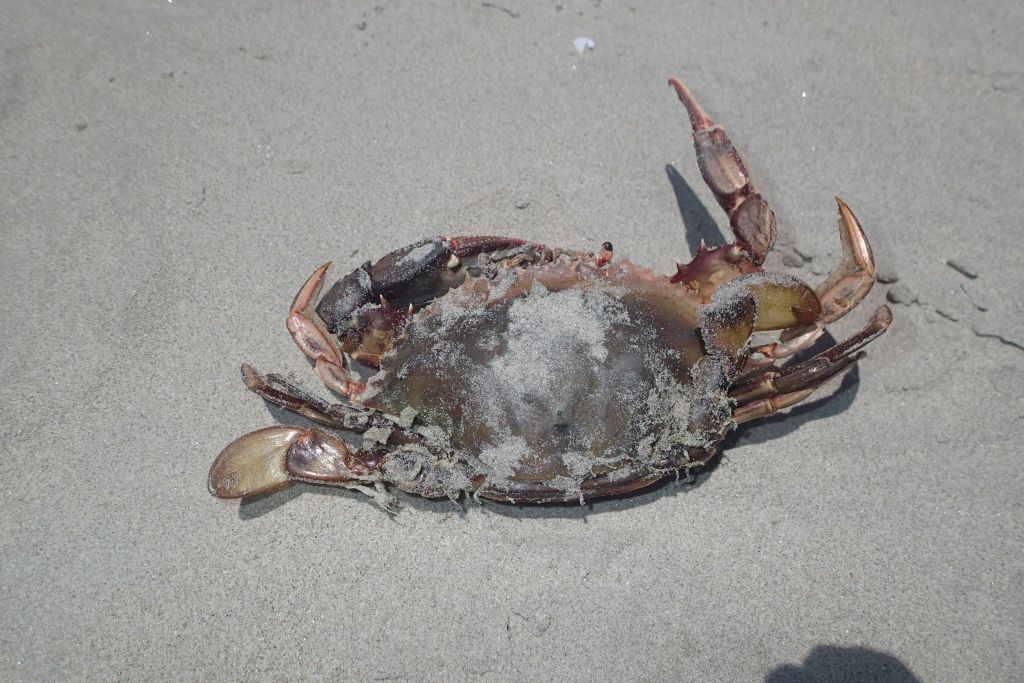 When it was time to go home, Topaz was staying just out of our reach.  Roy is more determined to go than she was to stay, so he captured her.
The chore for the next day was to get fuel in San Carlos, five miles across the bay, which was stretched by a 'Z' shaped channel through the shallow water.  We were hoping to find a fill up from a Pemex gas station where we could use credit cards instead of exhausting all of our cash.  No such luck.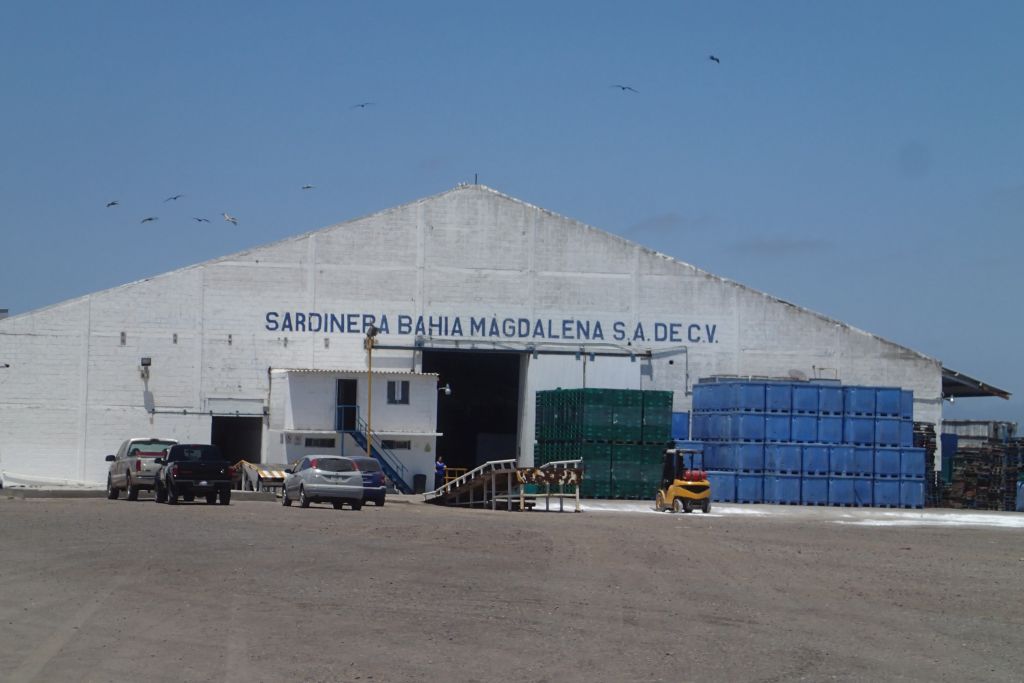 Instead the Sardine Co-op offered to fill our jugs for cash.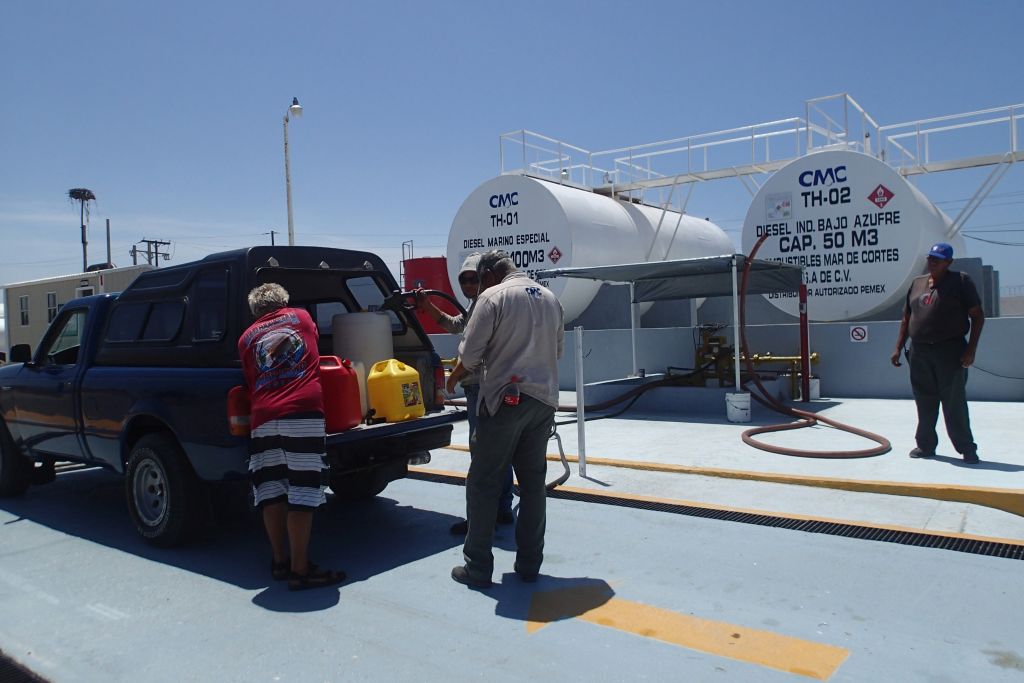 The challenge was to move our 22 gallon tank, found on the beach in the Bahamas, from the truck to the dinghy at the beach.  Luckily, the guy giving us a ride helped with that. I was really grossed out by the birds, bird poop, big sardine boats, icky water and beach and as soon as we got situated I was ready to pull up the anchor.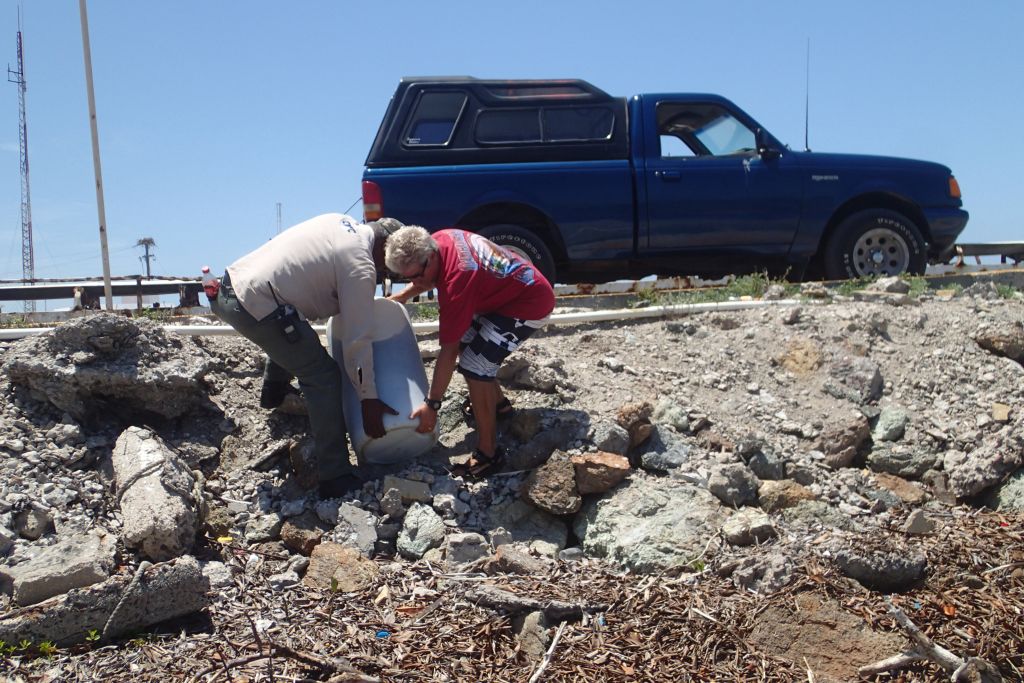 Back at Man of War Cove Eric gave me a nice cold Pacifico and the memory of the low flying sea birds and their poop faded.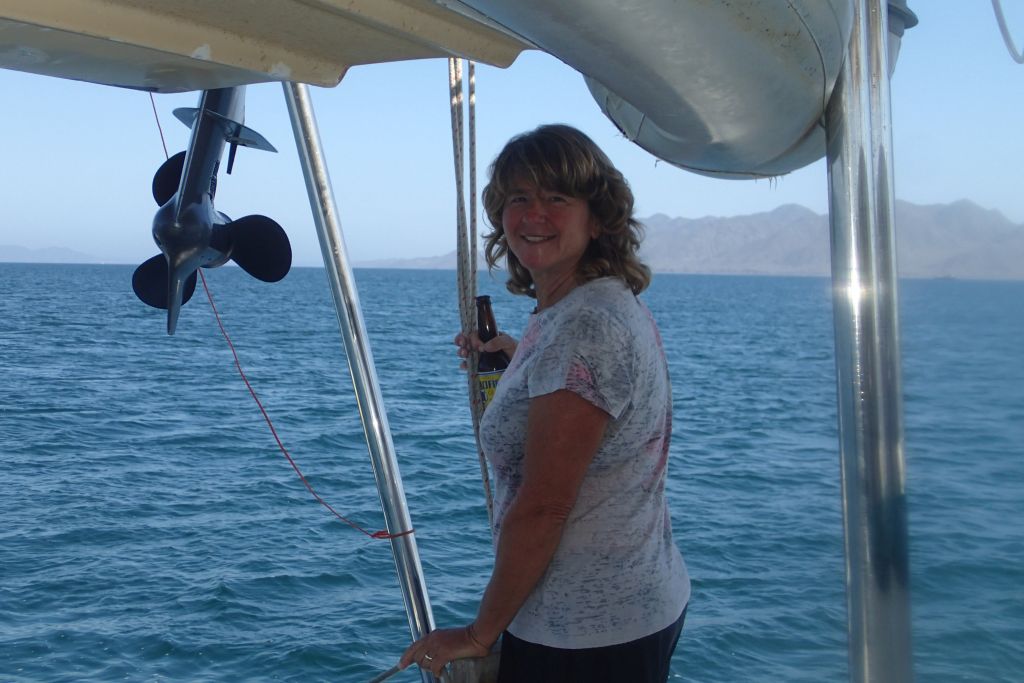 As soon as we arrived Gregorio came by in his panga ready to fuel us up.  Ahhh, we just spent most of the day on this fuel adventure to San Carlos and he comes with manageable sized jugs to deliver right to our cockpit.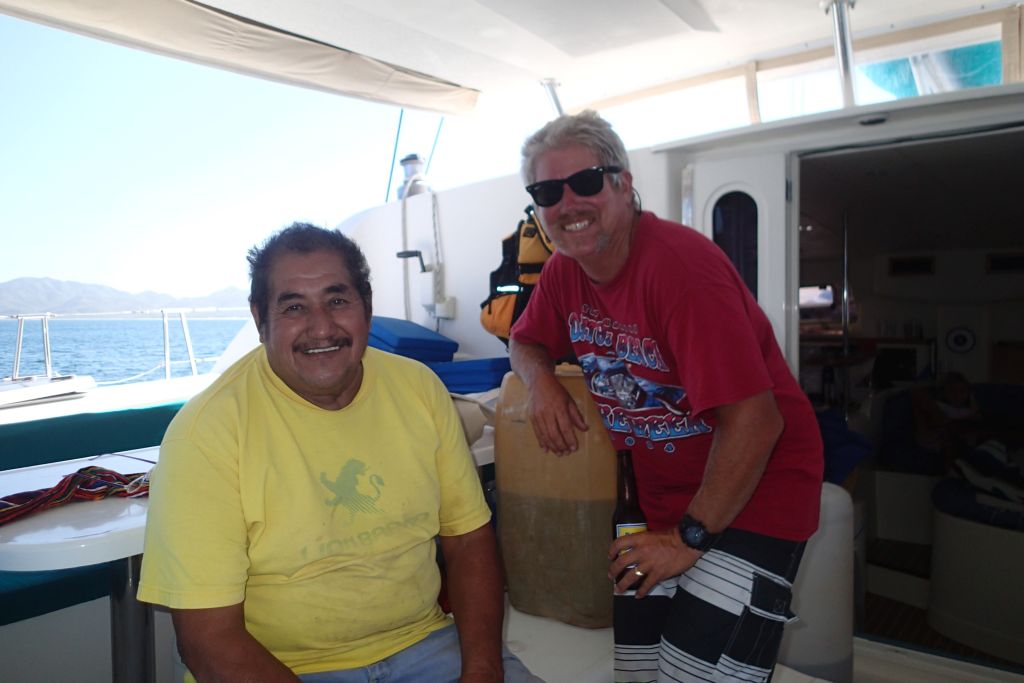 We had some empties because we topped Makai's tanks off, so we bought a little more off of him.  Gregorio is a really nice guy.  We remember how nice he was last time we were here and even remember he was preparing Cabeza de Res for a party.  It's hard to get the vision of the stewing cow head out of your mind.
The next morning the kids finished with even more cleaning and came up with three huge bags of donations when just as if we had prearranged his arrival time, Gregorio stops by again. I had been trying to give away Makai's washing machine the whole time we were in Mexico without any luck.  Gregorio's face lit up when we offered it to him.  Rodney and Jane shipped this machine to St. Lucia when they bought the boat, it traveled to the Mediterranean Sea and back to the Caribbean, then up and down the east coast with us, through the canal and found it's final resting place here in Magdalena Bay.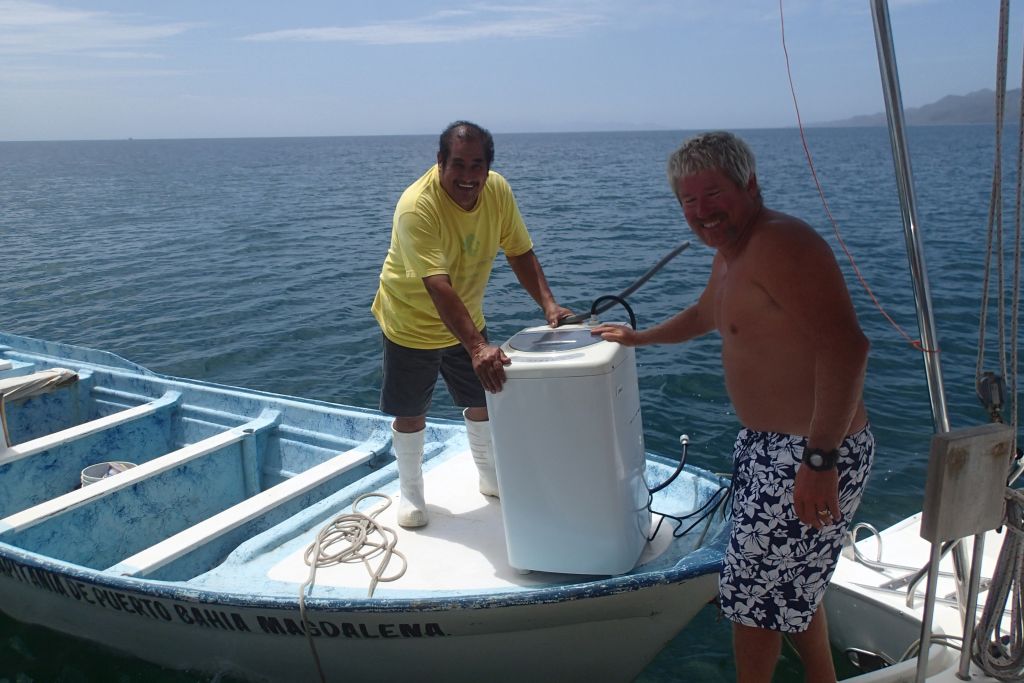 We said, "Adios, see you when we return after the kids are off to college."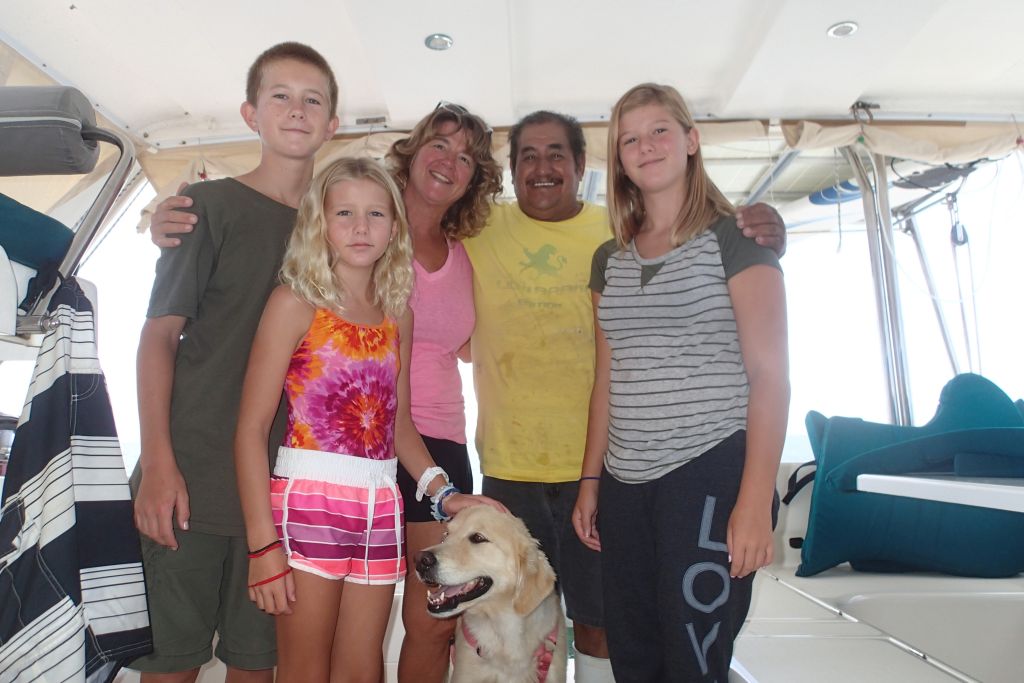 Everyone took turns testing out the new piece of space freed up by sending the washing machine off.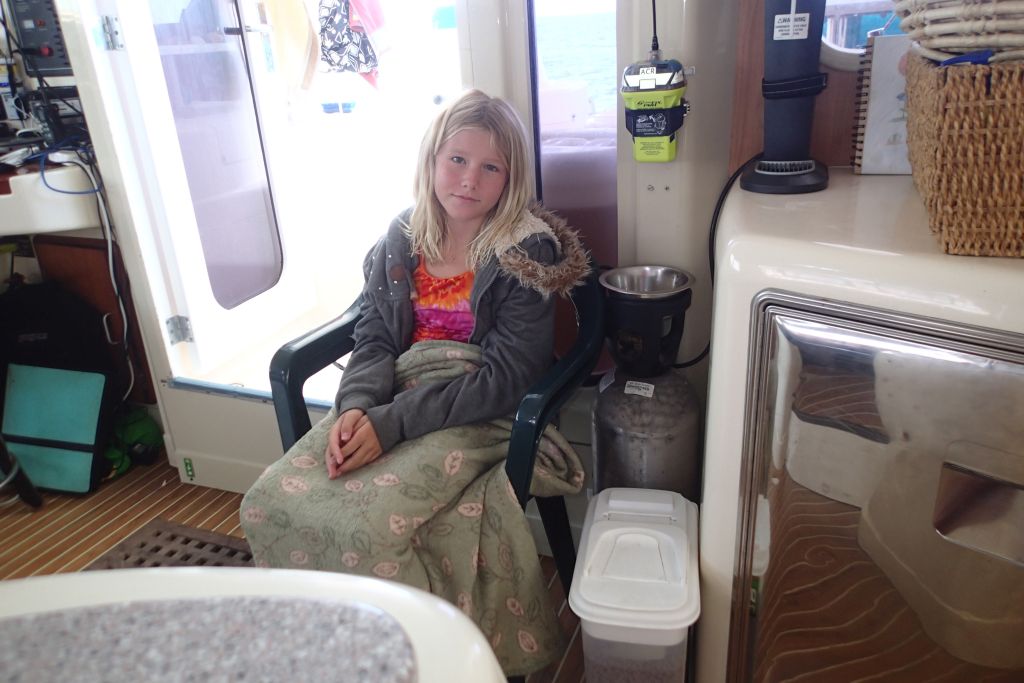 Our last day was all fun in the sand. Bahia Santa Maria is on the other side of the dunes facing the Pacific ocean.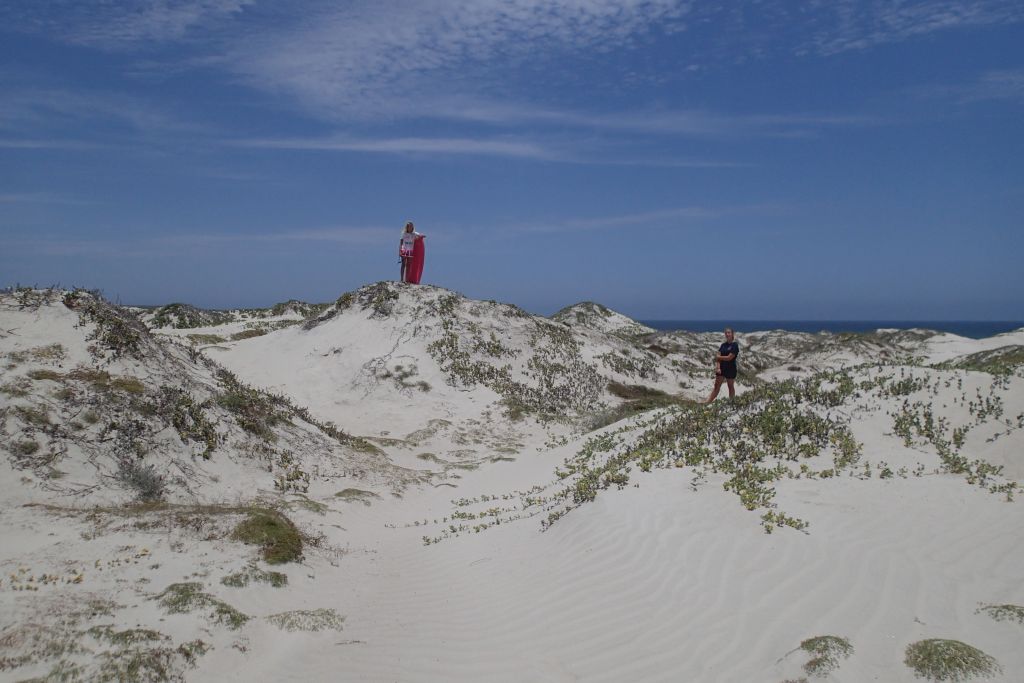 The walk to the other side was a 3/4 mile nature walk. The plants that grow here are hardy withstanding drought, floods, heat, cold and wind.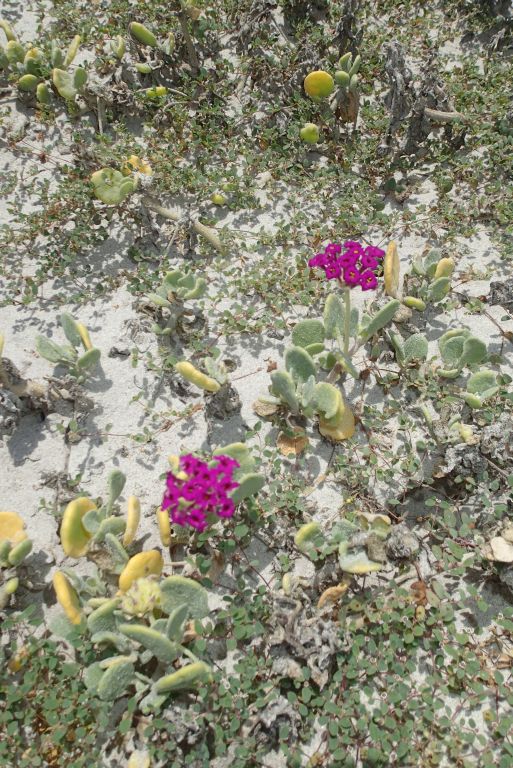 We saw plenty of evidence of critters in the dunes.  From a distance we saw a jack rabbit in the bushes, these little paw prints went up and down the sand hill, there were a few big burrows and of course scat.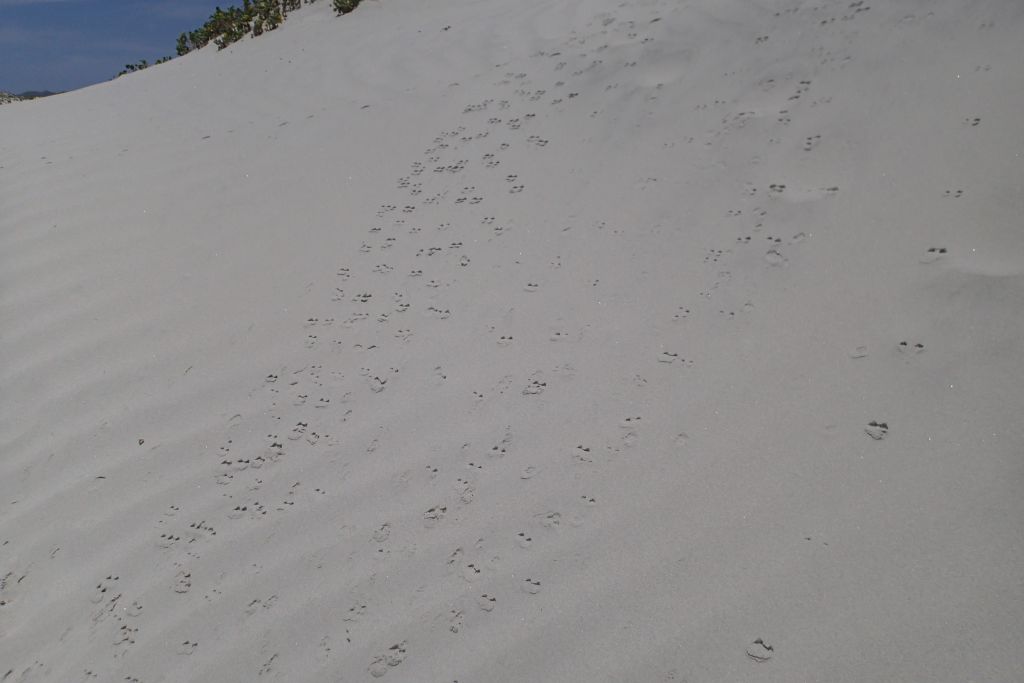 The beach in Bahia Santa Maria had gentle surf in shallow water.  Marie and Topaz had a blast playing in the waves.  The high tide line was covered with little red tuna crabs.  Eric said that the El Nino weather brought them up into California as well.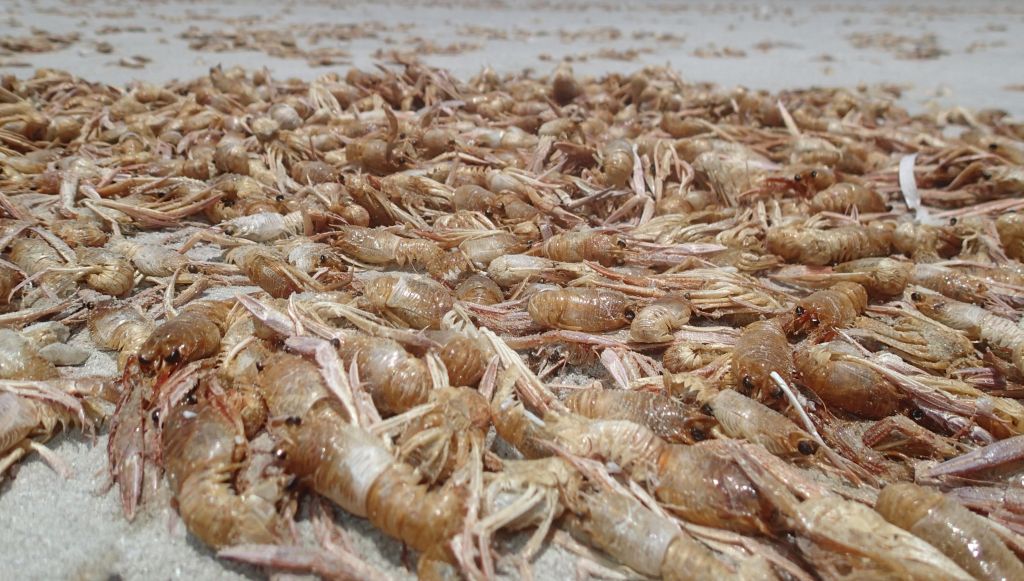 Roy and Genny walked on the beach quizzing me about plans for our return home.  We're enjoying this beautiful beach and talking about washing windows, registering the cars, building loft beds and landscaping the back yard.  What a crime to waste a beautiful day on discussing chores.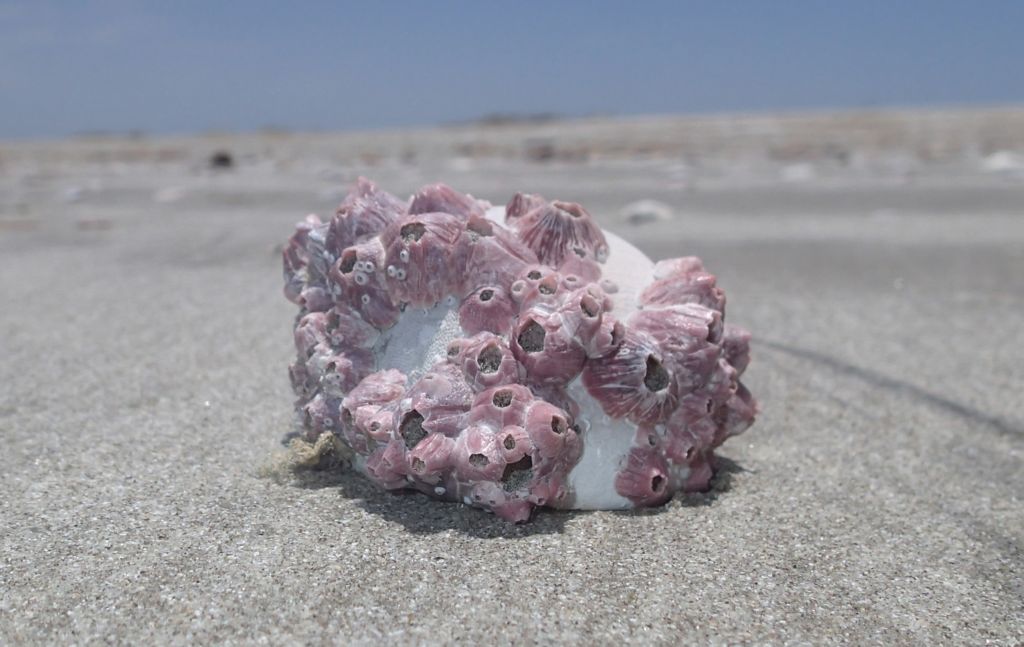 The shells were abundant so we collected a hand full of cone shells to se for crafts this winter at the cabin.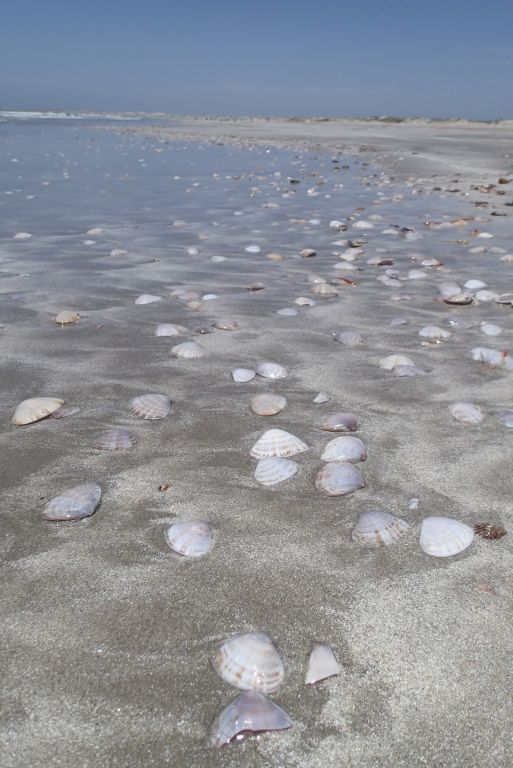 The beach was also littered with giant sand dollars.  There were many in the surf that were black and still alive.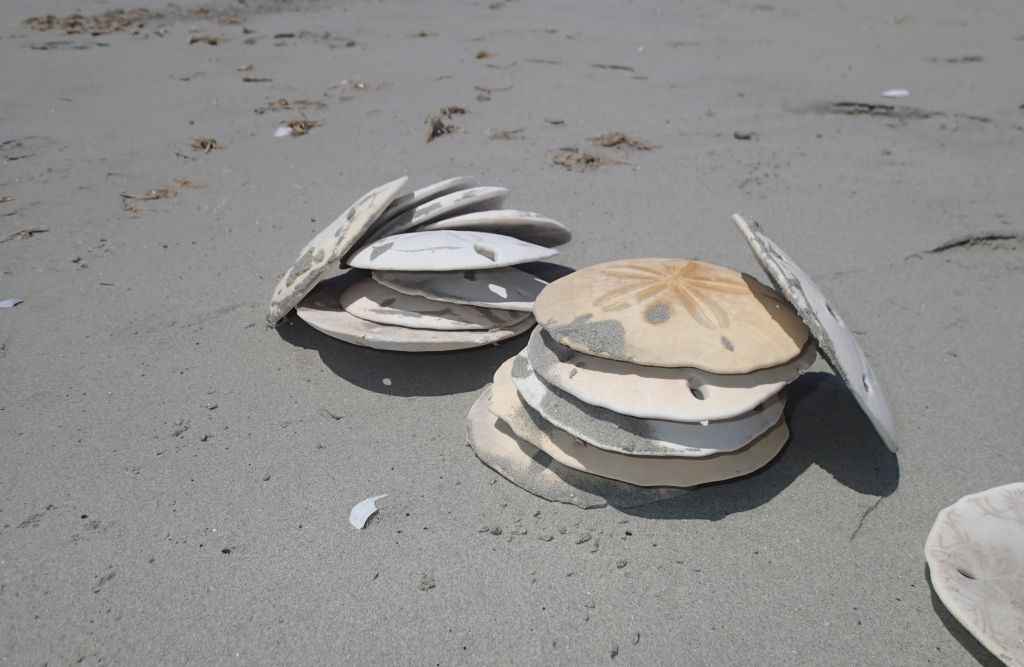 Roy found the grand prize today.  I've been google searching to identify this cool clam shell with no luck.  If anyone out there has a name for this spiky clam shell, I would love to know it.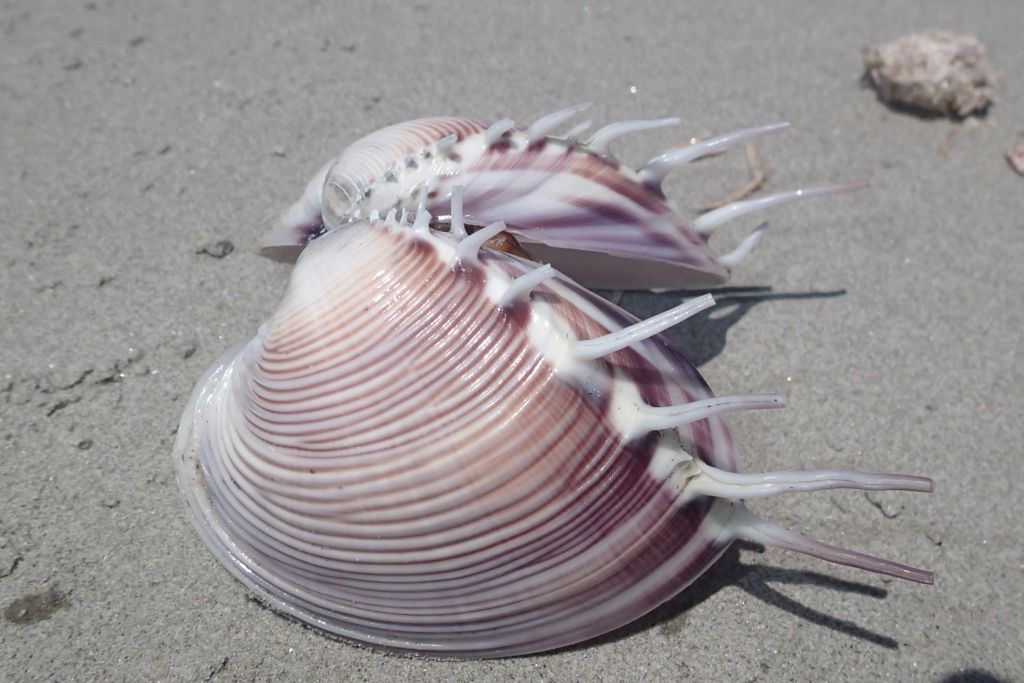 Back to Mag Bay's side of the dunes the pelicans were going wild.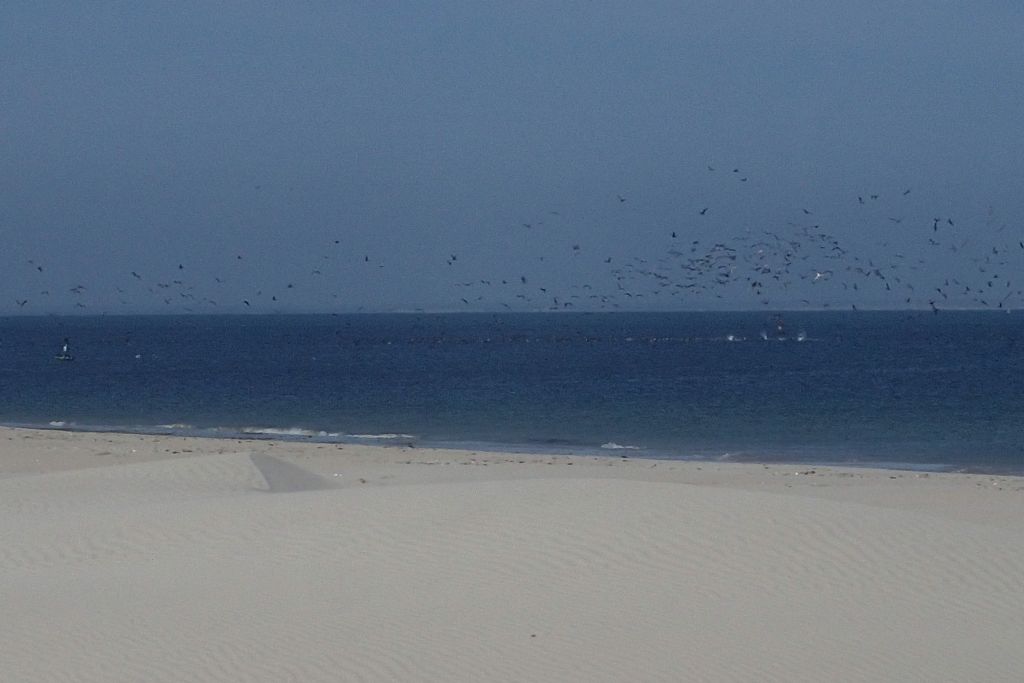 Marie was out to see how much sand her body could absorb.  Surfing down the dunes was great fun.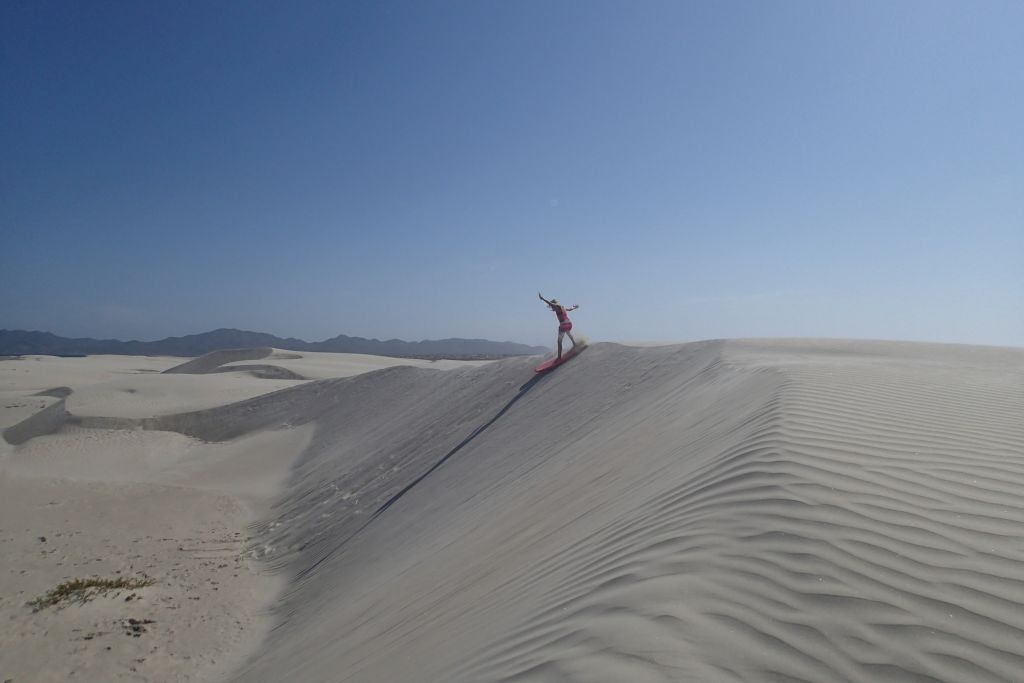 Then there was the belly flopper, getting a little closer to the sand.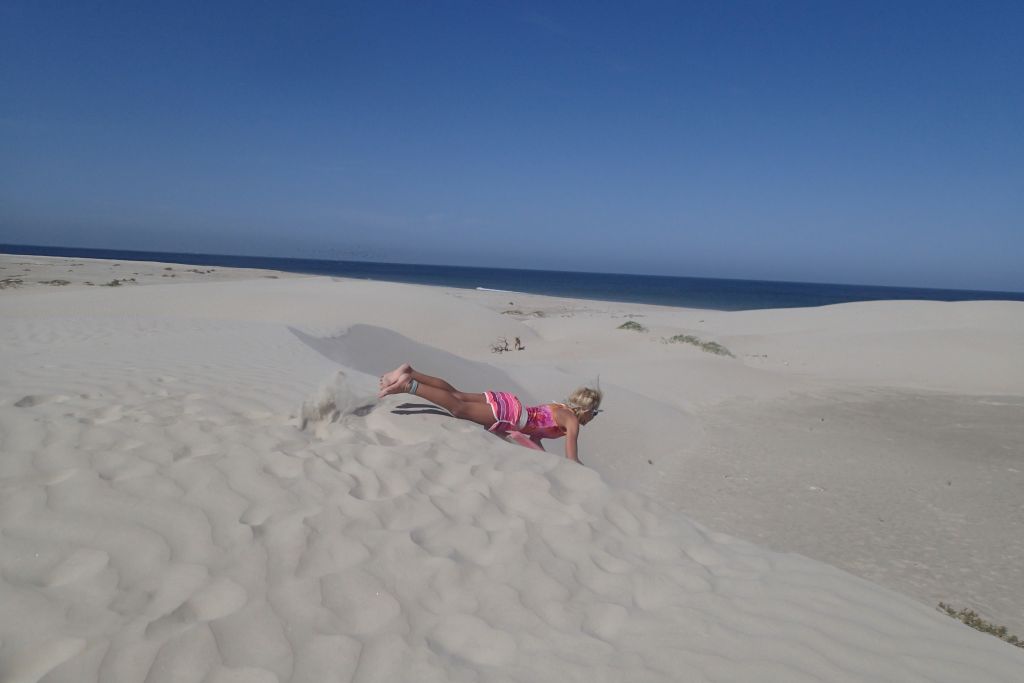 She wore her goggles for eye protection because Marie had a plan to get right into the sand. She grabbed hand fulls of sand to dump into her bathing suit, did head stands, side rolls and then…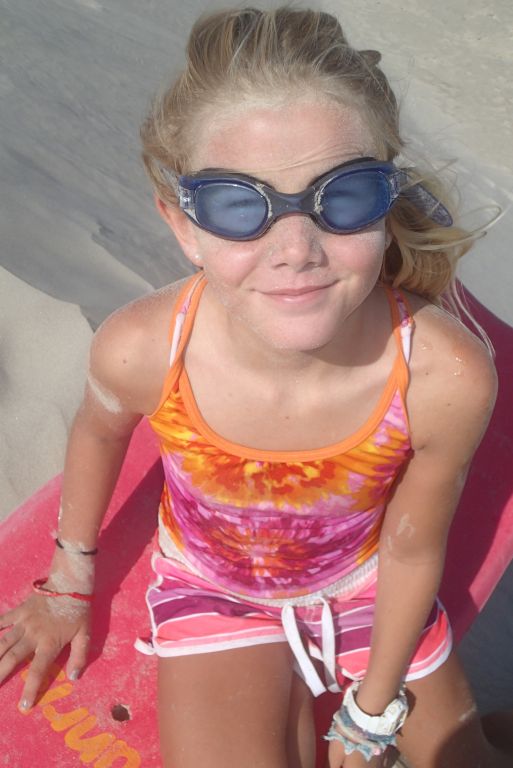 She somersaulted down the hill, rolled over and made sand angels. I was invited to join her but respectfully declined.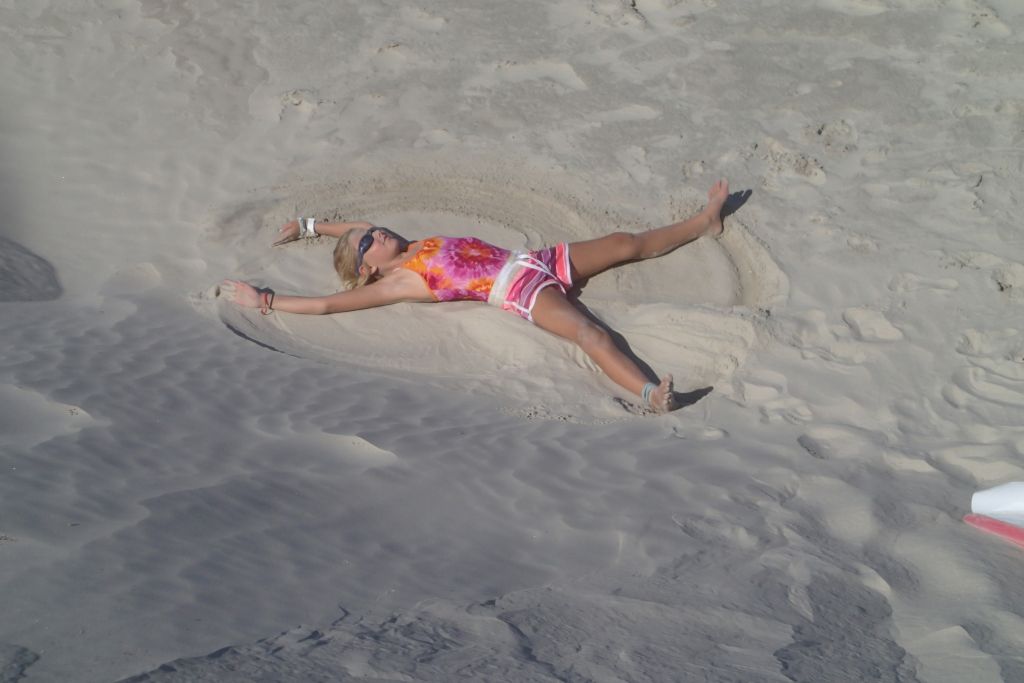 Topaz visited us on the dunes but mostly enjoyed the water.  She pounces on a fish which gets away, so she grabs ahold of her collar and retrieves herself back to the beach.
Enough of this fun, remember we have chores waiting for us at home, better get going. On the way out of the bay we motored through a big school of the red tuna crabs.  They were easy to spot with their bright red bodies in the deep blue water.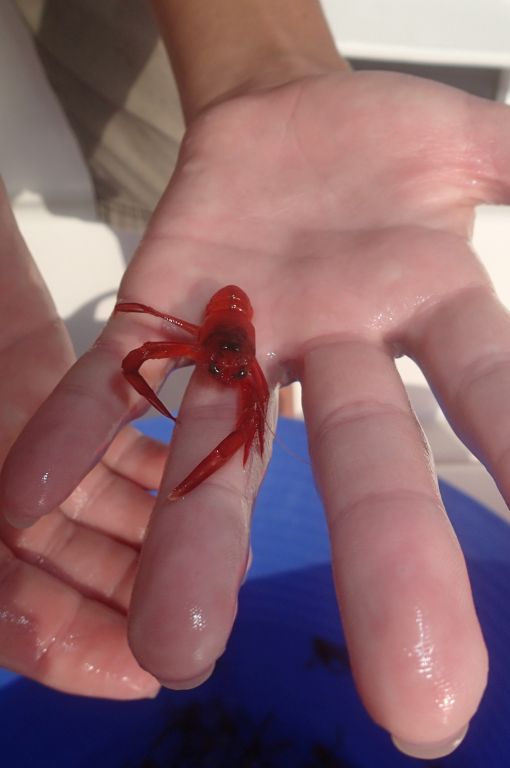 The water was teaming with these little red guys.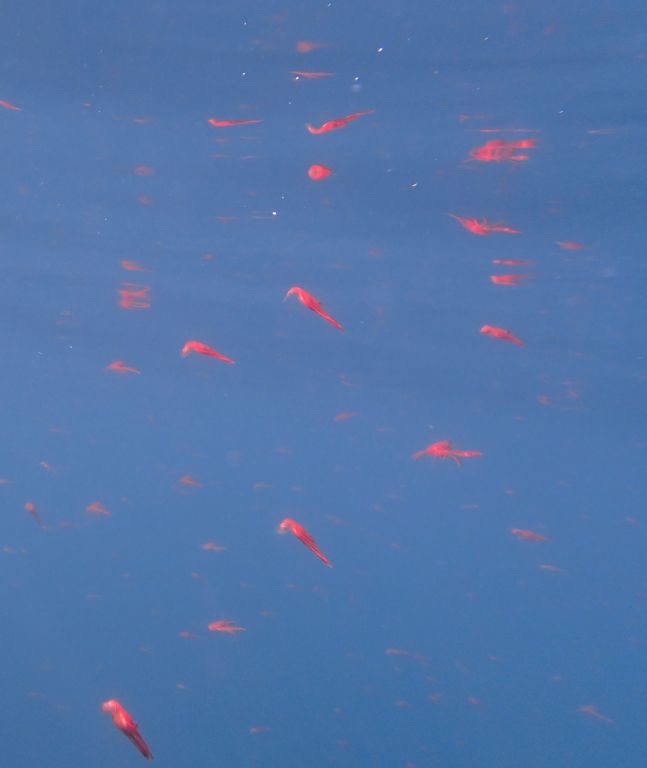 As always, Roy is scooping things up out of the water. In all the hours, of all the years, I've had my face in the water searching the bottom for interesting things, I've never seen a sea horse in the wild.  Here Roy dips his net in  the water while Makai is under way leaving Mag bay and comes up with a sea horse.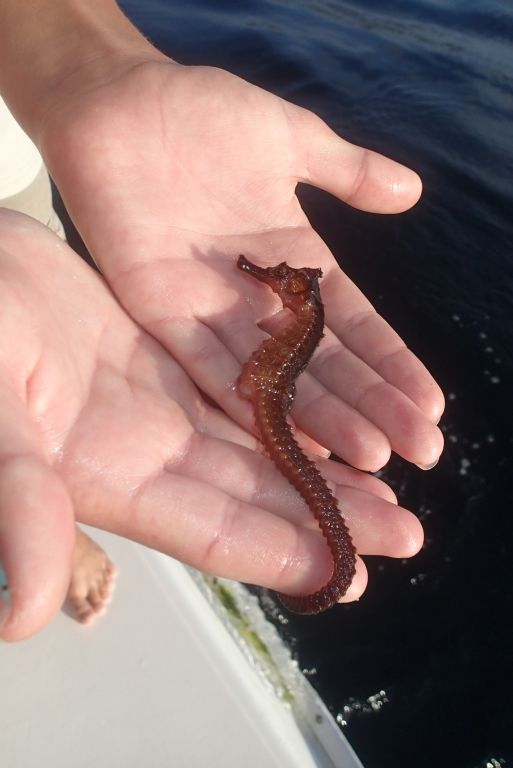 Around the corner to the north, on the outside of Mag Bay is Bahia Santa Marina.  We have fond memories of this bay as well.  With only an afternoon to explore Eric took us down a mangrove river looking for more sand dunes.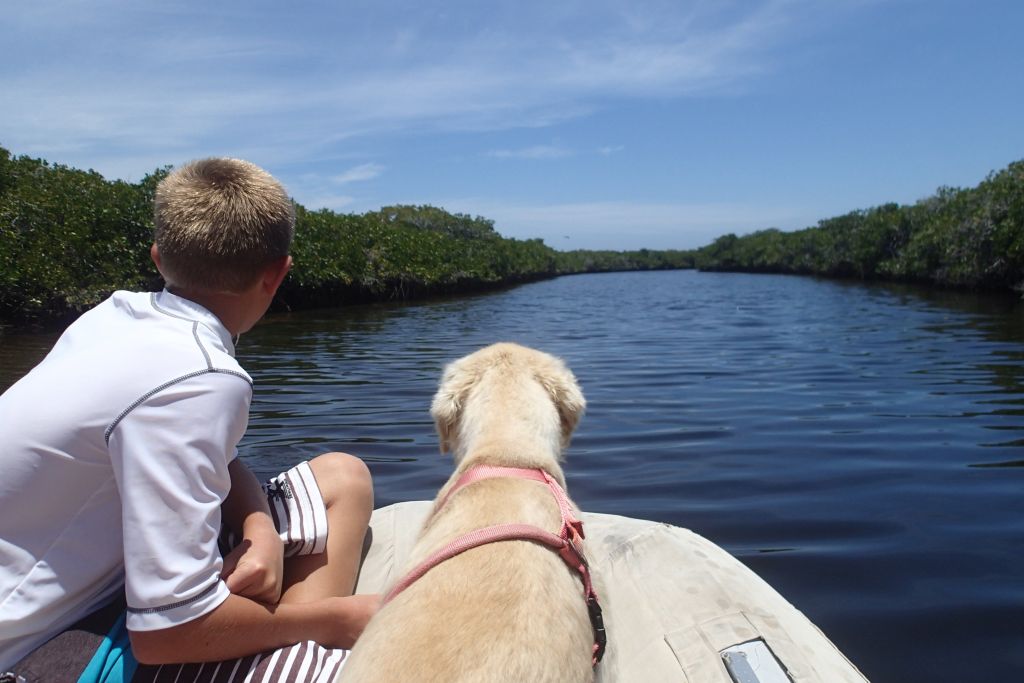 We saw plenty of fish and birds, fishermen and fishing camps, but no where to land and play in the sand.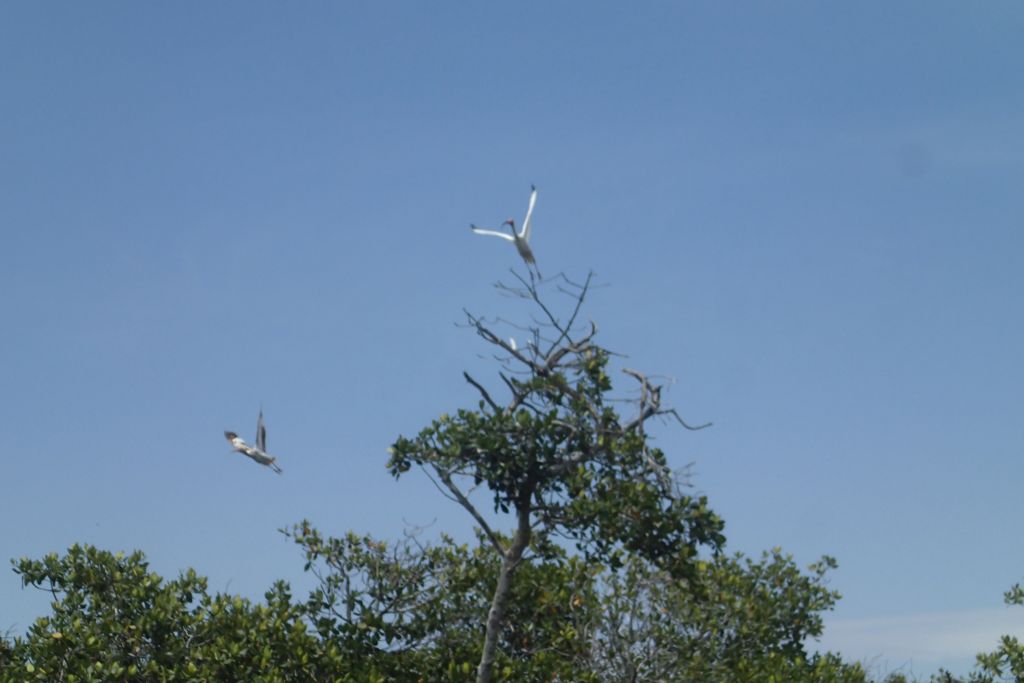 The problem with this bay is that there are nice waves breaking along the shore.  This would be a fun day with the surf and boogie boards, but not with the dinghy.  I remember our last trip here and we only went ashore with the kayaks.  Kayaks can be surfed ashore and if you get dumped off, both rider and kayak washes up on the sand.  Something you can't do with a dinghy and engine.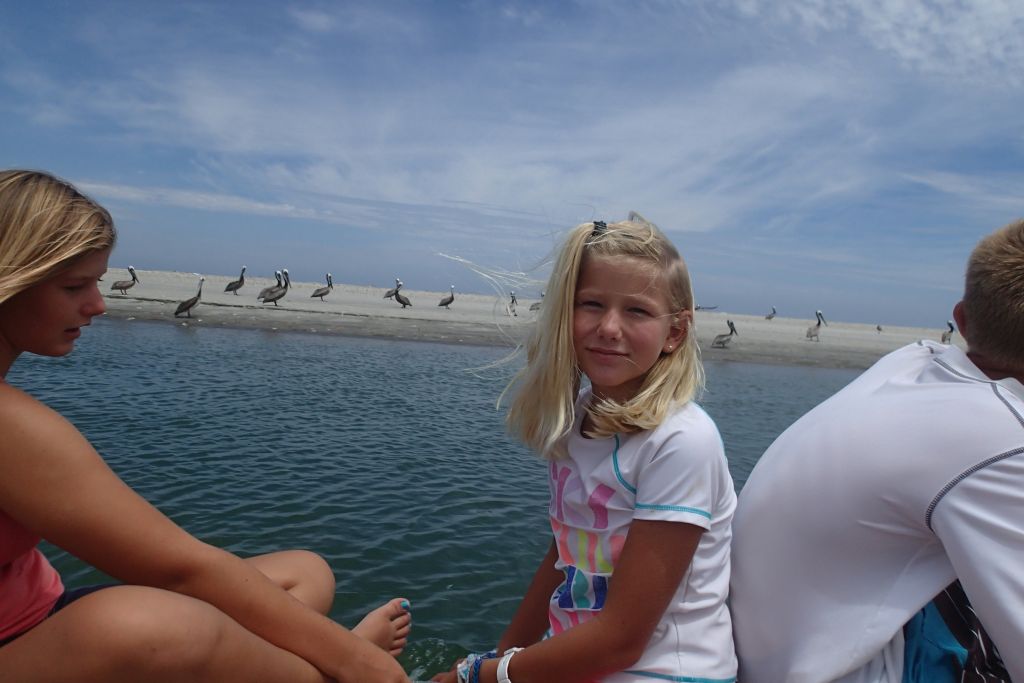 It was a great day.  Now we're 20 miles closer to our next destination.  We'll leave tonight after dark and hope that the afternoon winds and waves have settled down for a nice overnight ride to San Juanico, also known as Scorpion Bay to the surfers.