Makai is almost ready to go, now we just have a few errands to re-position the Mears family and Makai to Southern California.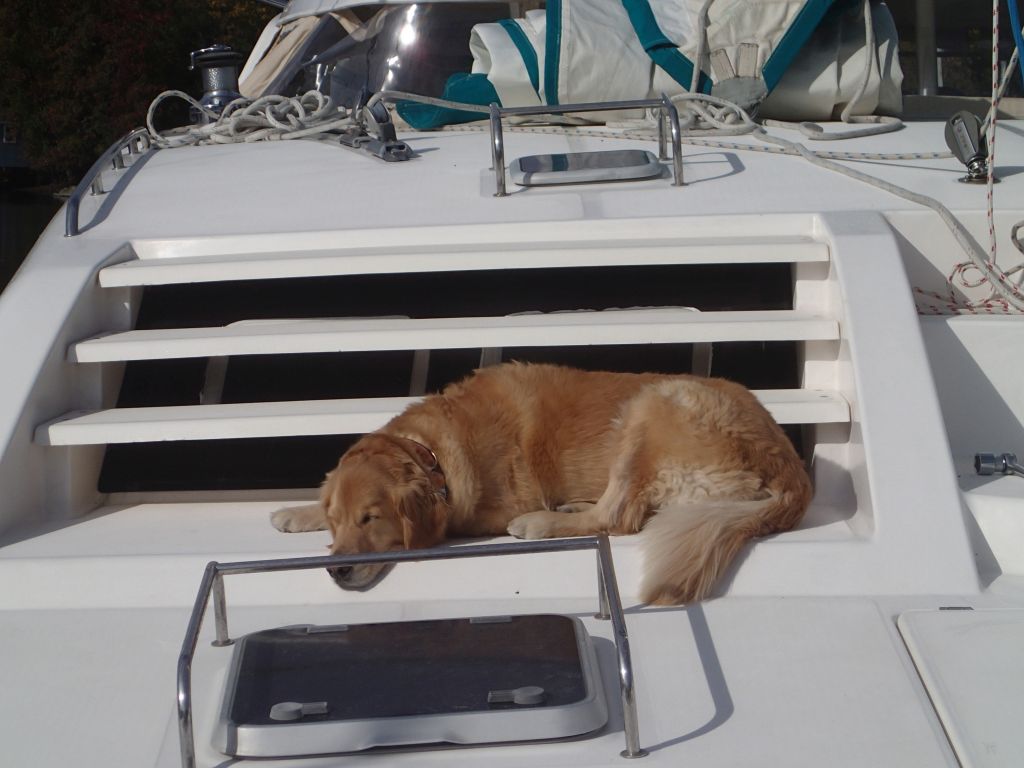 Like last fall, the temperatures is starting to drop.  The new air conditioner Eric installed in July doubles as a heater.  Most days the doors are closed and the heater is running.  Unfortunately, it only warms the salon by 10 or so degrees, I'm not actually certain of that number, which leaves the bedrooms chilly and everyone still wearing jackets. But as long as we have shore power we can take the chill off.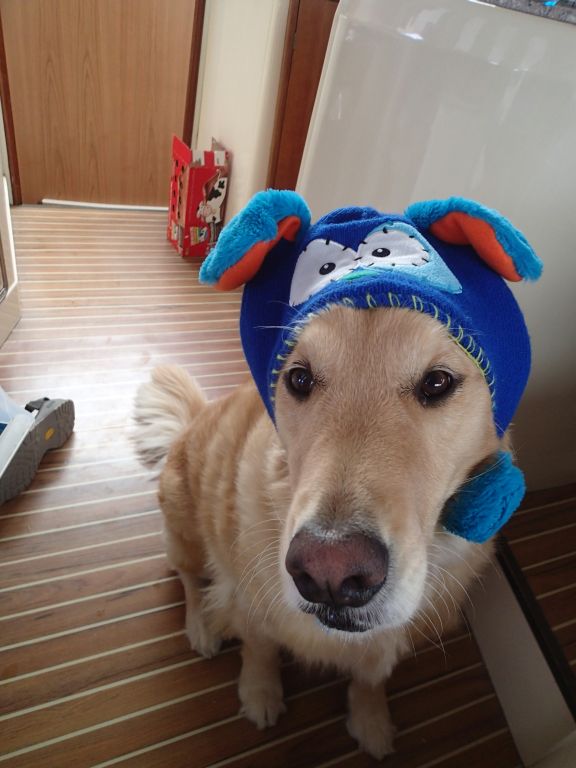 I'm really going to miss Maryland.  I love the fields and trees, rivers, marshes and the Chesapeake Bay.  We've had fun catching and eating crab and making new friends.  I need tissues to wipe the tears out of my eyes, we'll miss Maryland and the whole east coast.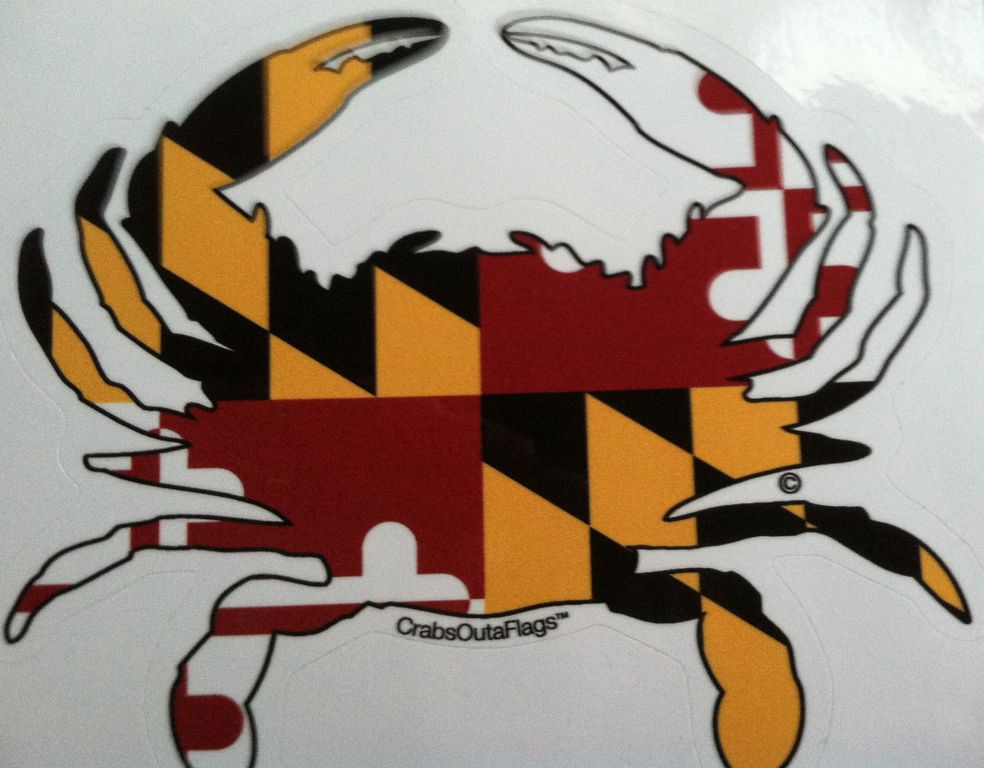 The next job is to send Eric with the van to California.  I made the trip two years ago with the kids, Topaz and a whole bunch of stuff we thought we couldn't live without.  Now after using some stuff, getting rid of other stuff and adding new stuff, he has to do the reverse.  Meanwhile I'm going to try to spend some time with the kids.  I feel like the last 4 months have been one major project after another and they have had to be little orphans.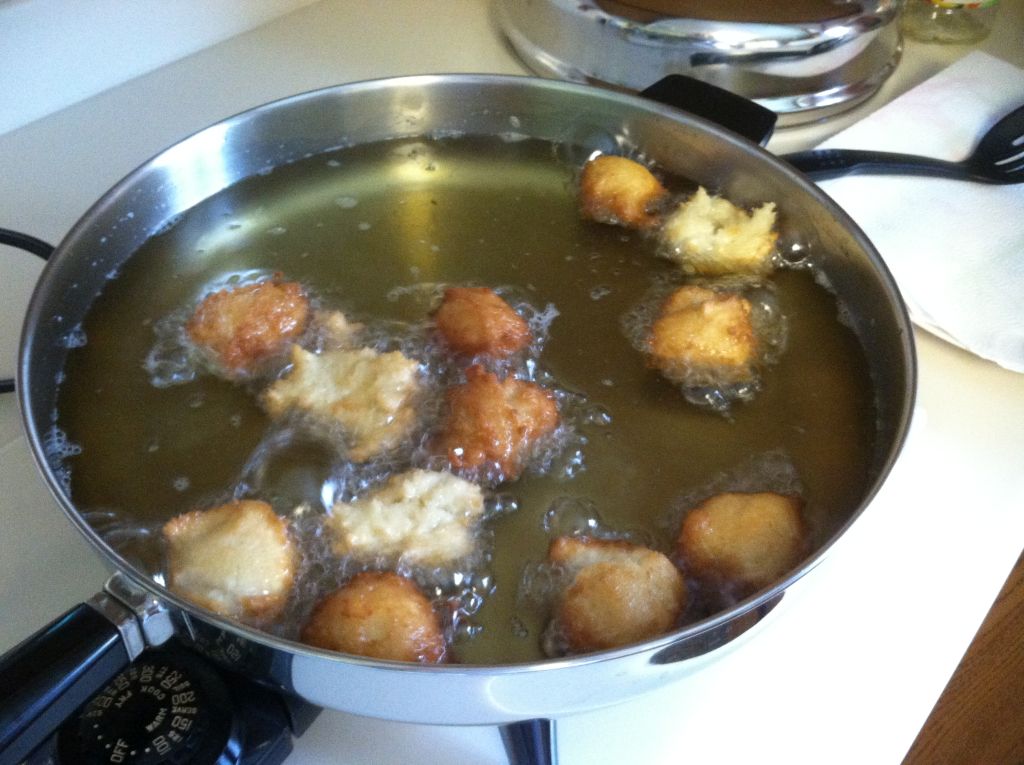 First on their request list was to make donuts.
Combine 2 tablespoons of white vinegar with 3/8 cup of milk and set aside. Then cream 2 TB of shortening with 1/2 cup of white sugar, add in an egg and 1/2 tsp of vanilla, 1/2 tsp of baking soda and 1/4 tsp of salt, then mix everything together with 2 cups of flour.  Heat up the oil and drop spoons of batter in and flip when brown.  Drain on a paper towel and sprinkle with confectioner sugar or cinnamon/sugar. They were so good, we kept the oil in the fryer on the back porch to use again.
Everytime we move one state northward, the temperature drops by another 5-10 degrees.  The next stop north of Buffalo is Canada and you know the nickname for my second favorite country?  The Great White North.  Anyway, everyone was excited when the precipitation solidified and turned white, that's what it does in Buffalo. Any time after Halloween you can get a snow storm.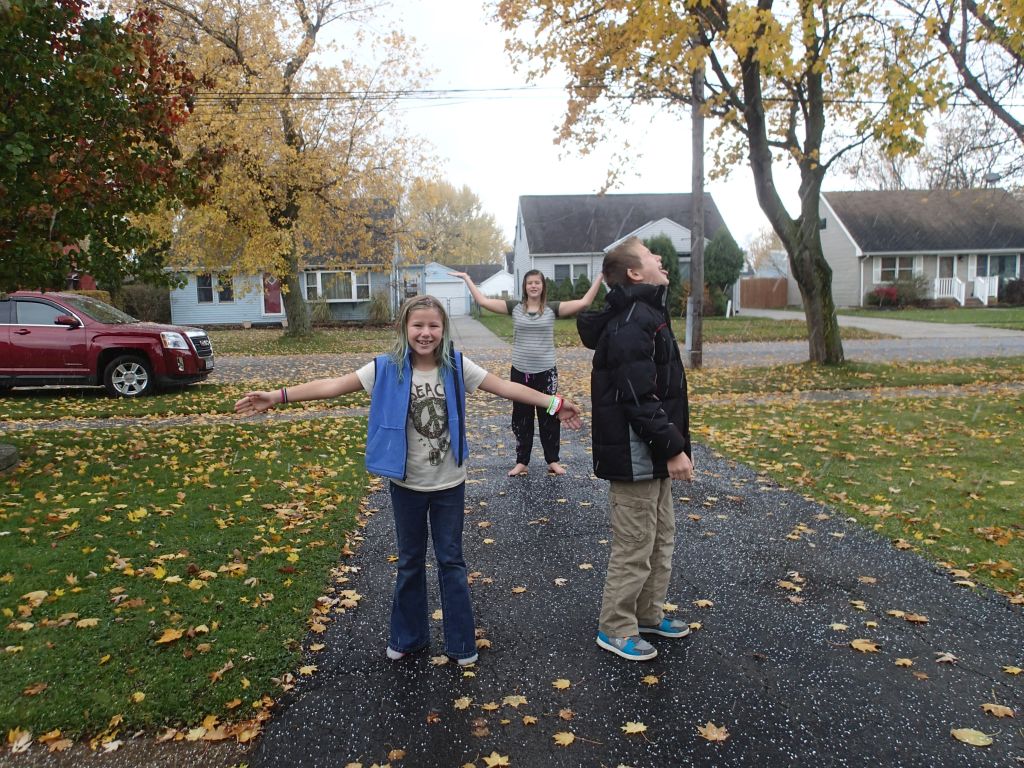 Since I'm feeling this mood of farewell, I have a bucket list for the east coast I have to work on.  Next is a real Friday Night at the Pub Fish Fry. The first week we went to Apollos on South Park and the next week was the Nite Capp two blocks away on Abbott Rd.  With this sample set of two, the Nite Capp wins!  I just wish I could be here for one more Friday for one more fish fry,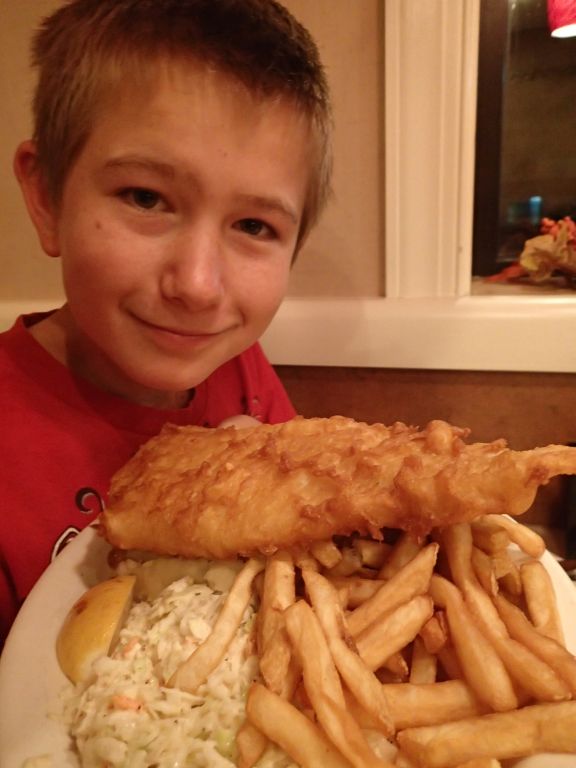 Another project I've been promising the kids is to make sandal socks.  Many years ago I bought wild polar fleece socks to wear during the cool Southern California winters.  They were too pricey to buy more than one pair, so we came up with a plan for everyone to pick their own fabric from JoAnn's and make our own.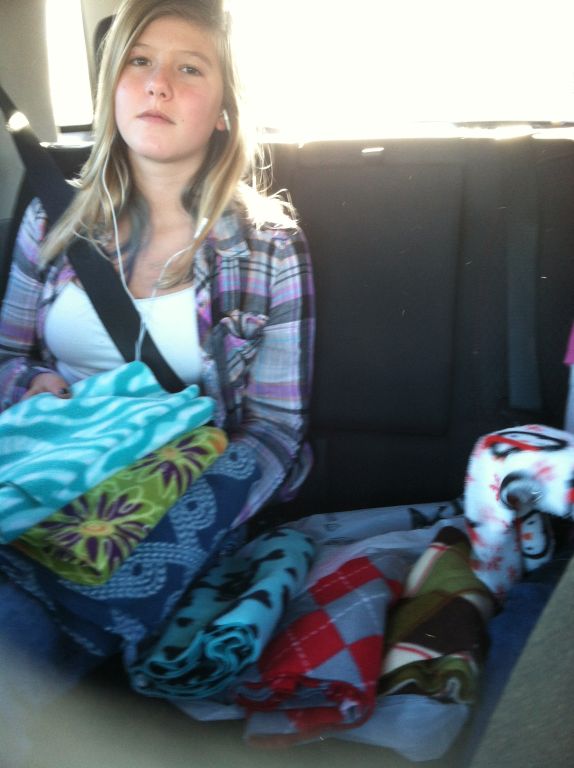 We traced my original socks and cut out a pattern.  Now everyone has two pairs of foot blankets and some of our friends saw what we were doing and got a pair too.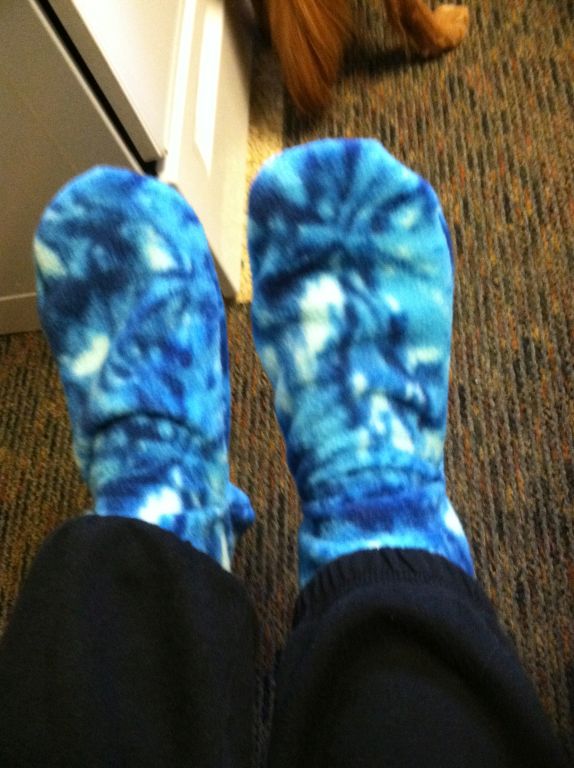 Here comes some more snow. It's a little like pebbles instead of fluffy white flakes.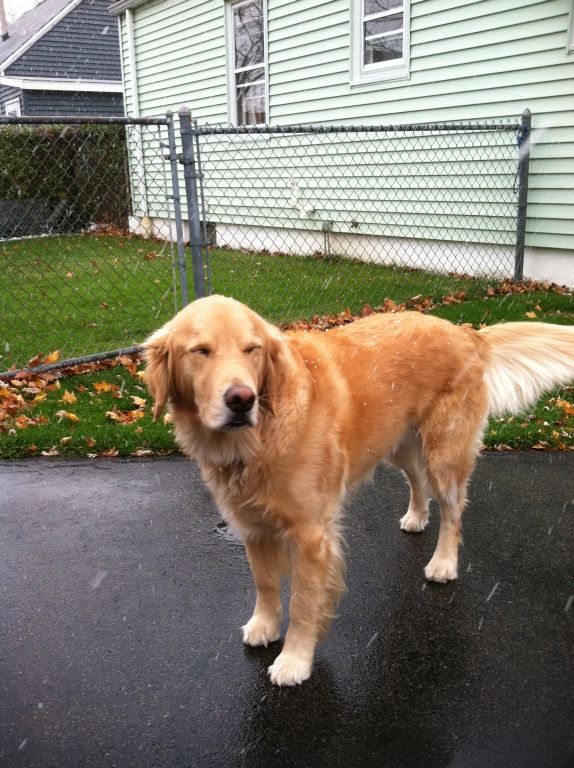 Marie can still ride her bike.  For the last week we've been taking Topaz out for bike rides.  The end of all the streets in this neighborhood dead end at a wooded area.  It's fun to go to the end and look for the deer and turkeys that live down there.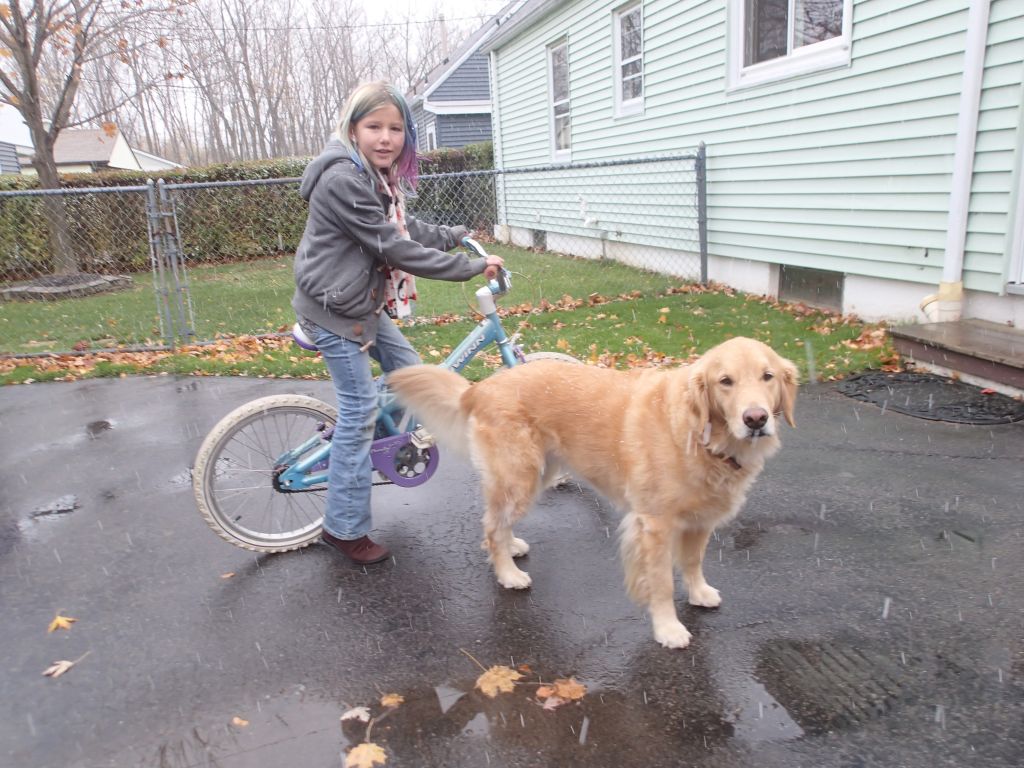 Oh, puppy!  Our best pals here, the Parker family, got a new puppy.  Their beloved little puppy, Bo, that we all enjoyed this summer was poisoned.  It was a huge tragedy, but after several weeks, they got a new baby, Taz.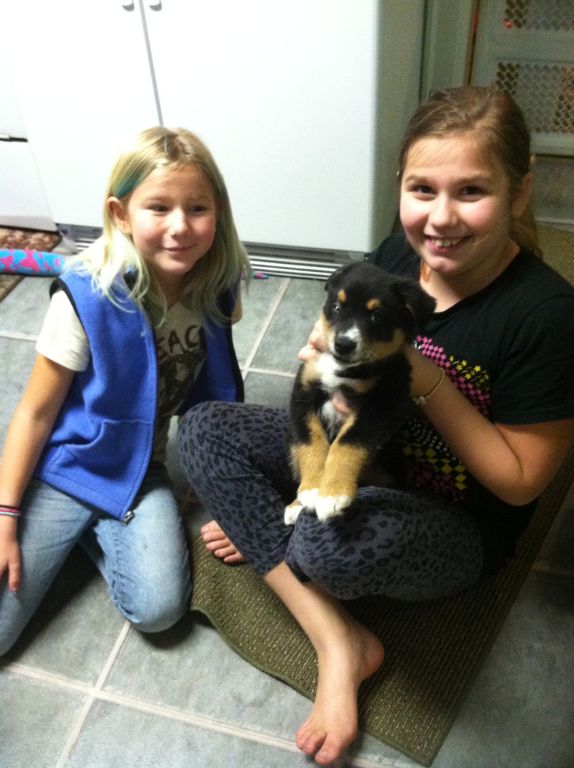 When we come to visit, he runs across the room and leaps into my lap.  I just loved sitting there cuddling on the little guy.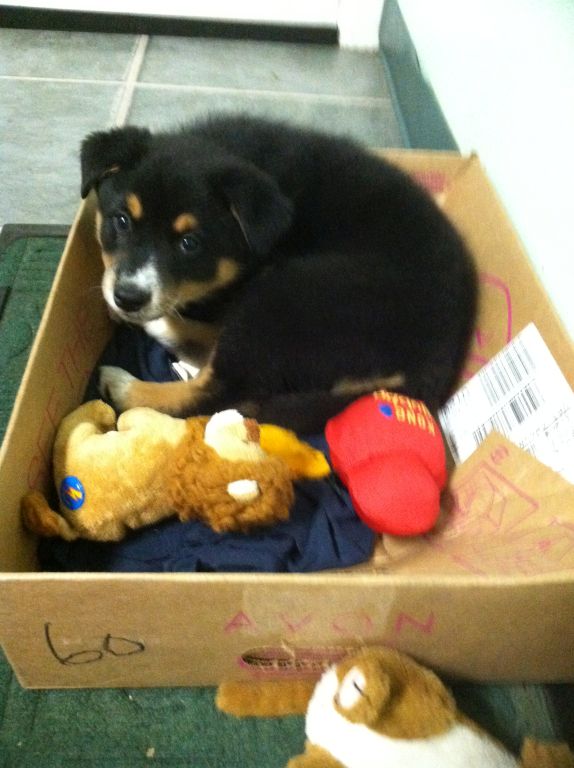 And so does everyone else.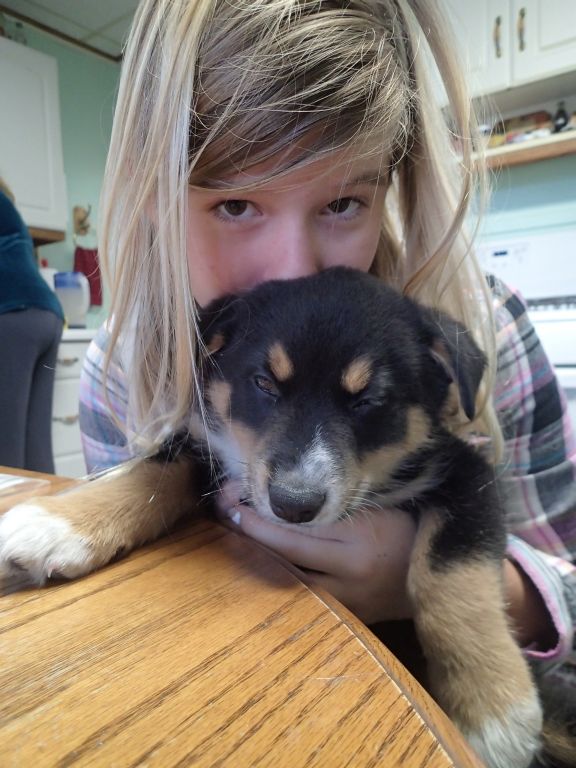 While we are eating yummy local delicacies and cuddling on puppies, poor Eric is driving.  How about tomorrow? He's still driving.  The next day, more driving. He did stop for a few days in Colorado to visit his mother, but then there was another long day of driving.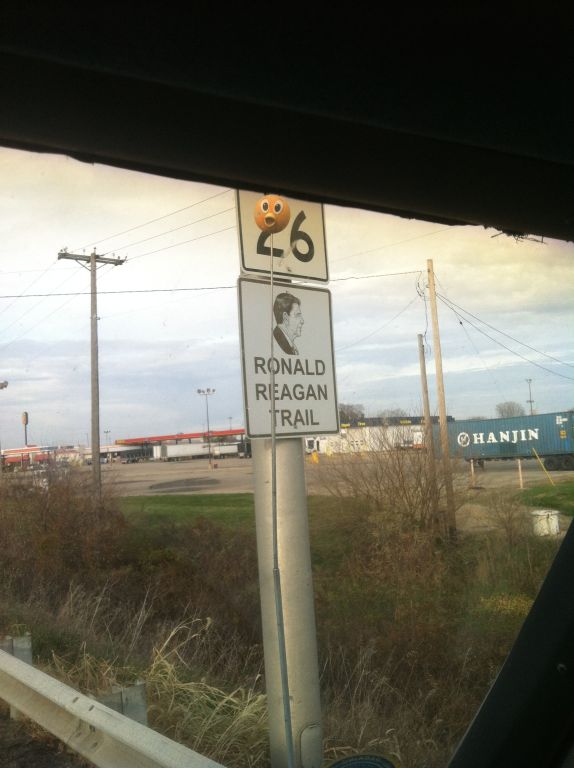 The Ronald Reagan Trail is a series of Cities in Illinois where President Reagan grew up and went to school in the 1920s before his acting career took him to California in the late 1930s.
The Mississippi River is the boarder between Illinois and Missouri on Eric's path west.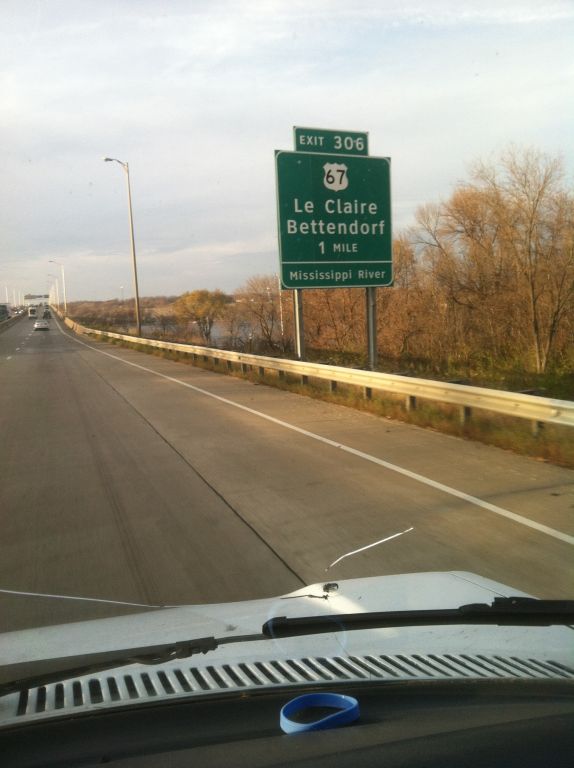 Eric loves cool old things.  I guess that only increases my value as I age.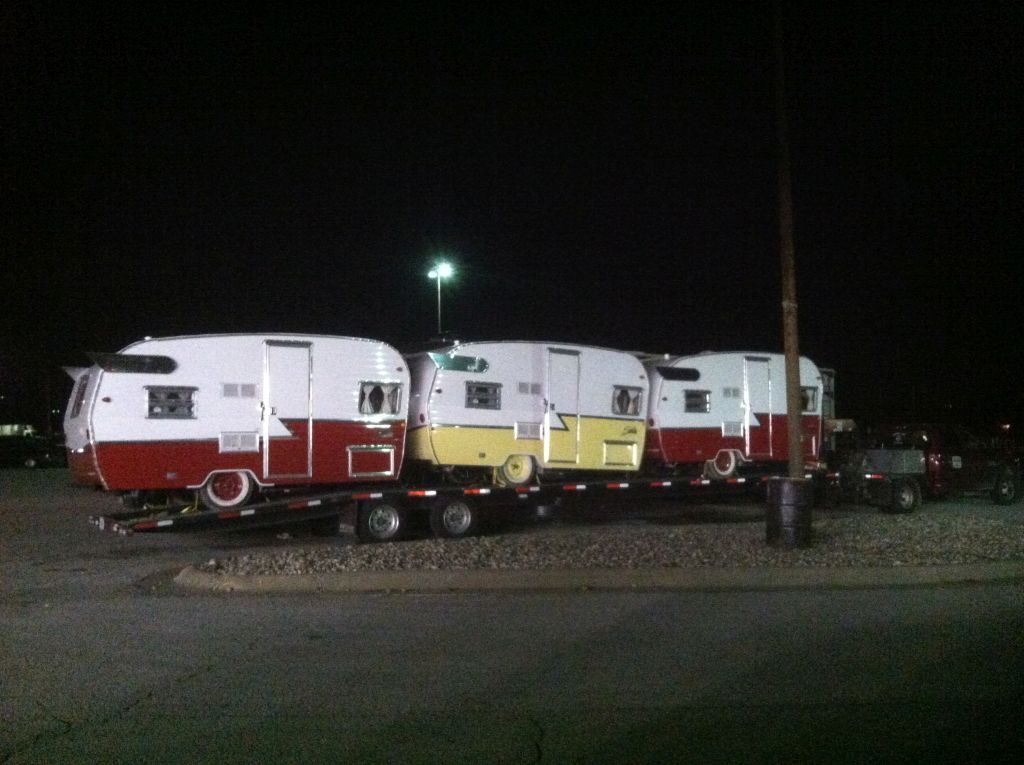 But sometimes cool old things create problems.  He was struggling with the oil drain plug.  In Colorado he finally got it out and replaced.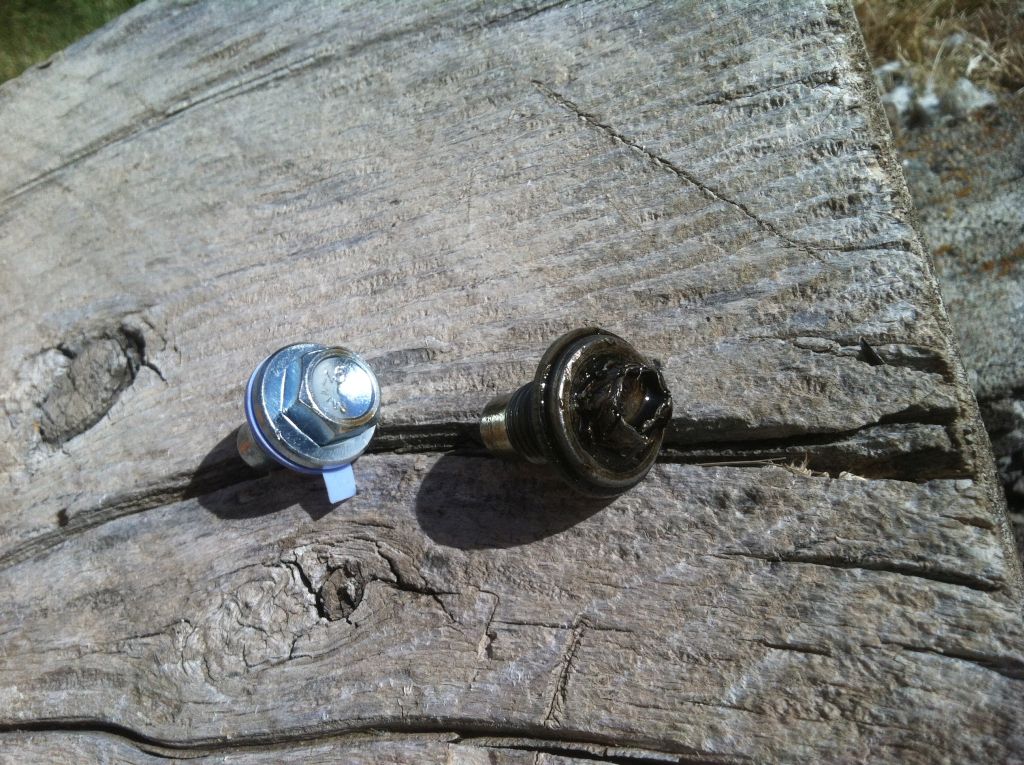 Gas prices can vary greatly as you travel.  There is a Travel Center in Arizona on Rt. 40 that always has the best price before you get ready to cross the desert in California.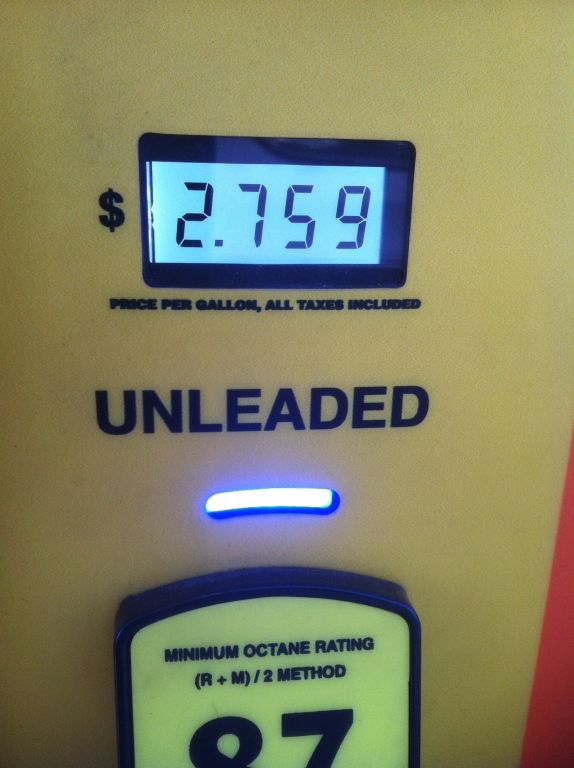 There it is, home sweet home.  For the last two years the van is the our only vehicle that has been registered and used.  It went across the country through deserts and swamps, over mountains and hills, spent winters at the Harrison's house in New Jersey, up and down the east coast and back to California.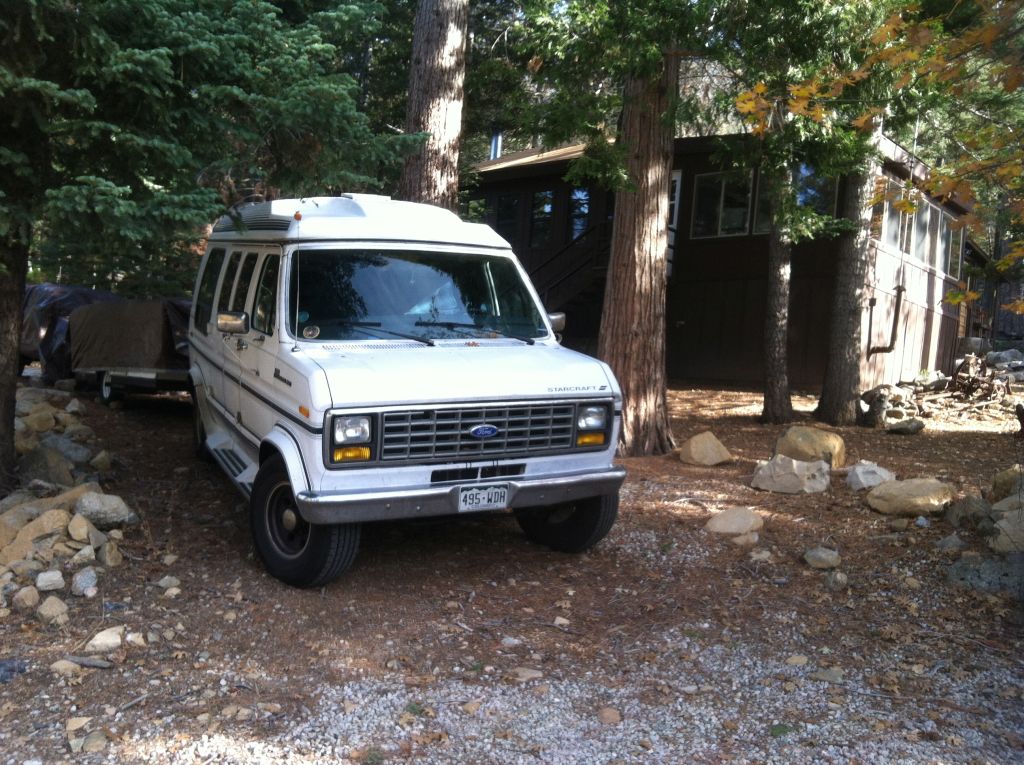 Here is an authentic conch shell, that was selected for conch salad and discarded for us to turn into a horn to be blown at sundown. Now it greets visitors to our cabin in Angelus Oaks at 5800 feet in the San Bernardino Mountains in Southern California.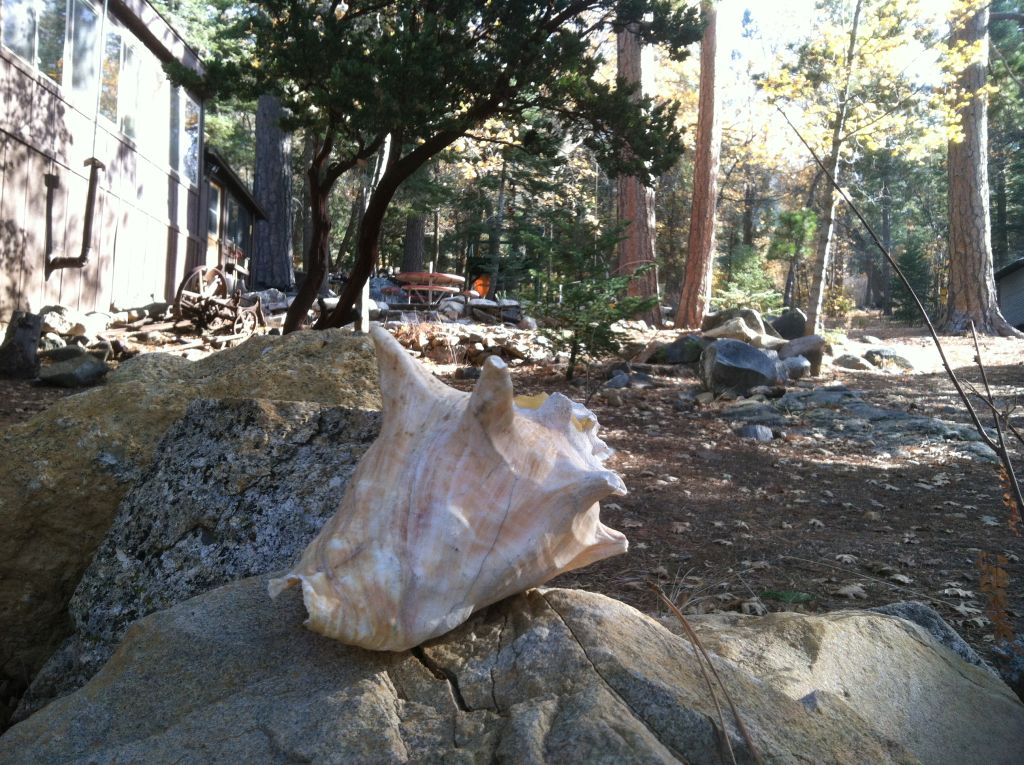 Back in Buffalo, we often have turkeys or deer on the front lawn.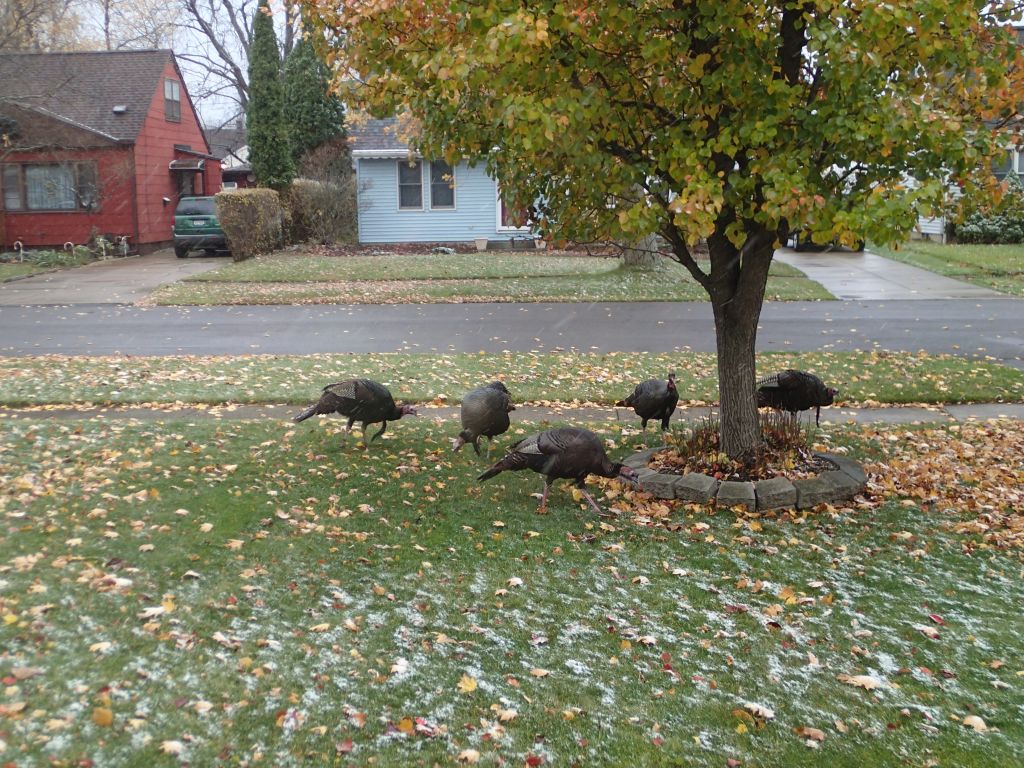 There is a flock that cruises the neighborhood here.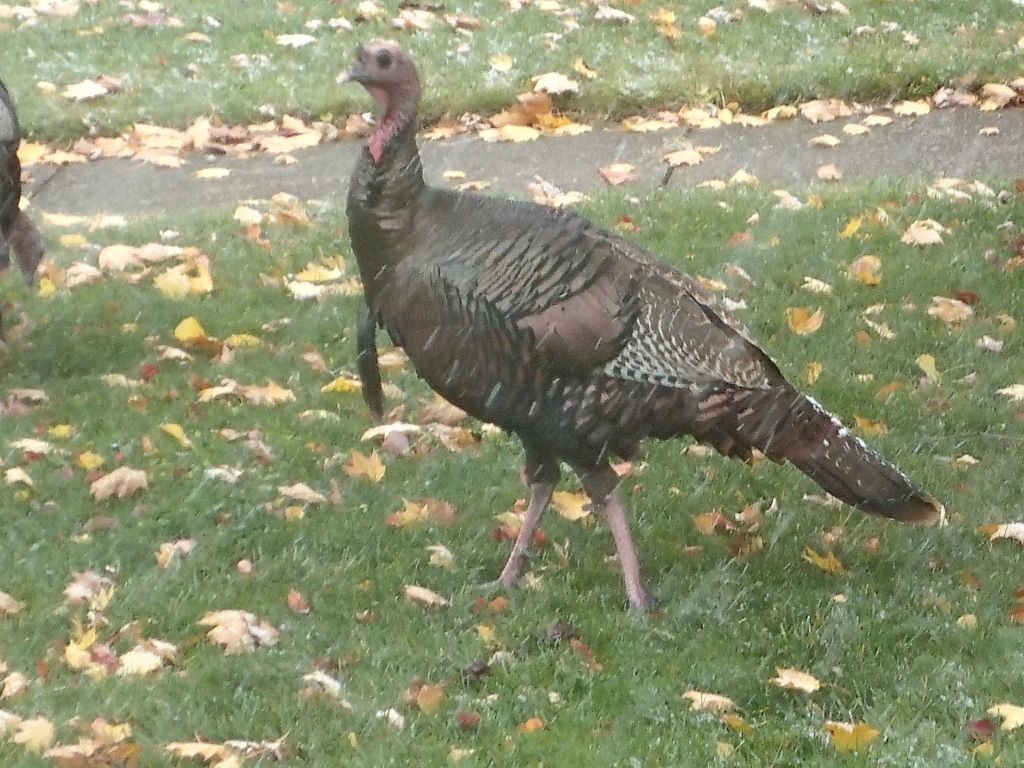 The dogs sit in the front window barking at them.  When they've had enough, they move on back to their nest in the woods.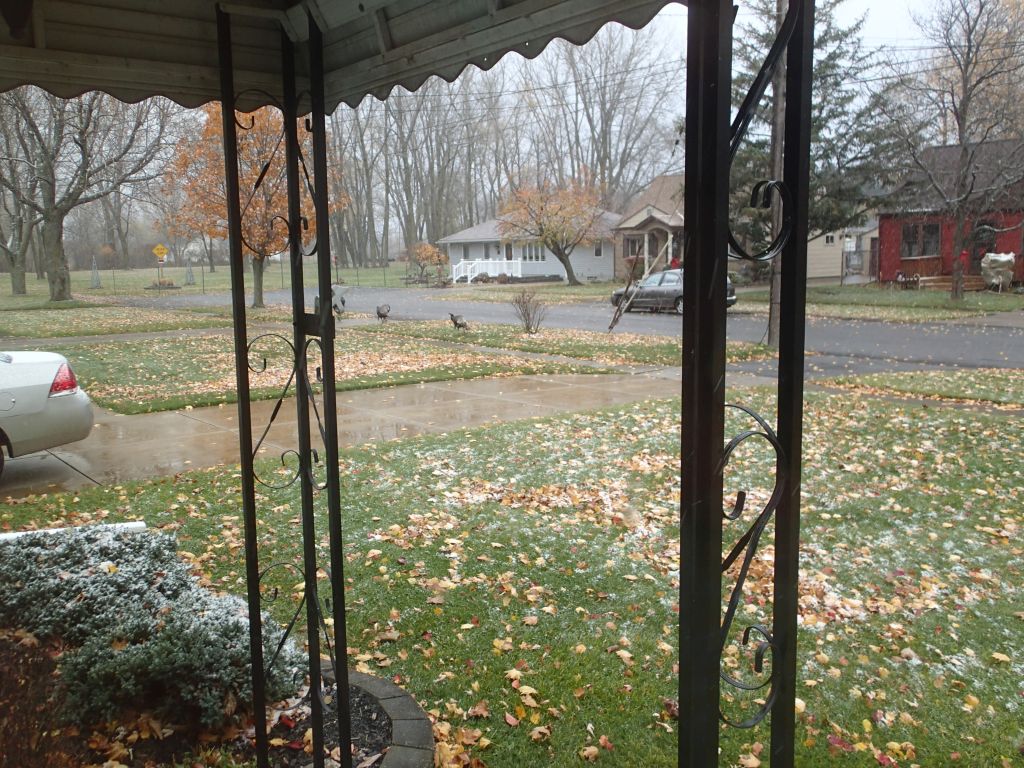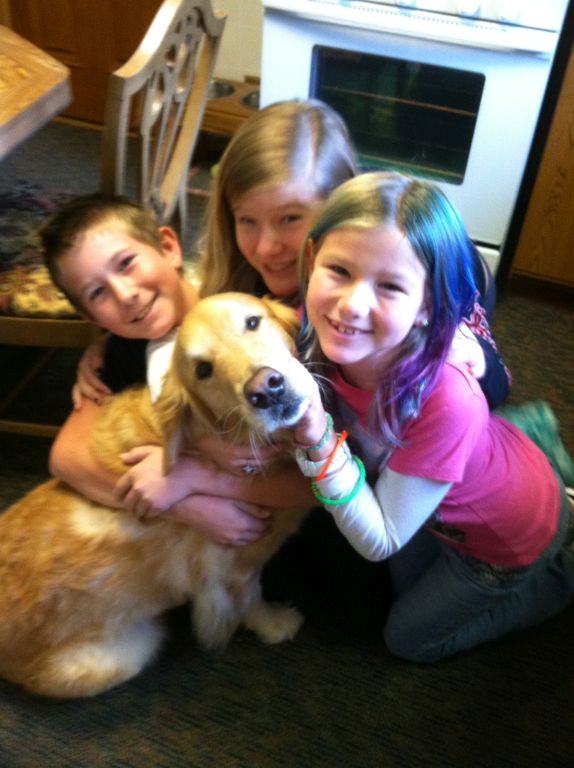 Mom is getting ready for back surgery.  About 15 years ago her back was injured while adjusting a patient. After years of dealing with the chiropractor and spinal injections, non of that works any longer and surgery is the next step.  So instead of setting up the house for her to leave, we're helping to take care of things so she won't have to worry about it while she recovers.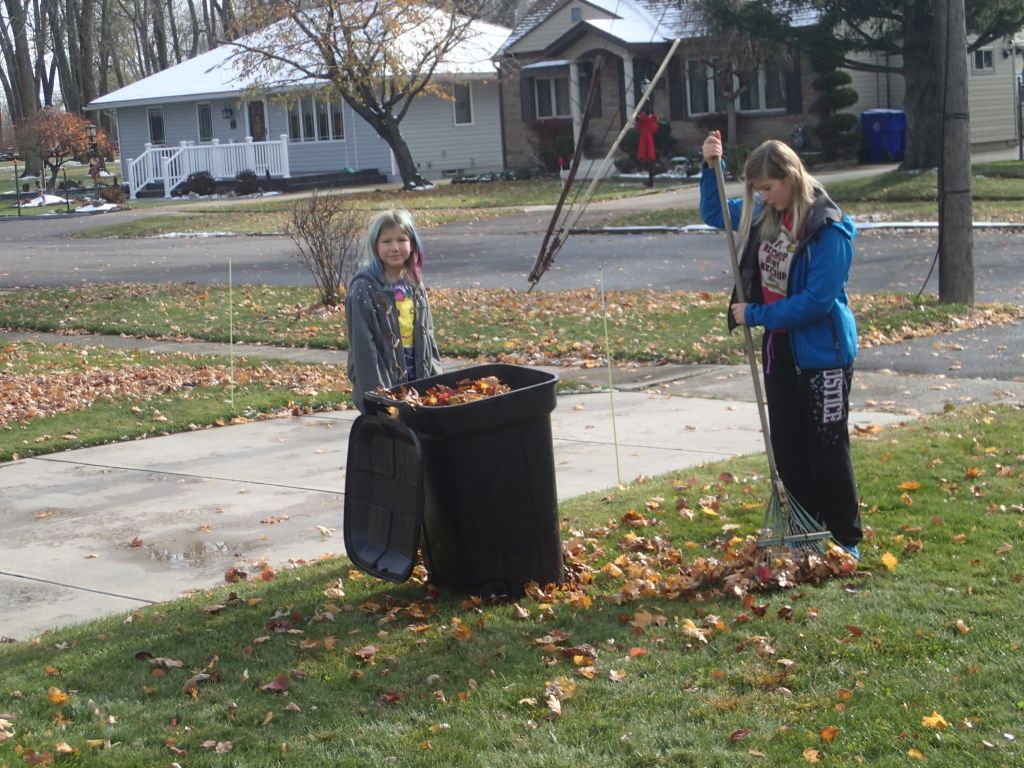 We are very comfortable here with two big bedrooms upstairs and plenty of couch space in the living room.  Occasionally someone decides to sleep on the couch and this is where I found Marie one morning, buried in a cushion cave.
The extra couches in the living room are necessary because the dogs require their own.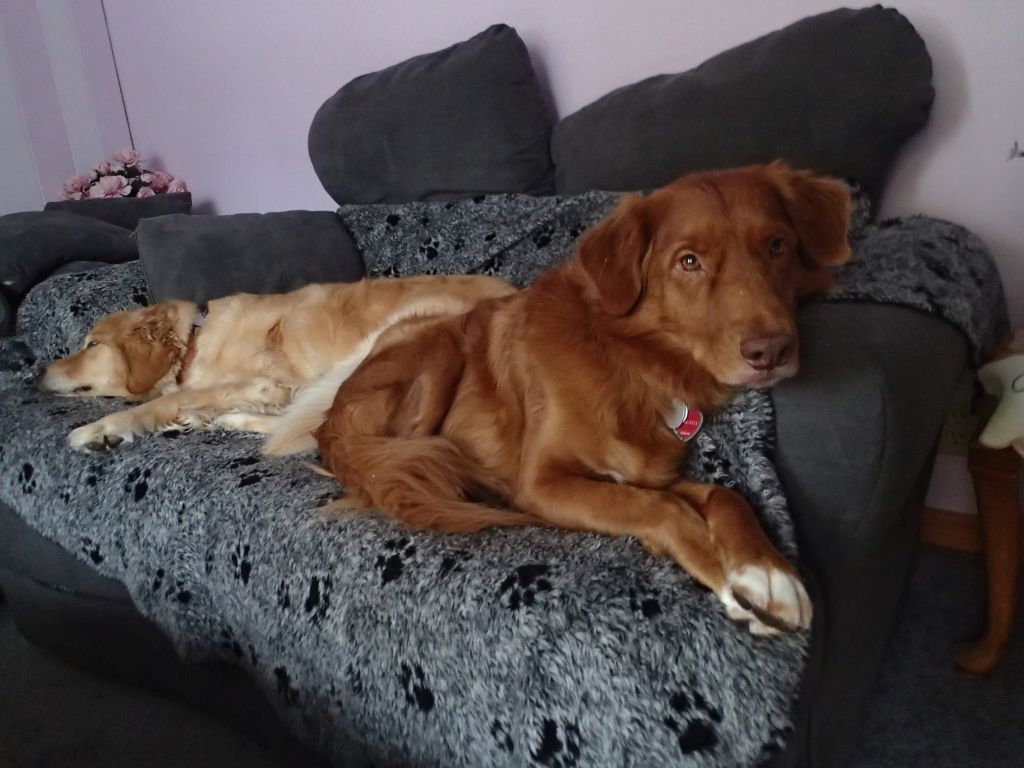 Dog baths are in order as well.  With JJ getting ready to go to the Parker family while mom is having her back surgery and Topaz going back to the cold boat, they were happy to have their baths with warm water in the basement.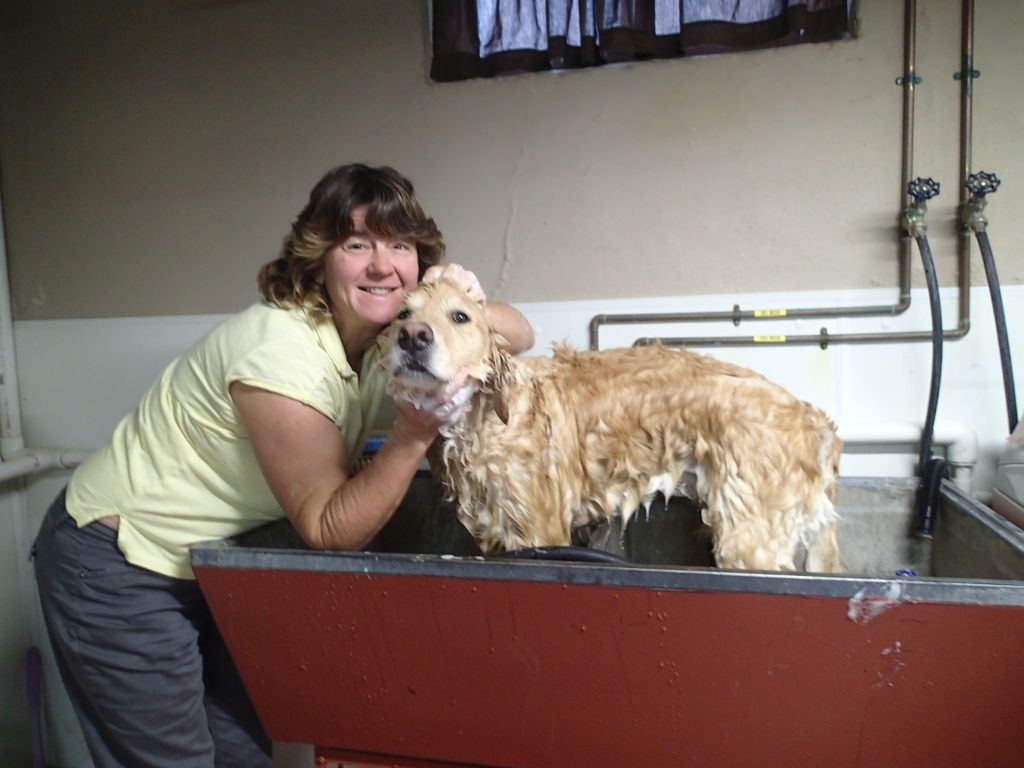 How about Thanksgiving dinner.  Yes it is a week and a half away, but mom will be in the hospital and we will probably be out to sea.  So stuffed chicken breasts with the fixings should do the trick.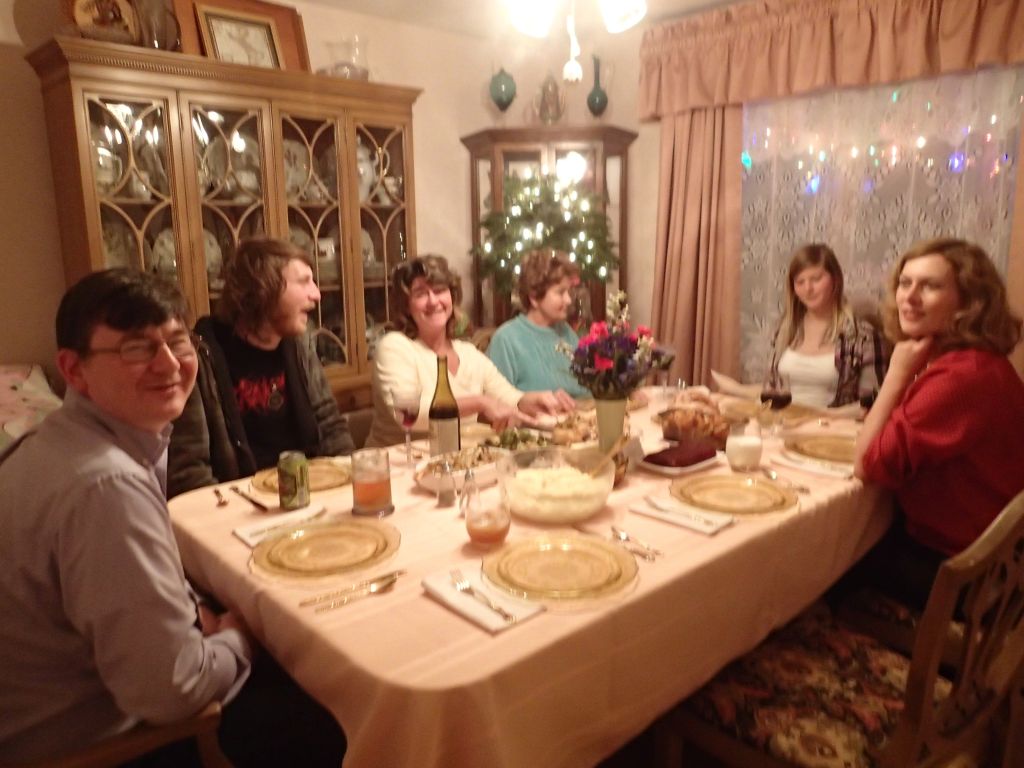 Monday night after dinner, the snow started coming down.  That's the signal to all smart Buffalonians to get home.  Jim, Ania, and Patryk cautiously headed down the road.  The kids, Topaz and I are due to leave tomorrow.  I'm sure the 6-8 inches predicted by Accuweather should be plowed by noon and we'll head towards Eric's flight into Baltimore.  Until then, lets play in the snow a little.  The kids have been dying to play in the snow after suffering the past two winters in the tropics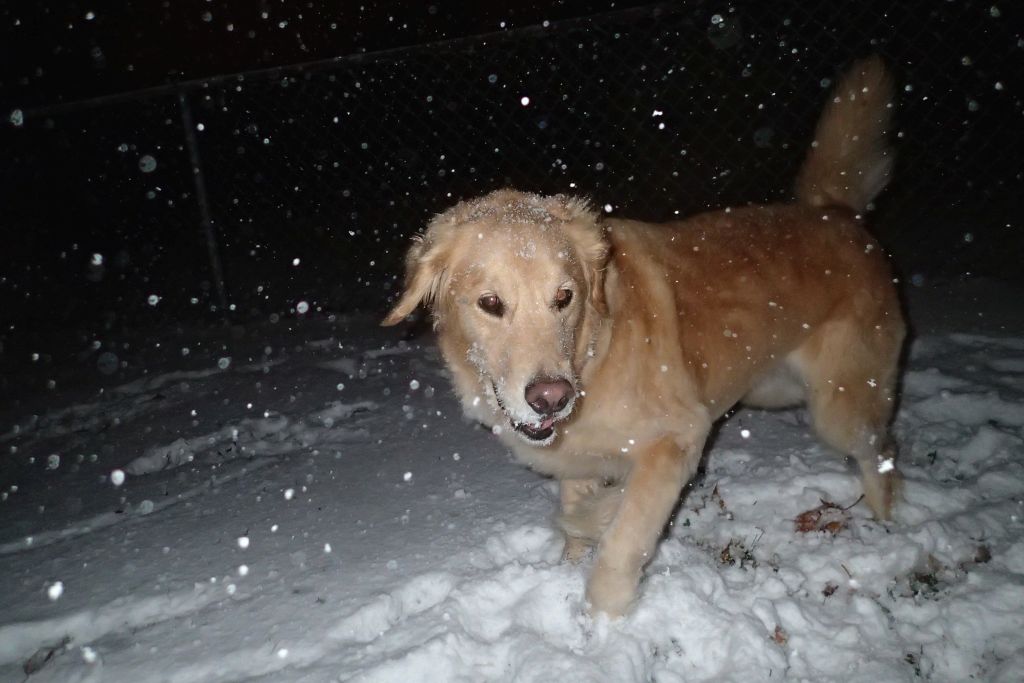 OH OH, when we woke up it was clear that the weatherman underestimated the snow accumulation. We went to let the dogs out potty and all the doors to the house were stuck with at least two feet of snow in front of them.  I opened the back door a few inches and got my arm out just enough to start digging until I could squeeze out.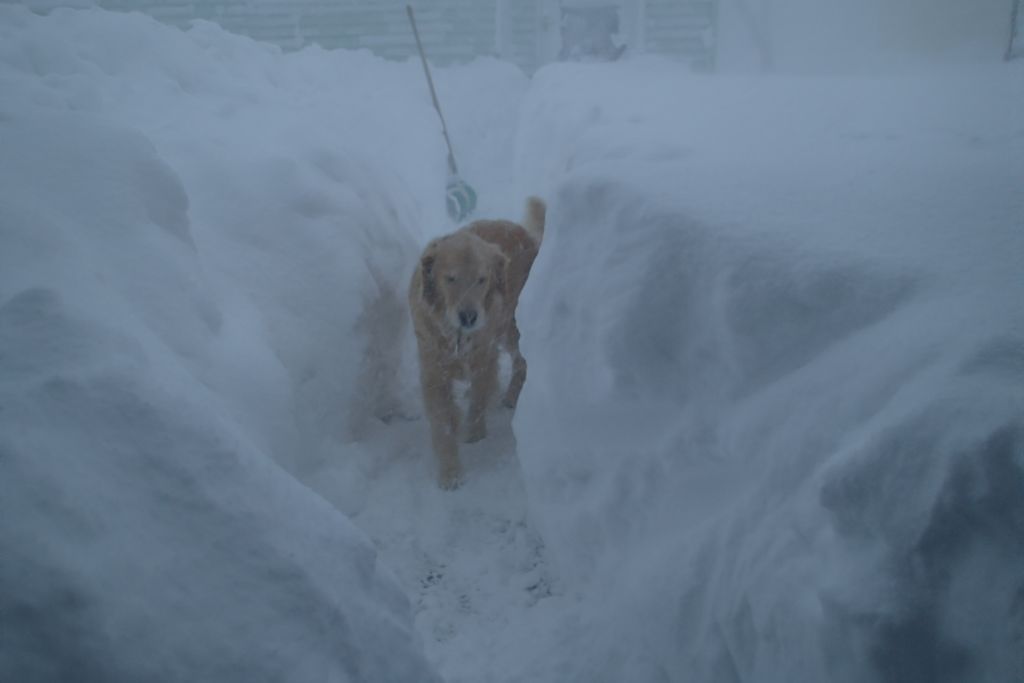 Then mom opened the garage for me to get to the shovels and make a path for the dogs.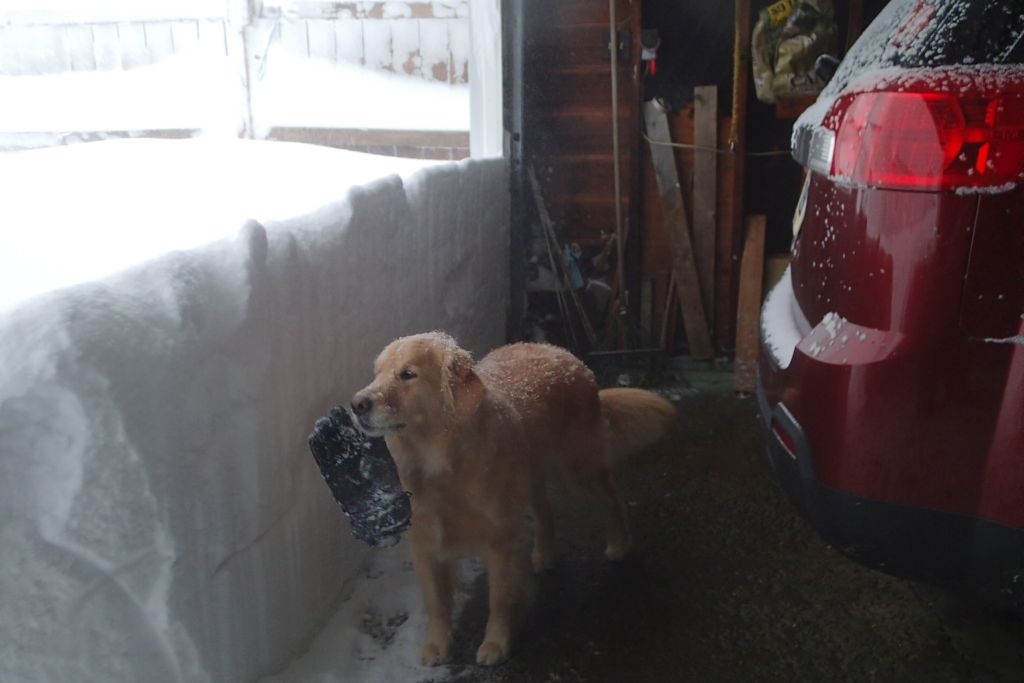 The snow is still dumping and blowing nearly 24 hours later.  Anyone who goes out has the job of clearing the path and scraping the snow away from the back door.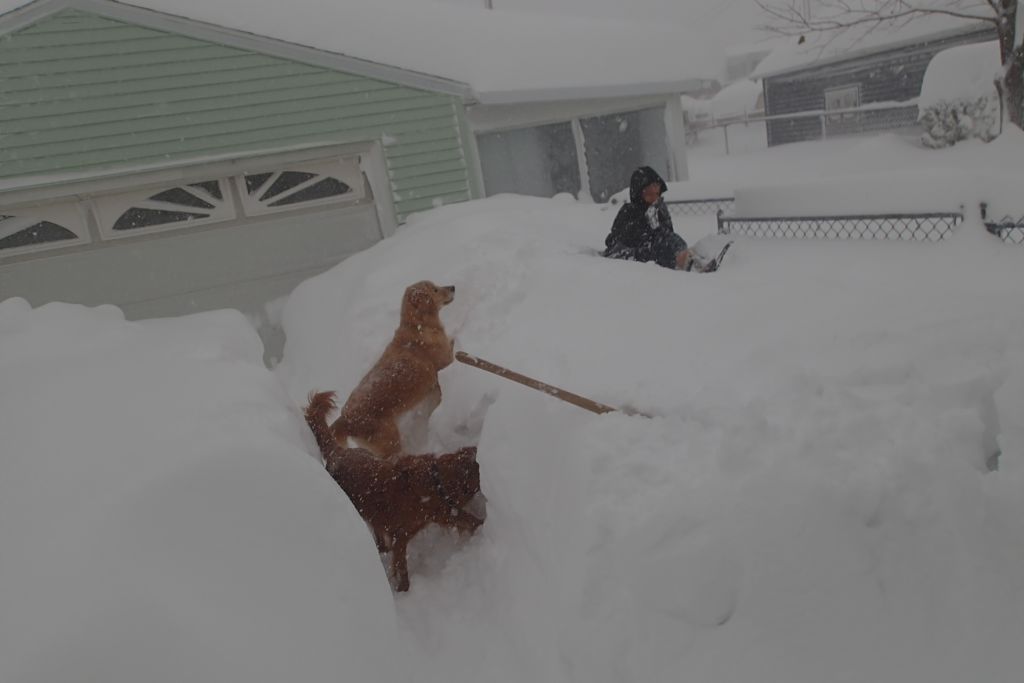 The dogs have been enjoying themselves plowing over the snow piles while the falling snow piles on top of them.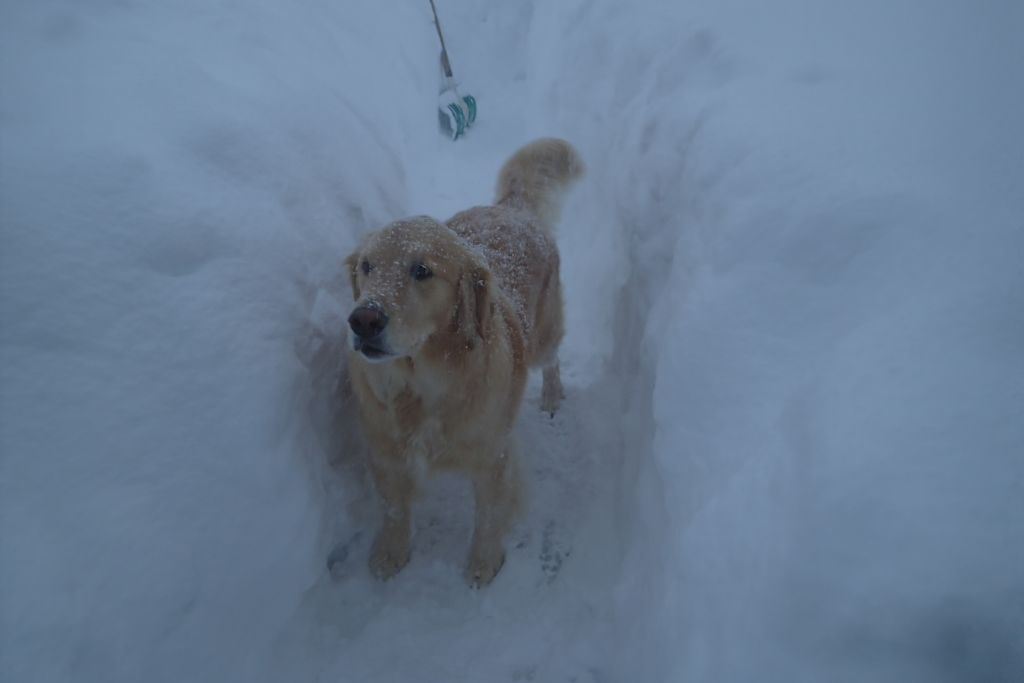 The storm news has monopolized all the television stations. Buffalo is situated on Lake Erie with plenty of coast line along the south towns. This wonderful location creates a unique weather pattern called Lake Effect snow. Wikipedia defines it as: Lake-effect snow is produced during cooler atmospheric conditions when cold winds move across long expanses of warmer lakewater, providing energy and picking up water vapor, which freezes and is deposited on the leeward shores.  When the wind whips up to over 35 mph the storm can be called a blizzard. See what can happen when a Pacific Typhoon crashes into the Jet stream.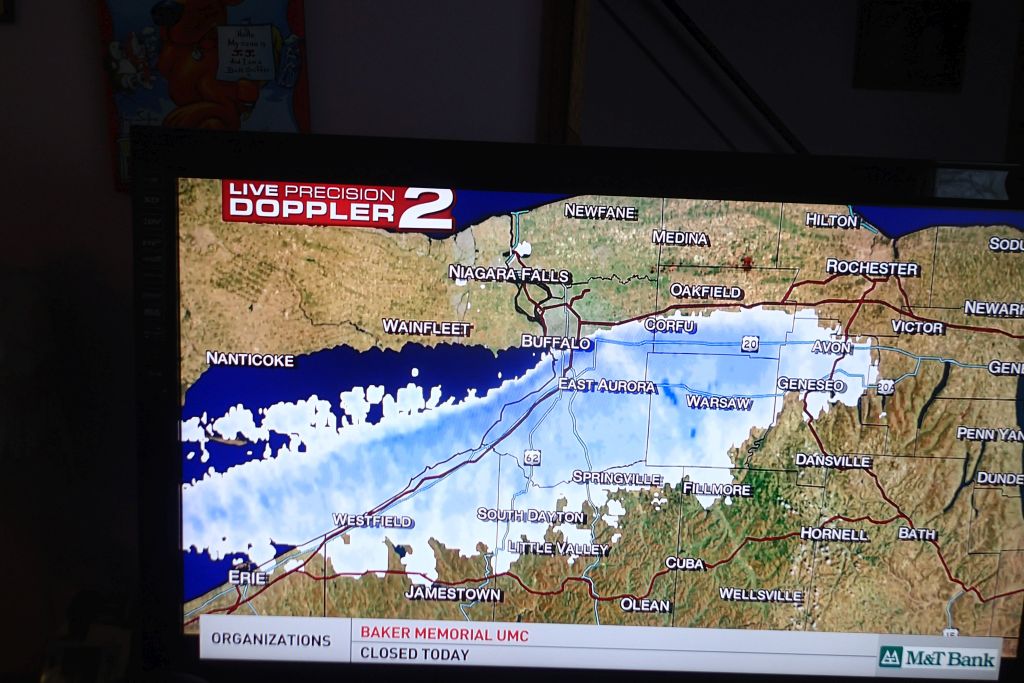 The band of snow likes to sit still and become a snow machine dumping it's load in a finite area.  My brother jokingly said  the snow out front was in the lake recently and the storm could just sit there until it drains the lake dry.  Hmm, that would be a trick.  As you can see by the radar picture from the television that if you are located on the north side of Buffalo, the snow band wouldn't affect you.  Jim and Ania live just on the other side of the line and got an inch and have blues skies.  The news interviewed people trapped at a gas station who said they have friends one mile away that reported clear roads while the rest of us have more than 4 feet piled in the road.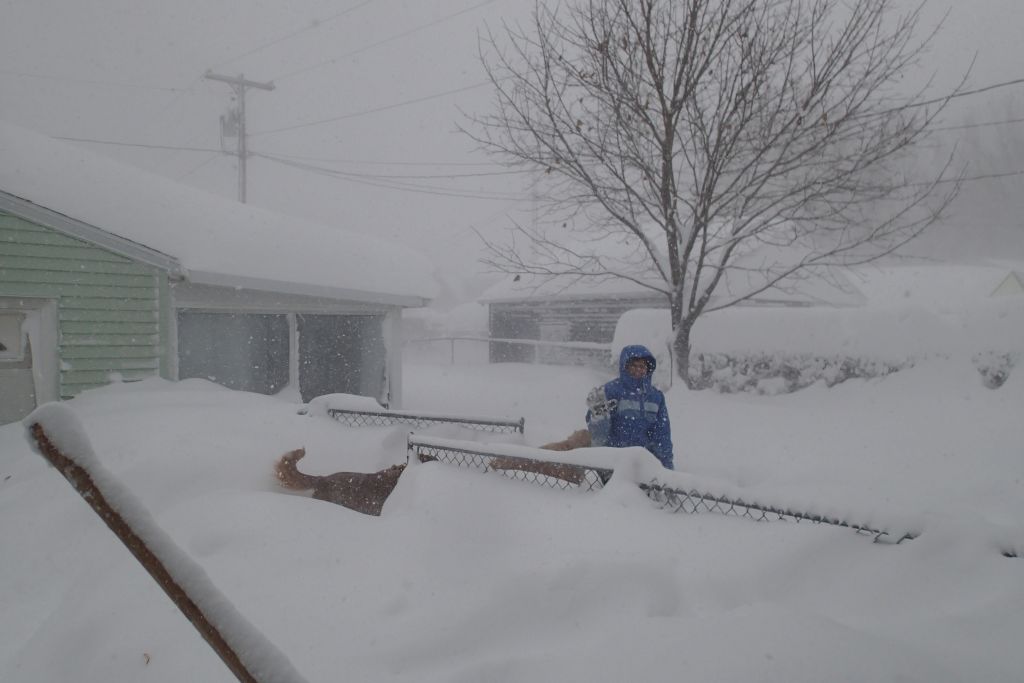 Genny is standing by a 4 foot fence.  We only have one set of snow clothes here.  Everyone takes turns with the boots, pants, jackets and gloves.  The dogs have to get buy with what ever coat they grew since the summer.  Topaz has an exceptionally thick coat keeping the icicles away from her skin.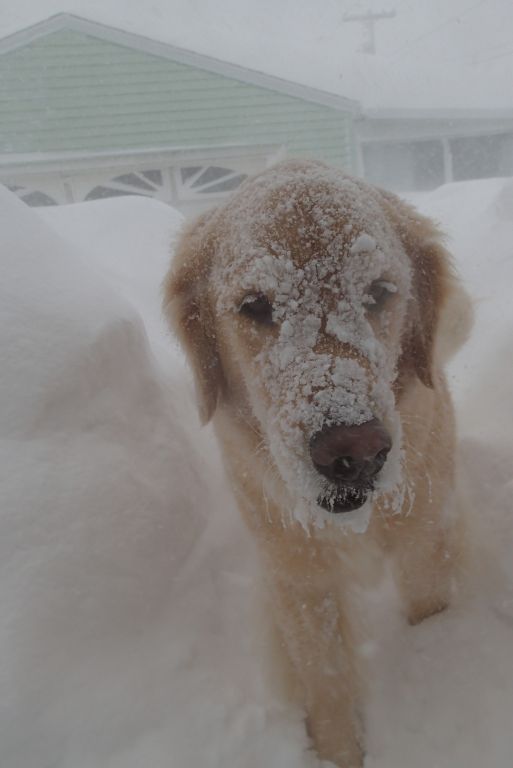 I guess we can check a real Buffalo Blizzard off our East Coast Bucket list.
The TV has a running banner listing all the closures.  The kids are all off for a snow day except the homeschooled Mears children.  It's a perfect day for cursive practice and math.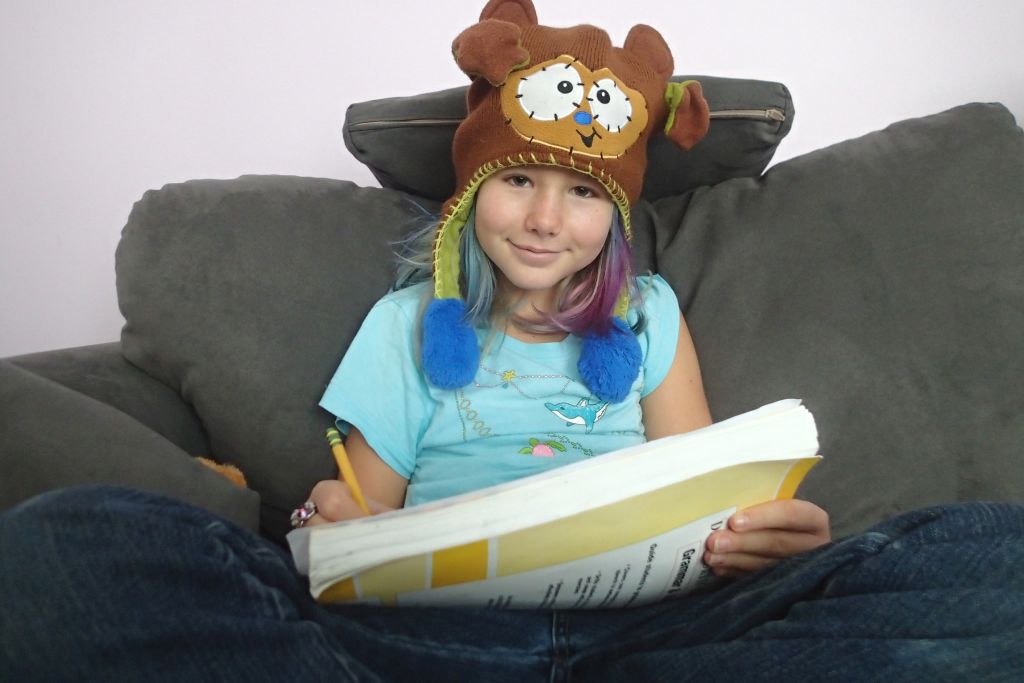 Here are the flowers Eric sent us yesterday.  Aren't they pretty, Thanks Eric.