Wow, What a Passage. While most people were eating turkey, we set off sailing.  One of our friends in Maryland asked how much we sail compared to motoring.  That's a hard question to answer. Of course it would be great to sail 100% of the time, but we're not in control of the wind especially on a passage that covers several days and a few hundred miles.  To get from Maryland to Florida we spent about 6-7 days underway and 6 days waiting for weather in North Carolina.  Of that time we motored about 40 hours of the total 130. My upper level math skills show we motored about one third of the trip and consumed 68 gallons of diesel.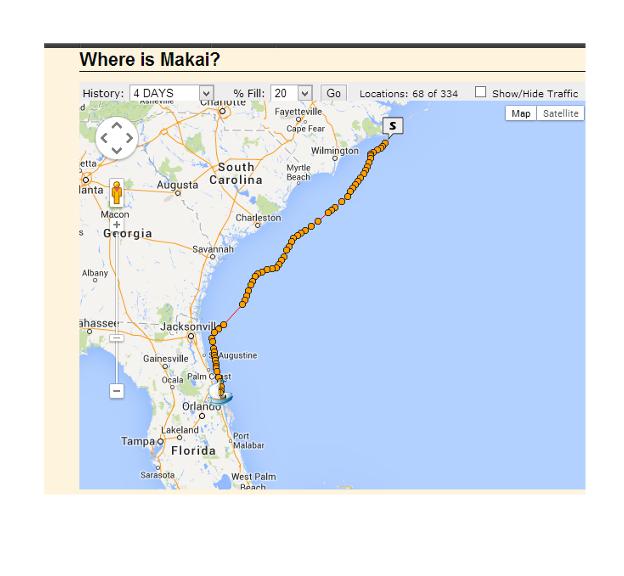 The other two thirds was a crazy wild ride.  South from North Carolina we were no longer frozen even when bundled up, but I'm pretty sure I've never sailed with such wild weather for three days.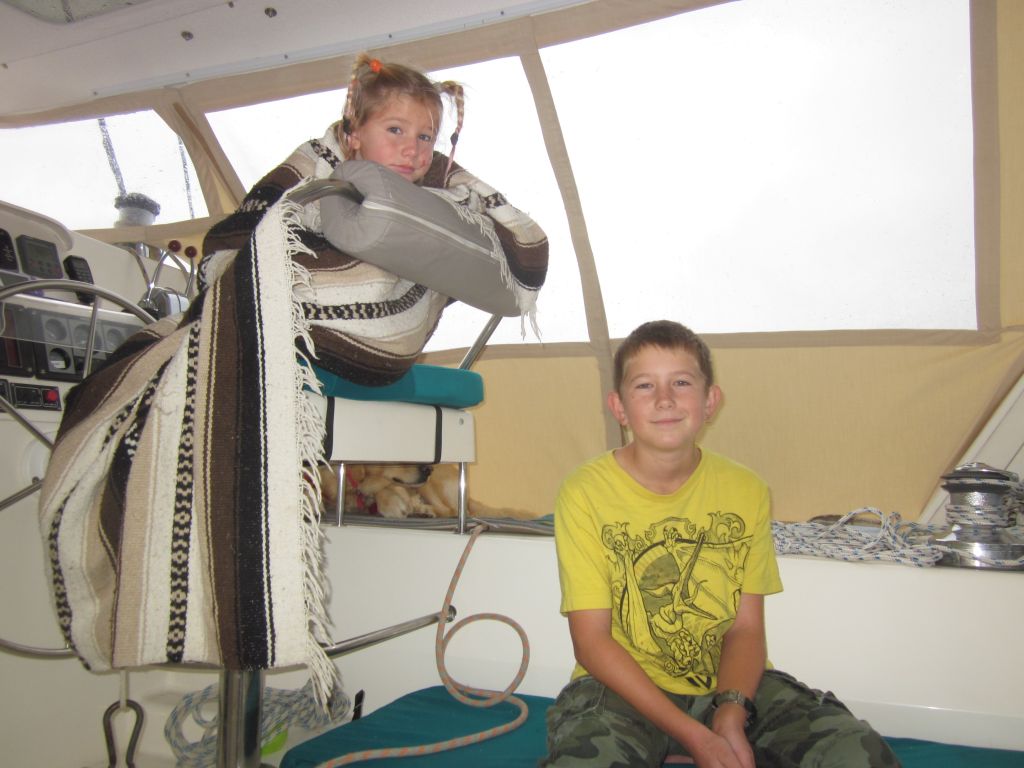 The new front and side enclosure did it's job in keeping the wind out of the cockpit and the passengers dry.  To decrease sail area we had  two reefs in the main sail, rolled in the jib to the size of a handkerchief and still shot across the waves at 8 knots.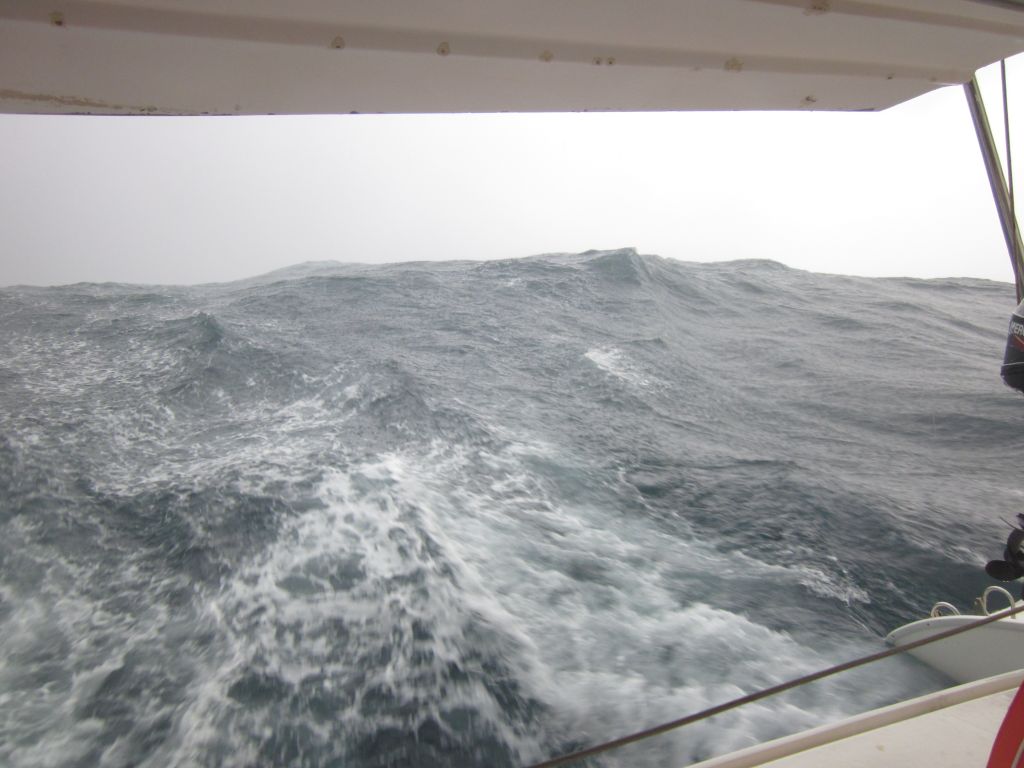 The waves were HUGE, or at least I thought so.  From the helm I could see them peaking in front of me.  One morning it was pouring outside and dolphins were jumping for joy and leaping off the top of these waves.  Behind us the wave looked like a cliff I didn't want to fall off of.
I took Topaz out back to do her business on the back deck and she couldn't believe I was jeopardizing her life for a pee.  No Thanks, I can hold it.  The water washed up our back stairs and swept the back deck clean.  We had three nights at sea.  The kids curl up in the aft cabins with a pile of blankets and unlimited movies on their iPods taking time out to retrieve crackers and water for their daily meals.  Eric and I have a loose watch schedule during the day.  He prefers to sit at the helm and take extra watch time while I rustle up grub for the crew.  This week the weather was too bad for anything more than hardtack and gruel to wash down Dramamine.  Hey, no one threw up, there's a tidbit to celebrate over.  Once the sun goes down watches get serious, two hours on and two hours off. Our sleep time was regularly interrupted by some crazy crashing wave or something, it was really hard to relax.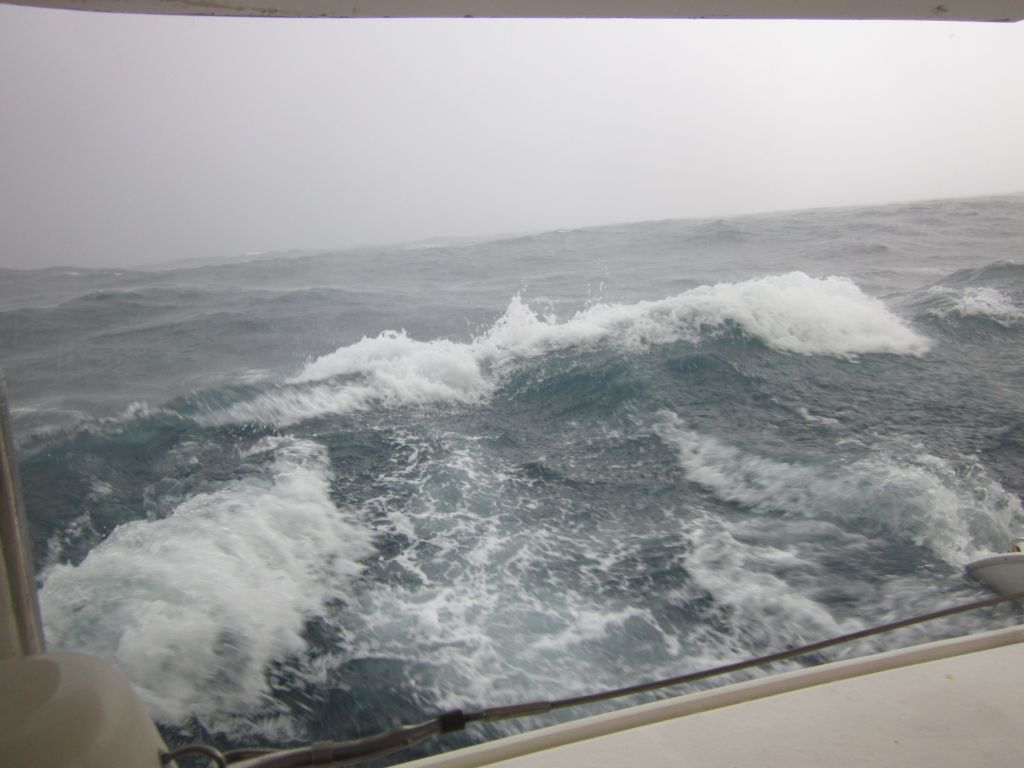 I gave myself a lesson in faith.  The Bible talks about faith in God and I just haven't figured out how to find a life and death situation in my cushy American Lifestyle to test this faith. But in these conditions, when I get scared I put my faith in Makai to keep us safe.  Bingo, there you go, that's faith in God.
One morning I woke up from my 2 hour nap to find big purple splotches on the radar screen.  Our radar can pick up nearby squalls.  I guess that's a good feature, especially at night, however if I just look outside I can see the dark sky and pouring rain.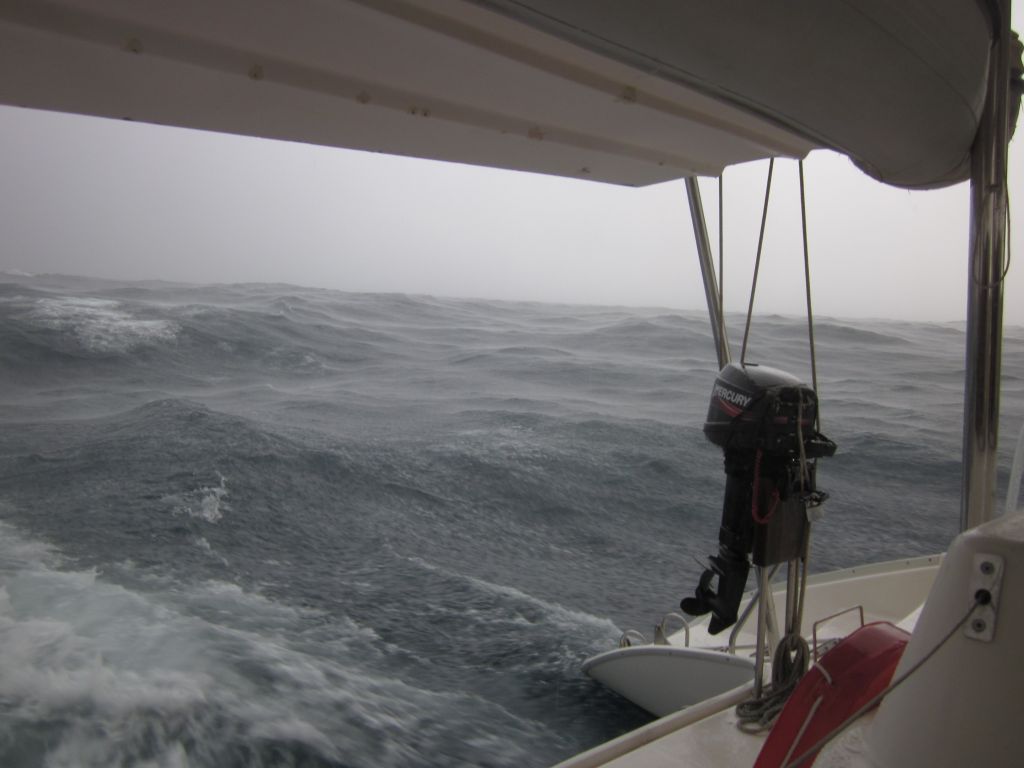 We had a rider for several hours.  This bird tried everything to get a free ride.  He tried landing on the spreaders but when the mast rocked back and forth he got bonked.  Eventually he settled on the deck.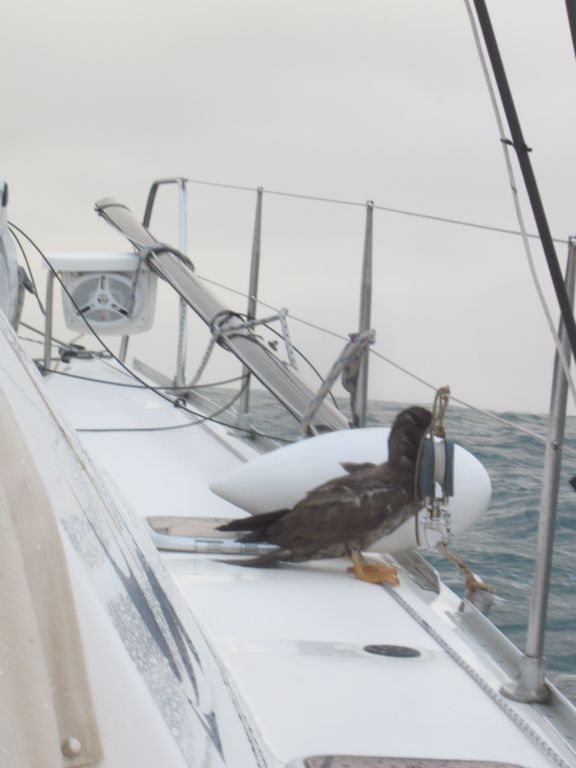 Topaz was a good girl going potty when the weather allowed it and staying close to the helm for pets.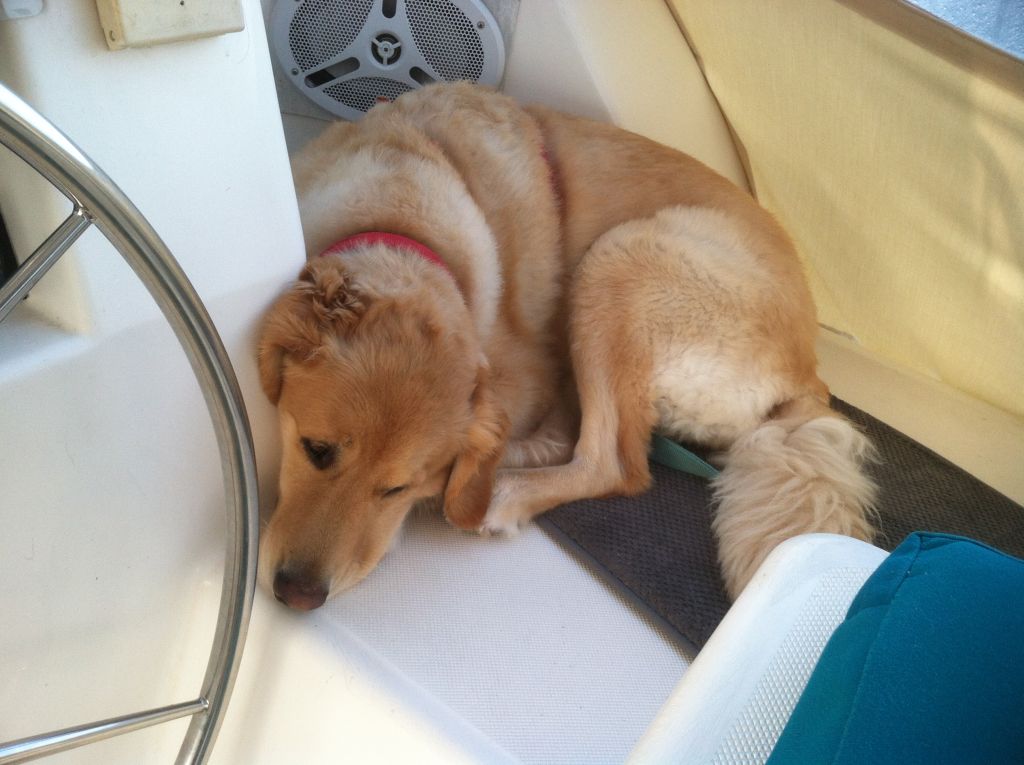 We arrived on Sunday morning and the kids were packed and ready to jump off like a bunch of rats on a sinking ship.  Nannie was waiting for them at a nearby fishing pier, so off they went.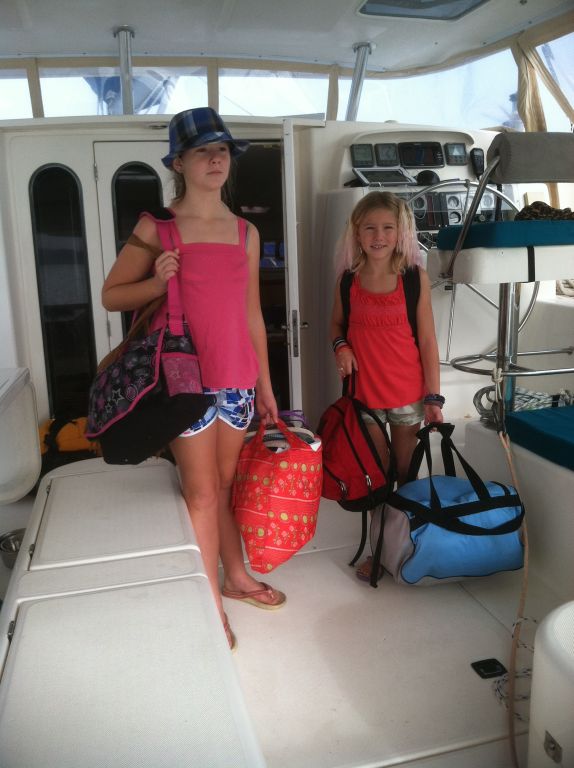 Now Makai is safe on a friend's dock.  We visit her everyday to do projects and spend the rest of our time and Nannie's house.  The property here is owned by a family that has two small apartments and the house next door on a nice big lot.  There is a beautiful lap pool as well, but it's not heated. Like most Florida pools, a screened structure covers the pool to keep out bugs and debris.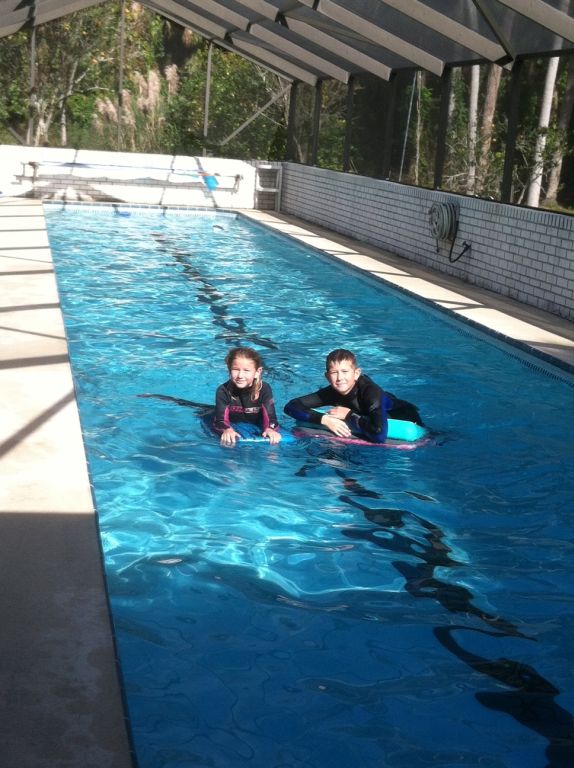 Besides Eric's list of maintenance projects we had cleaning projects.  For the last few weeks the boat has been dripping with condensation, which is a perfect environment for mold.  The kids and I wiped down surfaces, removed all the bedding and searched for mold.  At Nannie's house the washing machine got a workout.  The kids washed Topaz's bed with a little soap, oxyclean and bleach we managed to clean it up like new.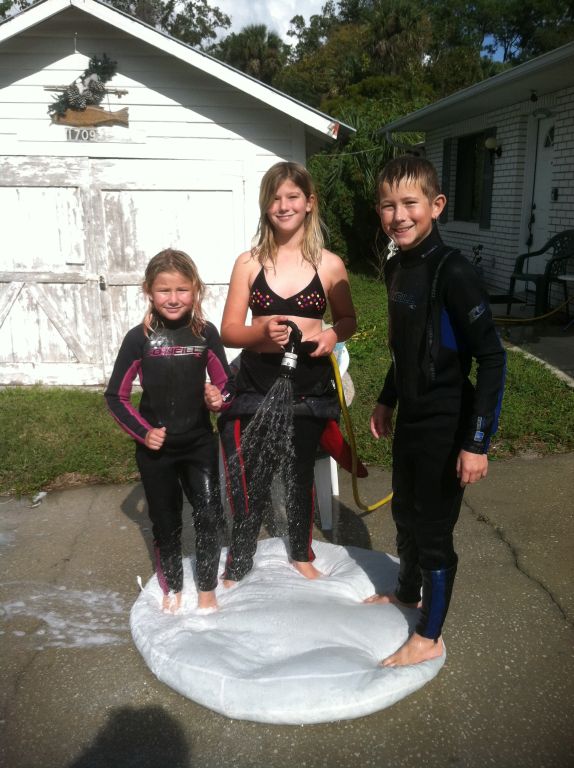 We're in New Smyrna until just after Christmas.  Back to driving around in a car, stopping at the supermarket, trips to West Marine, Home Depot and Walmart.  It's not cruising, but it is over 80 degrees.