Another cold front is forecasted so we went in search of an anchorage with west wind protection.  It's not easy when most of the anchorages are on the west side of the islands.  We found a spot near Musha Cay, David Copperfield's Island.  So, let it blow, let it blow, let it blow.  What should we do on a windy day?  How about flying a kite.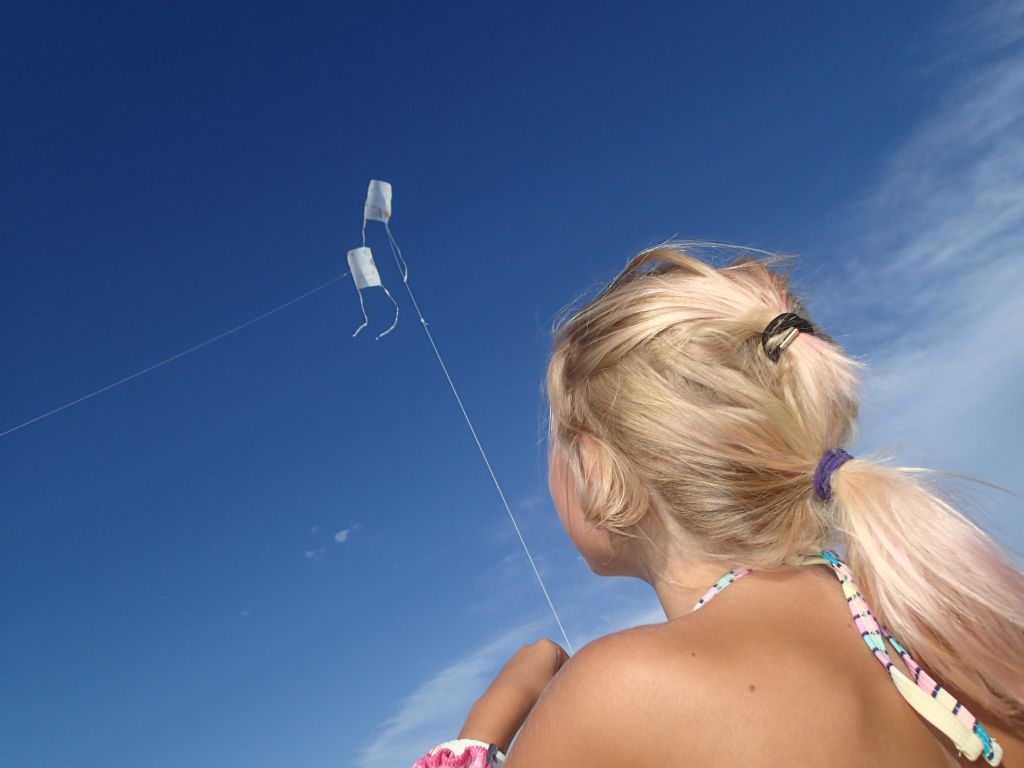 Nancy and Jamey are kite surfers and brought along a training kite.  Eric got a few lessons on how to turn it this way and that, then he proceeded to teach us all about the dynamics of air foil tweak and twist, wing shape, push and pull.  Ok, so it was above my head.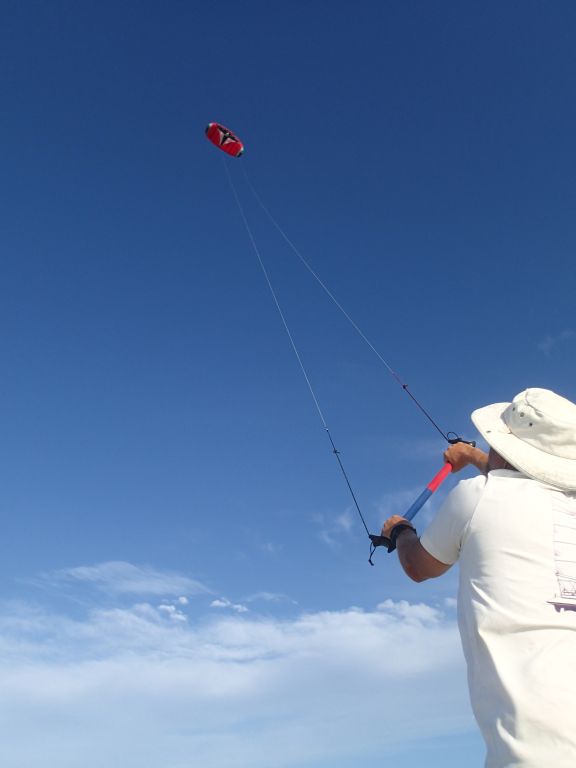 The girls knew their time together was drawing to a close quickly.  C Spirit would leave as soon as the front passes and this north wind turns back out of the east or south. So, it's girl fest 2014.  Sage had fun in Marie's mermaid costume while the rest of them dug around in the craft box making bracelets.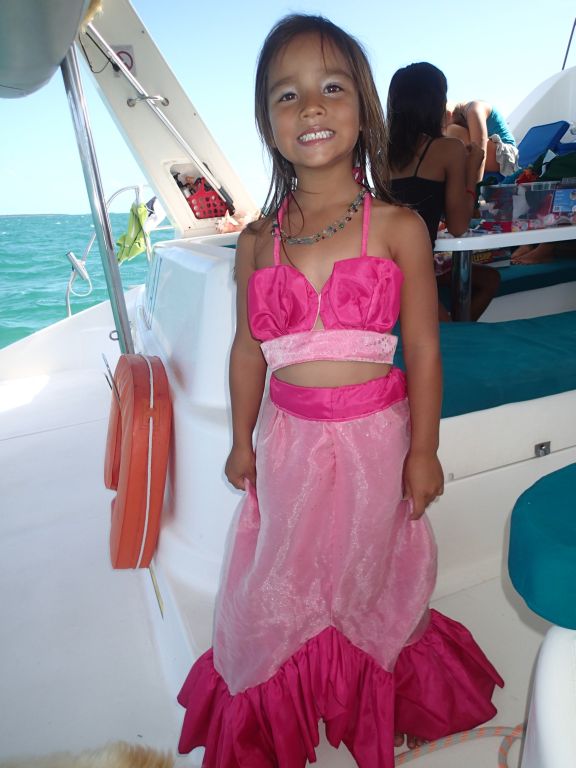 Eric and Jamey pulled apart one of our winches for cleaning and lubrication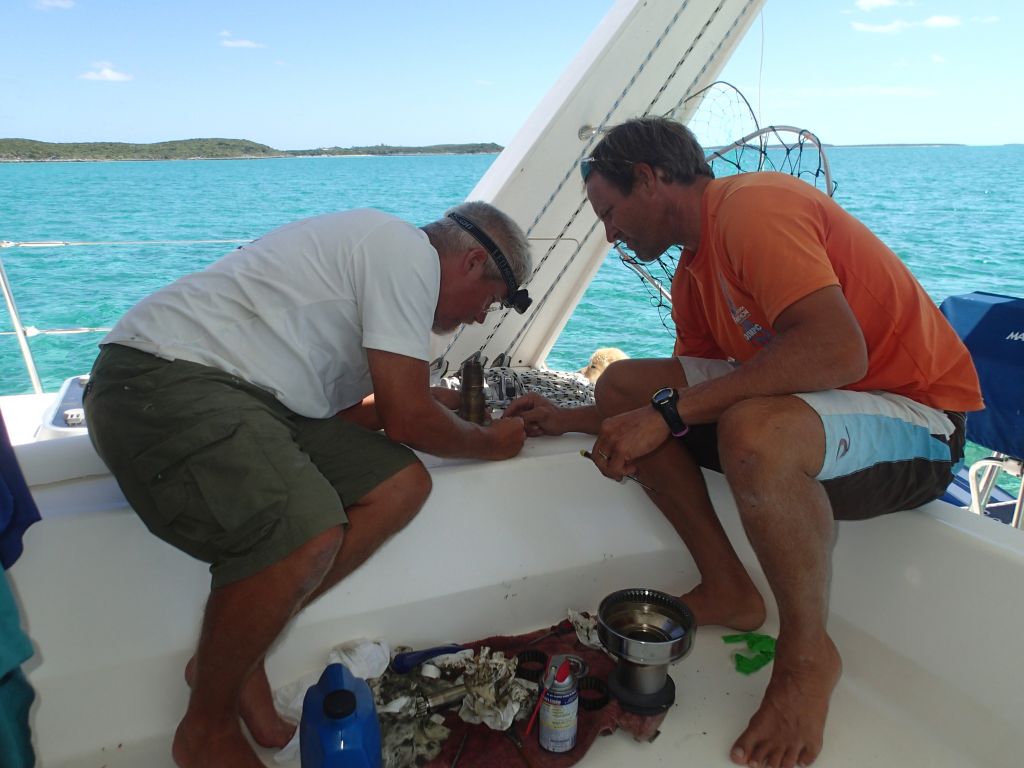 The girls had sleep overs and Roy made breakfast.  His new specialty is Mini Mouse pancakes.  He makes a Mickey and adds a bow.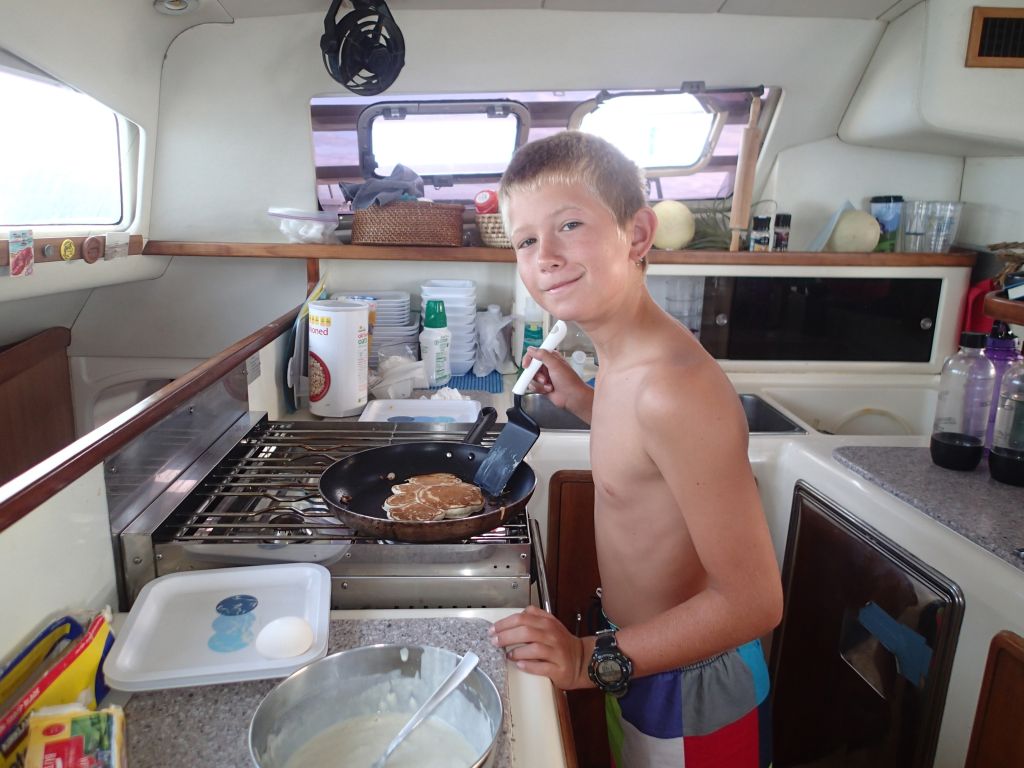 The anchorage is wide open, just the two of us, plenty of warm, shallow, clear water and swimmers.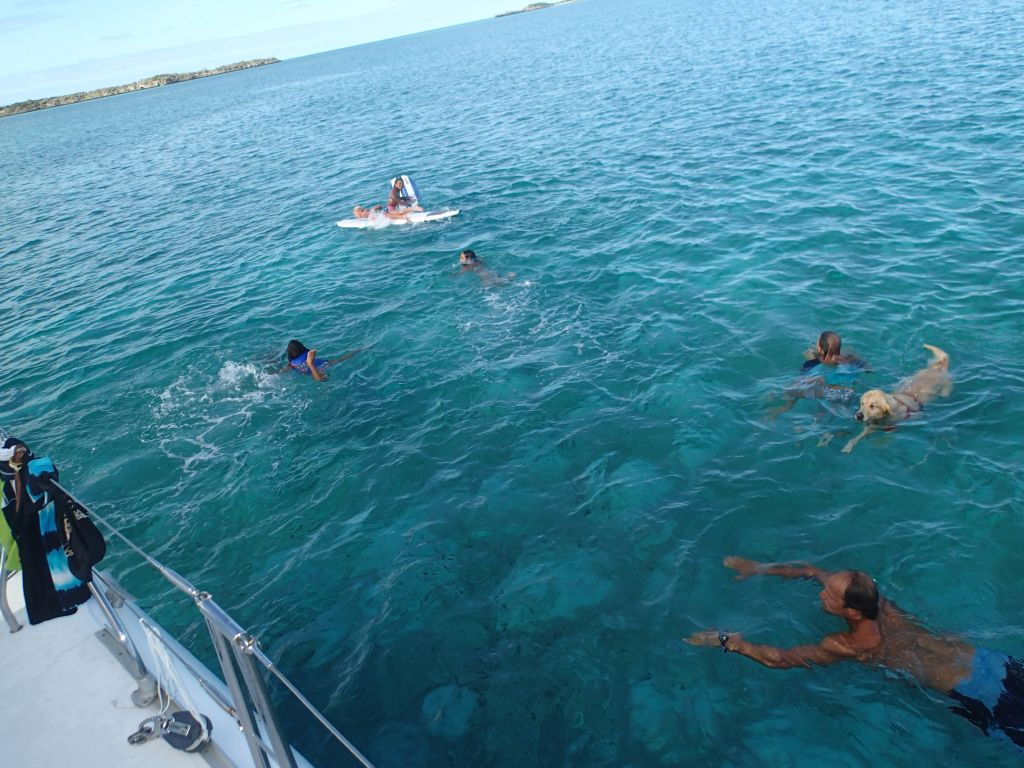 In true Roy style, he found a critter.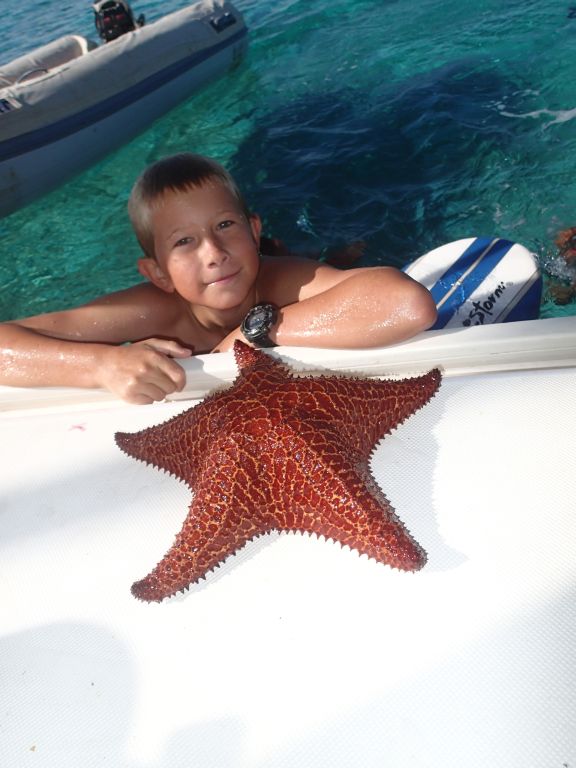 After saying goodbye, two boats of sad cruisers parted.  The C Spirits tried to get away but Marie paddled after them.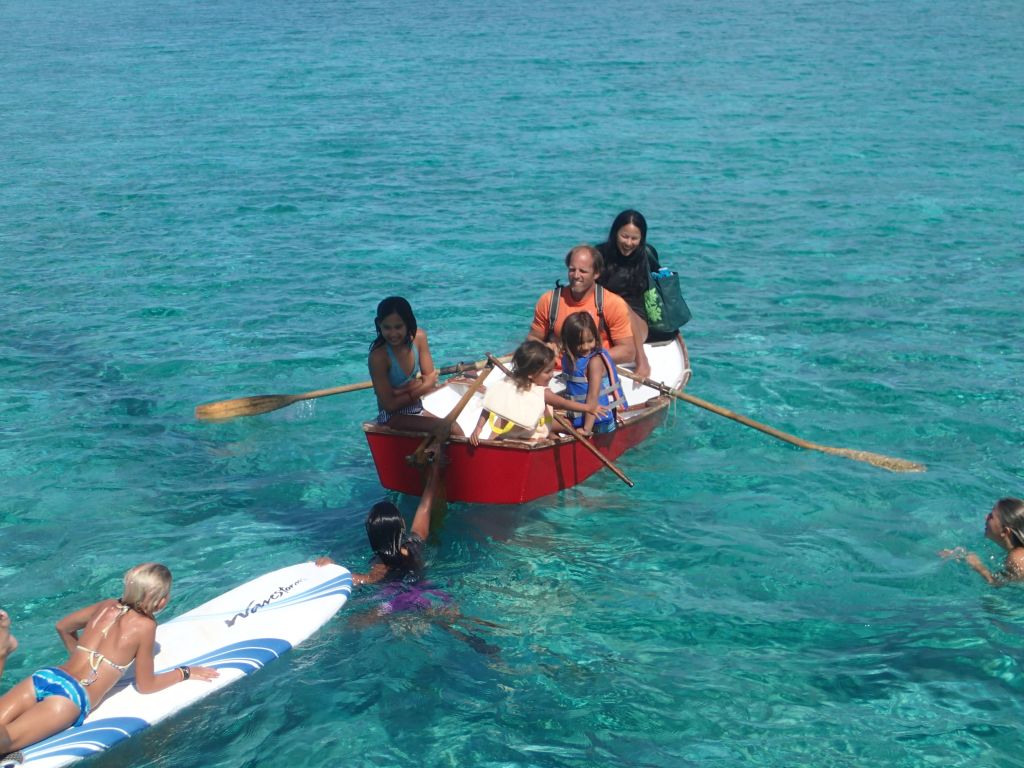 Then when they sailed by for one last wave, Marie tried to bounce off the dinghy and jump aboard.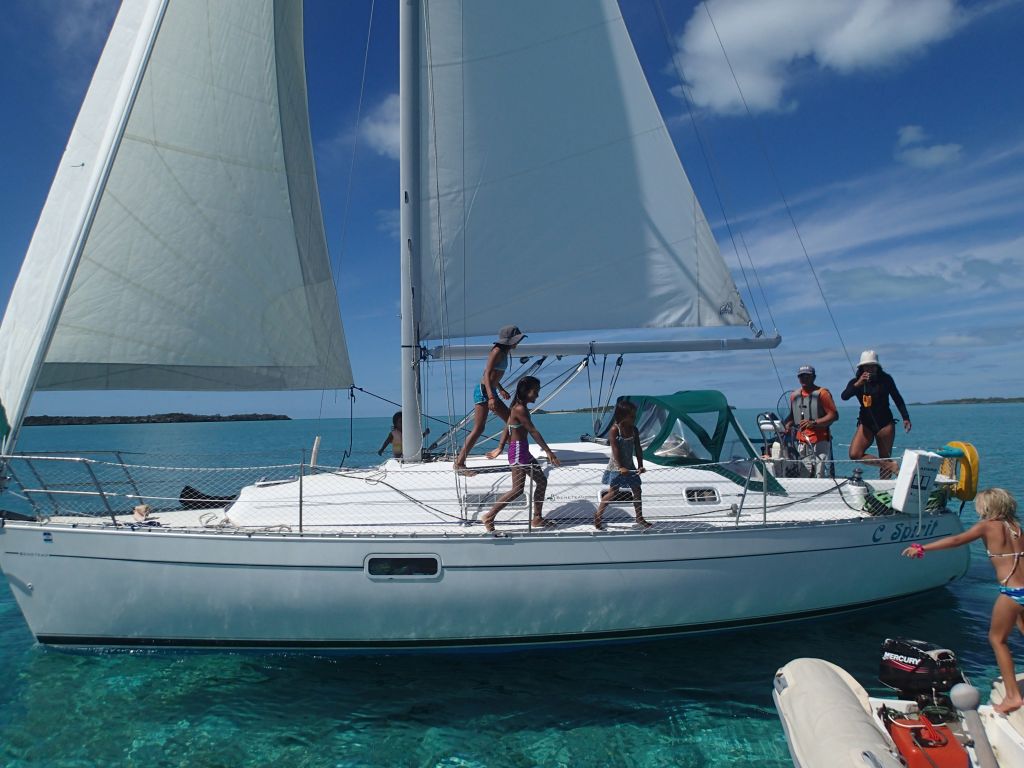 The girls stayed home and moped while we took Roy spear fishing.  He dug this Nassau Grouper off the reef and dedicated his catch to Jamey.  His first fish without his best spear fishing buddy.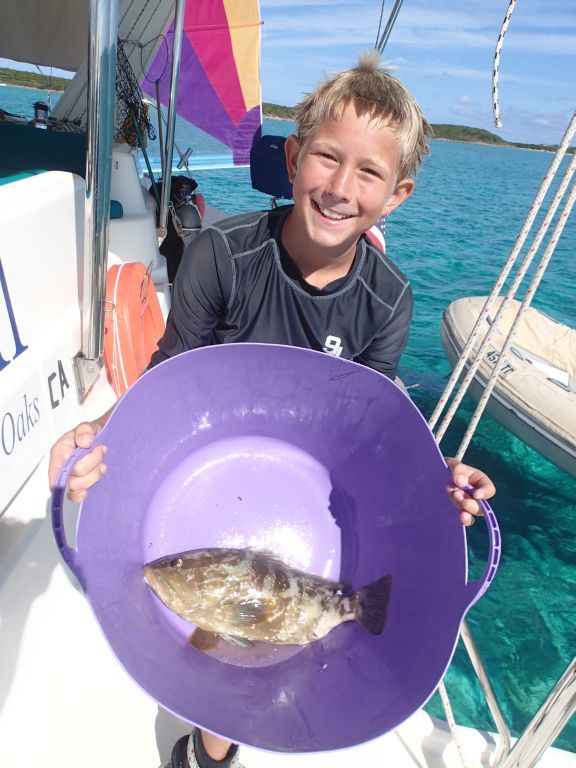 We made grouper egg rolls and sauteed the fillets in soy and ginger.  Dinner is yummy, but Roy and I had only each other to enjoy it with.  We sure miss our other fish eating buddies.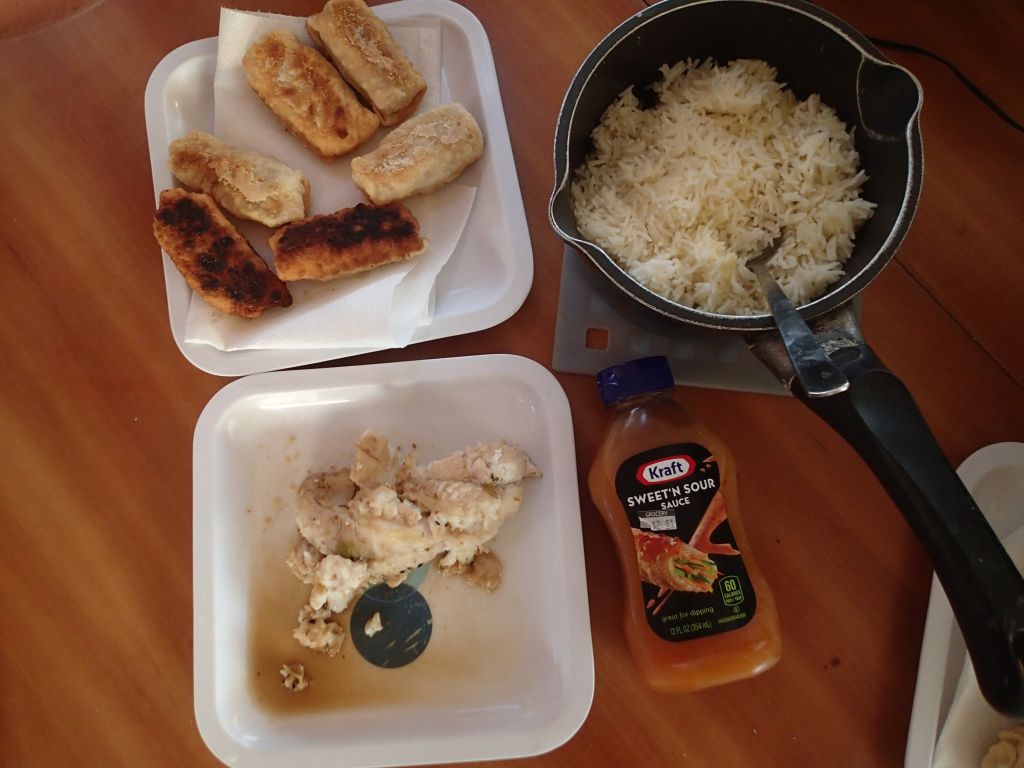 Today is a new day, the wind has slowed down, time to get some bottom time.  The current was starting to pick up so we dropped down on the mermaid and piano sculpture.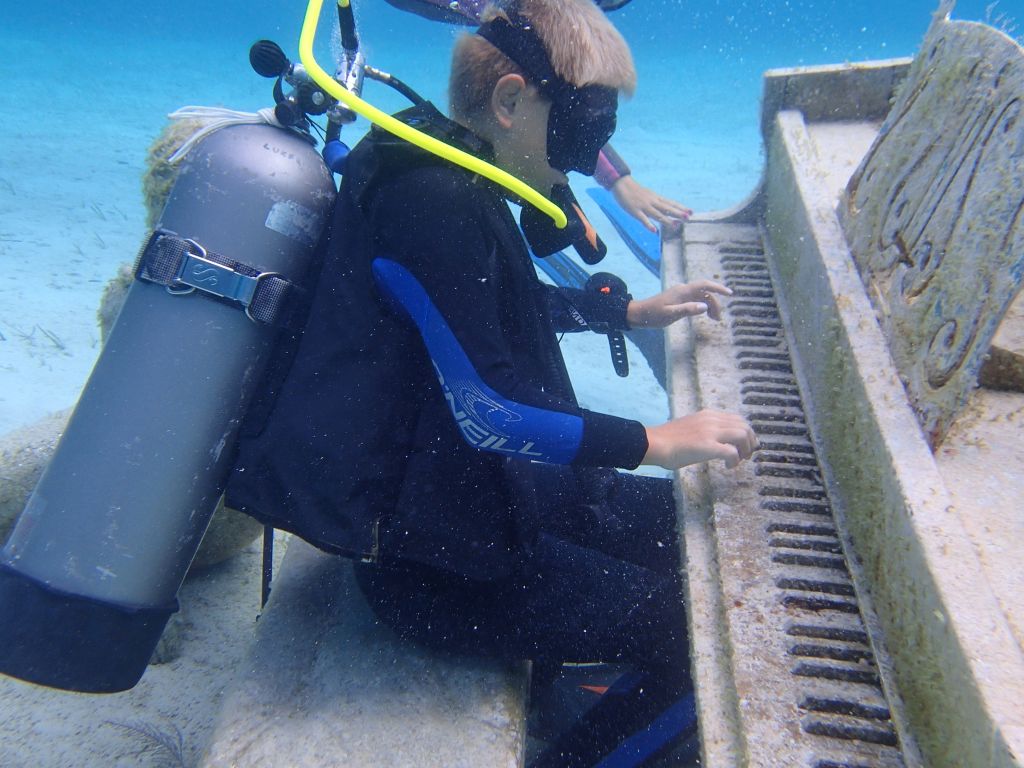 It's been almost a year since we did our last dive on the Rhone in the British Virgin Islands.  That wreck starts around 25 feet deep and goes down to 70 feet or more.  All the places we snorkel and dive around here are 25 feet or less.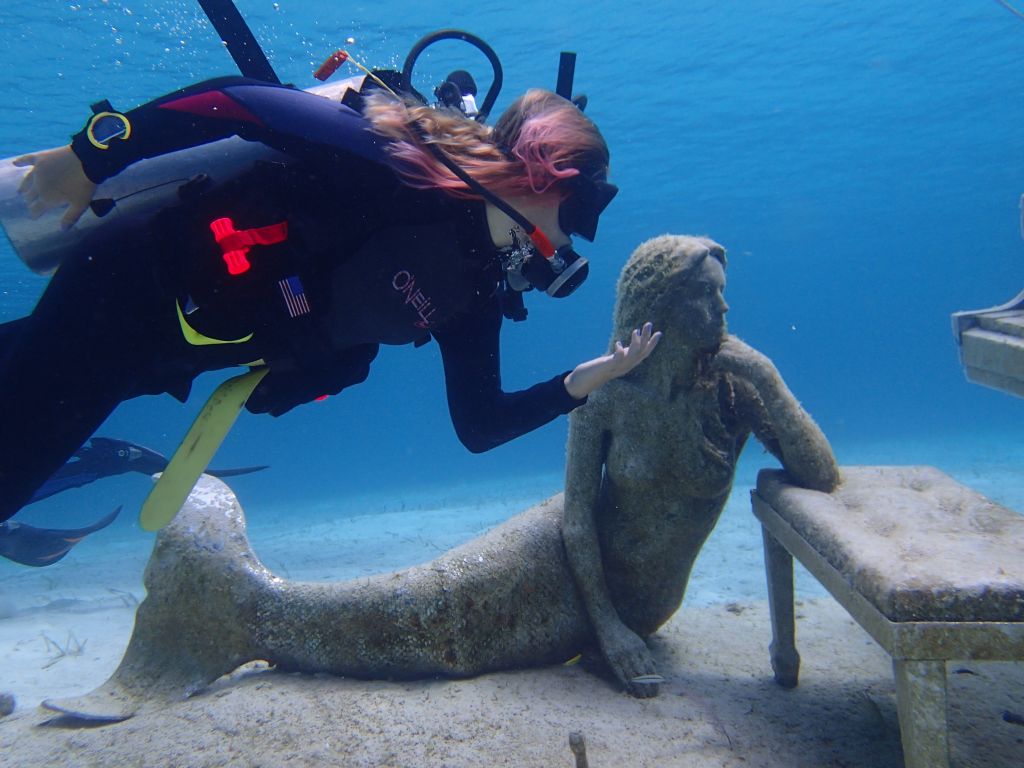 Shallow dives are nice because the sun shines into the water, the water is warmer, we don't use too much air and don't have to worry about exceeding the dive tables.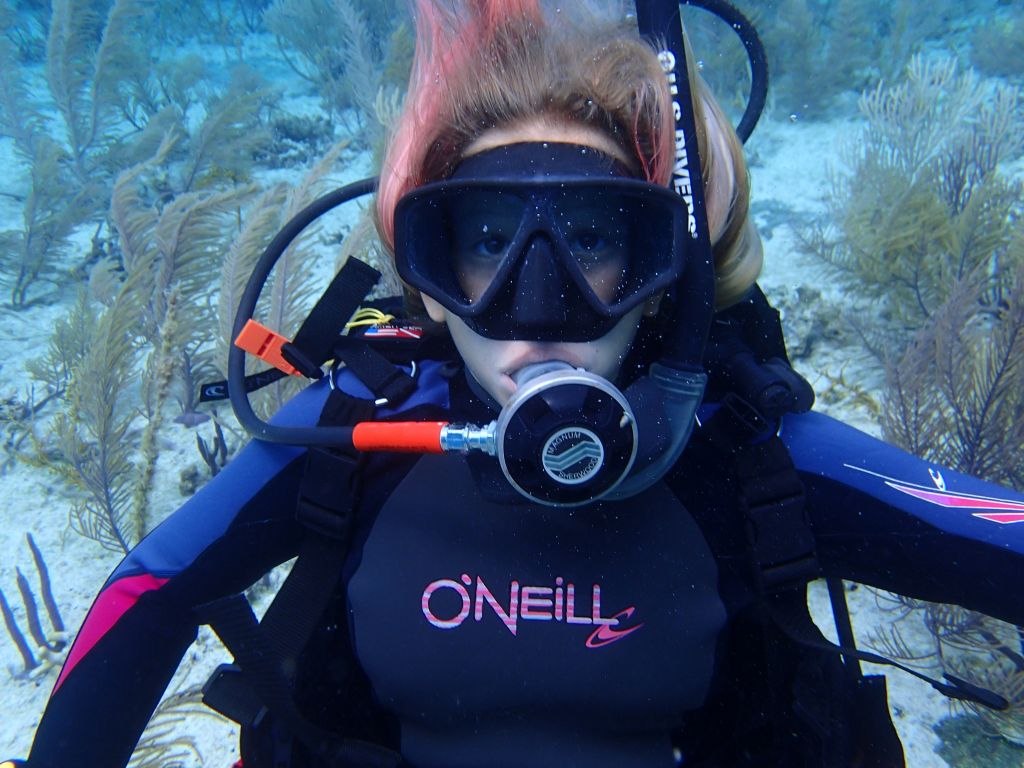 After visiting the mermaid, we drifted along to the west of the anchorage and found large coral garden.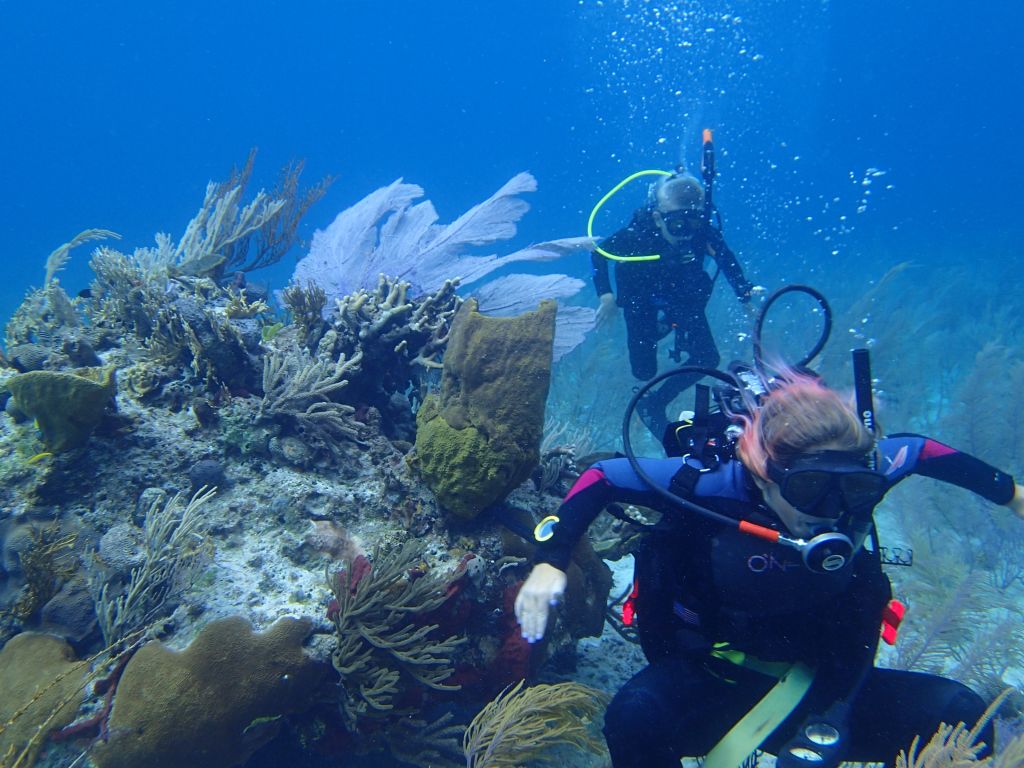 Genny had fun with the camera.  Oh that's the other great thing about shallow dives, our new camera can dive with us.  It is not supposed to dive deeper than 50 feet.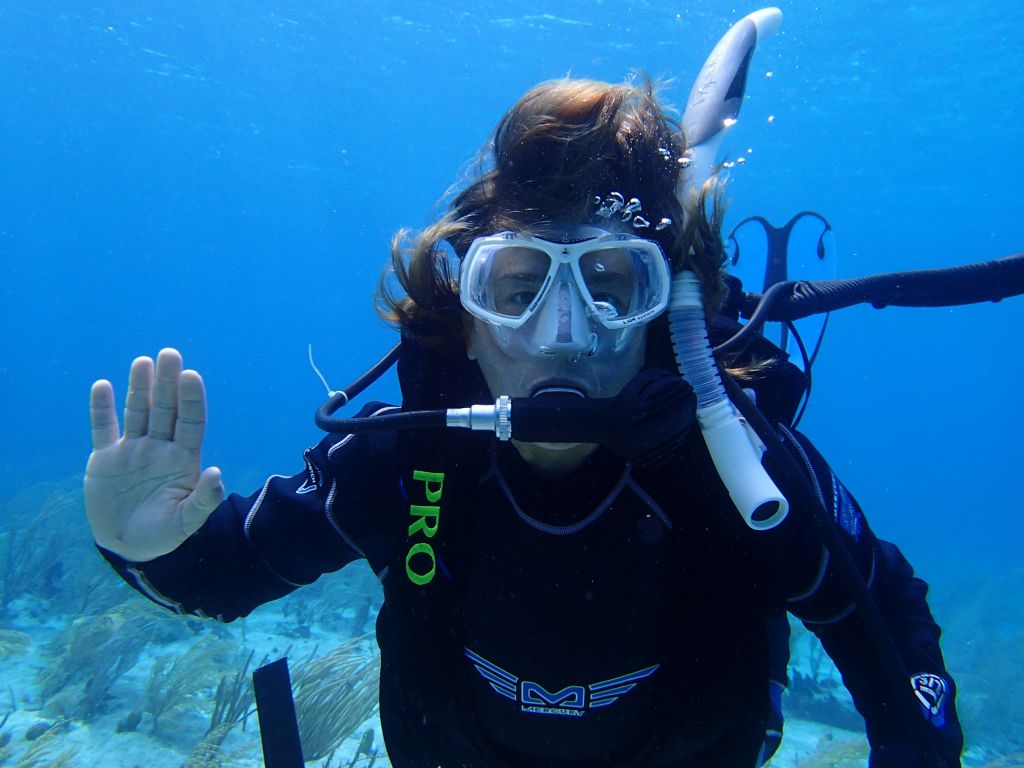 After this season's spear fishing, Roy has gotten really comfortable underwater.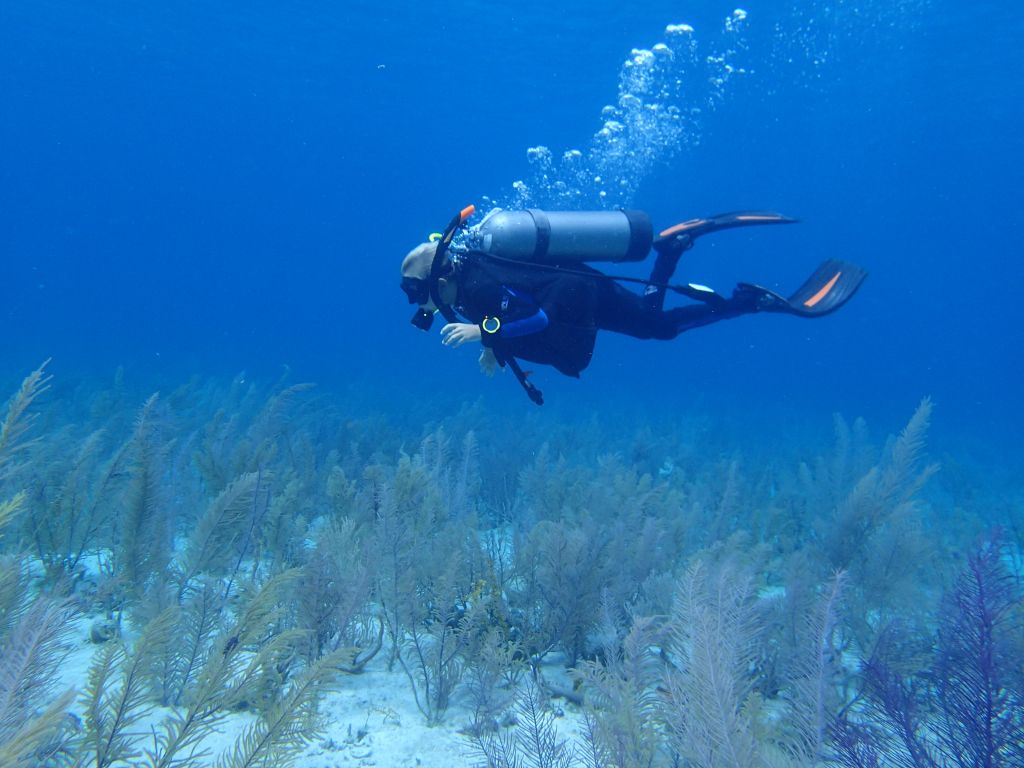 Eric hovered over us in the dinghy and Marie came down to visit with the hookah hose.  This is an extra long hose attached to a SCUBA tank in the dinghy and a regulator on the other end.  Marie has strict instructions to never hold her breath and without weights doesn't get much deeper than 10 feet.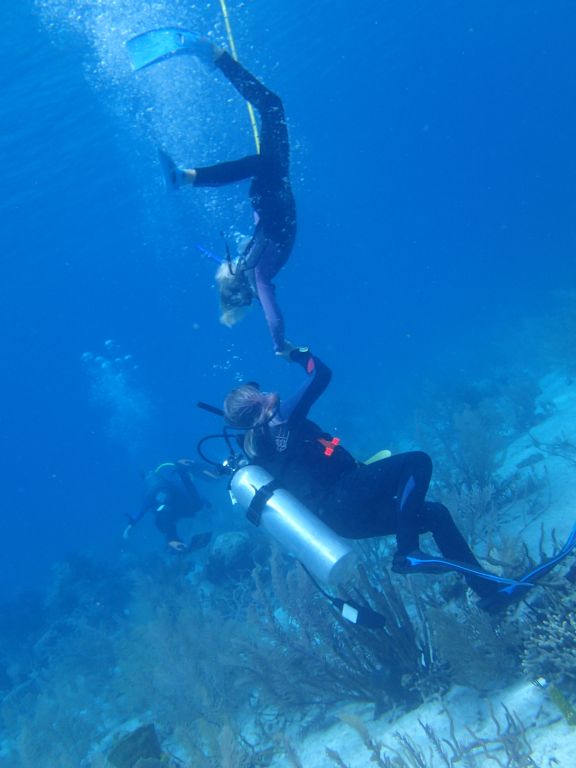 But it's just deep enough for a photo op.  Next season she'll be turning 10 and will get her SCUBA certification.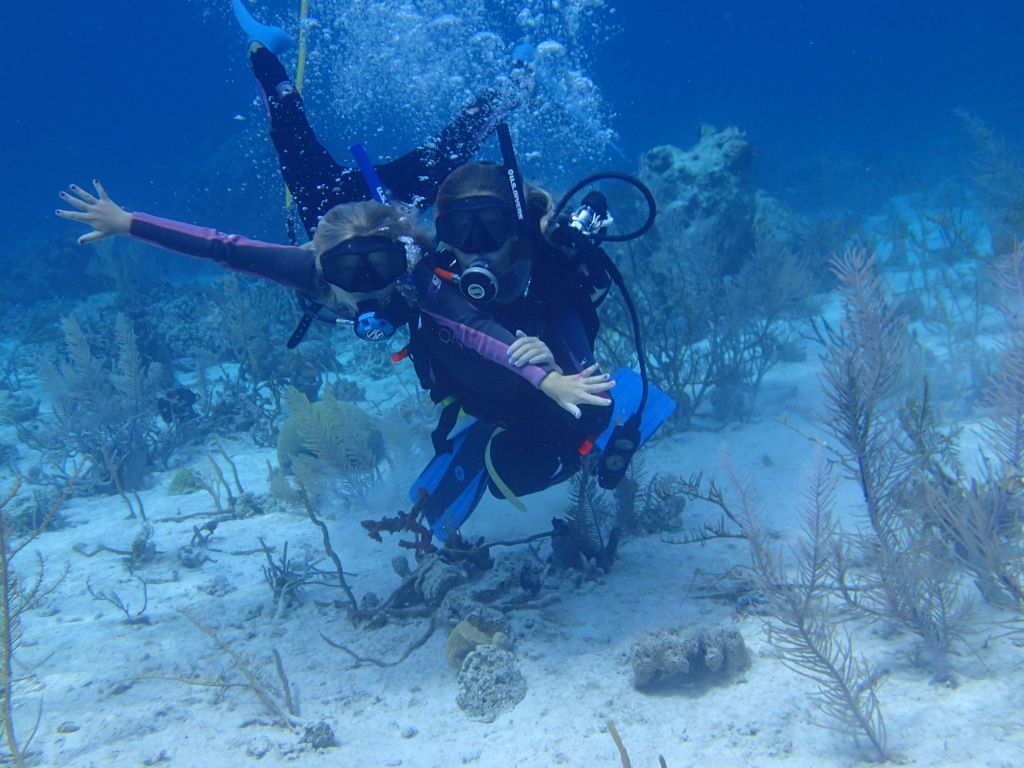 The reefs were loaded with fish and coral heads.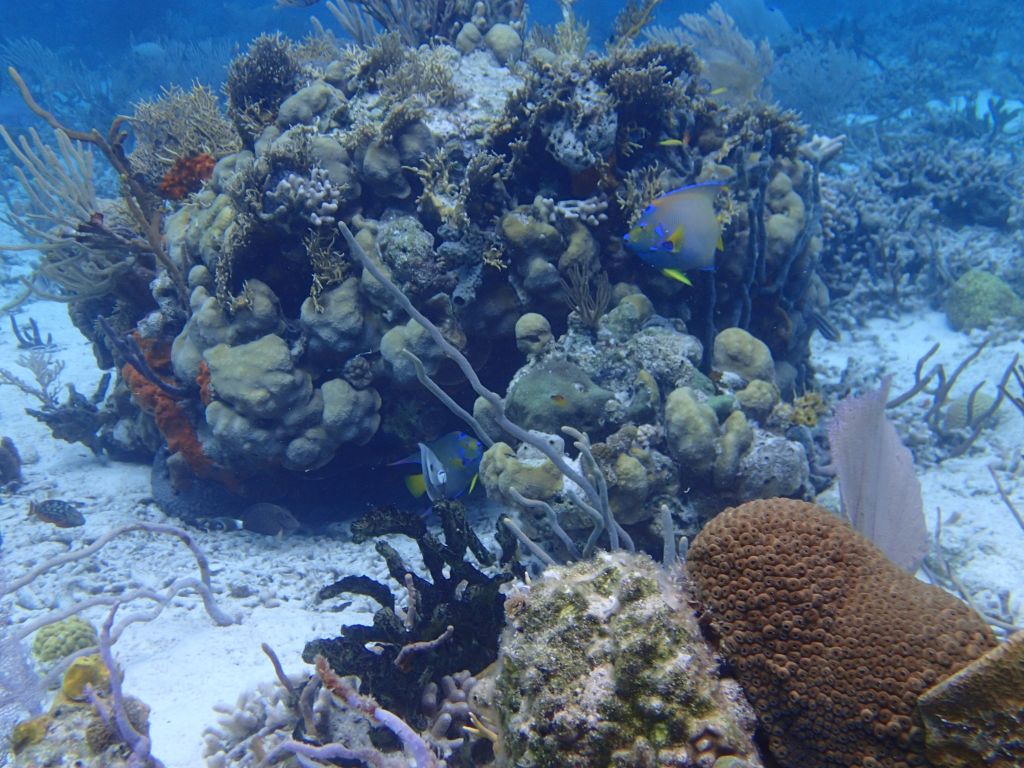 Its always fun to see big rays and turtles, but not so much fun to see sharks.  A glimpse of a shark is enough to send spear fishermen to the dingy and home to eat macaroni and cheese instead of fish.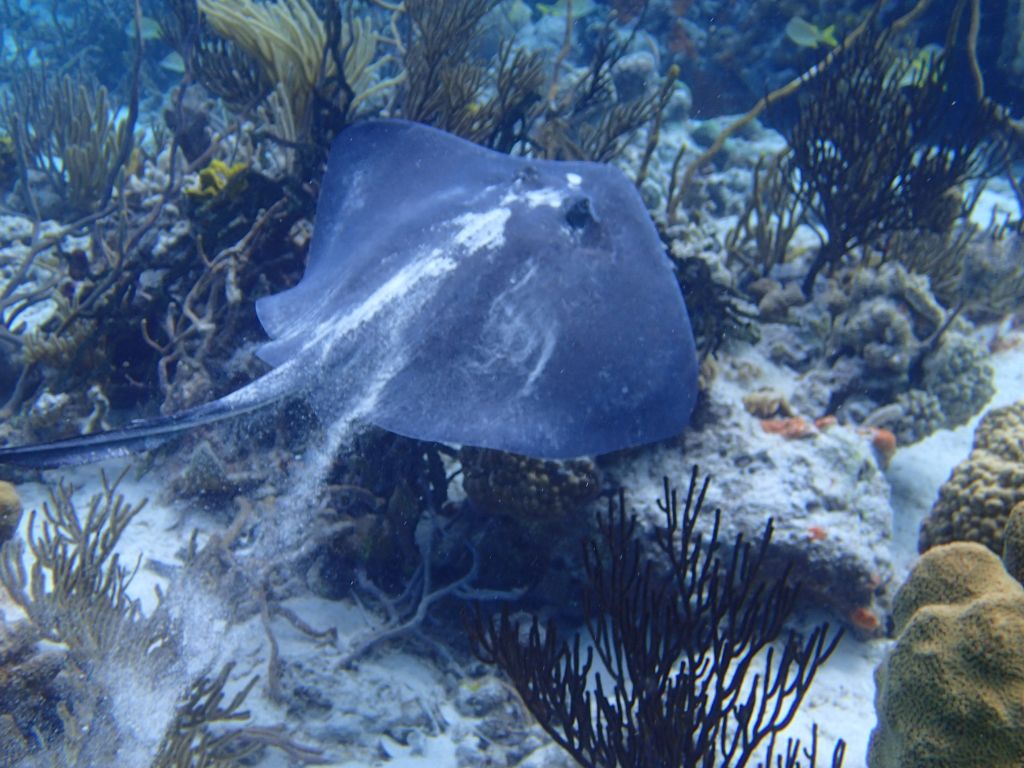 When we were finished Eric towed us back to Makai.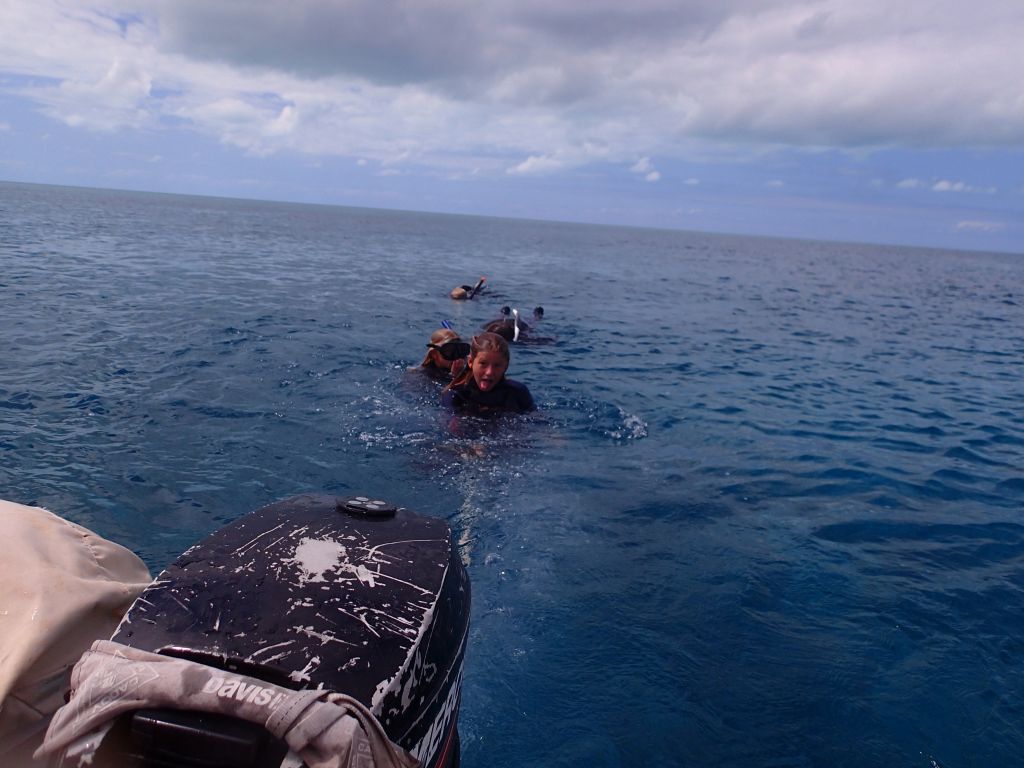 Poor Topaz doesn't understand why she's not invited to SCUBA dive, so she and her yellow dolly just laid around waiting for us to return.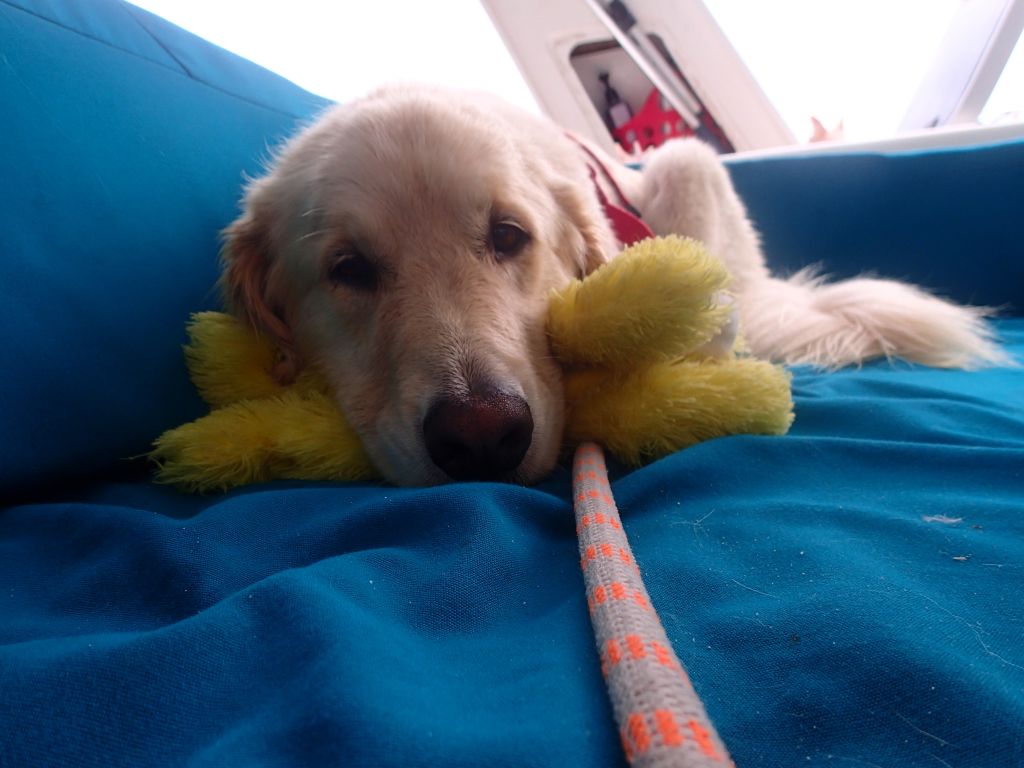 We spend another night in Williams Bay and then over to the channel between Leaf Cay and Normans Pond Cay for more protection from the west winds.  The last time we were here, we found a few nice lobsters so Roy was ready to hunt again.  But this time, no fish, only lobster.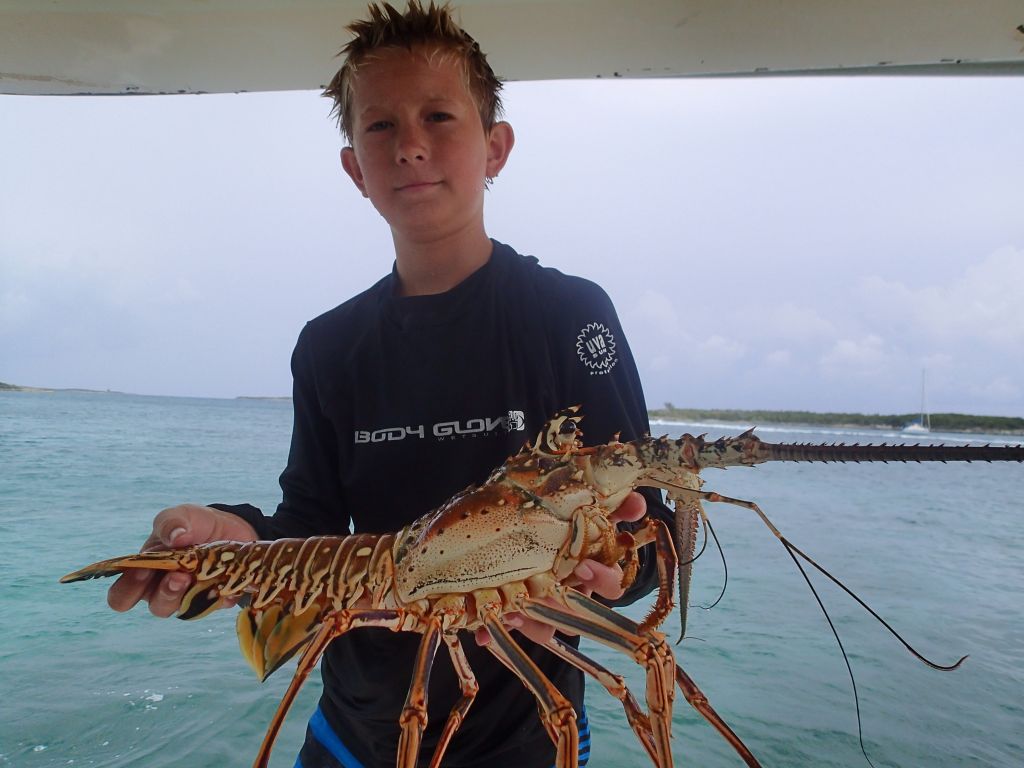 Roy de Lobstah Boy strikes again.  "Here you go Mom, can I have lobster for lunch?"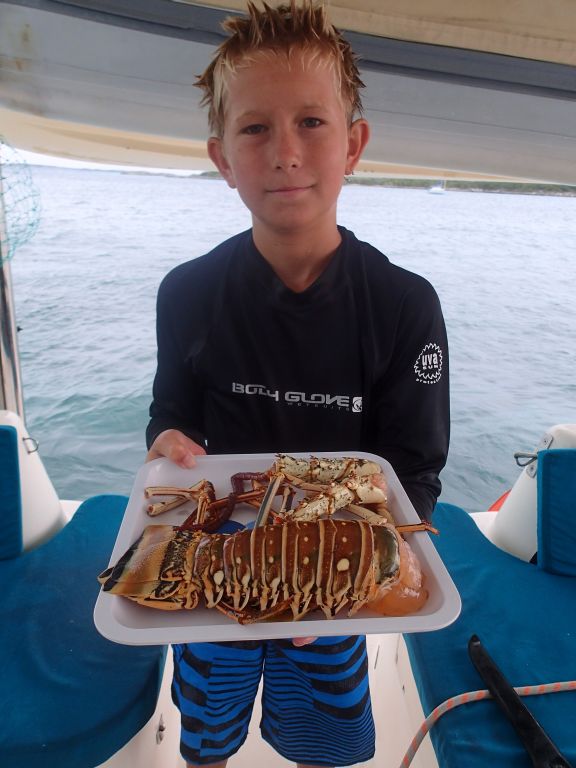 The wind has turned around and promises a nice sail to George Town.  A perfect 5 kt. trolling speed for Roy, and FISH ON!  Roy chased this fish all the way around the boat.  Eric usually turns Makai up into the wind and heave-to to stop the boat.  The fish headed for the bow, down the other side and back to the starboard sugar scoop where we started.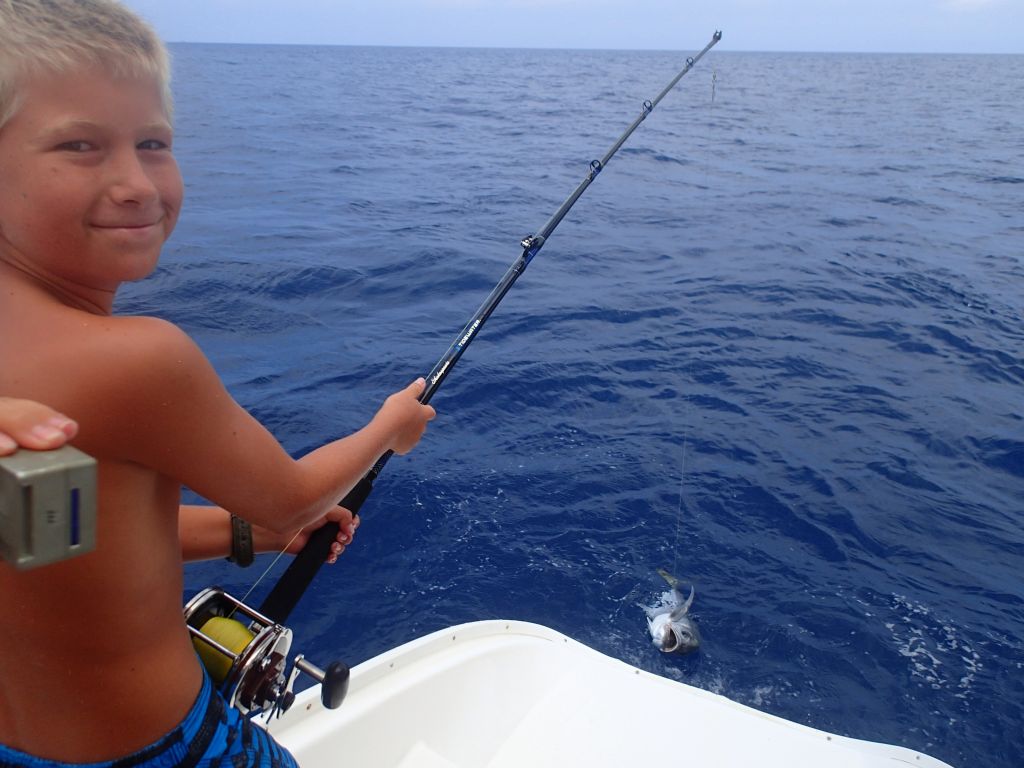 It was a fun fight but Crevalle Jack is not good eating so Roy sent him back on his way.  This Jack isn't an uncommon fish, we often see them 12 inches or less, but this is definitely the biggest Jack Roy has ever caught.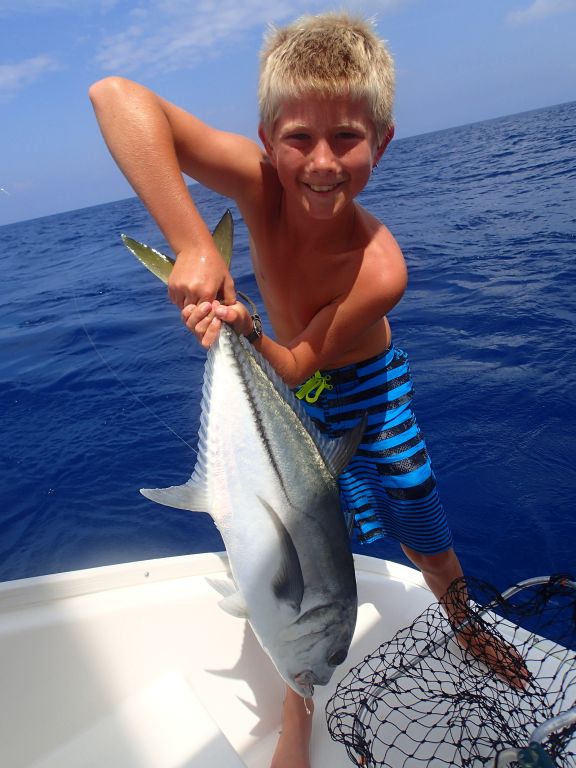 A few hours later, the reel started screaming again.  FISH ON!  or maybe not.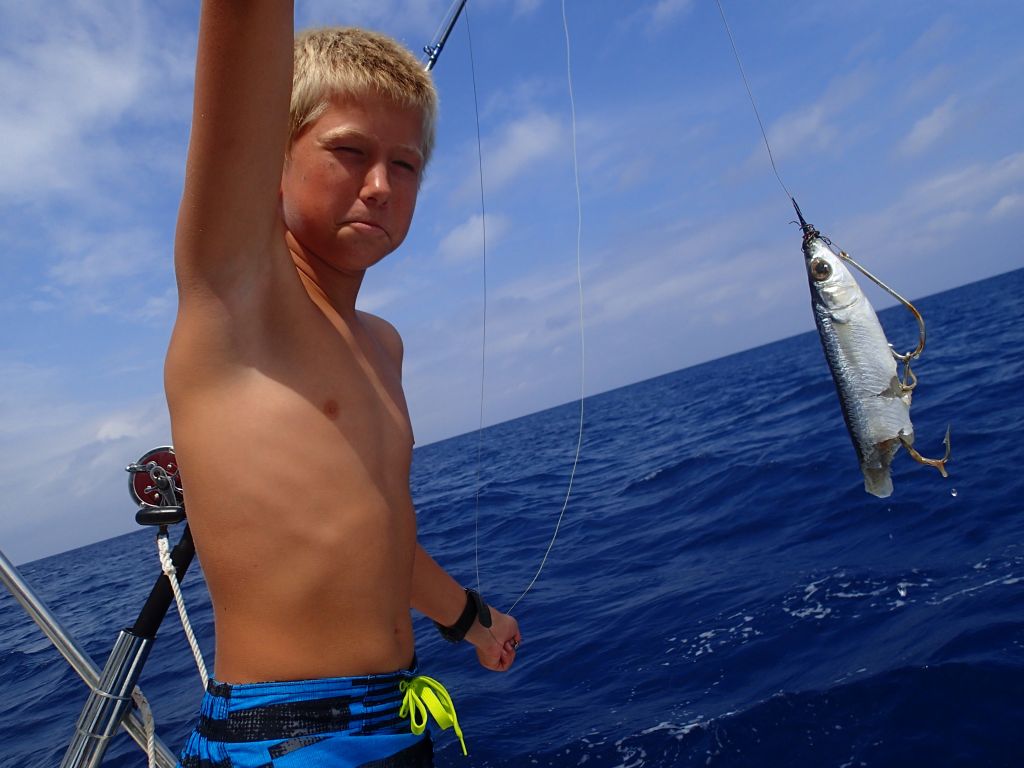 All this fishing has slowed our progress and messed with the schedule to arrive before dark.  Not to worry, here comes squalls.  Whew, like a fire drill, we threw everyone and everything inside and closed the doors.  The air temperature dropped, wind picked up and down came the rain and off we flew.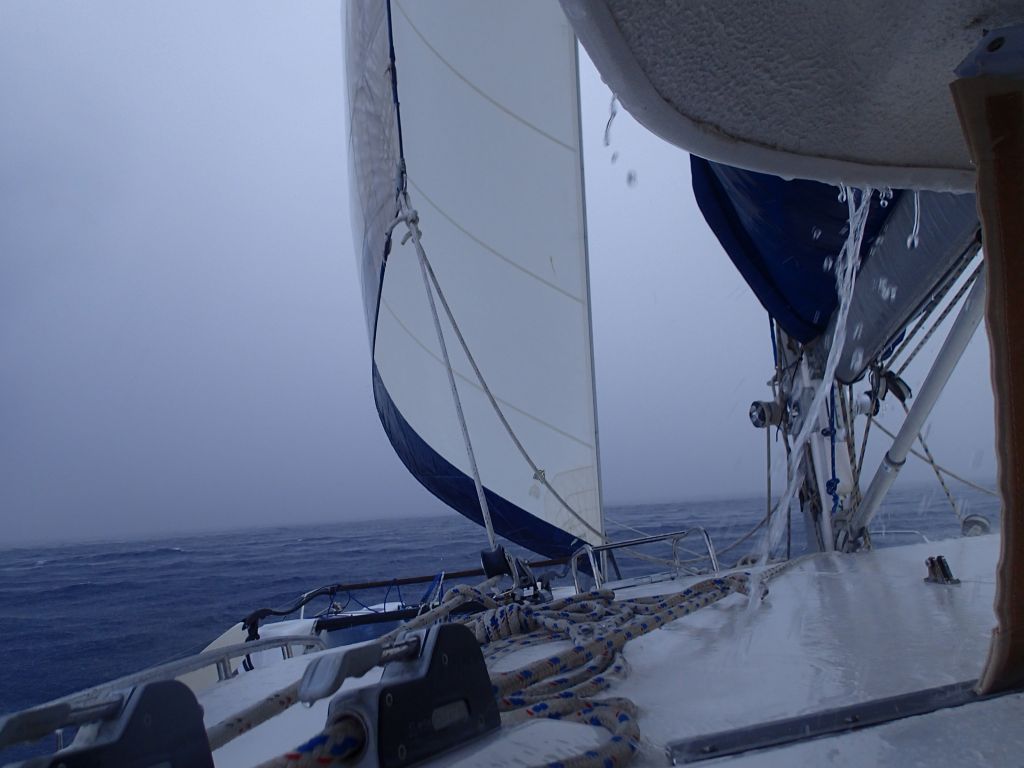 Now we're back in George Town and hiding out on another windy day.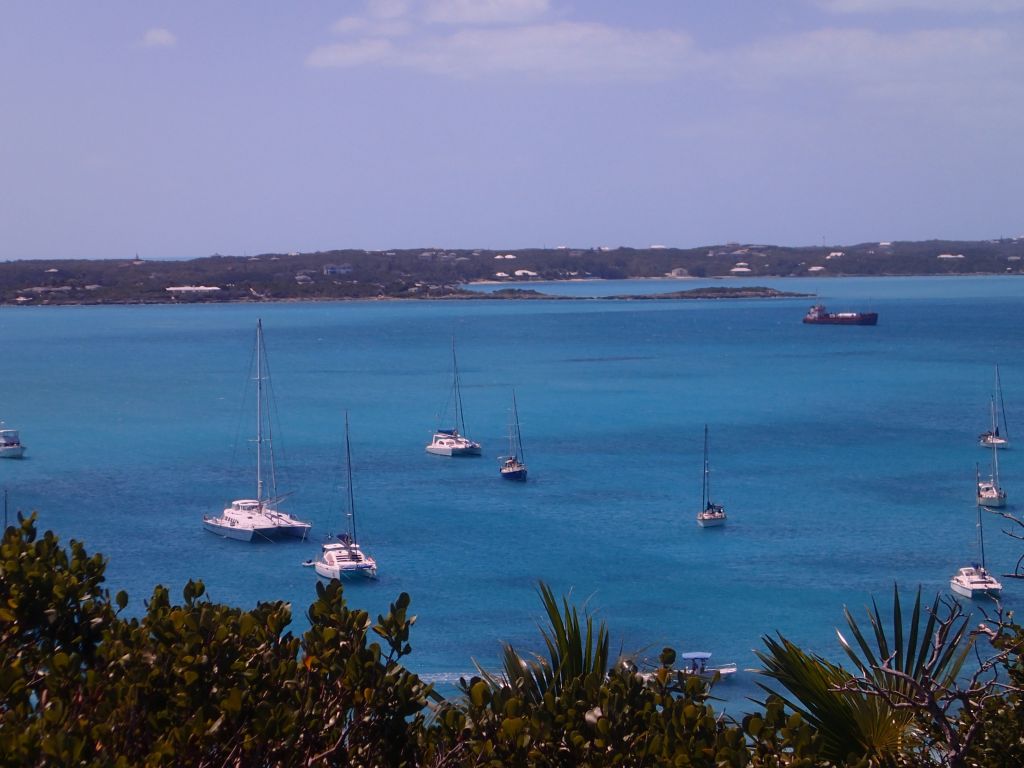 Eric and Roy hiked to the top of the hill and then what should we do on a windy day?  How about fly a kite.  Roy ran down the beach and got it WAY up in the air.  The kite then pulled us in the dinghy back to  Makai.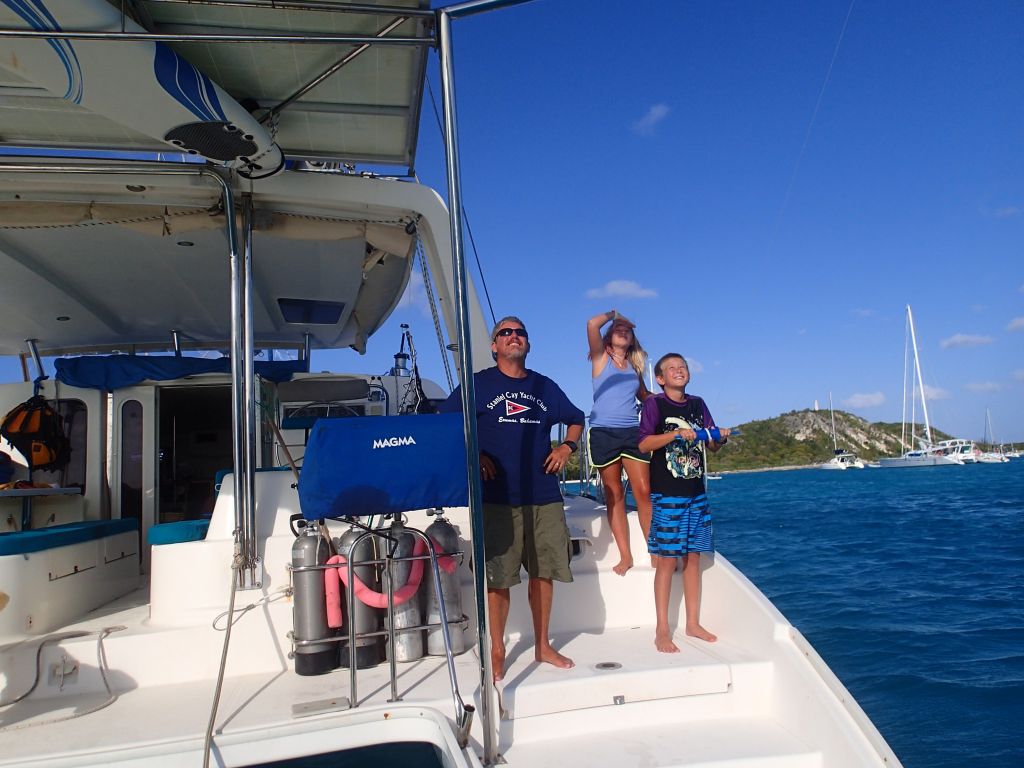 Eric had an idea to make a parachute and attach it with a paperclip to the kite string.  It was really cool until the parachute reached the kite which knocked the kite off balance and it threatened to nose dive into the water.  At the last minute the parachute came off and the kite recovered.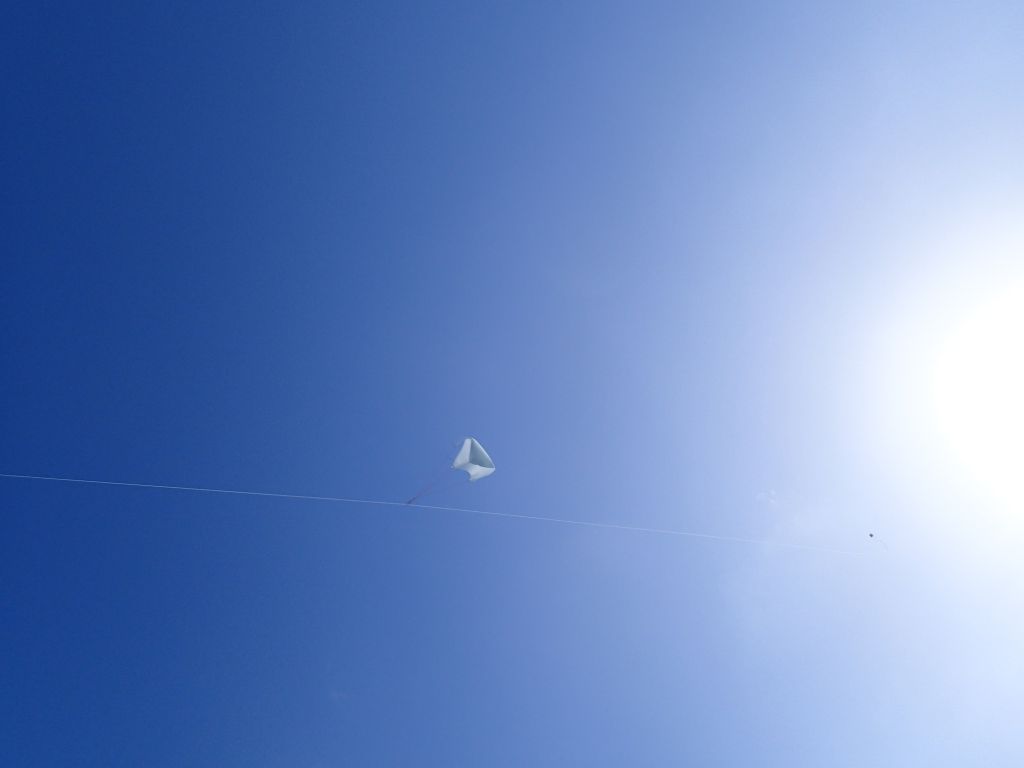 When the wind slows down a bit we have some chores to do and then plan another adventure.