Totopaz, I don't think we're in Georgetown anymore.  LIONfish, TIGER sharks, and BEARacudas, Oh my!
We were greeted by dolphins as we slipped through Hog Cay cut with only half a foot between the bottom of Makai's keels and the sand.
We rushed down to Buena Vista Cay with Makai loaded down with produce orders for our friends.  As soon as the anchor was down the kids all jumped ship and the adults came over for their produce.  Unlike the mail boat, Makai serves wine when you collect your order.  The chat and wine party went on until dinner time, the girls disappeared into a friend's boat and the boys went spear fishing.  Yes, it is time for me to cut the apron strings and let my little boy go off with his pals, spear fishing in shark infested waters.  Look what's for dinner when you have three thirteens and a twelve year old boys.  They were all shivering on the back step cleaning these fish so I cooked up a nice cup of hot cocoa and steamed a pot of lobster for them to snack on.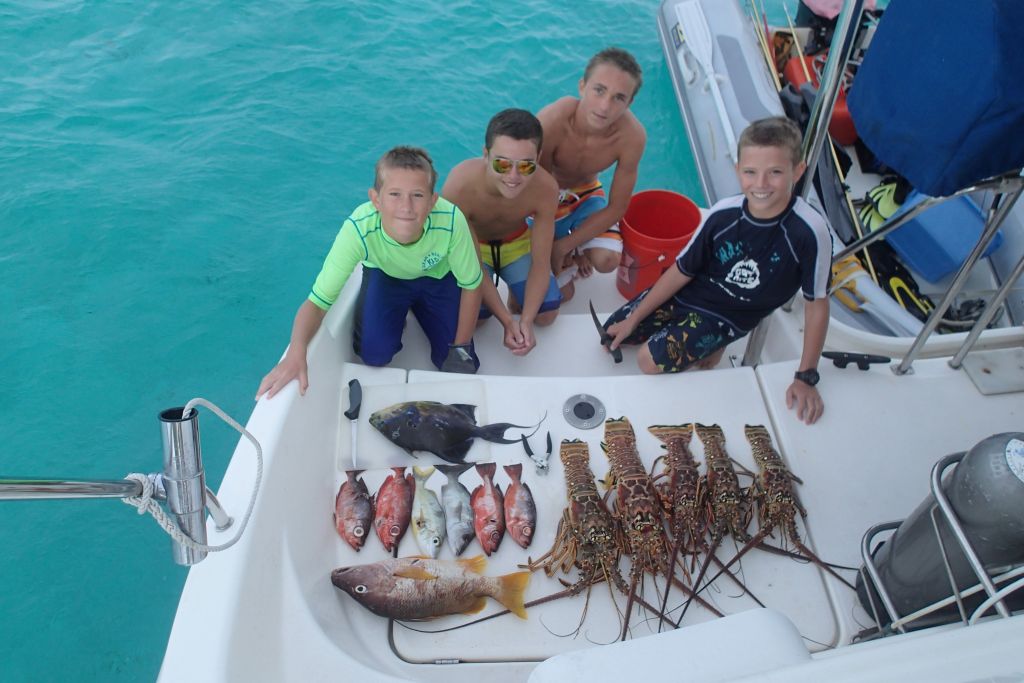 After a few days in Buena Vista we all headed down to Ragged Island to collect supplies in Duncan Town.  From the south anchorage there is an interesting walk to town.  There are several unmarked paths through the brush to a dirt road which passes the trash dump.  Always good to know where to get rid of your trash. Then we swiftly cross over the runway to the road.  Up and over the hill and down the other side to the market.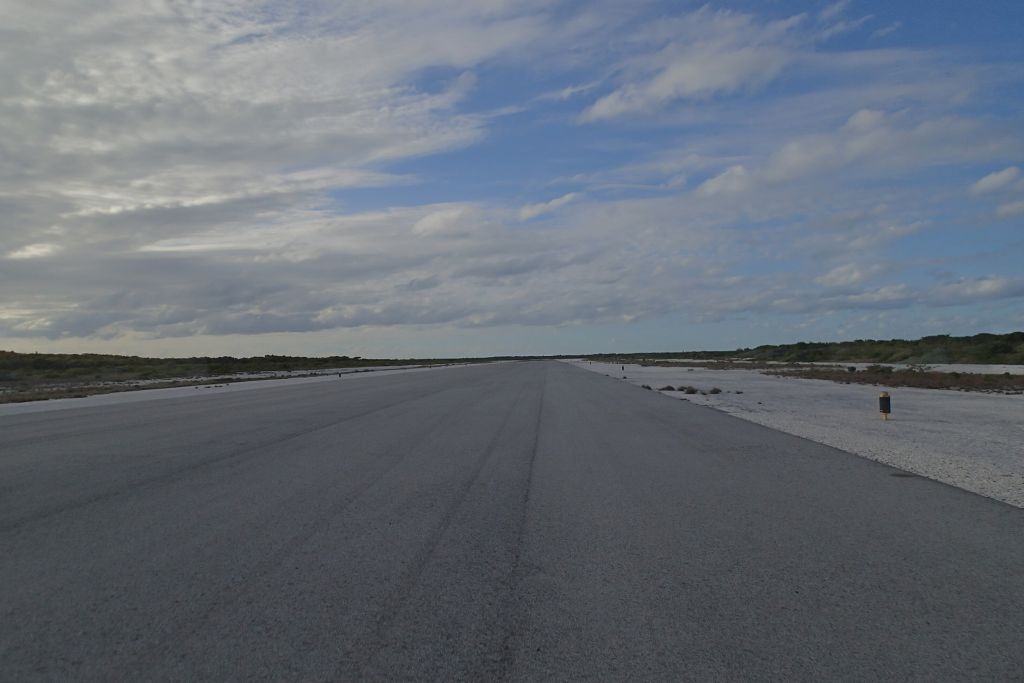 Maxine's market is a very small one room that only has supplies on mail boat day.  Behind the market her husband dries conch for export to the Asian market.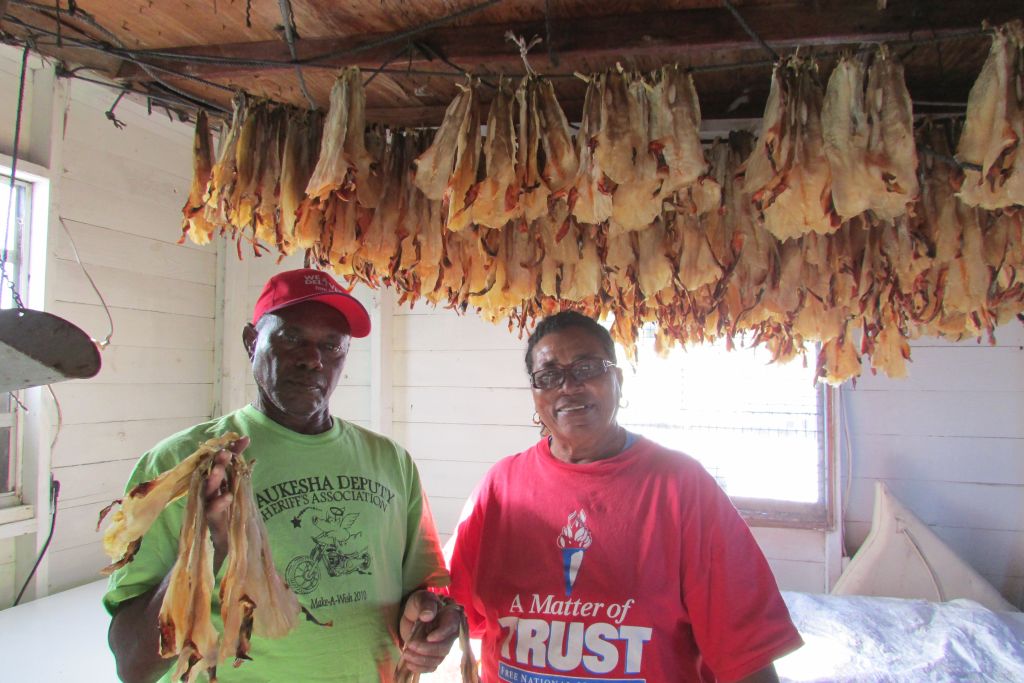 In the 1800s Duncan Taylor began a thriving salt industry trading with Haiti and Cuba. Through all my research the best I can come up with is that the salt comes from the ground and the crystals are produced when the rain water floods it in the summer.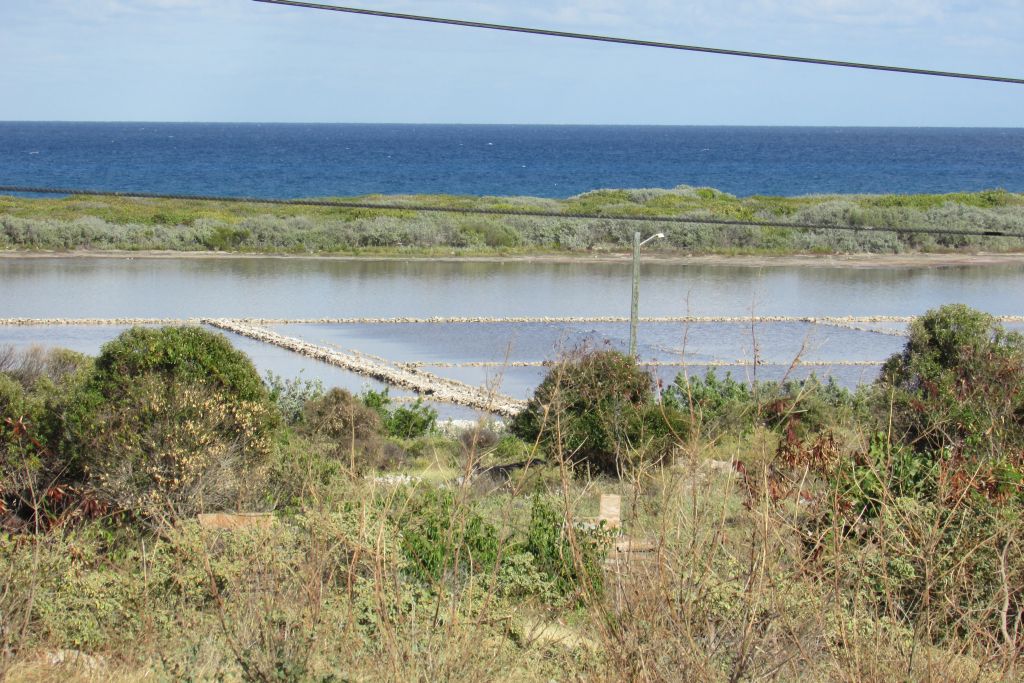 Today Duncan town has less than 100 residents, that rely on the mail boat for supplies.  The entrance into the harbor is through this mangrove channel.  Most of the cruising boats are too chicken (smart) to transit this shallow channel and opt to anchor off the south end of the island.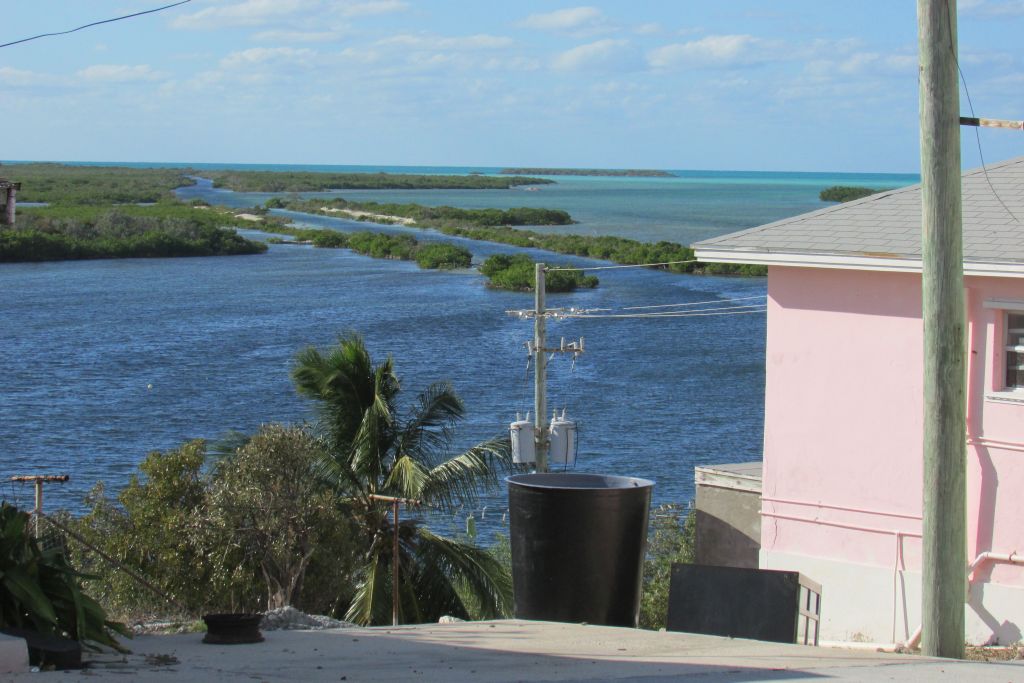 The town was very friendly.  Most houses had chickens but this one has and interesting array of pigeons.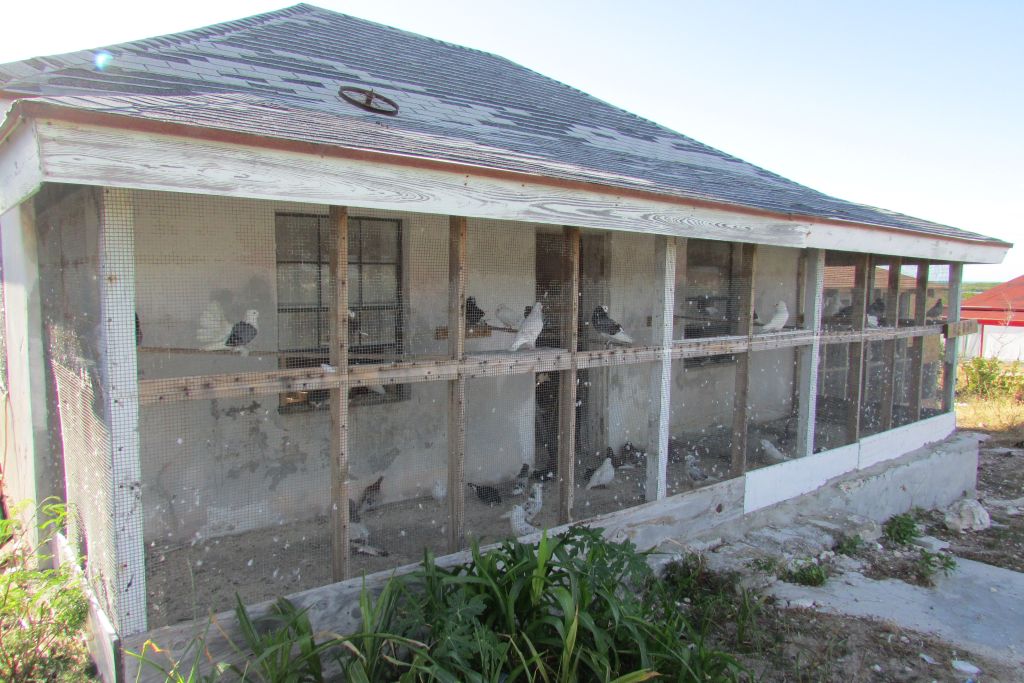 Our 14 children and 12 adults must have been quite a spectacle.
After shopping the kids went off to the school to play at the playground or to tap into the free highspeed WIFI provided through a fiber optic cable to the local Batelco tower. There were enough adults for Marjorie's husband to open his bar and serve ICE COLD beers.
Their yard has several chickens, roosters, cats and peacocks and hens. The peacock seems to be the only one that can fly/hop to neighboring roofs.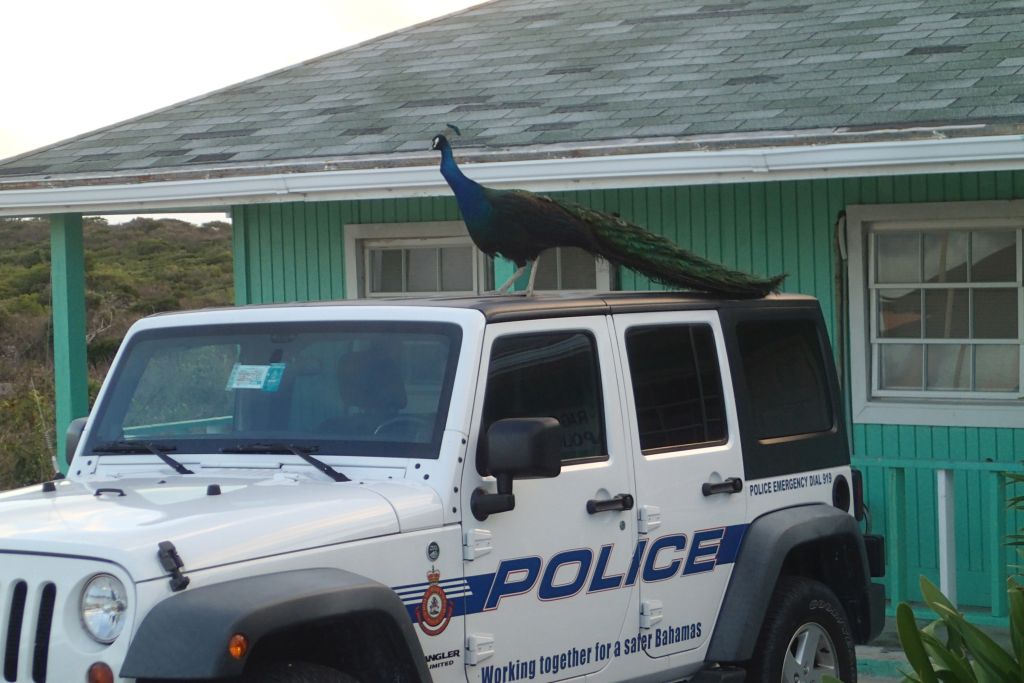 Marjorie makes beautiful baskets and purses plaiting straw and fronds. In her shop she also makes fabric products like bed, bath and kitchen sets. Below is a panel that just arrived with the Bahamian coat of arms.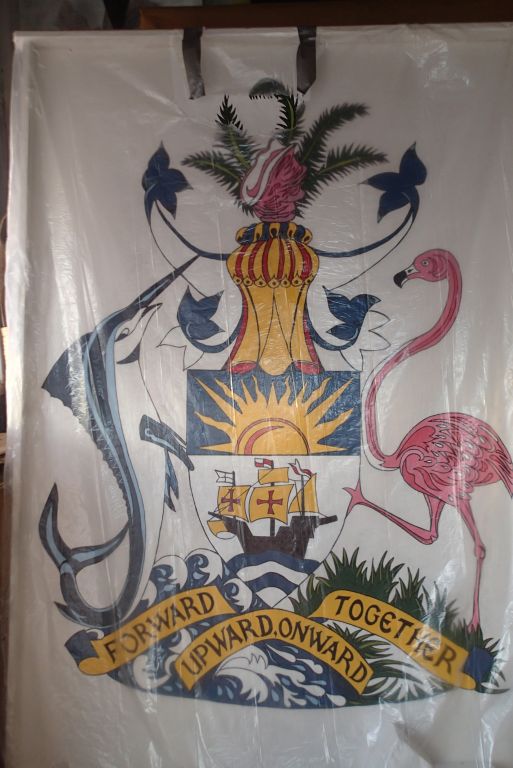 Daniel at the Silvertail Fishing Lodge invited us for lunch.  Roy would have loved to go bonefishing, they are a great sport fish, but not good for eating.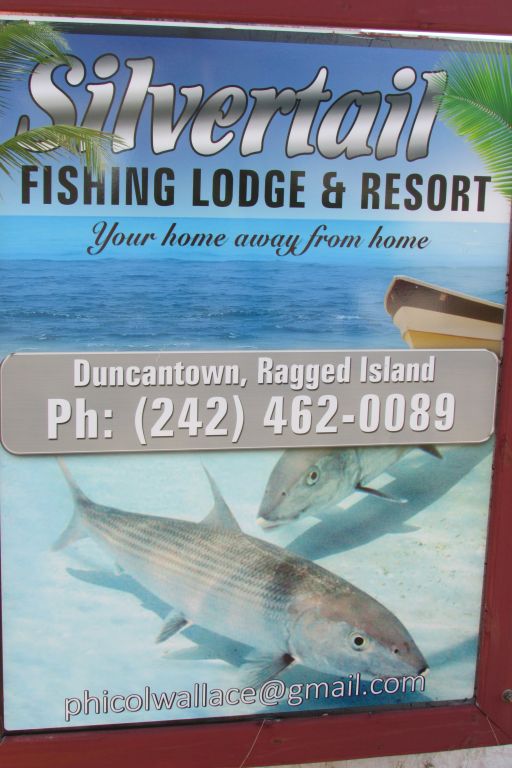 After provisioning, cooking and cleaning up after three meals a day for several months, the moms decided to have a Ladies Lunch at the lodge. The kids decided to head to town to find free WIFI and I'm not sure if I ever heard what the dad's did that day.  The ladies arrived and placed their order, poured a glass of wine that we were encouraged to bring for ourselves and sat down for a nice quiet chat.  Within minutes the kids arrived, hey how does that work, ladies lunch with a side of kids?  Anyway they were engrossed in their electronic devices and barely noticed us at the table until our food arrived.  Then like piranha on a dead cow or mosquitoes on a bare arm at sunset they attacked. The moms fended off barrage after barrage of requests for 'just one' french fry.  Eventually the kids produced cash from their own pockets and supported the restaurant with their own orders.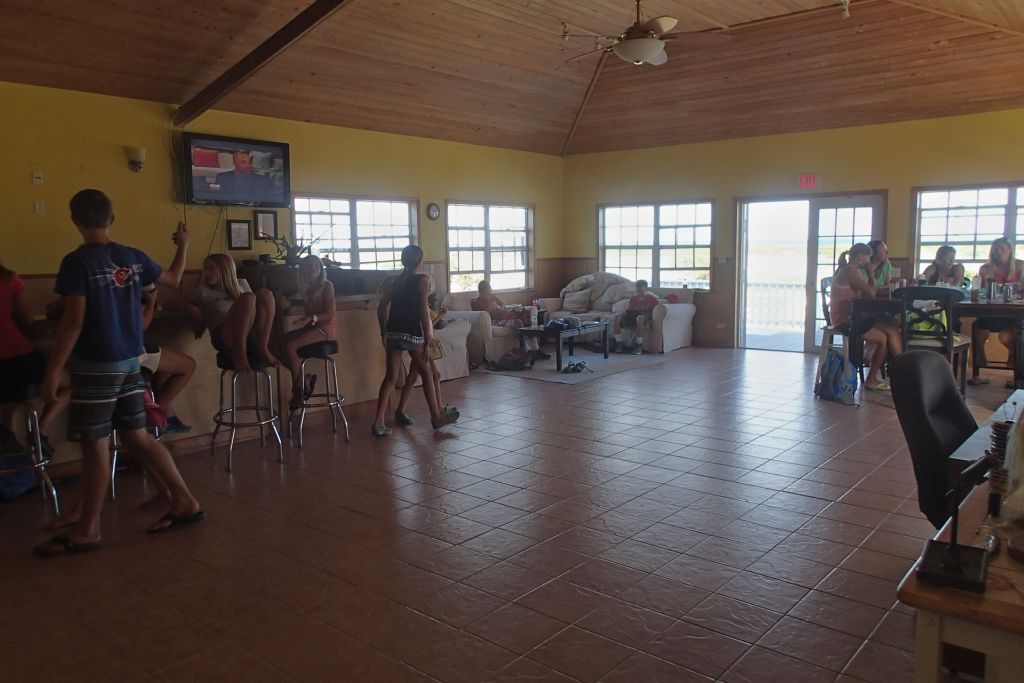 Back at the boats the boys played poker.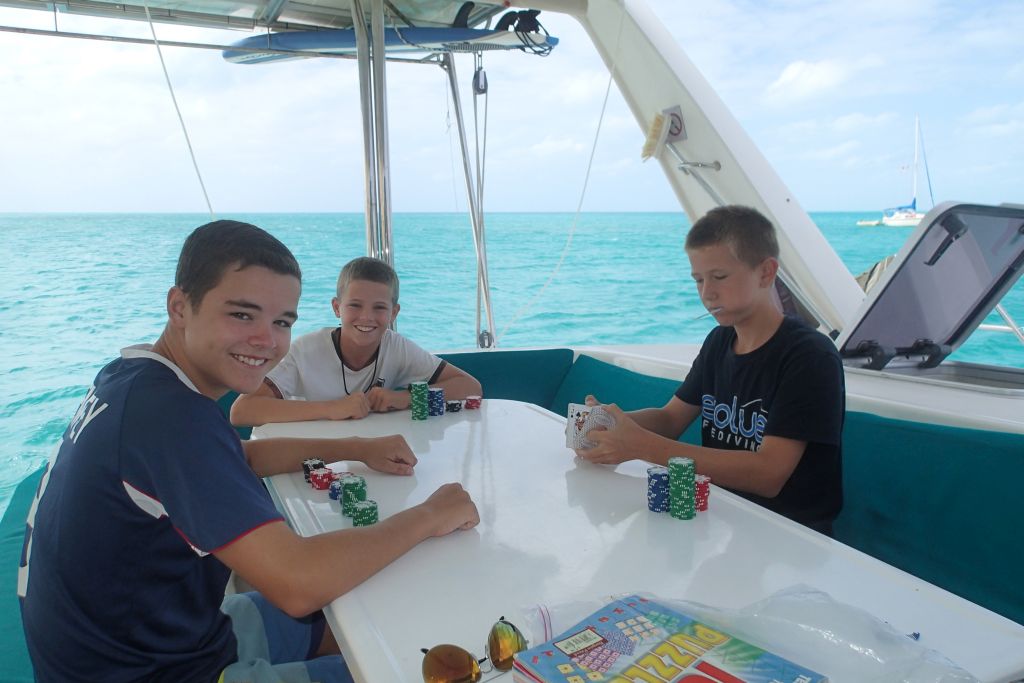 Girls baked a cake.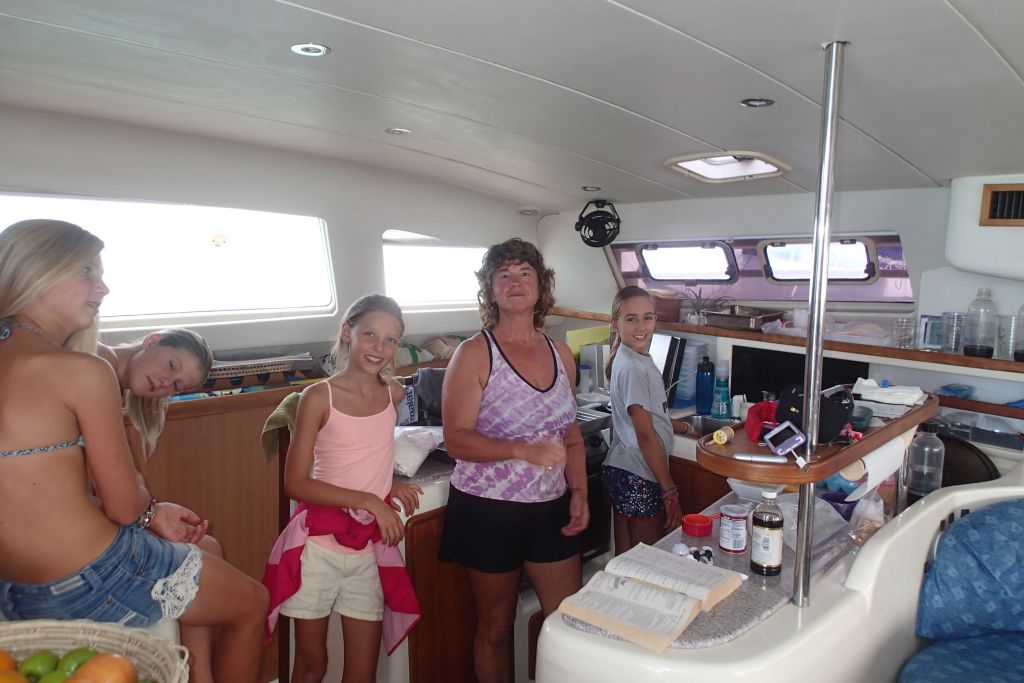 Enough of this town stuff, we need to find a place to get wet.  Its difficult to swim in the Raggeds because most anchorages are also the home to one or more sharks.  When we first arrived, Topaz jumped in for her swim day and all the boats in the anchorage radioed us to warn of reef, tiger and bull sharks patrolling the anchorage. We spent a few days at Hog Cay and had a lovely Super Bowl party.  Some of the boats have TV receivers that can connect to the Duncan Town signal.
It is difficult to travel in a pack of six boats.  Even though we're all going in the same general direction, no one gets to be independent when the kids can't seem to survive without each other.  The first to make the break was Dream Catcher.  We have had the most adventures with Beth, Ken and Jeanette than anyone else.  We met them our first summer in Connecticut just before they departed home for their cruise.  Since then we had great adventures in the Bahamas, the marina/shipyard in Maryland and also in Washington DC.  They headed back to Georgetown to meet up with a repair part, supplies and off to more Bahamanian adventures.  Adios friends.
The next day the rest of the boats scattered between three different anchorages, a total of about 3 miles north or south from each other. We went to Johnson Cay and it's beautiful crescent beach. The low land across the island floods at high tide, and there are goats roaming freely.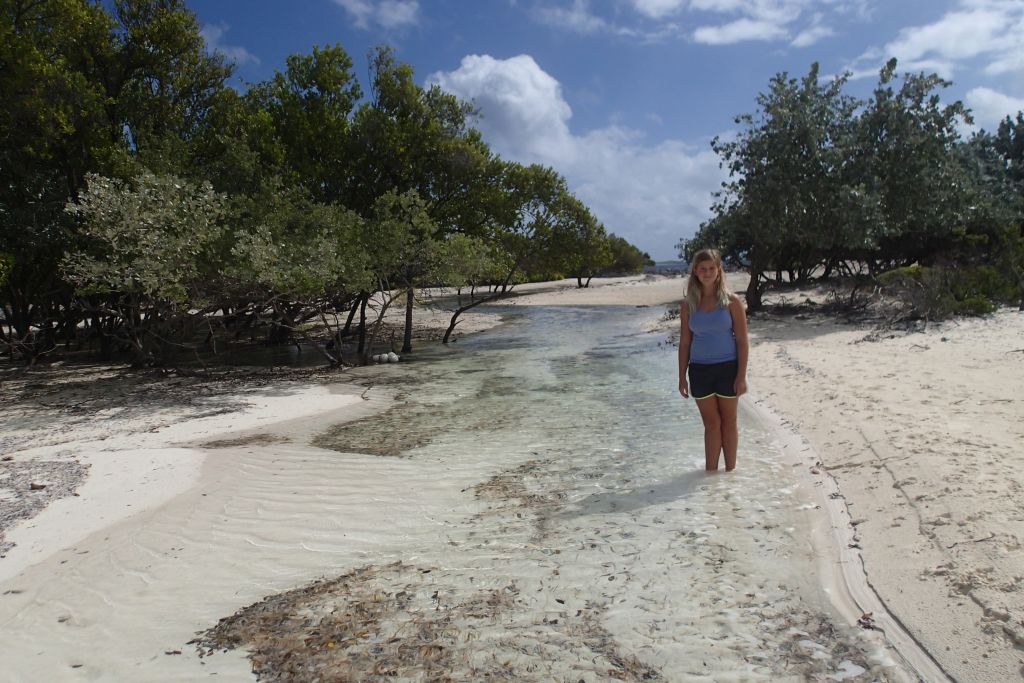 We saw birds and lizards in the bushes.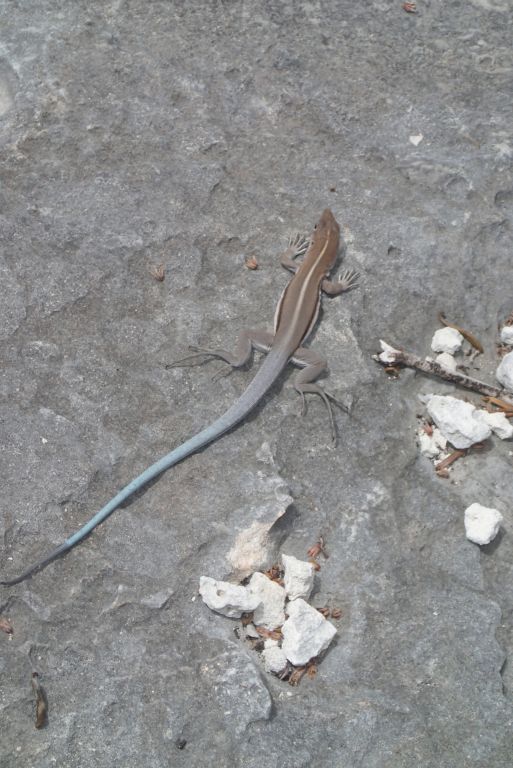 We found one of the goats' great grandfather as a skeleton with a pelt.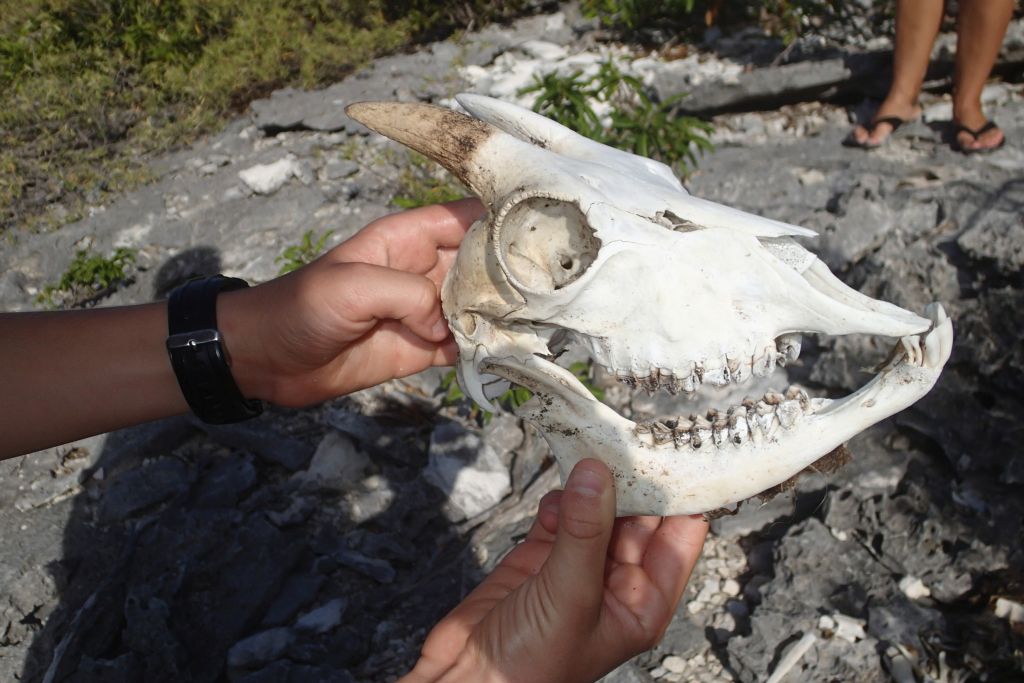 On the windward side of the island a fun blow hole was spraying water with each wave. The kids collected plastic trash and fishing floats that washed ashore here and threw them in the hole.  Each wave would launch some piece of trash into the air.  This activity could have kept them busy for hours.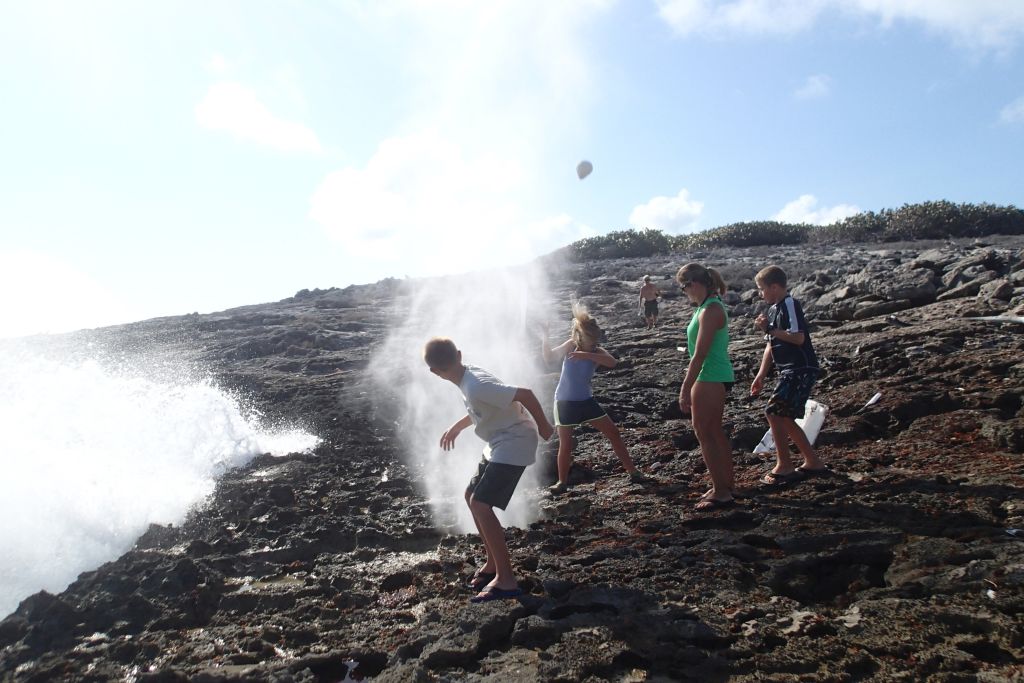 Makai and Wonderful Life enjoyed a quiet day and a half swimming, playing, and fishing with no sign of sharks. Wonderful Life has a great story too.  Their boat, formerly know as Prologue, was cruising in Mexico when we were there in the late 1990s.  They bought it in Long Beach the next dock over from where we lived in Alamitos Bay, took it to San Franscisco and lived in a marina under the Golden Gate Bridge.  Doug was an Air Force Officer and when he was relocated to the Atlantic their boat was trucked over Donner Pass and across country.  While the slow moving truck was bogged down by the weight of the boat and causing televised traffic jams, Kathleen was in the hospital giving birth to their first boy. Since then they lived in Germany and Doug retired from the military but now they're working on returning to Germany for a job and to save up to buy a catamaran for their 'cruise without kids'.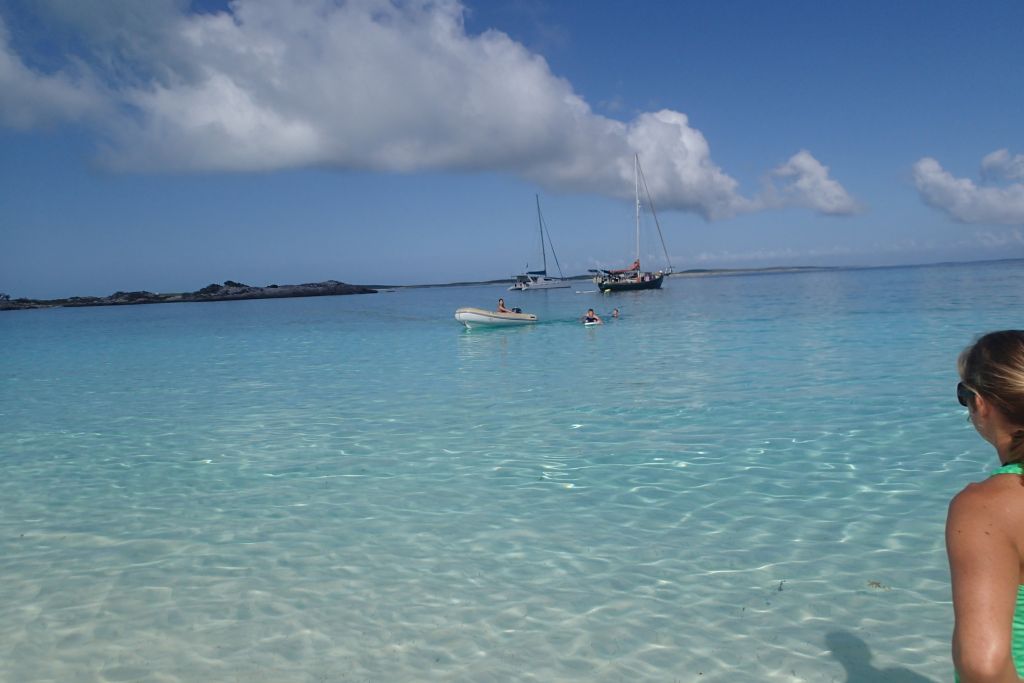 Roy and Genny went spear fishing with Abe and Jack while the rest of us basked on the beach.
Marie and Ella were great friends.  They had sleep overs, played with Little Pet Shops and My Little Ponies, swam and played all day.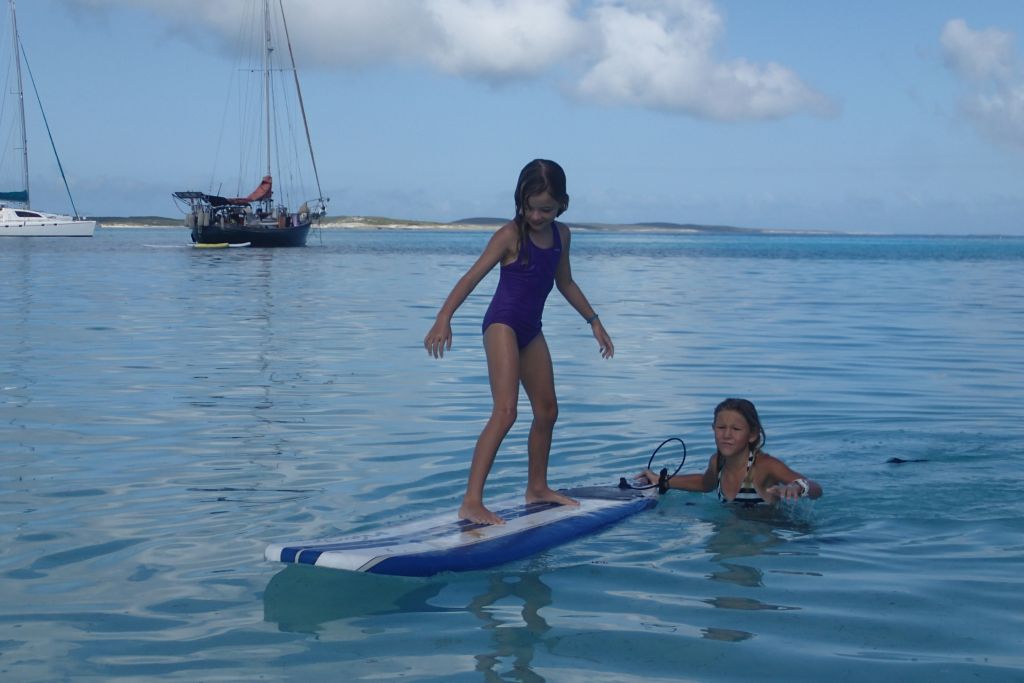 We went for a snorkel on the reef inside our anchorage.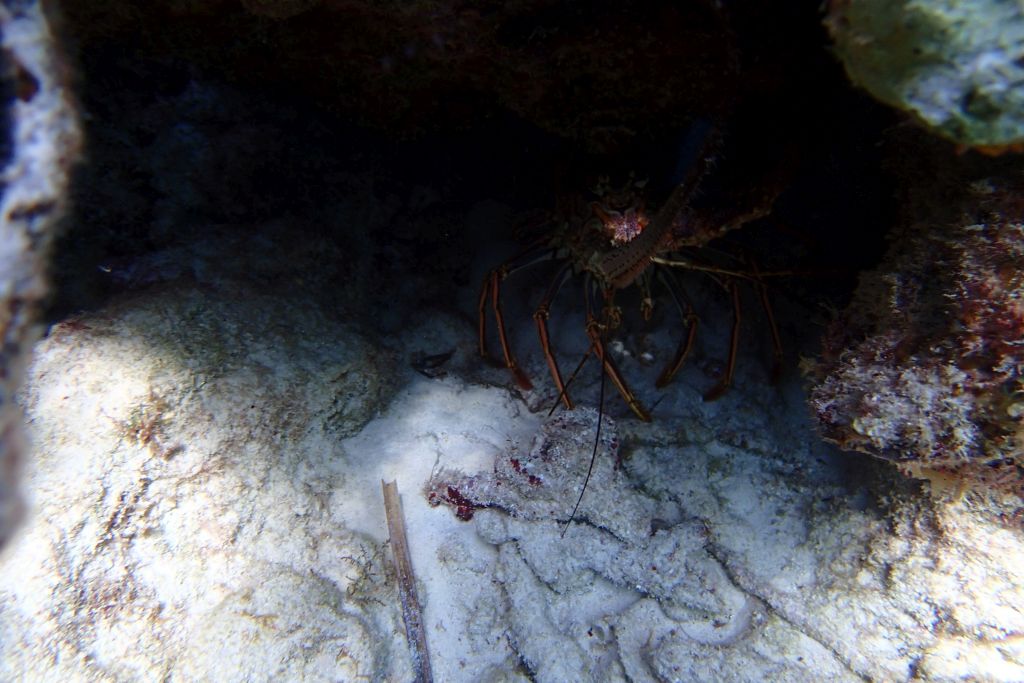 This is one of the most beautiful and well protected reefs around.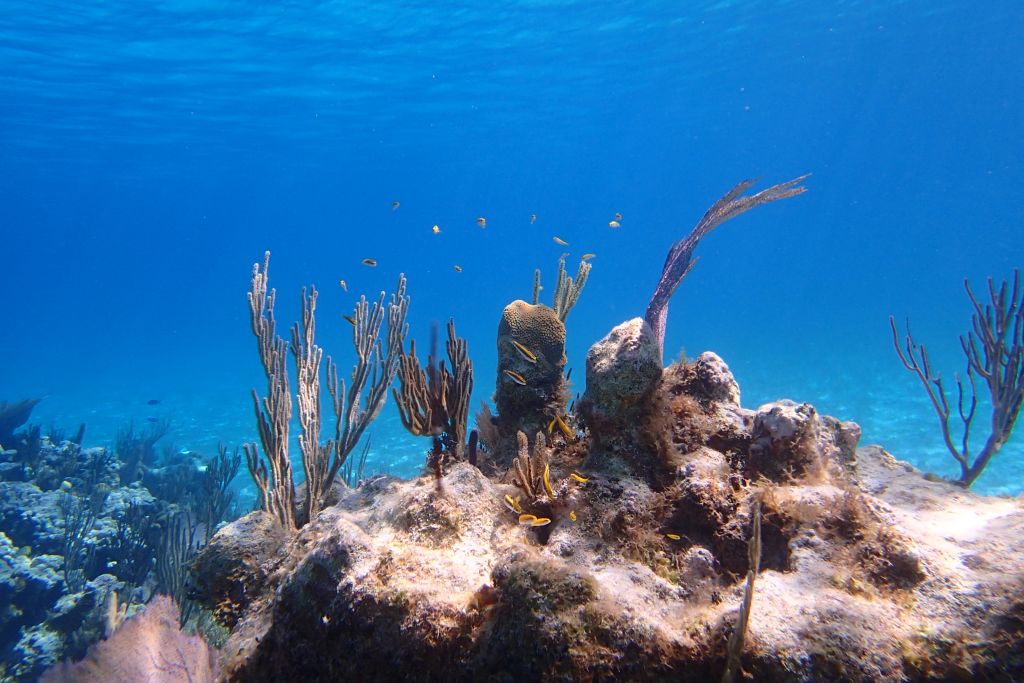 Not much in the way of giant sea monster fish for dinner, but perfect for little girls who want to see pretty colors.
The brain coral is alive and growing, surrounded by purple fans.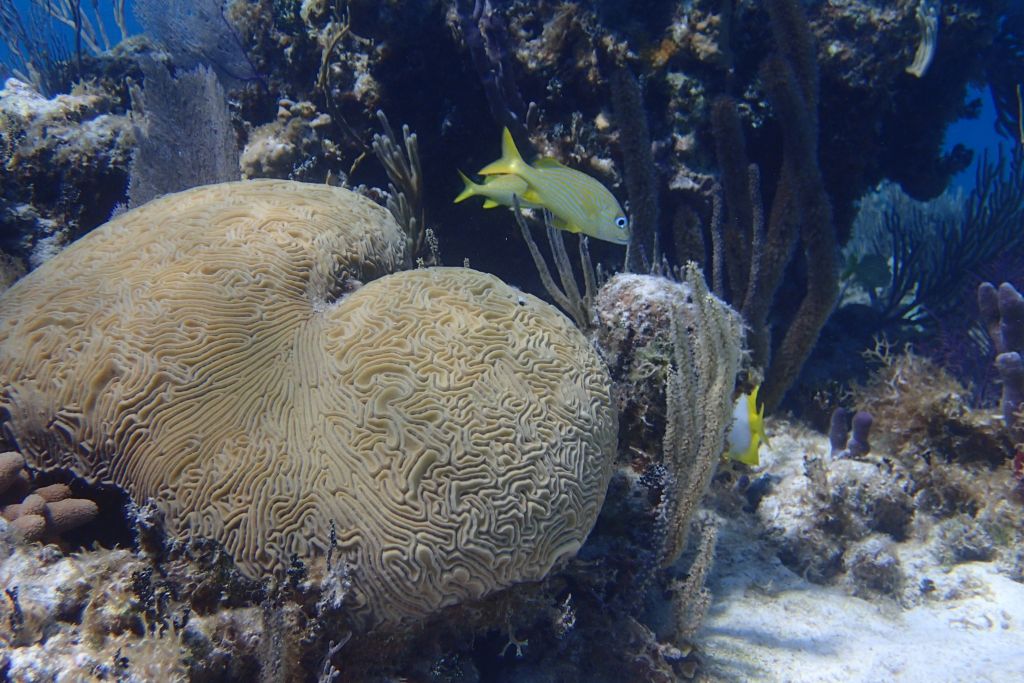 Schools of yellow chubs and blue damsel fish hover in the coral.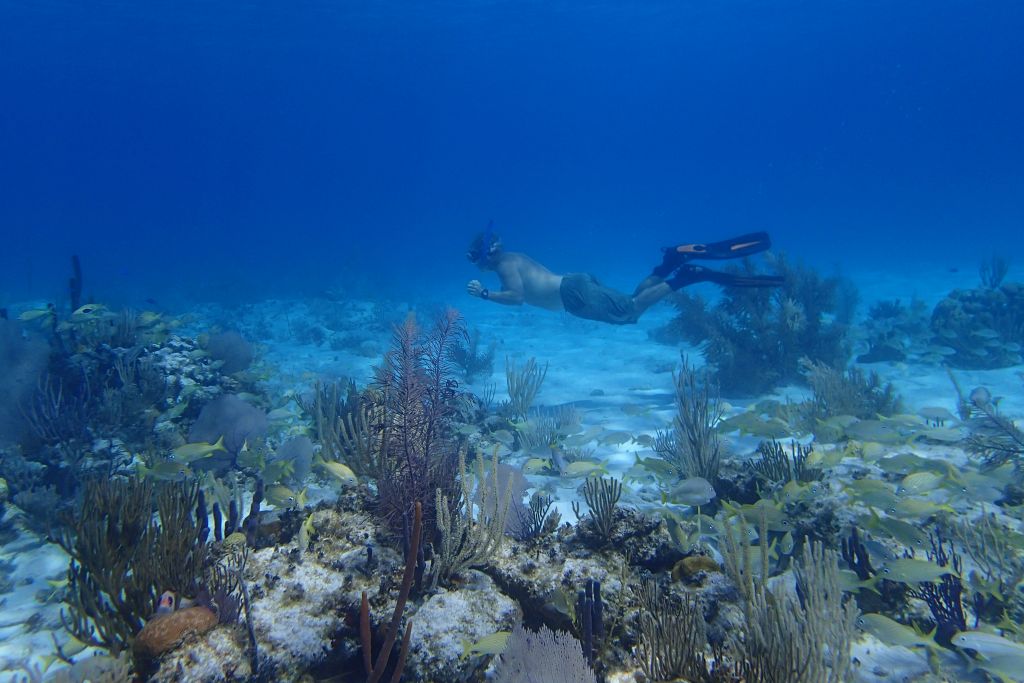 The contrast of the colors against the white sand makes the coral oasis stand out.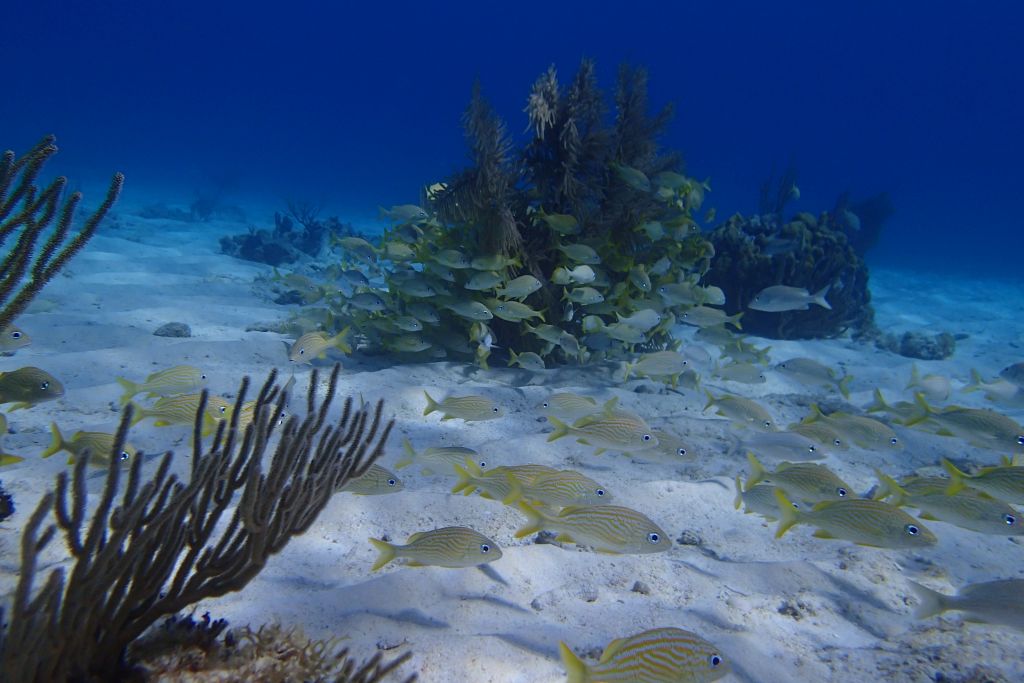 The serenity was disturbed only by the sound of the dinghy returning with the fishermen.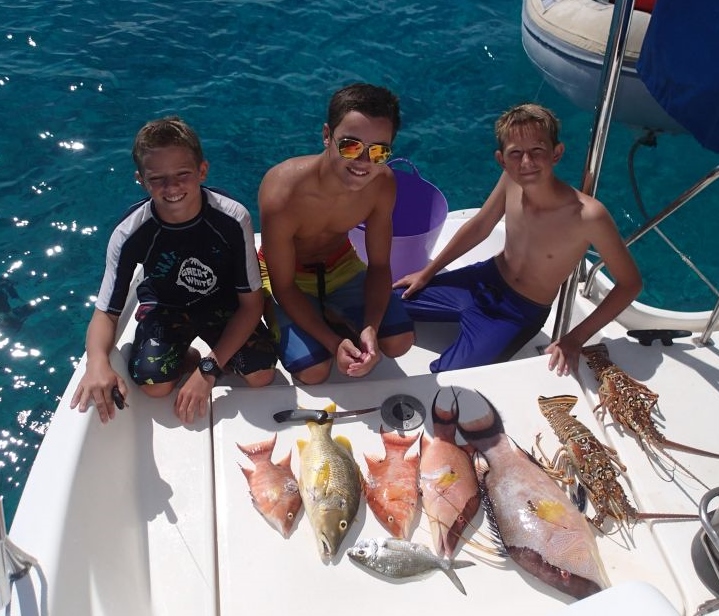 Abe caught a huge snapper.  The usual size is about ten inches which is the size of the reddish hog fish in the above picture.  Abes snapper was at least twelve inches.  Then Roy shows up with the Sea Monster sized male Hog Fish nearly 30 inches. That is just nutso.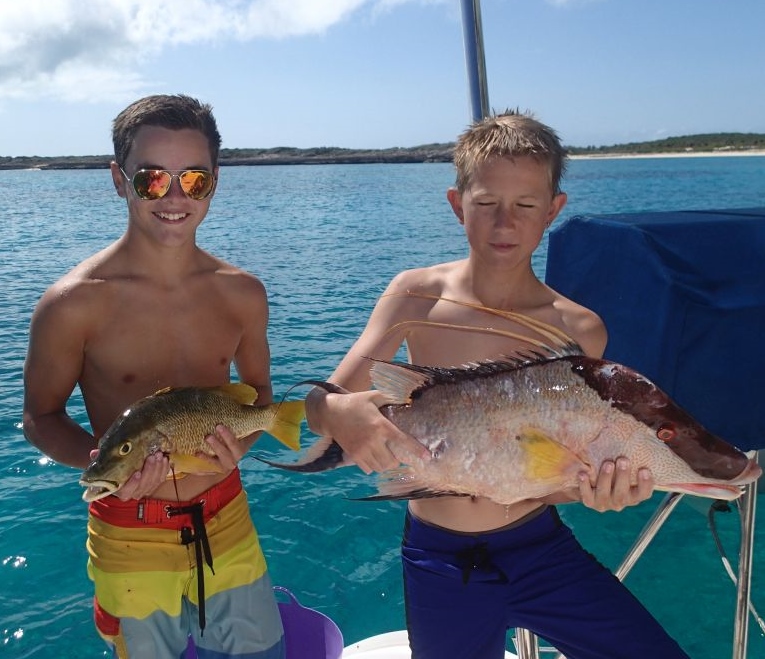 That afternoon everyone met across the channel for a quick slack tide snorkel at the cut. Makana threw out their fenders and tided up to Makai for the snorkel trip.
Stag Horn coral is impressive.  It looks like it's reaching up to the sun.  Some people took pictures, other were entertained by the complicated bottom full of old coral and cubby holes for critters to hide in and the fishermen had a great time collecting dinner.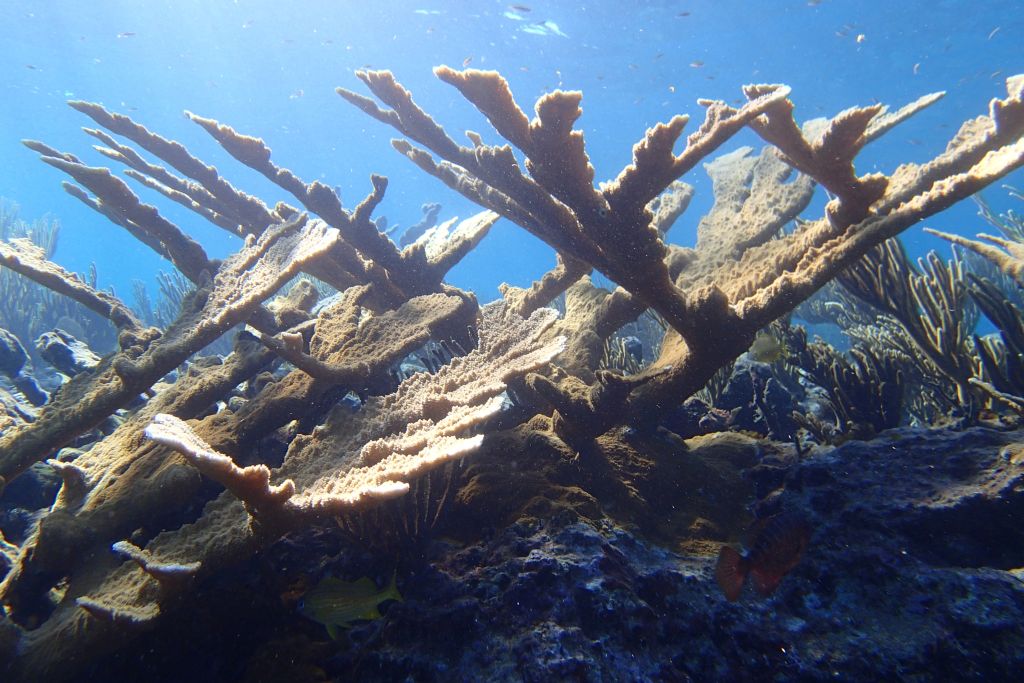 That evening we all met at the beach for our final evening together.  Genny's birthday is coming up so she received a few gifts and we brought chocolate cupcakes for everyone.  Before we left Maryland everyone selected a cake mix and frosting for their birthday.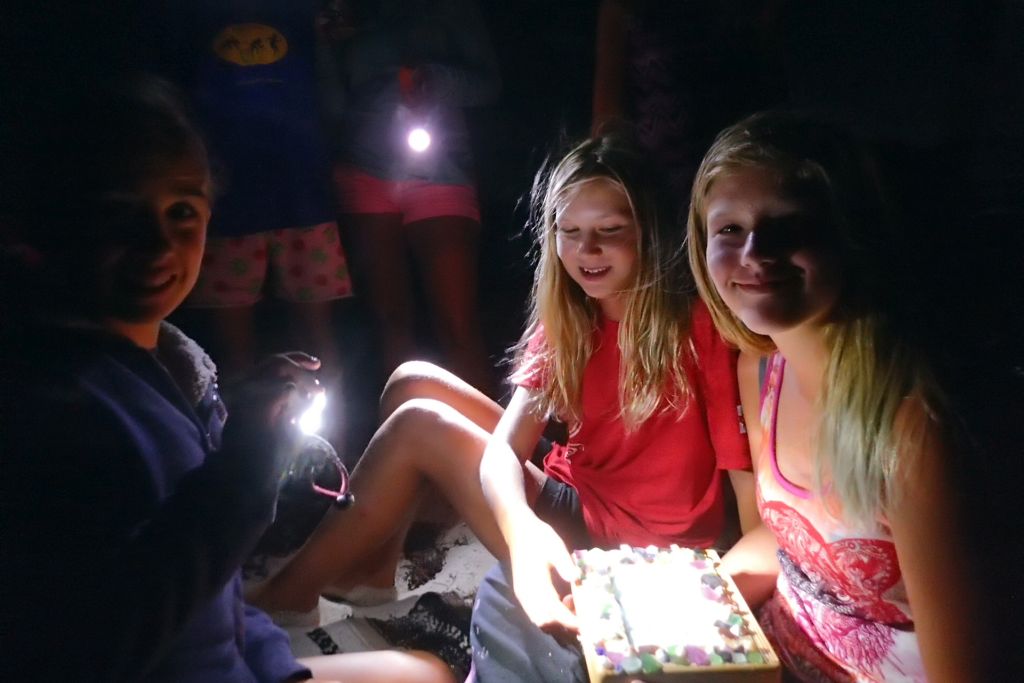 Rick from Makana is a high school math and science teacher, so he put together a class project.  Over the last week each kid picked a star, did the research when we had internet in Duncan Town, and prepared a presentation.  Tonight, in order of age, the kids gave their presentation and were graded by their peers.  This is a unique opportunity for cruising homeschoolers and everyone did a fantastic job. Since Jeanette on Dream Catcher left early, a hand full of us went to her boat to listen to her presentation given in Dream Catcher's cockpit.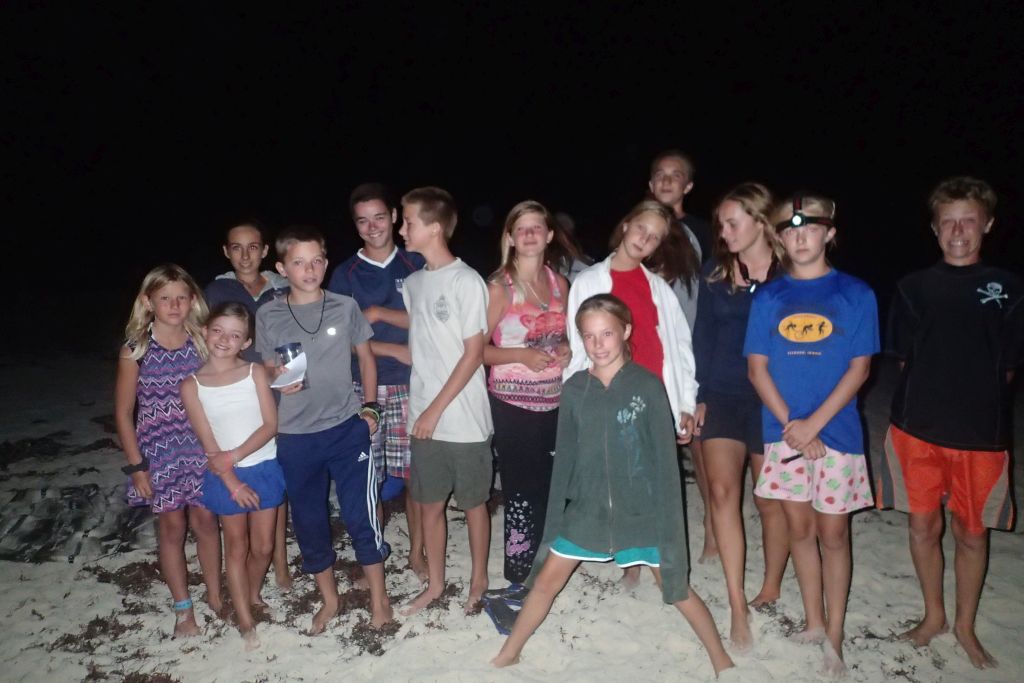 Wednesday morning a favorable wind out of the east prompted everyone to pull up their anchor and head north.  We said our final goodbyes and promised to visit each other at their home ports in the future. This was a miserable day for Makai.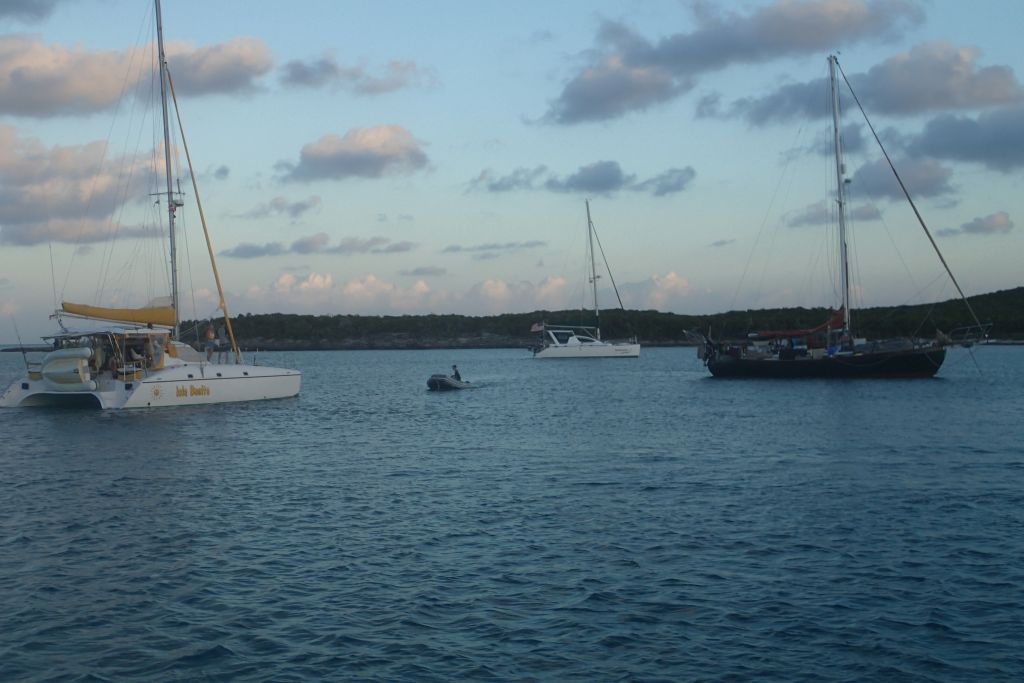 Wednesday marked the end of our time in the Bahamas.  Last year when we said goodbye to friends there was the promise to meet up again somewhere, but this time Makai will be heading for the Pacific Ocean. My eyes were full of water all day, Marie sobbed until evening, Roy was choked up, Genny couldn't look anyone in the eye.
We went back to Johnson Cay and cried over sand castles made with Ella, reefs explored with Abe and Jack and beaches shared with Doug and Kathleen. We tried to be sociable with Bob and Becky on White Magic.  They were pals in the shipyard marina in Maryland. This is their first cruise after retirement and their daughters have grown up and left the nest.   They are our hope to return in the future.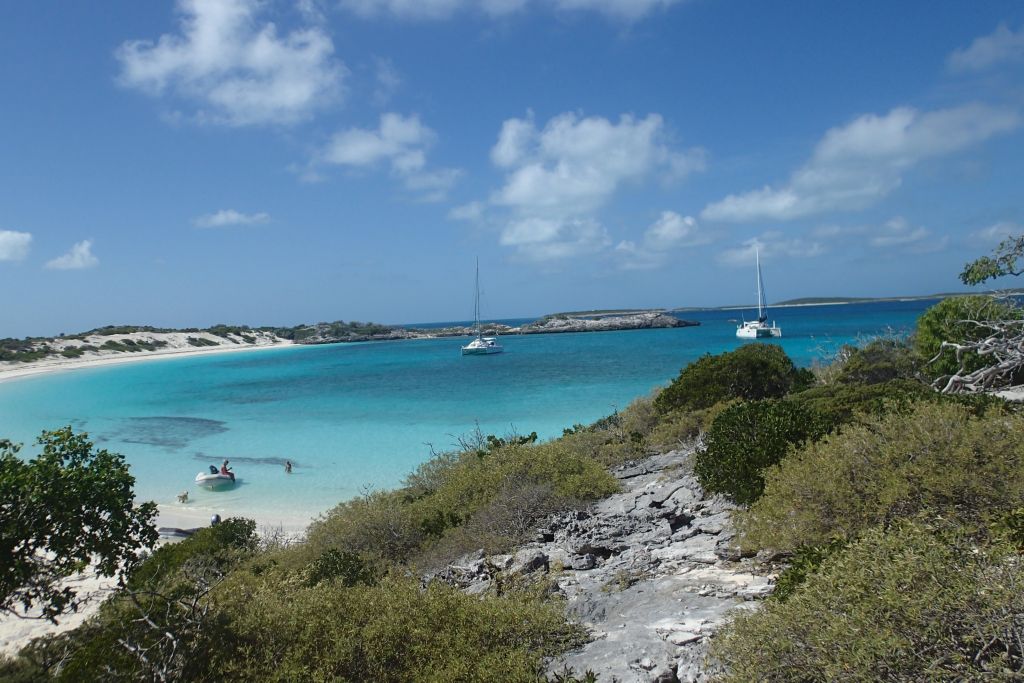 We have been watching the weather, it looks like Friday afternoon winds from the north should arrive giving us a quick sail to Great Inagua just north of the Windward Passage between Cuba and Haiti.  We will officially check out of the Bahamas in Matthew Town and head to Panama. Until then we have several chores to take care of.  Burning paper trash, checking engine oil, filling water jugs, re-arranging the pantry, defrosting the refrigerator and preparing a few meals ahead of time.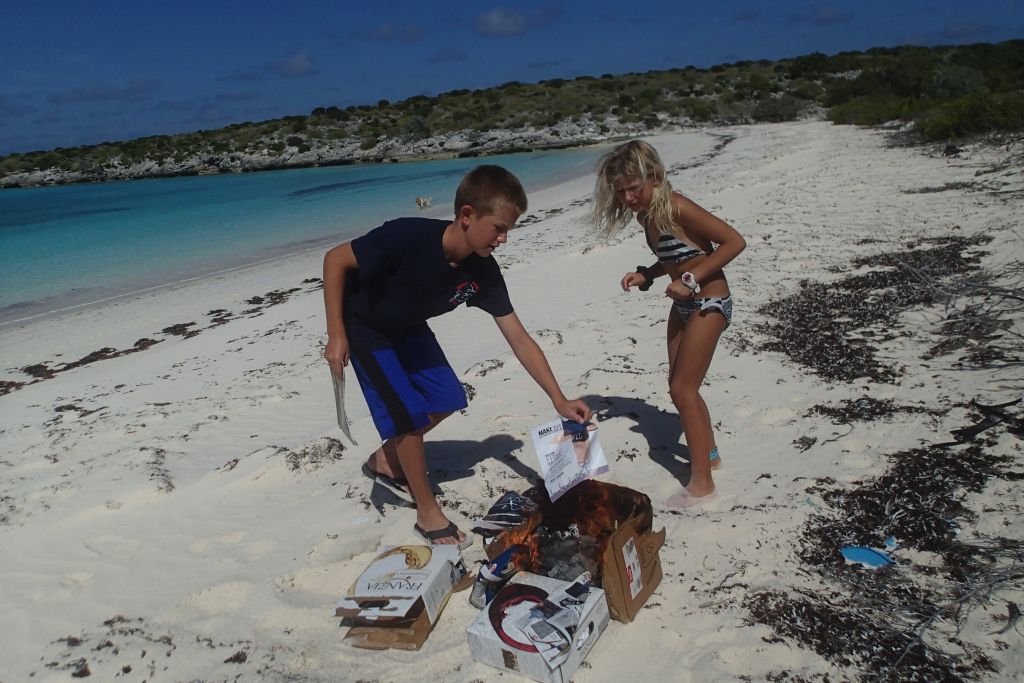 The only one who didn't notice our departure was nearing is Topaz. She wagged her tail pouncing on fish, twigs and pieces of grass floating by.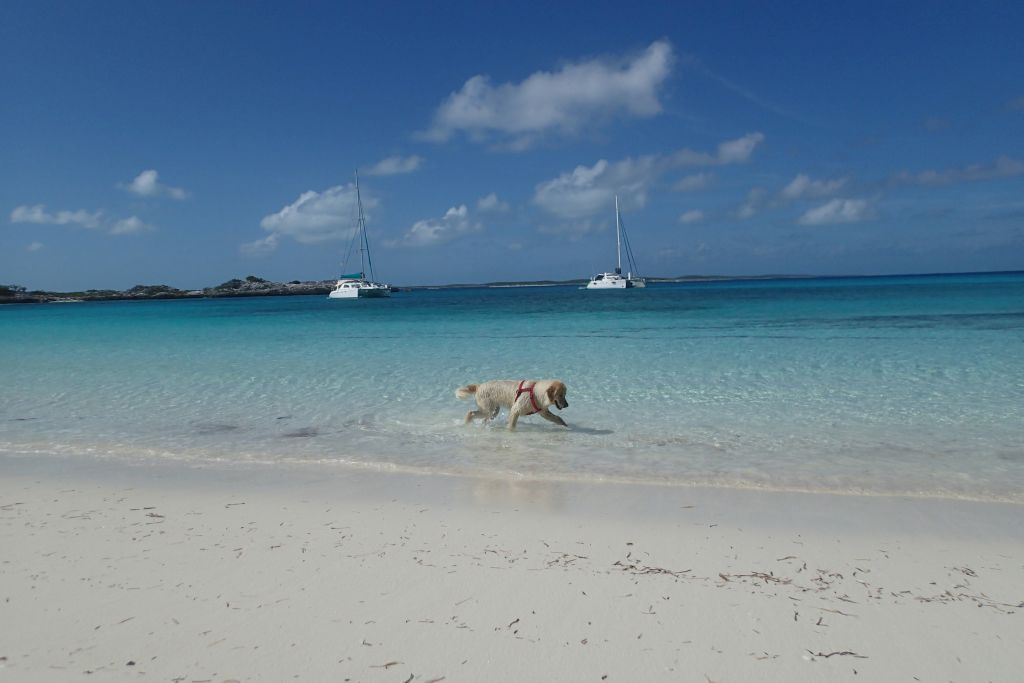 Roy wanted one more fishing trip.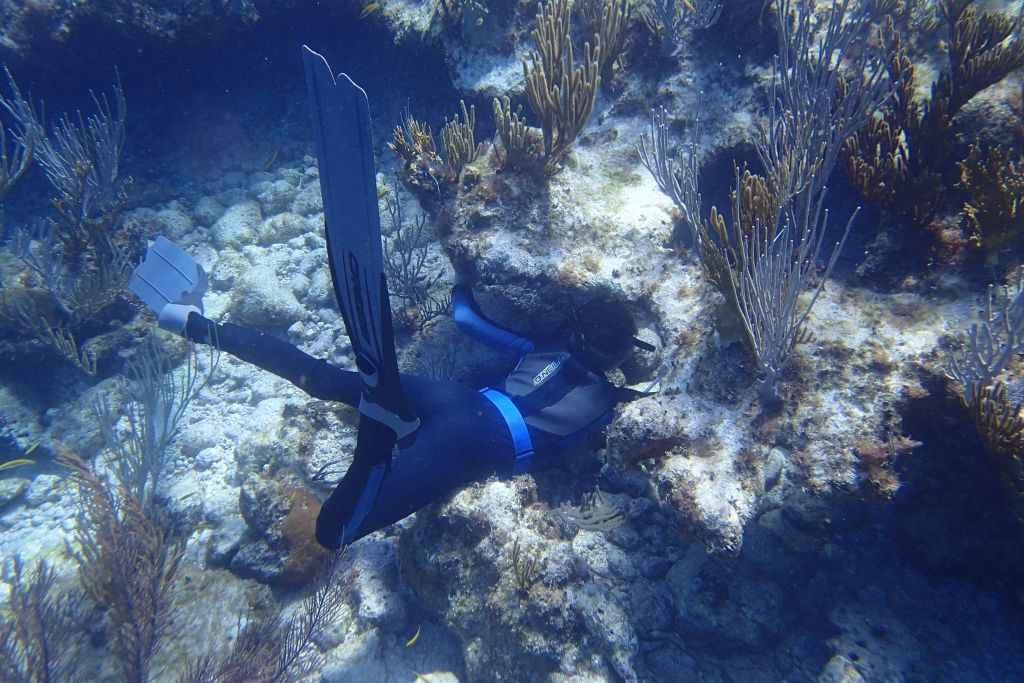 He came home with his prize but decided to freeze them for later.  Sloppy Joes on tonight's menu sounded better. That's how you know its time to leave, Roy doesn't want to eat lobster anymore.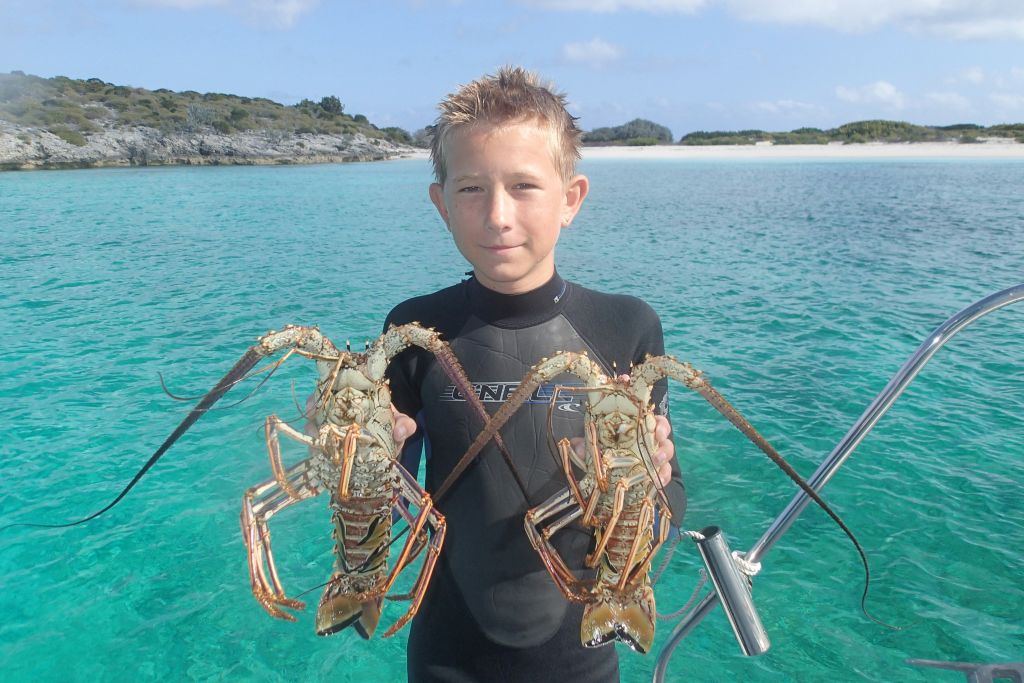 The wind is predicted to build out of the north as the day goes on and we should arrive in Matthew town and check out just before it hits.  We'll see how it goes, but maybe we'll just keep going toward Panama right away.  Currently the forecast shows lighter winds for most of the trip with almost no wind on Monday or Tuesday, so we'll have to use the engine a bit.  I plan to send short updates to the blog from our HAM radio and you can follow us from the Where's Makai link on our blog.