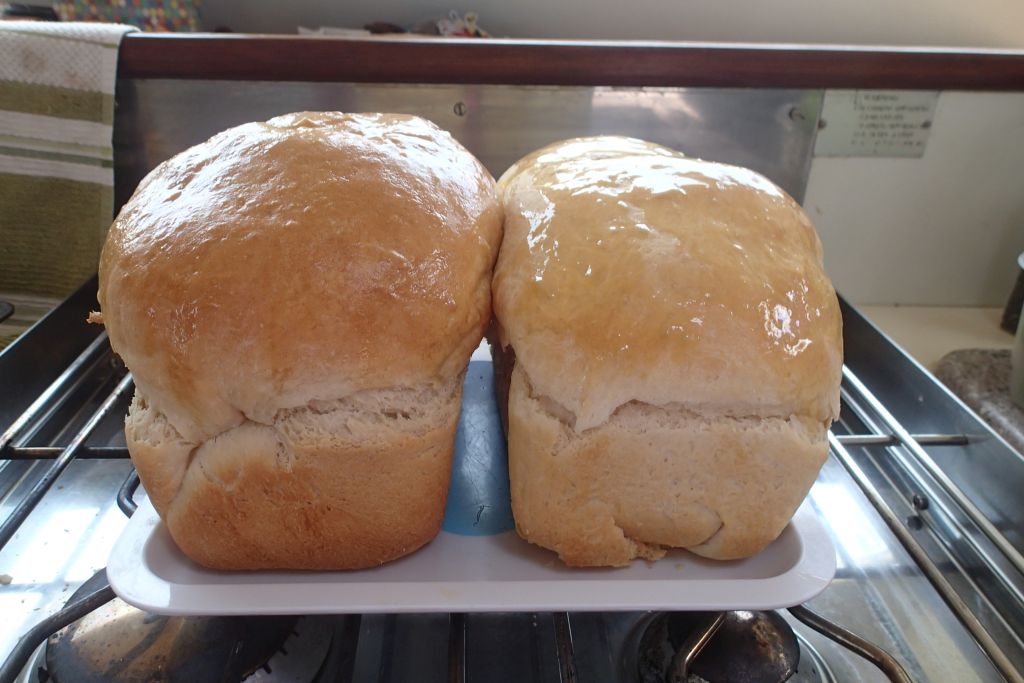 Awhile back, Marie referred to the time before Makai as "when I didn't cook" and today Genny asked me if I would ever make bread after we return home. For the record, I did cook and make bread at home, but it wasn't nearly as obvious. Since this isn't our first cruising experience, I had some ideas for provisioning to start out with. It was pretty easy, no lists or complicated formulas. I went through Costco and BJ's warehouse stores and multiplied the amount I would use of each item in a week by 30 weeks. That's the length of time I thought I had without a car and warehouse store. I also tossed in a few items I thought would spice up 'the same old meal' like curry sauces and other spicy dips. This plan worked very well and here we are returning with just the right amount of noodles, sauce, ketchup and mustard, etc. left over.
Then there is the baking bread part. In many places we traveled we preferred to spend weeks at remote locations rather than seek out provisions. Also, bread doesn't keep for very long or takes up too much freezer space that could be used for more important things like ice for drinks, meats, and Roy's latest catch. Fresh hot bread is also a treat on a passage. Spread some butter and honey or peanut butter and Nutella and watch the loaf disappear. I just popped out a triple batch, two loafs for snacks, sandwiches, and french toast tomorrow, and one pan of rolls for cheeseburgers at dinner. We've spent quite a bit of time with seasoned cruisers and everyone bakes bread, it's all very easy. But recently, we made new friends, it is their first season, and bread was a bit of a mystery. So looking at my loaves I decided to put together a little lessons learned essay on bread, rolls, and pizza.
There are dozens of great cookbooks out there, some specifically for bread and others geared towards boating. I have a very old Sunset Mexican cookbook, bread cookbook and The Joy of Cooking, original copyright in 1931. I use them all but really like the later because each section comes with a page of background information to help understand the science and mechanics of cooking. I frequently study the 80 page section 'Know your ingredients' to better understand why the recipe works and add recipes into the margins and back cover when I hear of something I should never forget.
The Joy of Cooking talks about rising dough step by step. First they address steam as a riser and discuss properly preheating the oven to take advantage of it. There are also instructions for the rising power of creaming butter with sugar, beating egg whites, and mixing batters. The discussion continues on with baking powder and soda. Baking Powder is simply a mix of baking soda, salt and cream of tartar. These recipes combine an acid and an alkaline reacting in the presence of moisture to produce CO2 gas which bubbles and rises in the dough or batter like a science fair volcano. The Joy of Cooking goes into great detail for a page and a half on this topic.
How yeast works is the section missing from many cruiser's cookbooks. I found my new friends' boat galley cookbook didn't tell them how long to let the dough rise. They were rising for less than half the normal amount of time and coming out with flat, dense loaves. So, here are a few tips for yeast dough.
I use active dry yeast in granular form. At home when my yeast doughs are few and far between, I buy the individual packets keeping in mind that they do expire. But out here, with my 150 pounds of flour, I get the Costco package, I think it's about one pound, I'm not exactly sure. ALWAYS store the yeast in the refrigerator, especially if it is opened. The Joy of Cooking says that yeast in the air is enough to rise dough over many hours, but using granular yeast will have it ready today. Dissolve the yeast in liquid warmed to 105 degrees, I don't measure the temp but just use water that is warm to the touch, I figure it's warmer than my body temp. Be careful not to warm it too much, hot liquid will kill the yeast. Next I mix in the rest of the ingredients. Some recipes call for sugar which feeds it and salt that controls the rising. In the end I stir in as much flour as my fork will mix in, then sprinkle some flour on a cutting board and flour on my hands before I start to kneed. Once the dough is soft and stretchy I pour a puddle of oil in the bottom of a bowl and roll my dough over to coat it, cover with plastic wrap and then a dish towel to let the yeast produce CO2 and rise.
Most recipes call for rising twice, once in the bowl and the second time after shaping the dough into rolls or a loaf on a well greased pan (I like Crisco sticks). Occasionally the recipe will rise only once and sometimes rise three times. The number of risings will change the texture of the finished bread. Fewer risings have a course texture with big bubbles and more rising produces a smoother bread. Just be sure you rise long enough. Often the recipe will say to rise until double, that means at least 45 minutes. I like to let my loaf rise until it is nice and rounded high above the pan. Another tip is to oil the plastic wrap on that final rising because if it sticks to the dough, when you pull the wrap off the dough will deflate, booo hoooo.
By the time we arrived in Panama, by bread was flopping. I had all these loaves that looked like a deflated chef's hat flopped over the side. Sandy came to visit us and she said to decrease the yeast. She has some recipes that rise for several days and only use a ¼ tsp of yeast. That makes perfect sense, if the amount of yeast I use is only to speed up the rising, and if the ambient temp is getting hot and humid and my dough is rising too fast then flopping, just decrease the yeast. Thanks Sandy, now I almost never use the full two teaspoons of yeast, I just let it rise longer. One last bread making tip is that if you don't want a crusty top that crumbles all over the place, lightly butter the top when the bread comes out of the oven.
Pizza works the same way. I used to prebake my crusts to speed up pizza delivery at dinner time, but gradually our pizzas got crispier until they could be confused for a cracker with sauce and cheese. When I went back to the original recipe and baked it according to the directions everyone enjoyed Makai pizza again.
Will I make bread at home? Probably not very often. But when we're out on Makai for the weekend and up at the cabin where it isn't so easy to stop off at the bakery inside our favorite grocery stores, the bread will be rising, biscuits flaking, and pizza bubbling.