One year ago, after fun Halloween festivities with our friends, we set out on our adventure.  Eric and Brian flew to Grenada to put the boat together and did projects while I drove the kids and pup to the east coast.  This year's Halloween festivities start in Buffalo with a little pumpkin carving with Uncle Jim.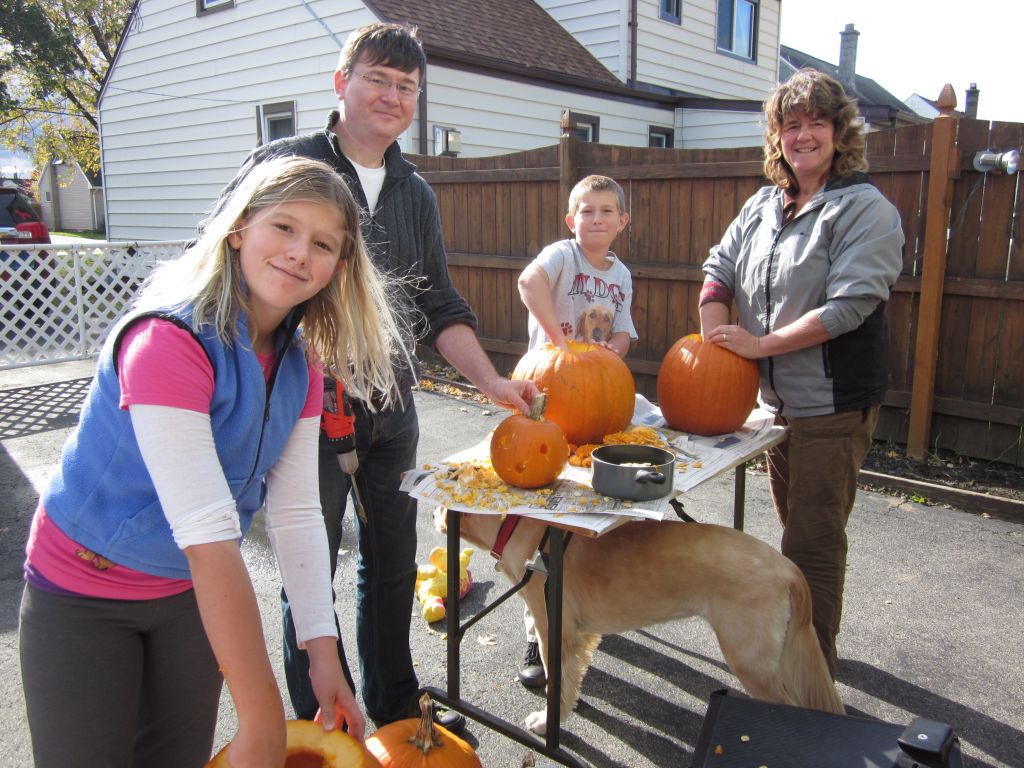 Topaz and JJ supervised.  JJ ate any pumpkin debris he could find on the ground and Nannie scurried around trying to clean faster than he could eat and the rest of us could mess.  The one great thing about pumpkins in Buffalo is that it's so darned cold the pumpkins think they're being stored in a refrigerator and don't go moldy, ever! The day time temps barely reached the 50s and the grass was frosty at sunrise.
Jim roasted the seeds and showed us some of his artistic carving ideas.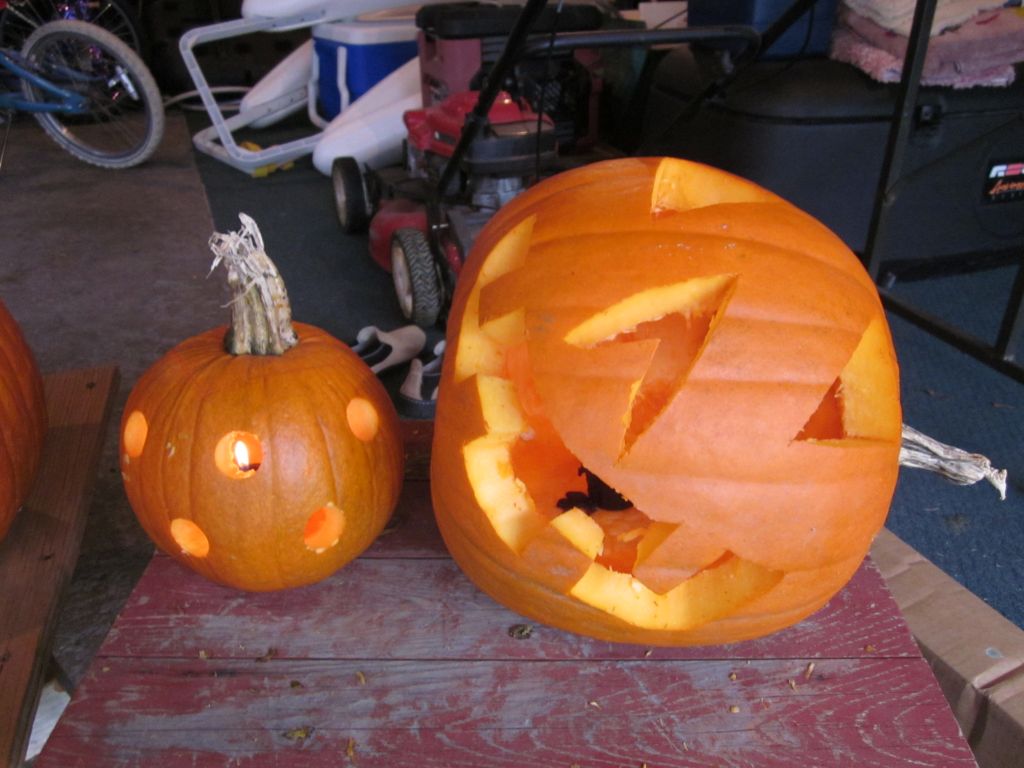 This was a really short trip as Nannie is heading out in 3 days with the snow birds flocking to Florida.  We got to have a great pumpkin day and dinner with my brother, then the next day Ania prepared an over the top fabulous meal of made-from-scratch-Polish food for the Jakubowski family and us, and I got one evening with Kelly, my only pal from when we were 13, and her family.
Dogs always know when packing is going on and make sure they're the first ones in the car.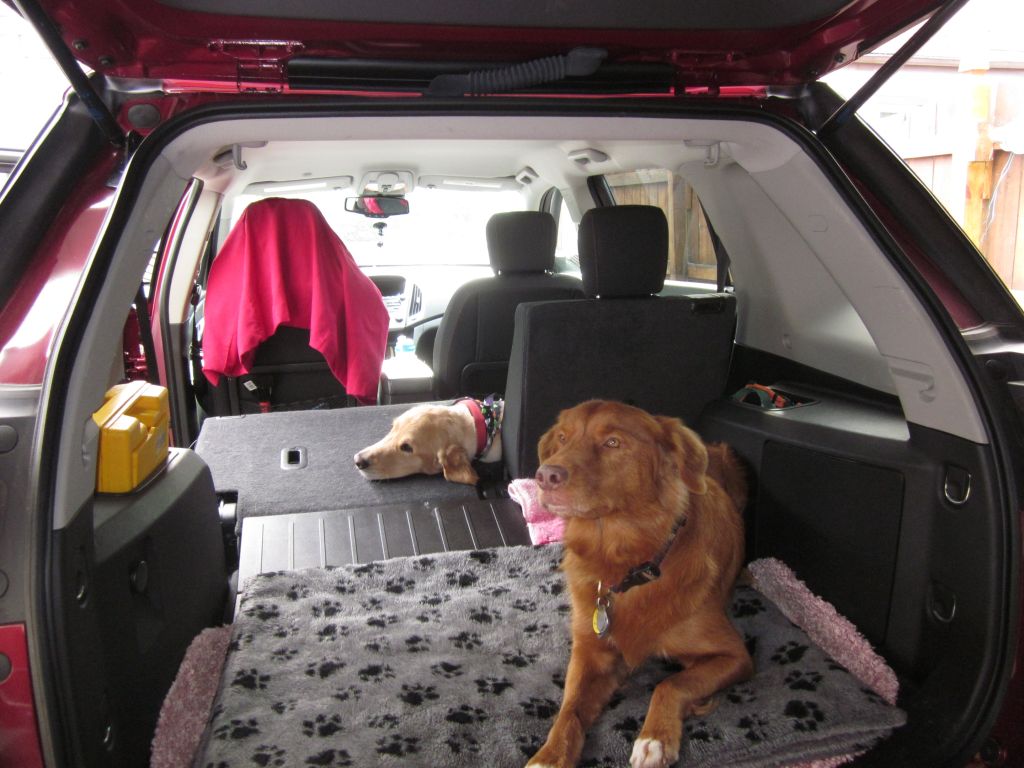 But, pumpkins must travel because Halloween is here. From left to right we have one of Jim's lantern pumpkins, my slanty sad eyes guy, Genny's jack o lantern with faces on all sides, Roy's Monster's Inc. Mike Wazowski one-eyed monster, and Marie's classic triangle jack o lantern.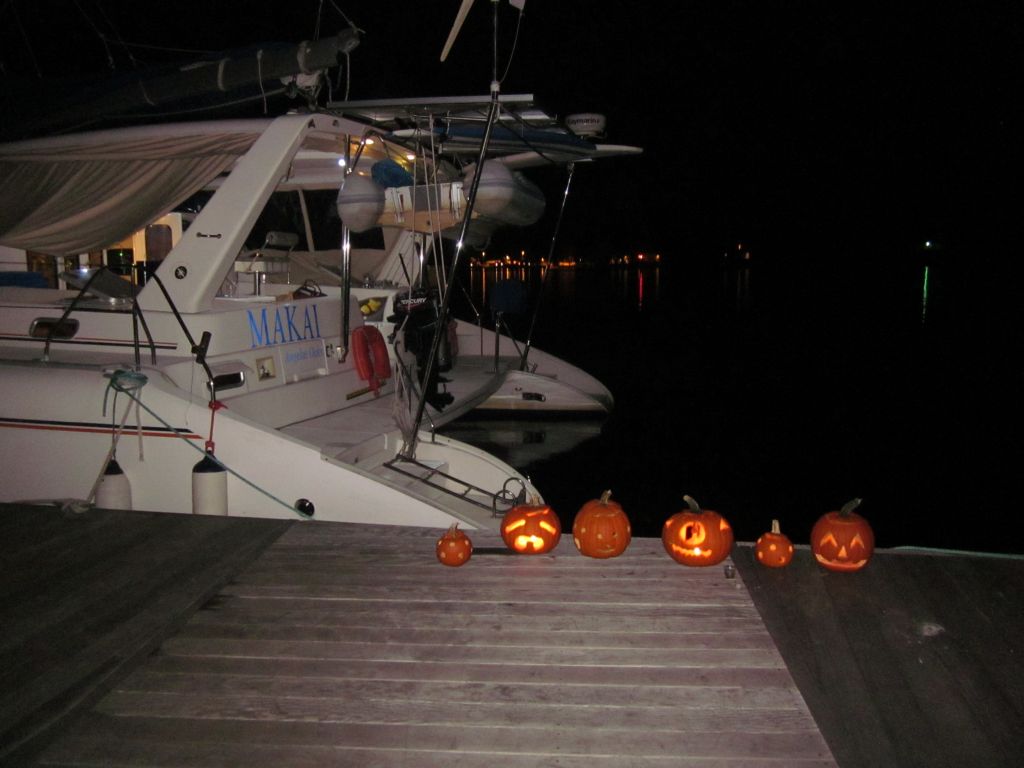 Just after dark we visited a few neighbors, walked through the pub to say hello, and then set out to ravage the neighborhood. Genny is a sparkly angel, Roy is a sport fisherman, and Marie is a mermaid for the 4th time of her nine Halloweens. As usual, the girls come up with their elaborate plans, we select fabrics, sew, fit and finish their masterpieces over several weeks.  Roy on the other hand scratches his head and puts this with that and comes up with the winning costume.  A few years ago he did this thing where he had his head sticking out of the front of a man's shirt, the arms were pinned under his chin and it looked like some guy holding his own head.  He got lots of compliments just like tonight.  People called their friends out from other parts of the house to see the kid with the Mahi Mahi and the fishing pole.  Come on! how does he do it.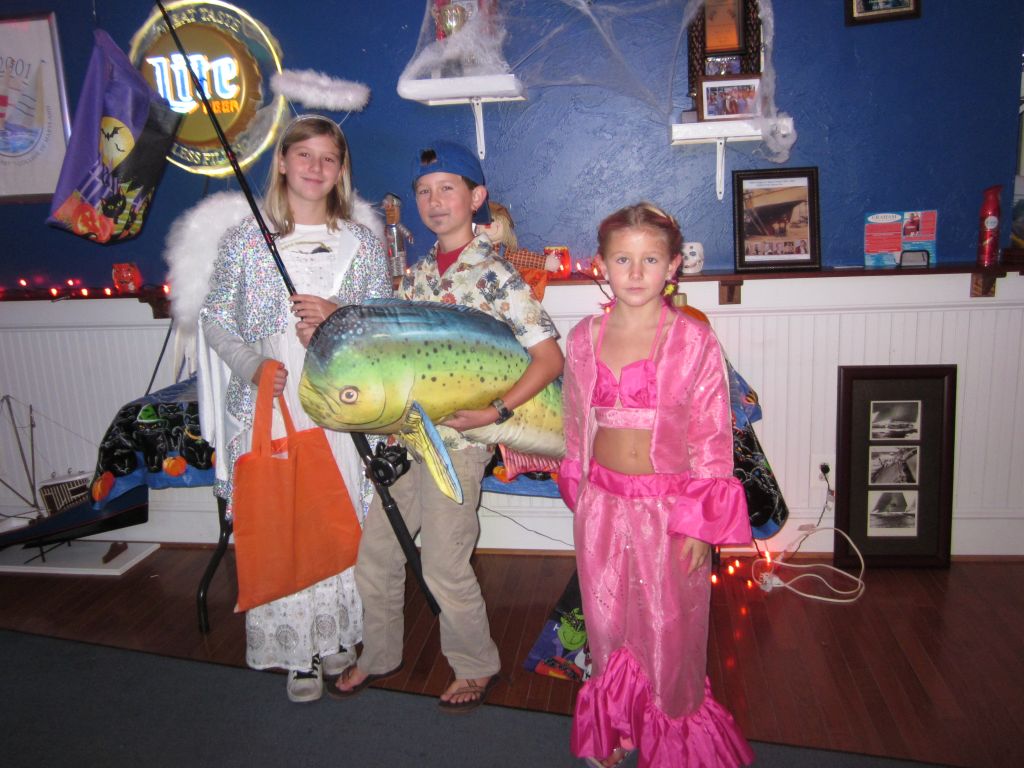 Now it's all over and the boat projects have to take priority over everything.  Autumn has hit southern Maryland. When Buffalo trees were red and gold Maryland was still green.  Now Buffalo trees are almost bare and Maryland trees are beautiful.  Our day time temps are in the 50s and the slightest breeze blows right through you and brings big shivers. At night we pile on extra clothes and extra blankets only to wake up to condensation on the windows and walls.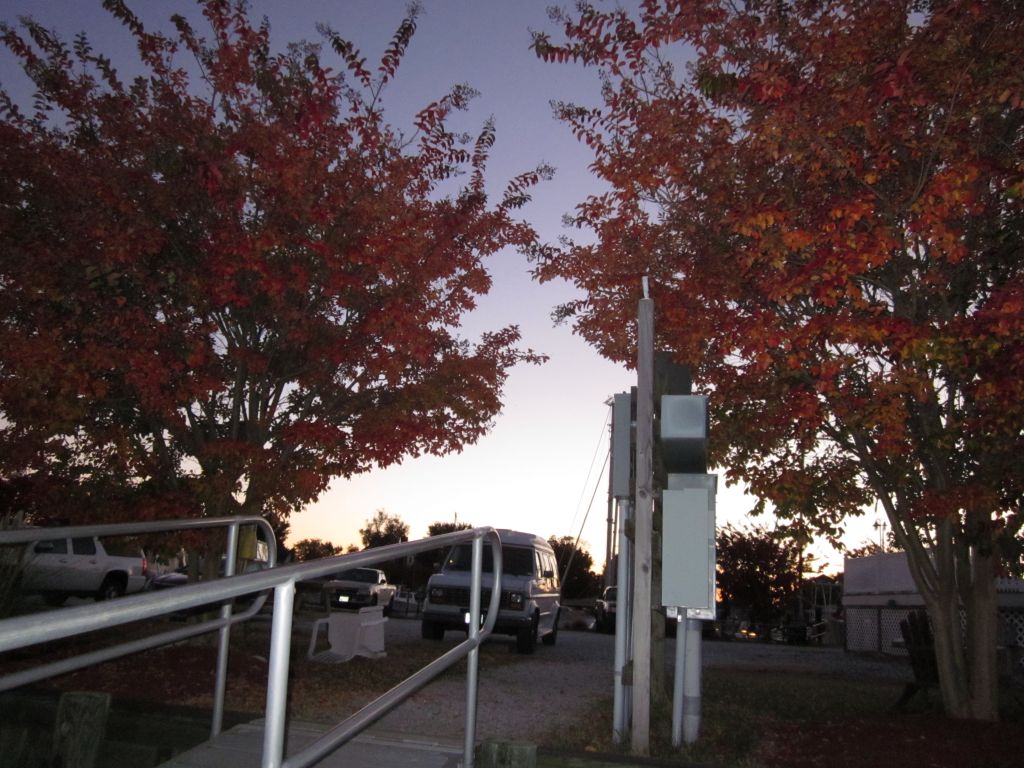 The pool is closed and the memories of open mike night on the deck and icy beers from the Blue Fish Pub are replaced by bundled up patrons watching Sunday Football and the Pizza and Beer special.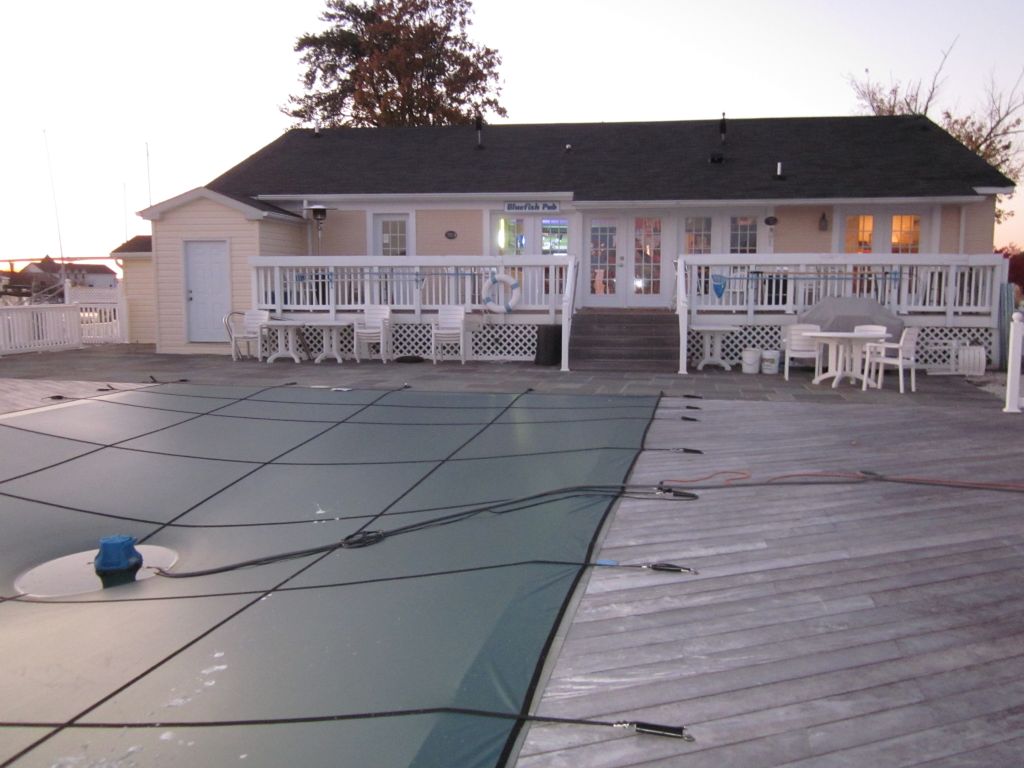 The Captain's Lounge, which is really like our 'remote living room', is comfortable if you have a blanket. Now that daylight savings time is over, our projects have to be put to rest early and then we can veg out in front of the TV for the evening.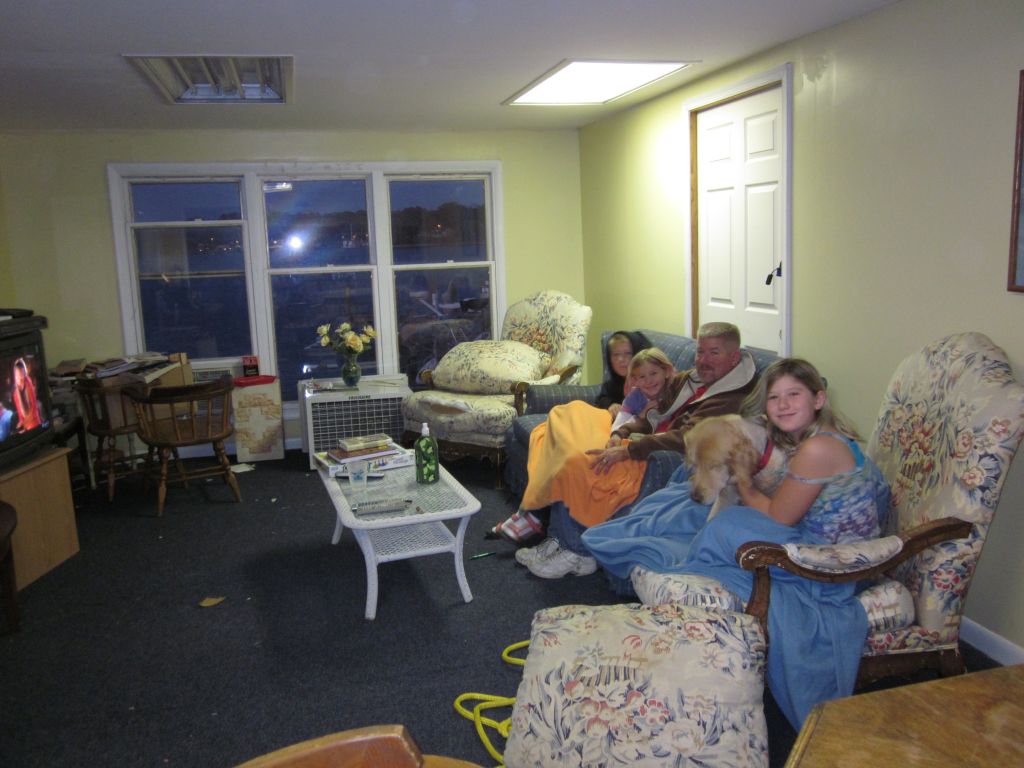 It's time to get going like crazy on the project list.  But that's for my next post.  Our boat insurance company says we can take the boat around Cape Hatteras November 15 so we have two weeks to get our projects finished, load up the boat with provisions and head south.  This year we'll stop in Charleston, NC, Savannah, GA, a few places in Florida and then hop across to the Bahamas just after the New Year. There we'll spend the rest of the winter staying warm in the islands.