My first ever sighting of a Lobster in California. Roy spotted this little guy right here in Emerald Bay.  This area is a refuge, I wish we had seen more of them.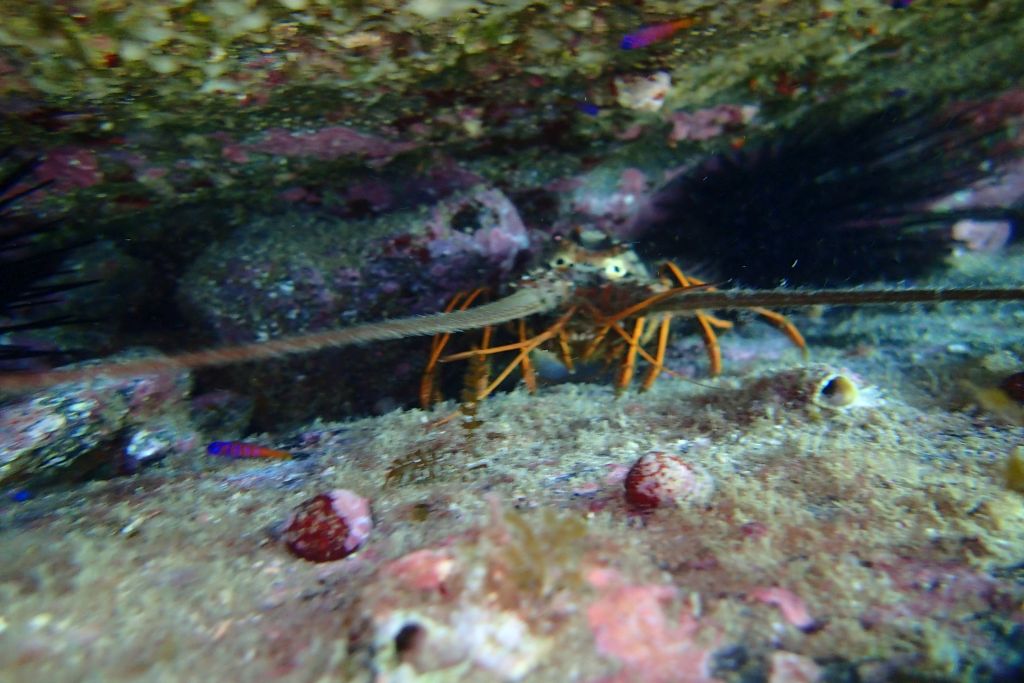 The kelp is beautiful swaying its golden leaves with the surge. Kelp is found in cold coastal water.  The closer to the poles the more it thrives.  So, to see us snorkeling in kelp means we are COLD.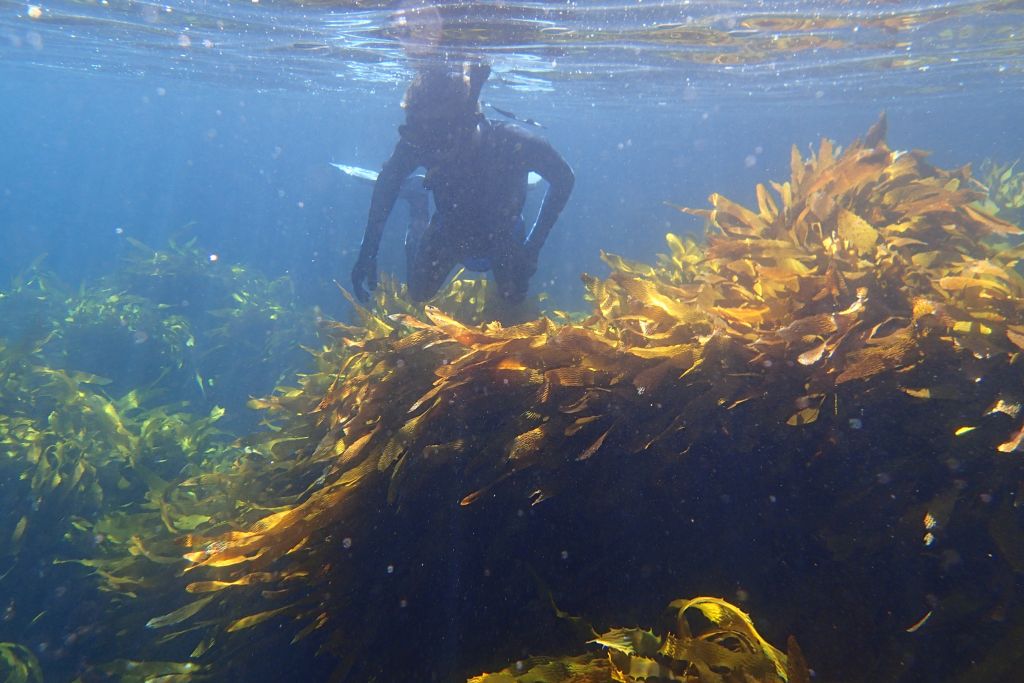 The water is as clear and colorful as the Bahamas.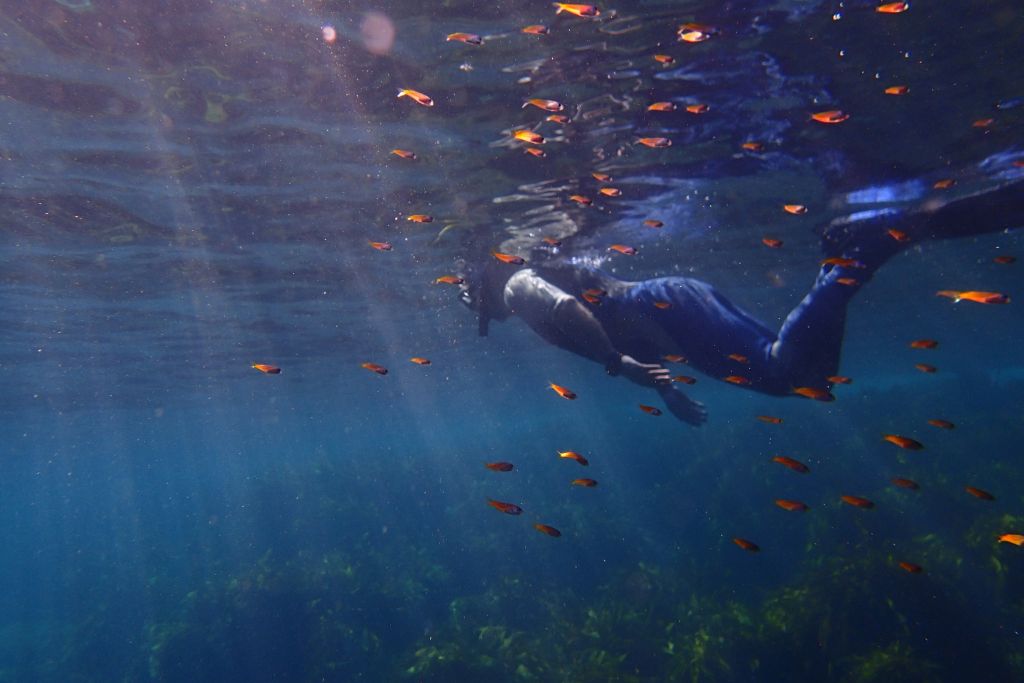 It's is amazing how much life is under the water right here under the boats.  The bay had a thriving community of these shovel nose guitar fish from the shark family.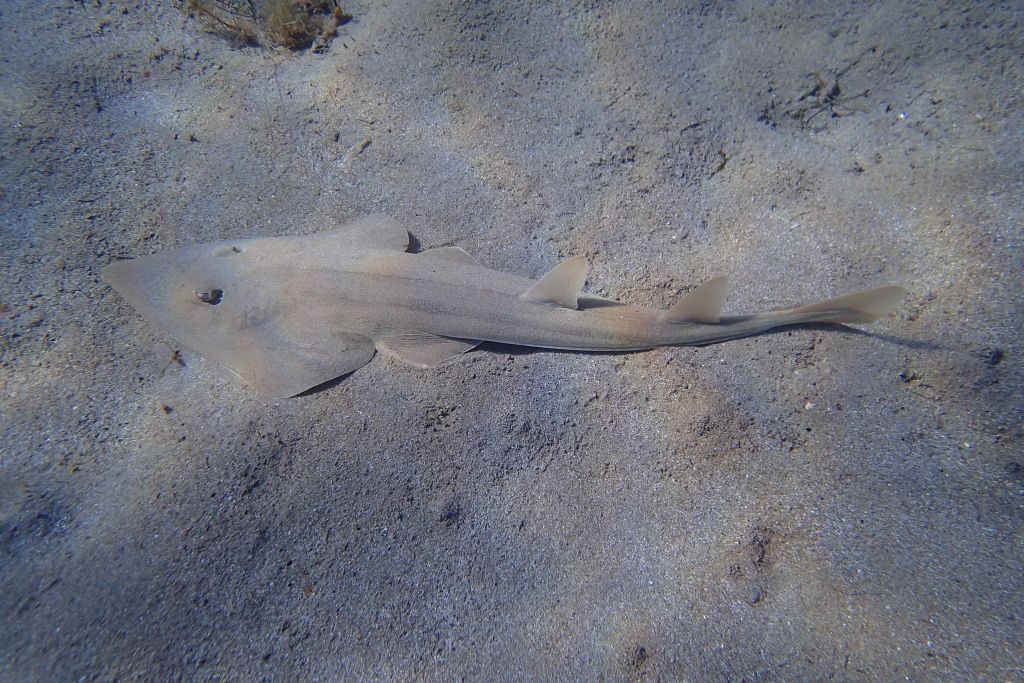 The cow nose ray reminded us of the Sea of Cortez and the Bahamas where we saw plenty of these rays.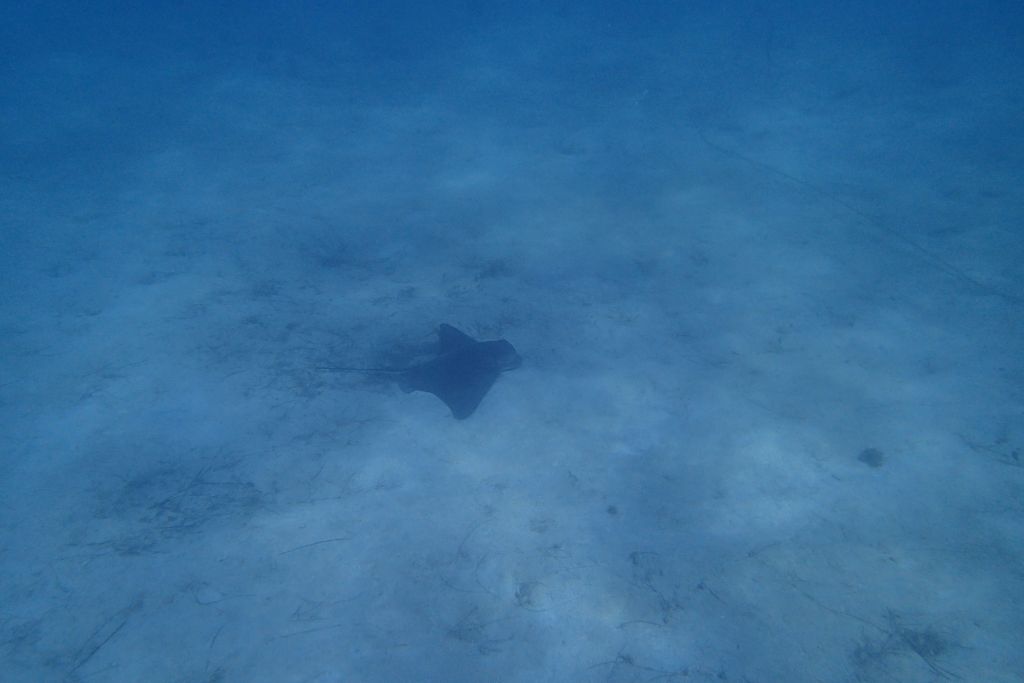 Catalina is our first attempt at spear fishing in California.  Whenever Roy fishes in a new region he pours over his fish identification books looking for just the right one for lunch.  The Kelp Bass, sometimes called Calico Bass is abundant around here.  We see plenty of small bass, less than 12″, but Roy's keen eye and great bottom time lets him sink to the bottom and look for the prize camouflaged among the weeds and kelp.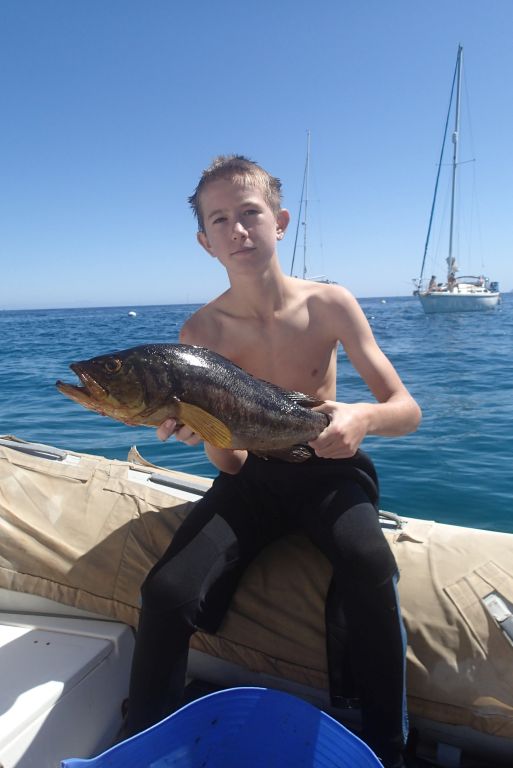 This weekend is also for Topaz. She swam and swam, jumped and leaped, paddled and dunked her head in to retrieve her collar.  All day, over and over, Topaz tired herself out until she finally curled up in her favorite spot to sleep. Topaz prefers Catalina over Newport Harbor because the water is so clear and she can see the fish.  If we ever got a swimming pool, we would have to project fish in the water to make the pool more interesting.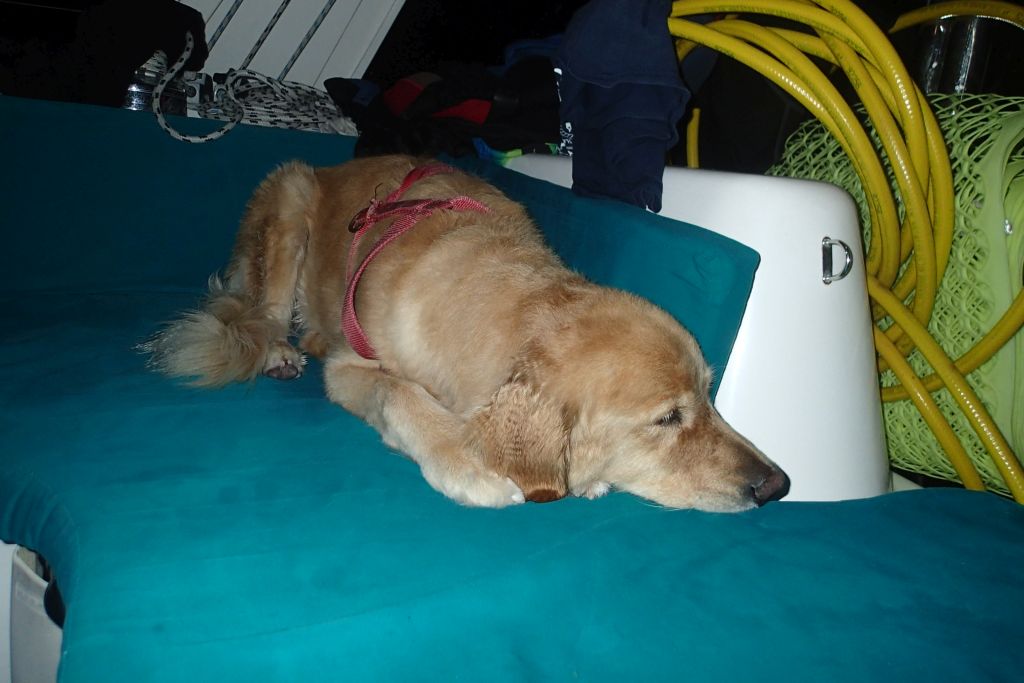 Roy wouldn't see the point of spending an entire weekend on the boat if he couldn't fish both days.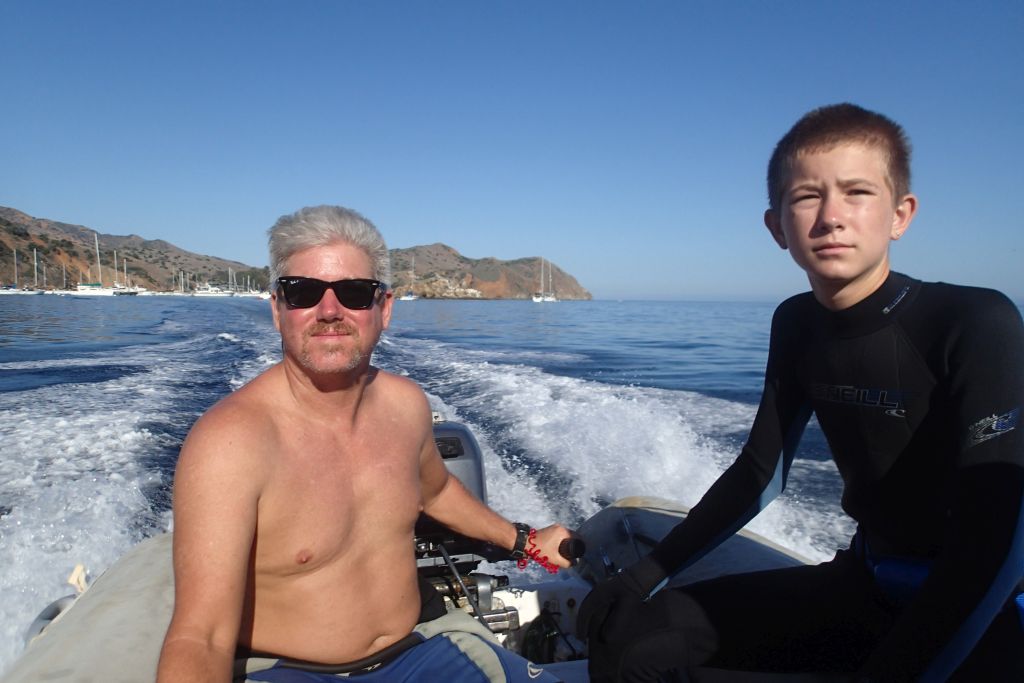 Our pal Jeff from Tres Estrellas, we cruised with him and his wife Lisa in Mexico in 1997,  works here on harbor patrol.  Jeff showed us around some of his favorite fishing spots.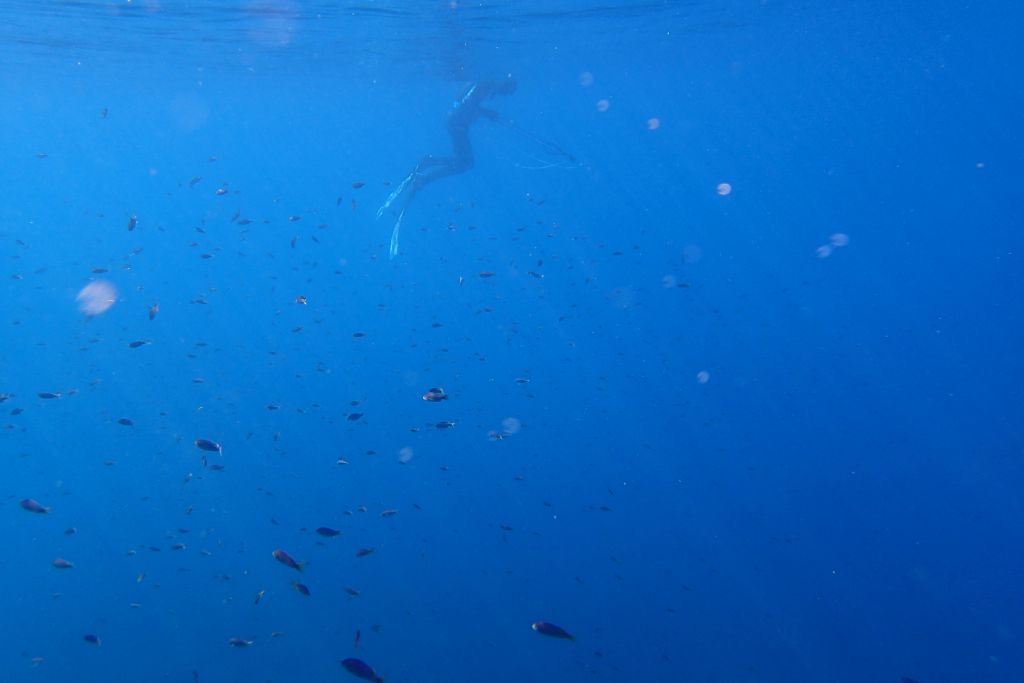 The Garibaldi damsel fish is protected and California's state fish.  They live along rocky coastal reefs and depths up to 100 feet.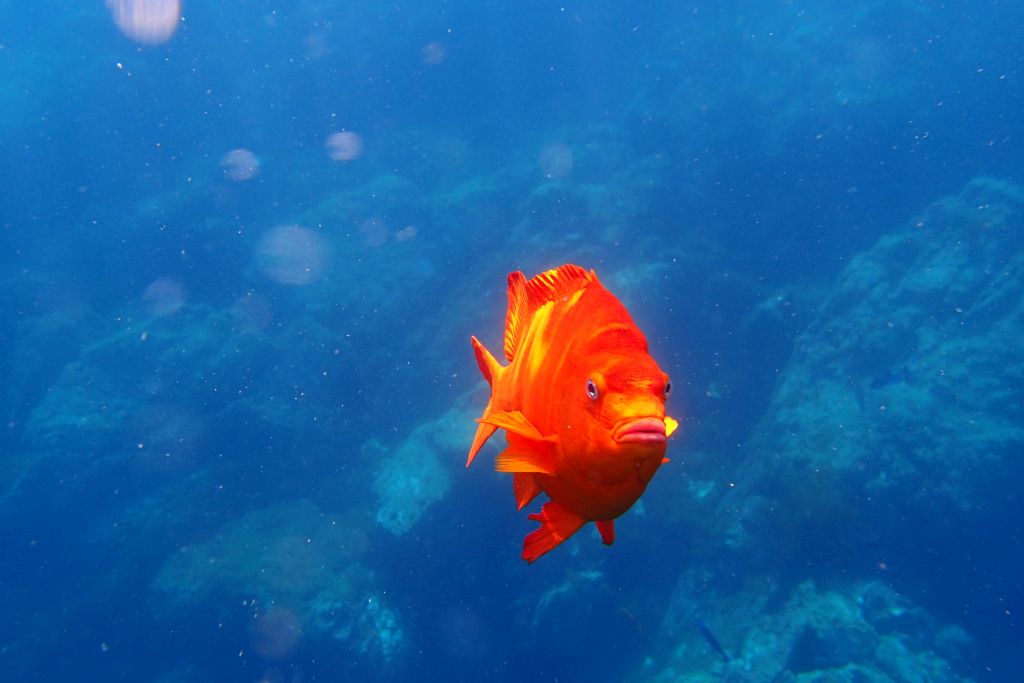 Eric is deathly afraid to see Roy pop out of the water with one of these guys on his spear, but Roy said not to worry.  I guess it would be hard to mistaken anything in the water around here for one of these bright orange fish.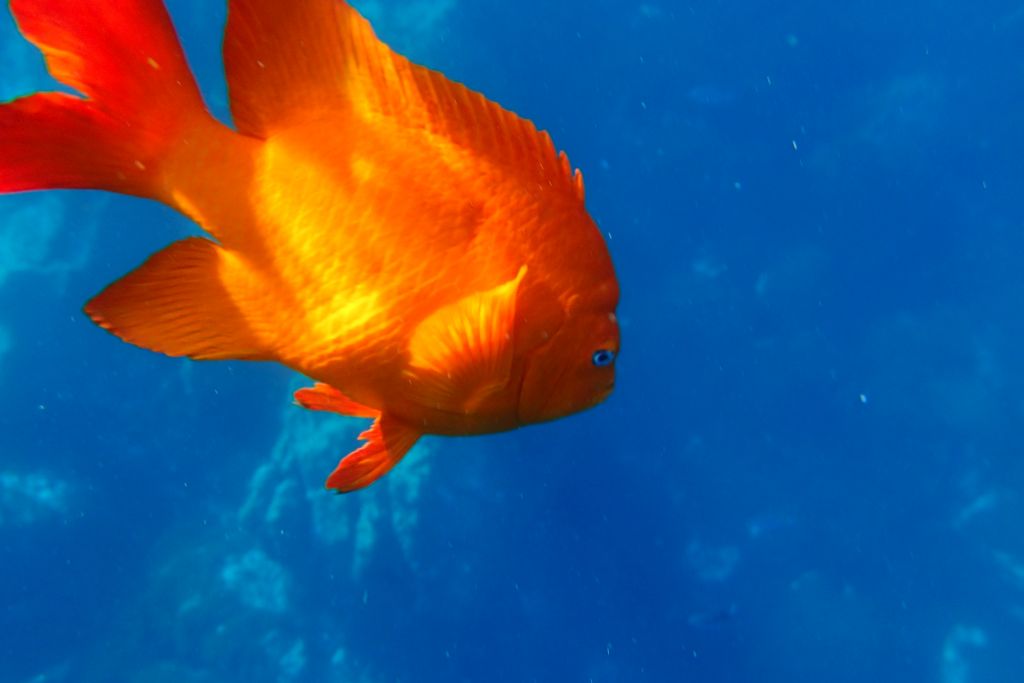 It is so nice to hunt in water clear enough to see down 15 or more feet.  We had problems with visibility a few times in Mexico and all the fish were safe from our frying pan on those days. Roy spotted a Kelp bass and went down to take his shot when he spotted a bigger one hiding in the weeds.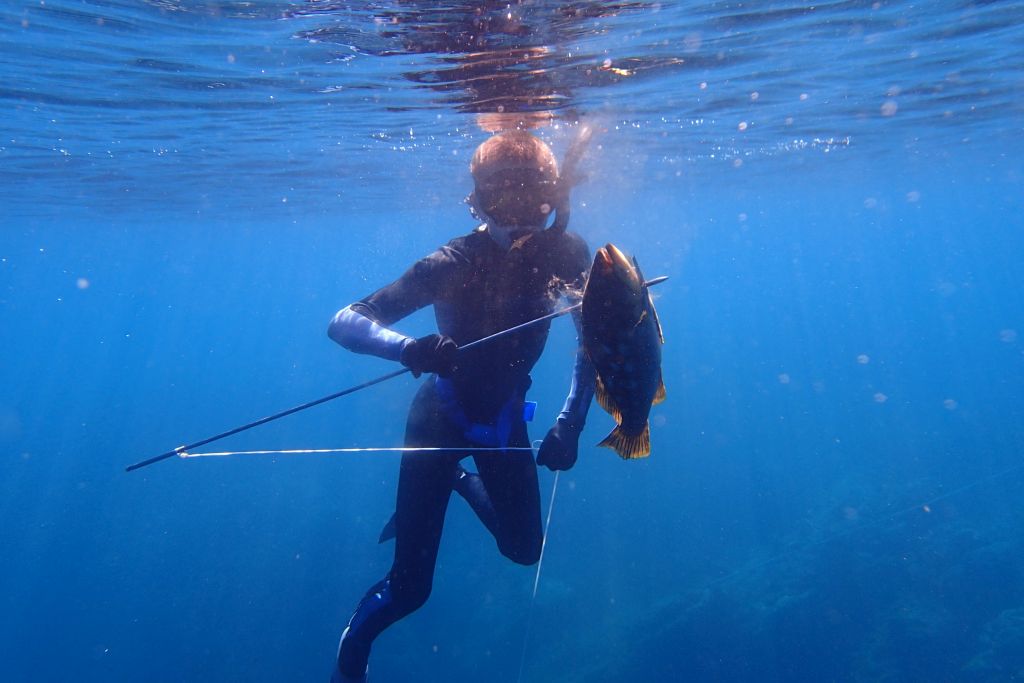 The last one wasn't quite so big, but still made it to lunch. Thanks Jeff for showing us around.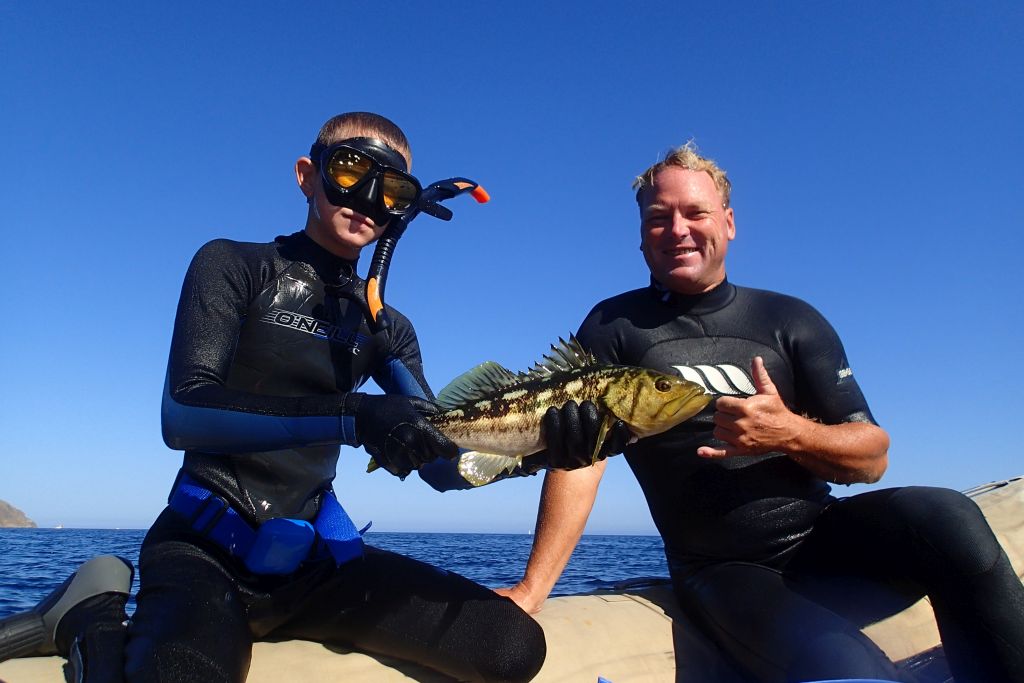 According to the Cabrillo Marine Aquarium the juvenile  Garibaldi is allowed to share the territorial adult's space as long as it has blue spots.  I noticed the smaller the fish, the more spots it has.  Juvenile's retain these spots for 6-7 years, Wowsie. A Garibaldi can live 12 years, I'm thinking that's pretty old for a fish.  It's a good thing they aren't a good eating bass that isn't protected from guys like Roy.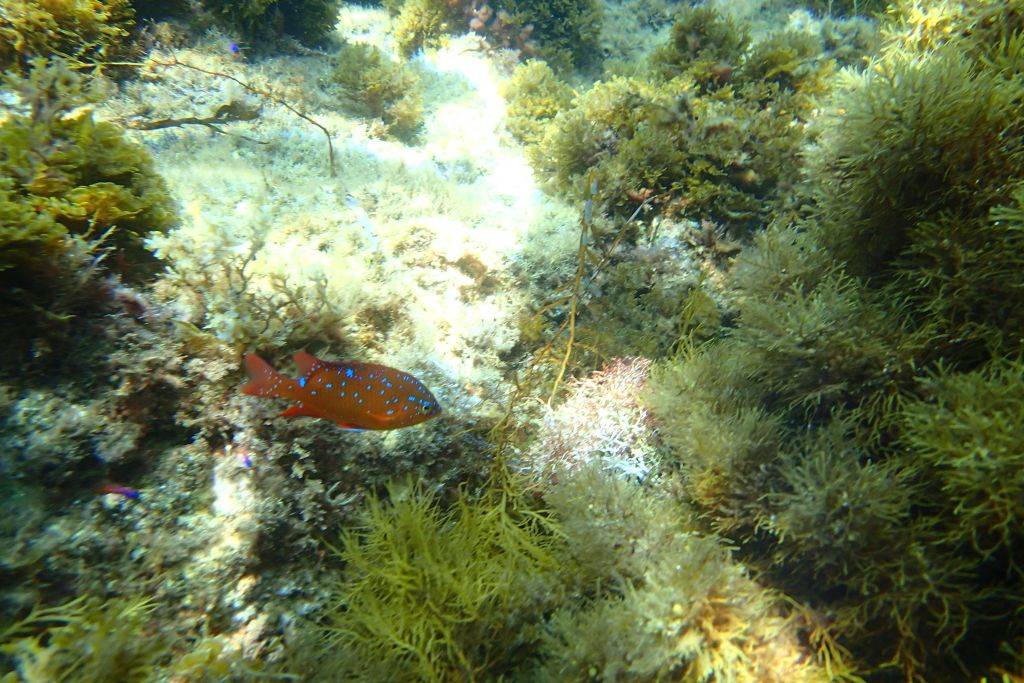 Snorkeling in the Bay was like swimming in an aquarium.  The water is in the low 70′s which the locals think is like bath water, but we're used to the warm water in the Bahamas.  I guess we're lucky to be living in this cold water, it is resistant to hurricanes like Joaquin which is currently ravaging our favorite islands in the Bahamas.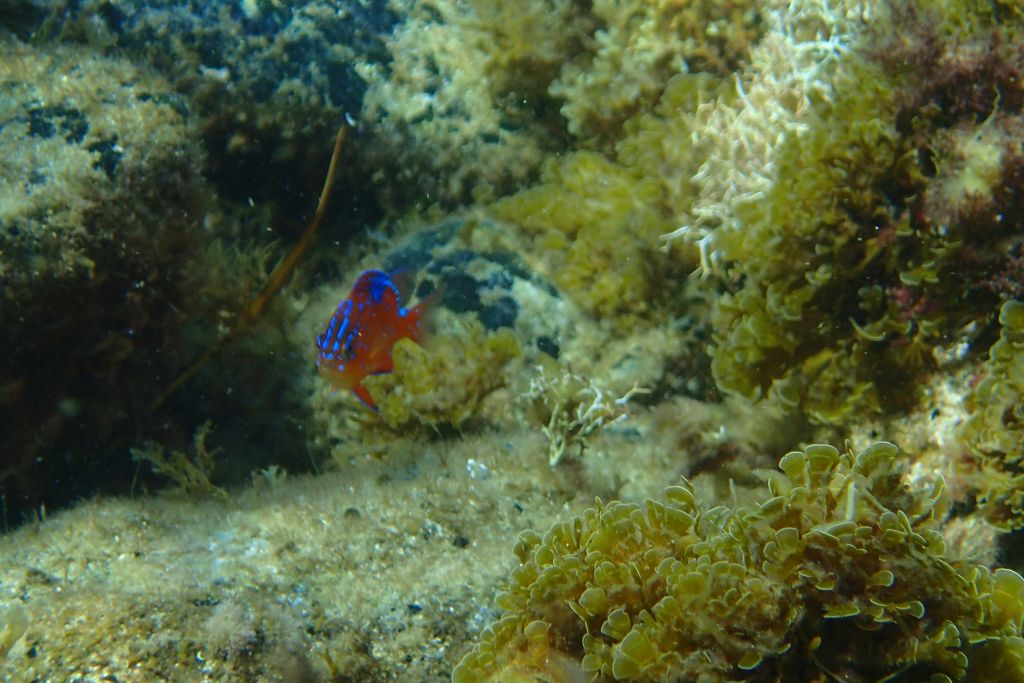 Jeff put Tres Estrellas on the mooring next to us while he dove and had a fish lunch with us.  Then at noon, he moved his boat back down the cove he was due to patrol and we untied our lines and headed back to Newport.  It was a great time, looking forward to our next trip to Catalina.